Japan Should Stop Forcing LNG Onto Developing Countries
29 November 2022 – by Tim Daiss
The Japanese government has been forcing its LNG development ambitions onto developing Asian nations. However, it hasn't been considering the economic situations of these nations or the environmental impacts.
Japan's Investments in Liquefied Natural Gas
Japan, the world's largest importer of LNG ahead of China, South Korea, India and Taiwan, has been busy securing long-term fuel supplies for its own power sector, up some 10% in October according to the country's Finance Ministry. Meanwhile, the country has also become a major LNG trader, reselling cargoes, often on the spot market, for lucrative profits. It has also become one of the world's largest and most active investors in LNG infrastructure.
10 Billion Dollars for Japanese Companies
That dynamic is being keenly felt in developing Asia, particularly Southeast Asia. In 2017, the Japanese government offered USD 10 billion to a private-public initiative to support increased LNG infrastructure. The main players included the Japan Bank for International Cooperation (JBIC) and Nippon Export and Investment Insurance.
Two years later, Japan offer another USD 10 billion in funding, doubling the previous commitment made two years earlier to strengthen its energy supply chains in Asia and India. The goal was to reduce financing costs and help LNG compete on a cost basis with other fuels.
At the time, the move was not without its opponents. Sensitive to criticism, Tokyo then proposed another USD 10 billion in 2021 in "clean energy" finance for ASEAN member states. Brunei, Cambodia, Indonesia, Laos, Malaysia, Myanmar, the Philippines, Singapore, Thailand and Vietnam comprise the list of ASEAN states.
Funds for LNG Infrastructure
The country intends to use the funds not just for renewables but for more LNG infrastructure and usage. It intends to use LNG as a "bridge fuel" to help the region in its energy transition.
"In order to secure overseas funds, we are asking [ASEAN countries] to declare carbon neutrality without a specific time frame, and we are asking the countries to draw roadmaps toward carbon neutrality," said Takeshi Soda, director of the Oil & Gas Division Ministry of Japan's Economy, Trade & Industry (METI). "Japan will provide finance for projects, activities and technology that are part of the roadmap."
However, the question has to be: how can a major fossil fuel (LNG) investment initiative be in line with carbon neutrality, especially when gas still emits around half of the harmful emissions of coal when used for power generation?
Reliance on LNG has already created an economic catastrophe for several developing Asian countries. Nations are struggling to afford LNG cargoes, leading to blackouts, energy poverty and slowing economic growth.
A recent Carbon Tracker report finds that new gas power exposes consumers to geopolitical risk. Meanwhile, LNG supply constraints and price volatility also undermine net-zero goals.
Japan isn't limiting its LNG funding apparatus to only developing Asia. In May, Tokyo said it was interested in providing financial support to boost LNG production in the US LNG sector. Currently, the US is the world's third-largest LNG producer, behind Australia and Qatar. However, it could bypass both countries if just a fraction of its federally aprroved projects are built and become operational.
Japan's LNG playbook
Japan's continued LNG buying spree ensures that it will have volumes available when LNG import and gas-to-power projects are built in developing Asia via Tokyo's massive funding campaigns. The country is trying to stoke demand while also meeting that demand with LNG supply procured from major producing nations.
In April, Japanese Energy Minister Koichi Hagiuda said Japan plans to step up its investment role in upstream projects for LNG to spur new development and boost fuel offtake by its companies, Reuters reported. However, the time for LNG as a bridge fuel has expired, according to the IEEFA.
Energy economics simply dictate the case for renewables over LNG infrastructure development. This is due to the exorbitant price of global LNG. The ongoing war in Ukraine has signalled higher prices, at least in the medium term. According to a World Bank report, renewables are becoming less expensive than LNG development on a simple cost basis.
The IEEFA report added that "continuous demand growth at persistently high prices will likely prove fiscally unsustainable for emerging markets. Efforts to reduce LNG dependence and shift toward alternative energy sources in the medium-term could negatively impact longer-term LNG demand growth forecasts".
Meanwhile, pricing dynamics warn against more LNG infrastructure development. The Asian Development Bank (ADB), in 2021, issued an energy policy to aid in the low carbon transition. The organisation said it would not finance any coal mining, natural gas or drilling operations.
However, amid mounting criticism, the bank left a door open for gas when it said it would continue to finance gas projects in certain cases – like when there is no access to electricity in the area or where renewables are more expensive.
Instead, the Japanese government would better serve its developing neighbours in the region by funding only renewables, namely solar and wind. It should invest more in green hydrogen supply chains and production. However, green hydrogen has yet to reach the economies of scale and fossil fuel cost parity of solar and wind project development.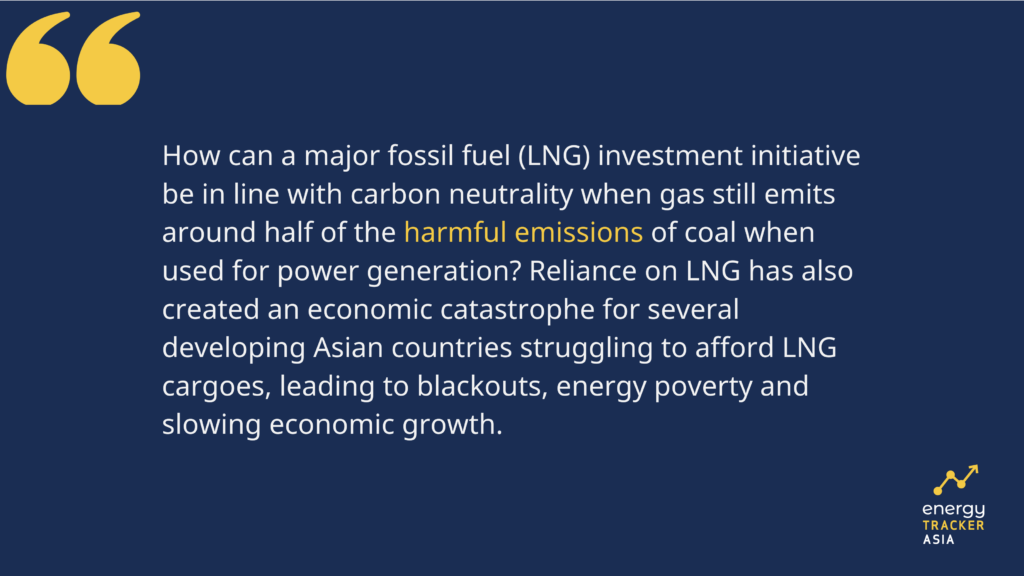 by Tim Daiss
Tim has been working in energy markets in the Asia-Pacific region for more than ten years. He was trained as an LNG and oil markets analyst and writer then switched to working in sustainable energy, including solar and wind power project financing and due diligence. He's performed regulatory, geopolitical and market due diligence for energy projects in Vietnam, Thailand and Indonesia. He's also worked as a consultant/advisor for US, UK and Singapore-based energy consultancies including Wood Mackenzie, Enerdata, S&P Global, KBR, Critical Resource, and others. He is the Chief Marketing Officer (CMO) for US-based lithium-sulfur EV battery start-up Bemp Research Corp.
Read more