LNG: The Rise of Liquefied Natural Gas
Liquefied natural gas (LNG) is an energy-dense fossil fuel that produces fewer emissions than coal and oil. Many people see it as a "transition fuel" for the global energy transition. As a result, demand has been steadily increasing over the past few years, and there are now several countries that are heavily investing in LNG infrastructure. We expect that the upcoming decade will be pivotal in defining LNG's role in the world's future energy mix.
31 March 2022 – by Eric Koons
Main Sources of Energy
Generally, energy sources make up three main groups: fossil fuels (such as LNG, gas and coal), renewables (solar, wind, or hydro), and alternatives (nuclear, biomass, hydrogen). Several fuel sources exist, and Liquefied Natural Gas (LNG) is gaining popularity. LNG trade is also massively increased, and the LNG industry is flourishing.
Globally, governments are attempting to use fewer fossil fuels in favour of renewables or alternative power sources. However, LNG is currently being projected as a bridging fuel source capable of helping the global transition to clean energy from fossil fuels. However, it is argued that the transition should be directed towards renewable energy sources rather than a bridging fuel.
What Does LNG Mean?
LNG stands for Liquefied Natural Gas. It is natural gas that has been converted to liquid form. Remarkably low temperatures are essential for producing LNG or liquefied natural gas. First, the gas needs to reach −162°C (−260°F), at which point the gas becomes a liquid and stored for transport through LNG carriers. In this form, liquefied natural gas takes only 1/600th the volume of natural gas. As a result, this makes it far more manageable, safer and more economical to transport.


What is Regasification of LNG?
Regasification of LNG means converting the Liquefied Natural Gas (LNG) back to its gaseous state at regasification plants. Regasification terminals are connected to the pipeline distribution network.
What is Liquefied Natural Gas?
Liquefied Natural Gas consists primarily of methane. This is due to the purification process that removes impurities like dust, water and hydrocarbons. LNG itself is odourless, colourless, non-toxic and non-corrosive. It is only flammable in its gaseous state.
Is LNG Petroleum?
LNG is not petroleum-based. It is not the same as LPG, or Liquefied Petroleum Gas, primarily a heat source in gas barbecues but can also power vehicles. LPG is one of the byproducts of petroleum processing and is mostly propane. LNG traditionally powers electrical grids, stoves, and heaters and primarily consists of methane.
LNG vs LPG: What's the Difference?
The main difference between LNG and LPG is that Liquefied Natural Gas (LNG) is primarily methane, while Liquefied Petroleum Gas (LPG) consists of propane, butane, and propylene. LPG originates from petroleum processing, while LNG is from processed natural gas deposits.
How is Liquefied Natural Gas Produced?
LNG is produced by cooling natural gas to a liquid state. Natural gas originates underground. Once extracted in its gaseous form, it is purified to remove excess compounds. When it cools, as mentioned earlier, it condenses into a liquid and is transported to its final destination through the LNG terminal. This process of liquefying natural gas makes it easy to transport natural gas where gas pipelines are not much beneficial.
What is the LNG Business Model for LNG Companies?
Liquefied natural gas businesses are rethinking their commercial strategy and business models. Importantly, this mostly comes from rising consumer demand and the world shifting towards low-carbon options. These changes include a lot of future-proofing of their supply chains and services. As a result, LNG businesses are becoming more consumer-focused.
Is LNG Clean Energy?
LNG is a clean and efficient fuel that is quickly gaining popularity across the world. LNG is a fossil fuel, but it is cleaner than other fossil fuels, such as coal.
What is LNG used for?
LNG can be used to power cooking appliances, provide heating, power electrical grids and fuel all manners of vehicles and even ships. Liquefied Natural Gas (LNG) is a very versatile energy source. The diversity of equipment and technology that LNG can power has made it a staple energy source for many countries.
In Europe and North America, natural gas' primary use is heating and electricity. It is widespread across developing economies as cooking fuel and globally to supply power for vessels and vehicles.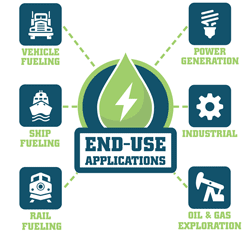 In 2015, data showed that Saudi Arabia and Canada were the globe's largest natural gas consumers. As of 2020, however, a report highlighted that Asia and Europe are now driving demand for LNG. Today, global markets consume up to 359 million tonnes of LNG, doubling by 2040 to 700 million tonnes. This increase in LNG demand is arguably directly due to its versatility.
For a more detailed discussion on the uses of LNG, check out this article, "What is LNG Used for?"
What is LNG Fuel?
Liquefied natural gas is a safe and versatile fuel source with several uses. This ranges from replacing coal as a fuel source for electrical grids and generating electricity to a high-energy propellant for vehicles. While still a fossil fuel, LNG produces about 25% less carbon dioxide, 90% less nitrous oxide and 100% fewer sulphur compounds than traditional fossil fuels.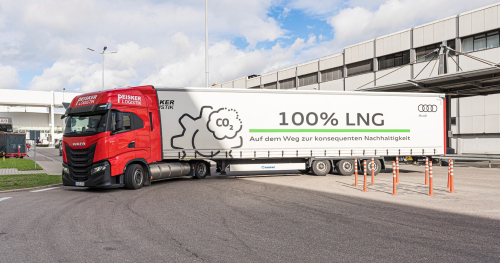 Biogas, another form of LNG, comes from biological waste, making it a low-carbon form of energy. LNG and its derivatives primarily power trucks in terms of transportation, but it remains an expensive option compared to other fossil fuels.
Learn more about LNG as a fuel source in our article "Is LNG the Fuel of the Future?"
Major LNG Projects to Watch in 2022
With LNG demand expected to double in the coming decades, several major development projects are underway. Of the nine largest LNG projects in progress, three are in Russia and the United States—the world's two largest natural gas producers. A project in Texas, set to be operational in 2023, represents a shift towards a greener form of LNG. Operators expect the manufacturing process to be far more efficient than existing LNG plants. Meanwhile, Russia is building new LNG facilities and an ocean-based LNG extraction operation to meet European demand.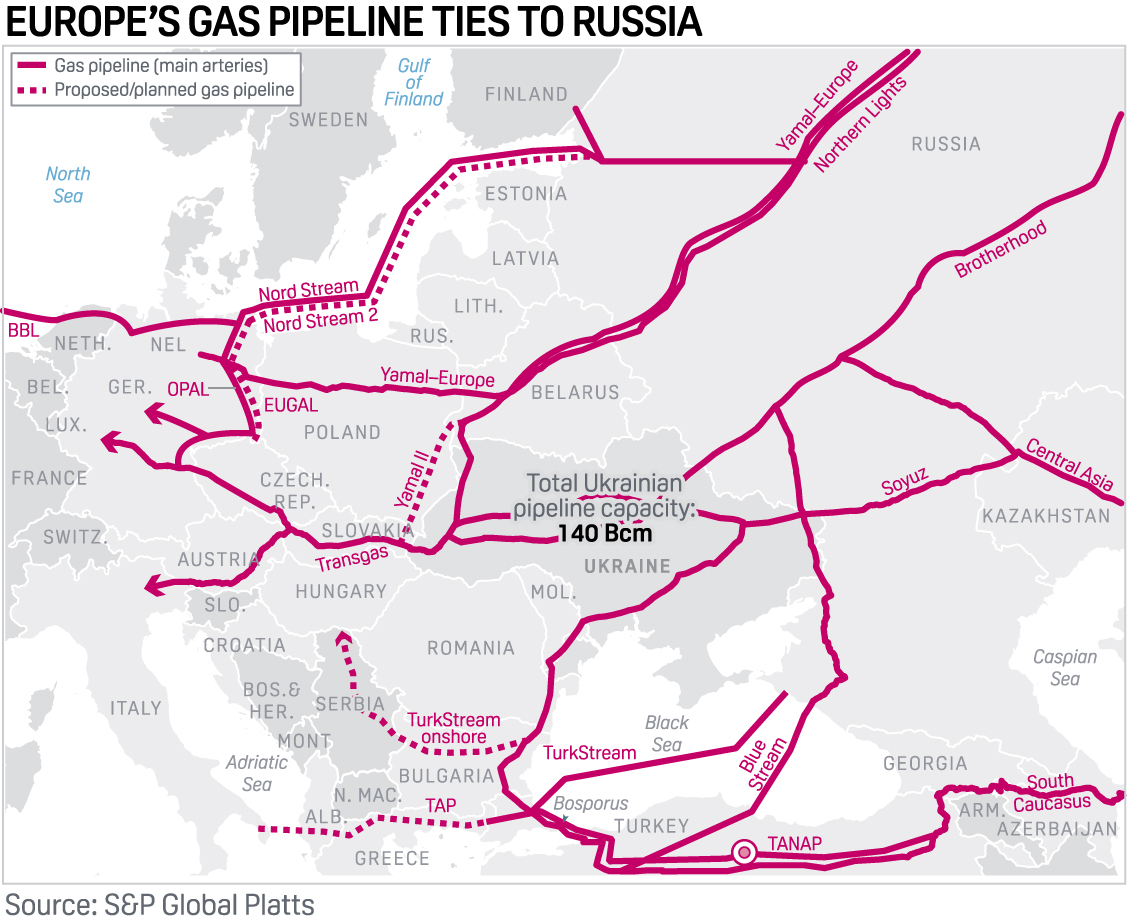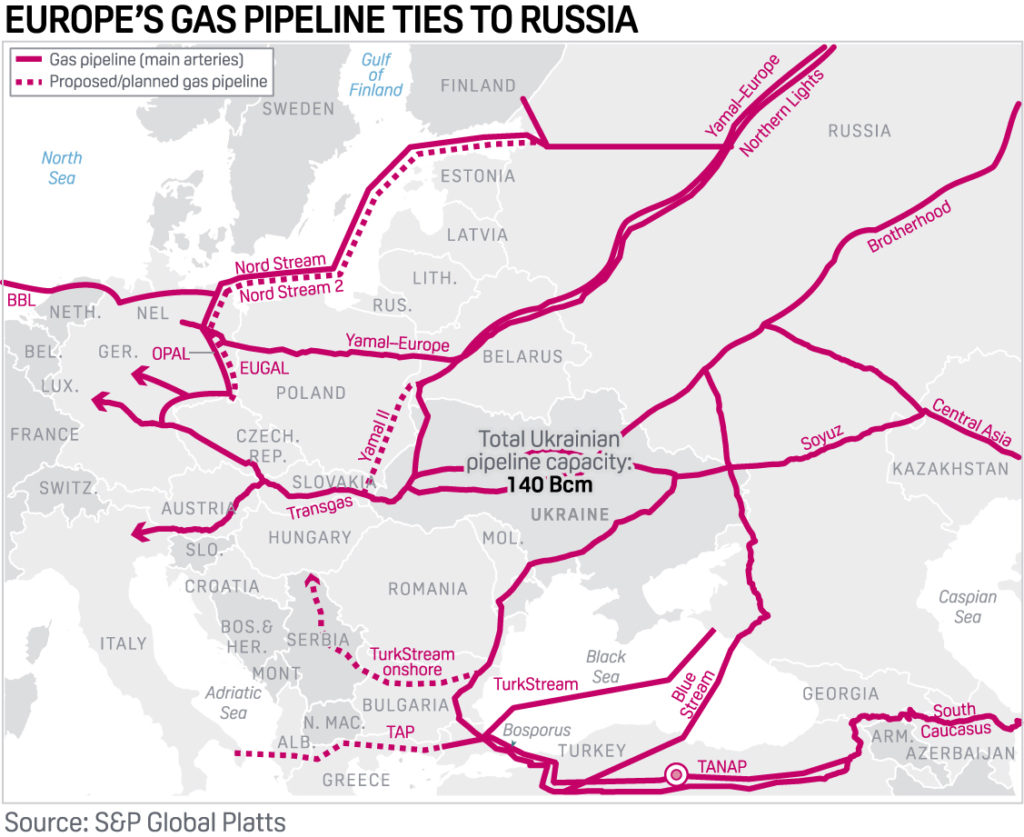 Qatar is the largest of the six remaining large-scale LNG projects expected to be online by 2027. It is expanding its infrastructure to produce and export 110 million tonnes per year (TPY) by 2025. This would make it the largest exporter in the world. Like the project in Texas, Qatar will use cutting-edge technology and renewable energy to mitigate the impact of its LNG processing. Mozambique and India have LNG projects underway to serve as major regional hubs. The remaining projects in Germany, Spain, and Croatia, have a goal of reducing reliance on foreign exporters—namely Russia.
Interested in learning more about major LNG projects? Check out our article "5 Major LNG Projects to Keep an Eye on in 2022."
LNG Price Prediction for 2022
After LNG prices soared to new heights in 2021, Wood Mackenzie, a consultancy, acknowledged that the market predictions for 2022 would be challenging. For example, a second Russian gas pipeline to Germany will affect LNG availability and prices in Europe. However, before its construction, the pipeline currently pumping gas to the EU from Russia can technically supply enough to last winter. But colder temperatures and a greater demand for Russian LNG from Asia could change this.
As there is an increasing need to transition energy away from coal and rising demand for power and heat, LNG prices in Asia will likely increase in tandem with Europe's. This is due to both continents heavily relying on Russian gas. Elsewhere, price predictions in the United States, for example, suggest that natural gas prices will plateau domestically. Nevertheless, their export prices will potentially see fluctuations based on demand from Europe and Asia and the ability of Russian LNG to meet them.
Get an in-depth look at our analysis on liquefied natural gas price predictions for 2022 in our article "LNG Prices in 2022 Bring Stability after 2021's Volatility."
LNG in Singapore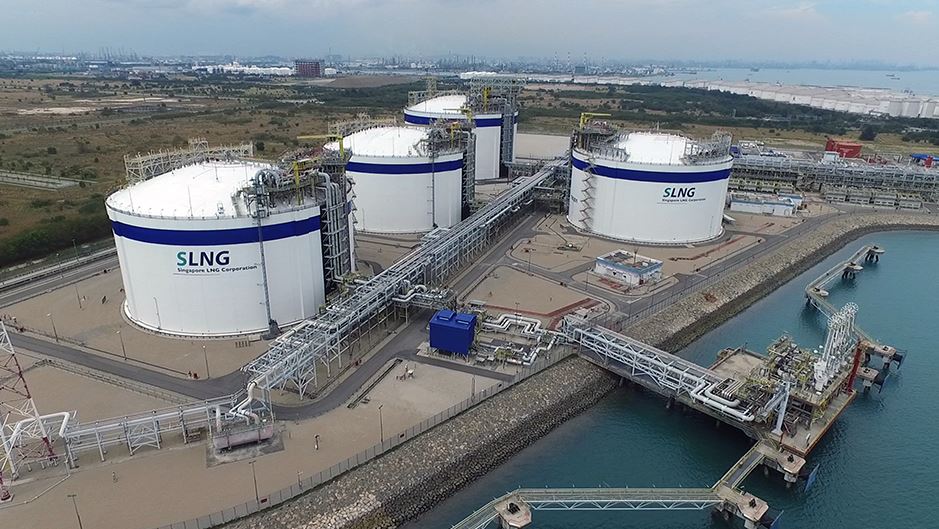 Singapore is already one of the world's most important seaports and an integral part of trade within Asia. Meanwhile, it has also positioned itself to become the region's central LNG hub. As a result, Singapore has expanded its LNG storage capacity and competes with India to become an operational trading market. In other words, some predict that Singapore could quickly become Asia's major LNG trader in the next several years. It is betting big, as today Asia accounts for 70% of LNG demand globally, which is likely to continue rising.
Read more about Singapore's role in the LNG market in our article "Singapore LNG Hub for Asia: What are the Plans?"
LNG in China
One of the other major liquefied natural gas players in Asia is China. China's LNG imports and demand saw unprecedented growth in 2021. Imports increased by 20%, making the country the world's largest LNG importer, with demand rising by 12.8%. However, in 2022, experts predict a much slower growth rate.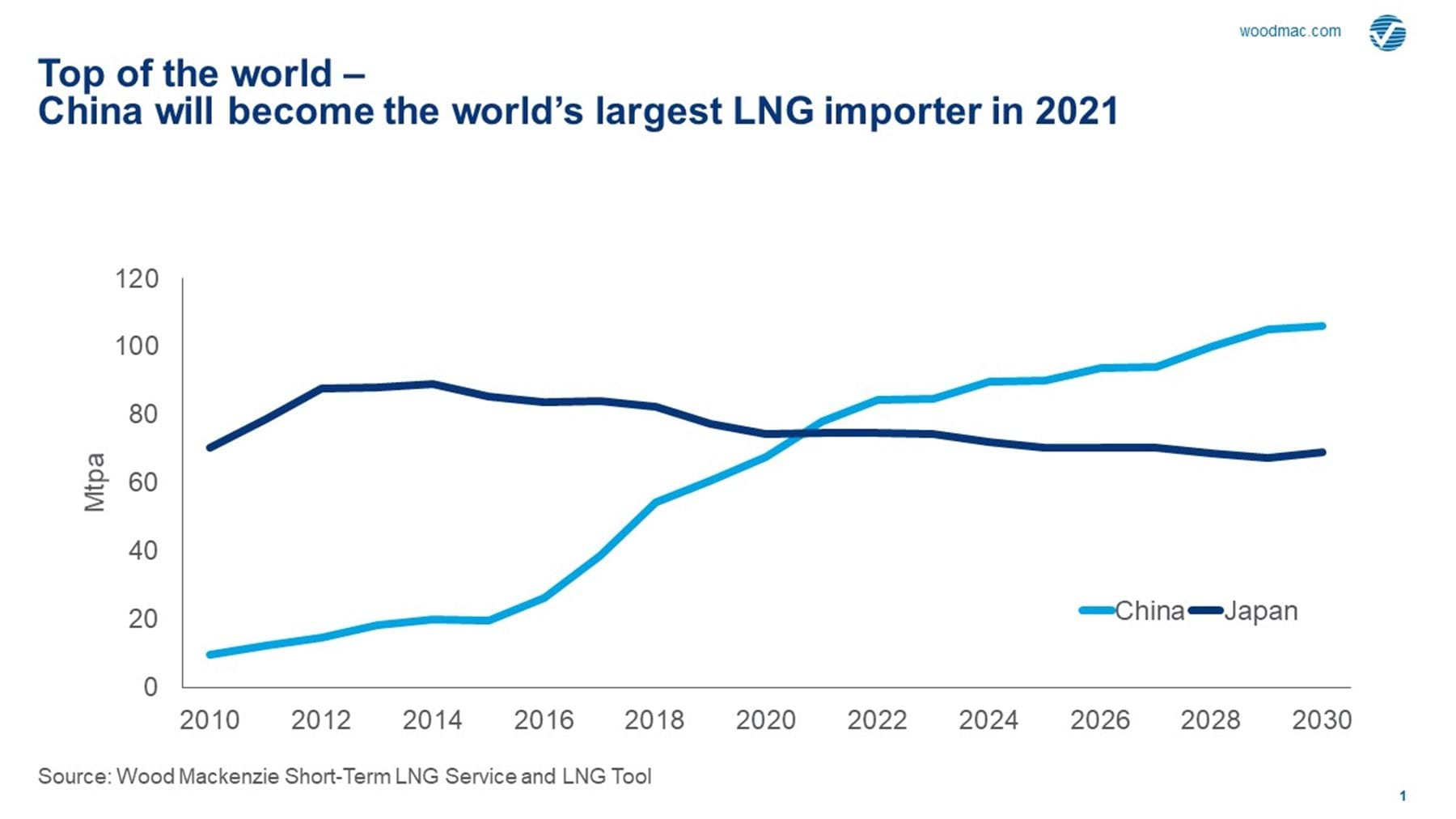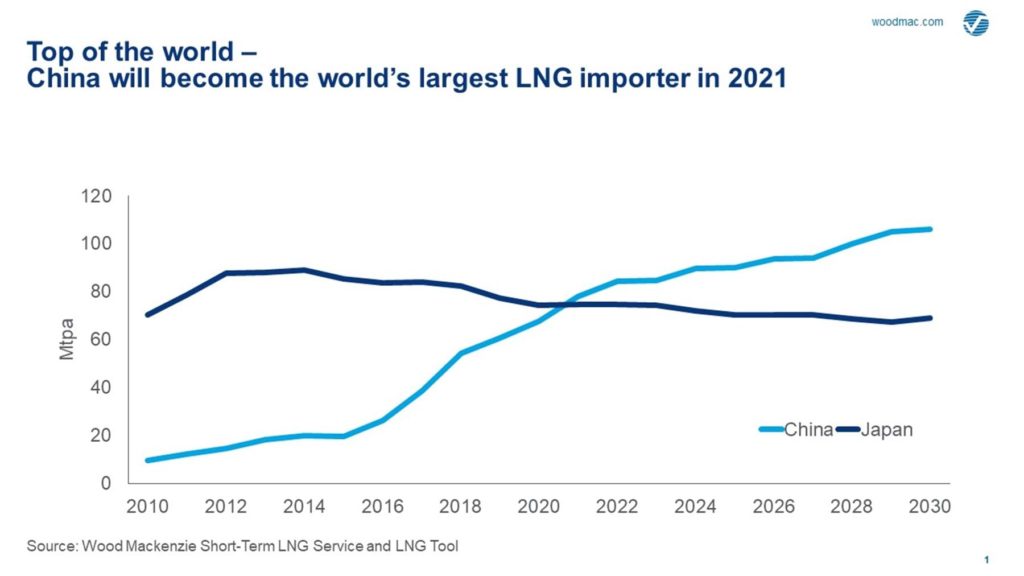 Declining growth comes from a combination of factors, including local natural gas projects coupled with renewables coming online, a new Russian gas pipeline, and the destruction of gas demand due to volatile prices. Despite this, China will likely remain the largest LNG market globally.
Read more about LNG in China in our article "China's Growing LNG Dependence – Is Increasing Imports The Solution?"
The Future of the Energy Transition
The global energy transition is having a profound effect on the energy market. Reductions in coal and petroleum coincide with larger renewable and alternative energy projects. However, the current capacity of these projects is nowhere close to meeting demand. In the interim, as supply catches up to demand, LNG, while without a doubt still a fossil fuel, it is playing the role of a transition fuel.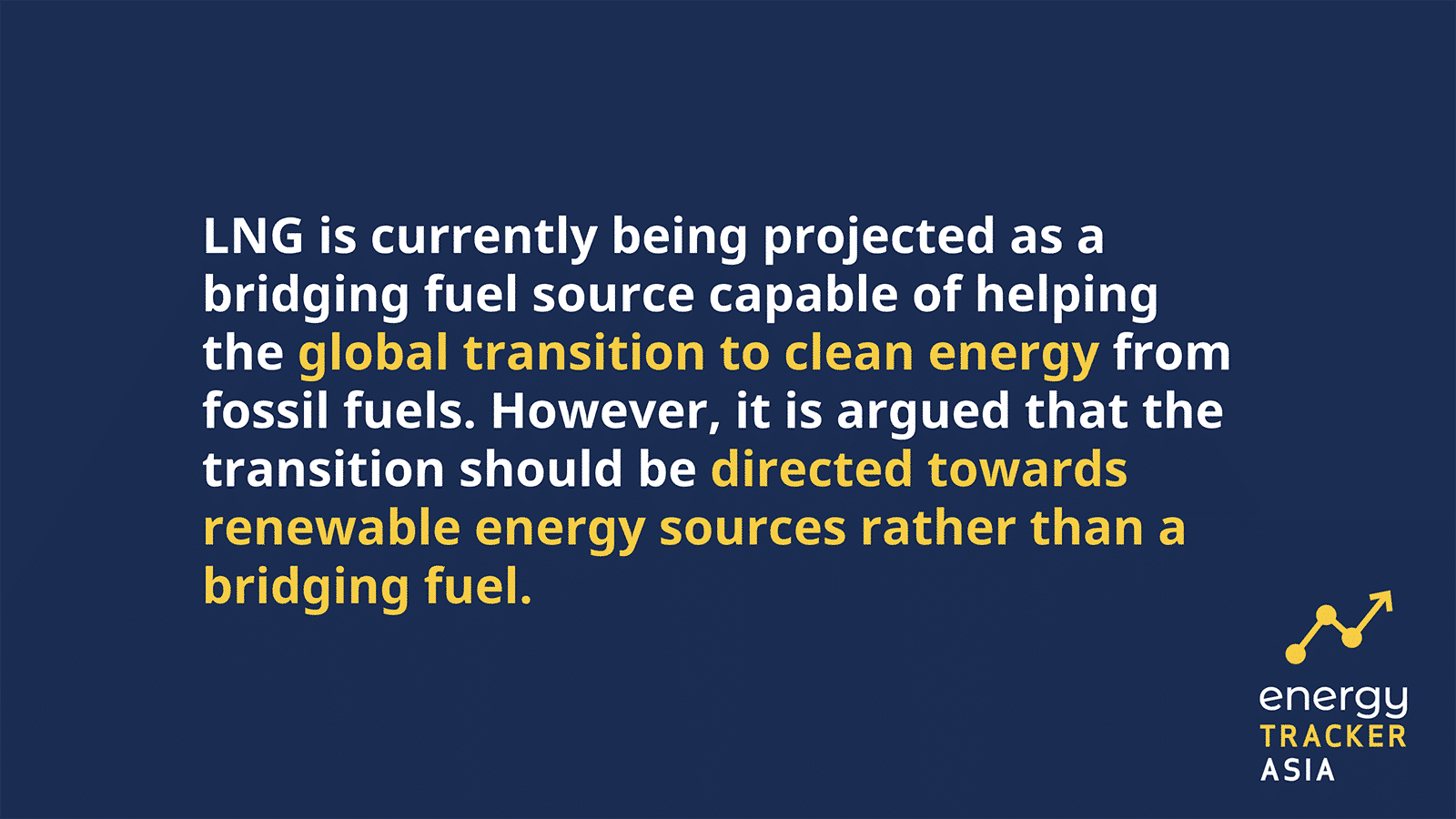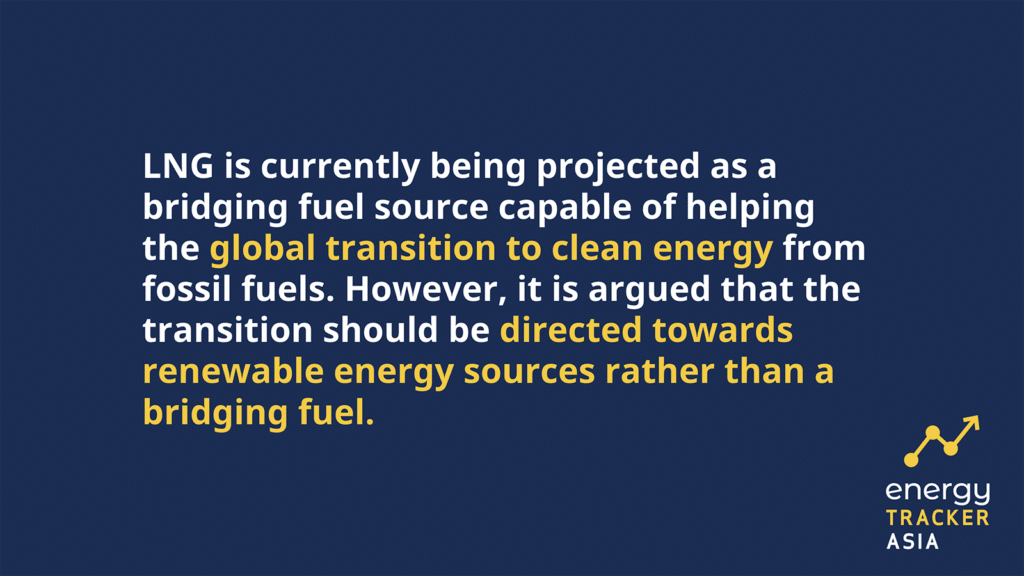 by Eric Koons
Eric is a passionate environmental advocate that believes renewable energy is a key piece in meeting the world's growing energy demands. He received an environmental science degree from the University of California and has worked to promote environmentally and socially sustainable practices since. Eric's expertise extends across the environmental field, yet he maintains a strong focus on renewable energy. His work has been featured by leading environmental organizations, such as World Resources Institute and Hitachi ABB Power Grids.
Read more