Natural Gas Forecast 2023: Demand in Asia to Bounce Back
PradeepGaurs / Shutterstock.com
While natural gas prices are expected to remain low, they would still be above their historical averages. As a result, Asian countries' imports would still be costly, even in an ideal world without any market volatility.
29 May 2023 – by Viktor Tachev
The IEA's natural gas market report for Q2 of 2023 notes that market fundamentals are easing. As a result, countries will have some relief from the high natural gas prices, at least for the summer. However, the agency warns that there is no guarantee against future natural gas price volatility. That's why nations relying on gas imports shouldn't brush the risks aside – a crucial point for Asian countries to note.
The IEA's Natural Gas Report Q2 2023 and the Current State of the Gas Market
The IEA's Gas Market Report, Q2-2023 concludes that, after a tumultuous winter, the natural gas market has calmed down. The drop in global demand has brought natural gas prices below their summer 2021 levels, but they are still above their historical averages.
Over the course of 2022, global gas consumption fell by 1.5%. European and Asian import markets were the main drivers behind the drop. Due to the record liquefied natural gas prices, Asia's gas consumption, for example, saw an unprecedented slowdown of 2%.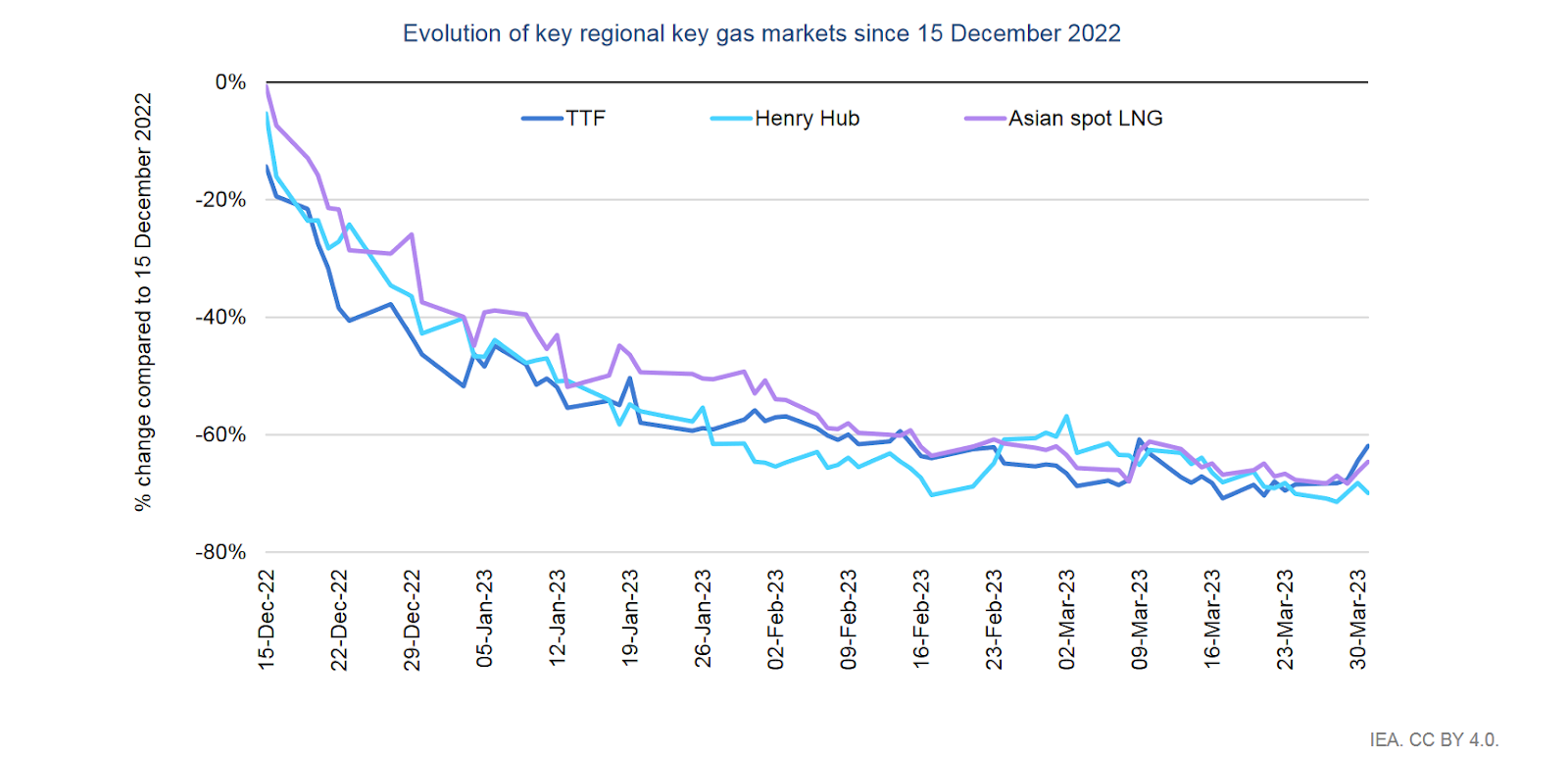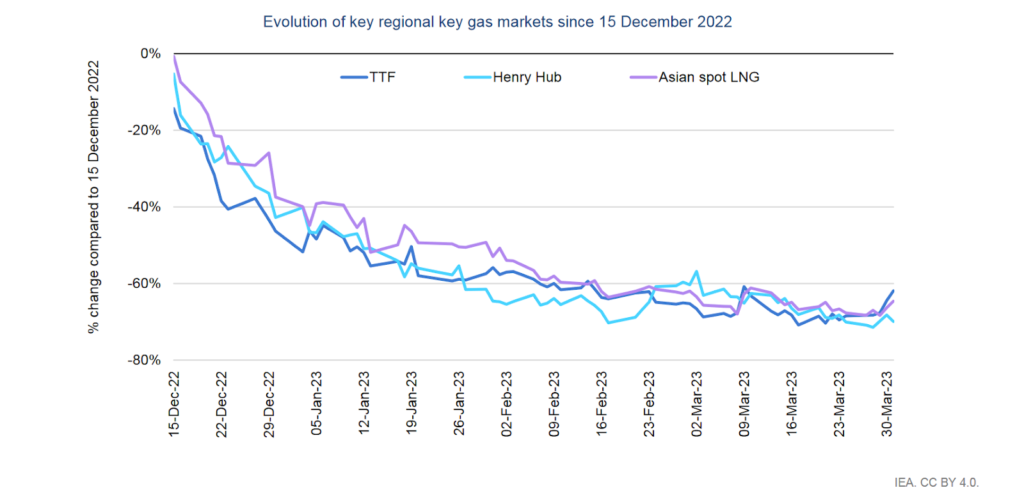 Asia
Due to the scarce supply and high fuel prices in 2022, gas consumption in emerging Asian countries dropped by 4%. Many countries were left starving for power and faced persistent blackouts. Thailand and Indonesia, the region's biggest gas consumers, saw the most notable drops of 10% and 2%, respectively. Pakistan and Bangladesh, the most affected by the unaffordable prices of LNG, saw imports drop by 18% and 17%.
Europe
Due to favourable weather and timely policy actions against gas, mainly in developed European economies, the demand decline extended into the first months of 2023. The 16% gas demand drop during the winter is the steepest in the history of OECD Europe.
Natural Gas Outlook 2023 and Beyond
According to the IEA, the global gas supply will remain tight throughout 2023. The agency expects the LNG supply to increase by just 4%, with the US becoming the top exporter globally.
The agency also sees many potential disruptors to the gas market balance. One example is the potential for adverse weather, including a dry summer or a cold winter, which is becoming increasingly common recently. Other factors fuelling market instability could be low LNG supply availability and the uncertainty around Russian pipeline gas deliveries.
In terms of natural gas demand, advanced European economies will see a 5% decline. The IEA sees rapidly expanding renewable energy capacity and the 15% decrease in the use of gas for electricity generation within the power sector as key causes.
In North America, gas demand will decline by around 2%.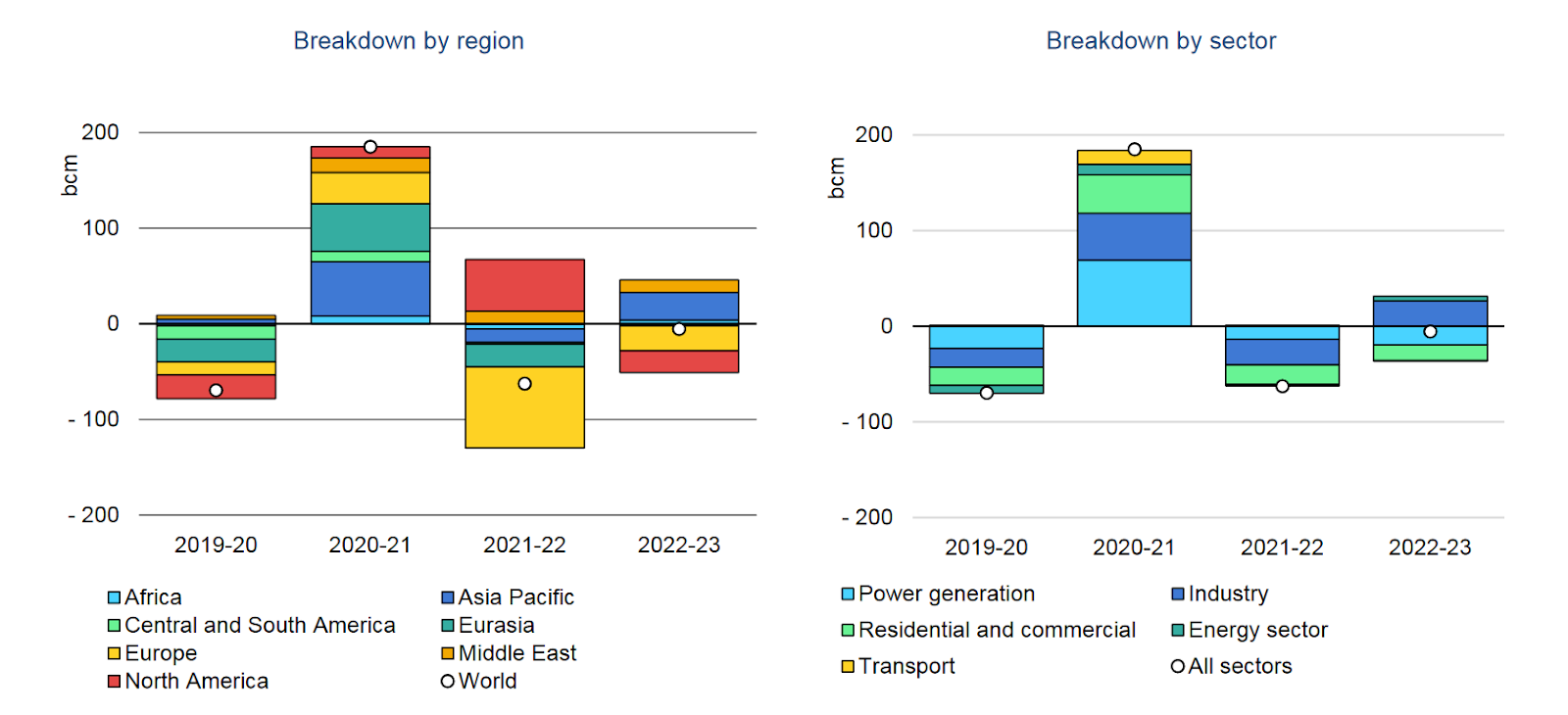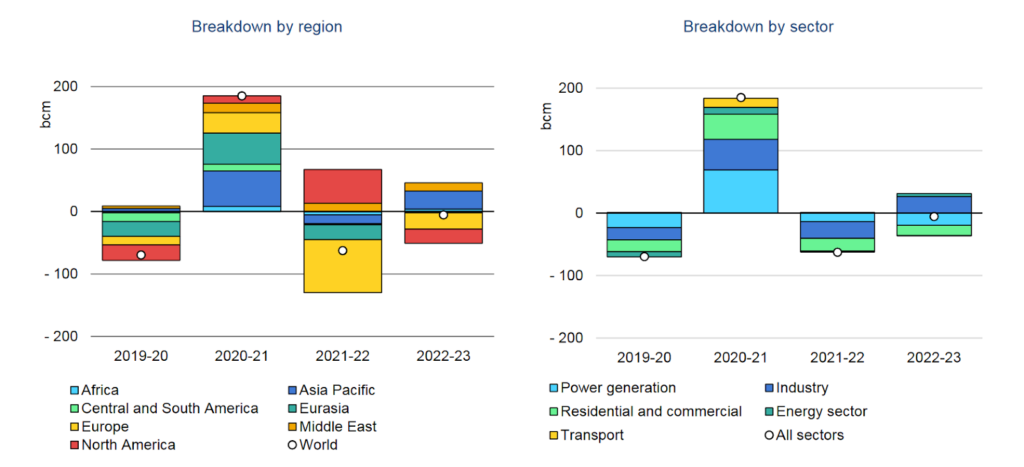 Asia to Offset the Global Natural Gas Demand Drop in 2023
In Q1 of 2023, LNG imports in the Asia-Pacific region rose by 0.5% compared with Q1, 2022. The most significant year-over-year declines were in Japan (7%), India (9%) and China (1.4%). LNG imports increased In South Korea (8%), Thailand (18%) and Singapore (40%).
According to the IEA, the natural gas demand decline in the West will be compensated by the Asia-Pacific region as the key growth market throughout 2023. Collectively, Asian countries will account for around a 3% increase.
On a country level, China will lead the natural gas demand growth by over 6%. The country will also recover its appetite for LNG imports, increasing by up to 15% compared to 2022.
The agency expects China to proceed with its gas-to-coal pivot based on the provisional "zero" coal import tax policy, which remains in force throughout 2023.
India, which saw its gas consumption decline by 6% in 2022 due to soaring global prices, is likely to increase its total gas consumption by 4%, mainly due to a recovery in power sector gas use.
Japan's gas consumption is projected to drop by 3% due to the country's increased focus on renewables and nuclear power. Korea will see a total gas demand drop of 2%.
However, throughout 2023, emerging Asia's gas consumption is expected to mark a modest 2% increase.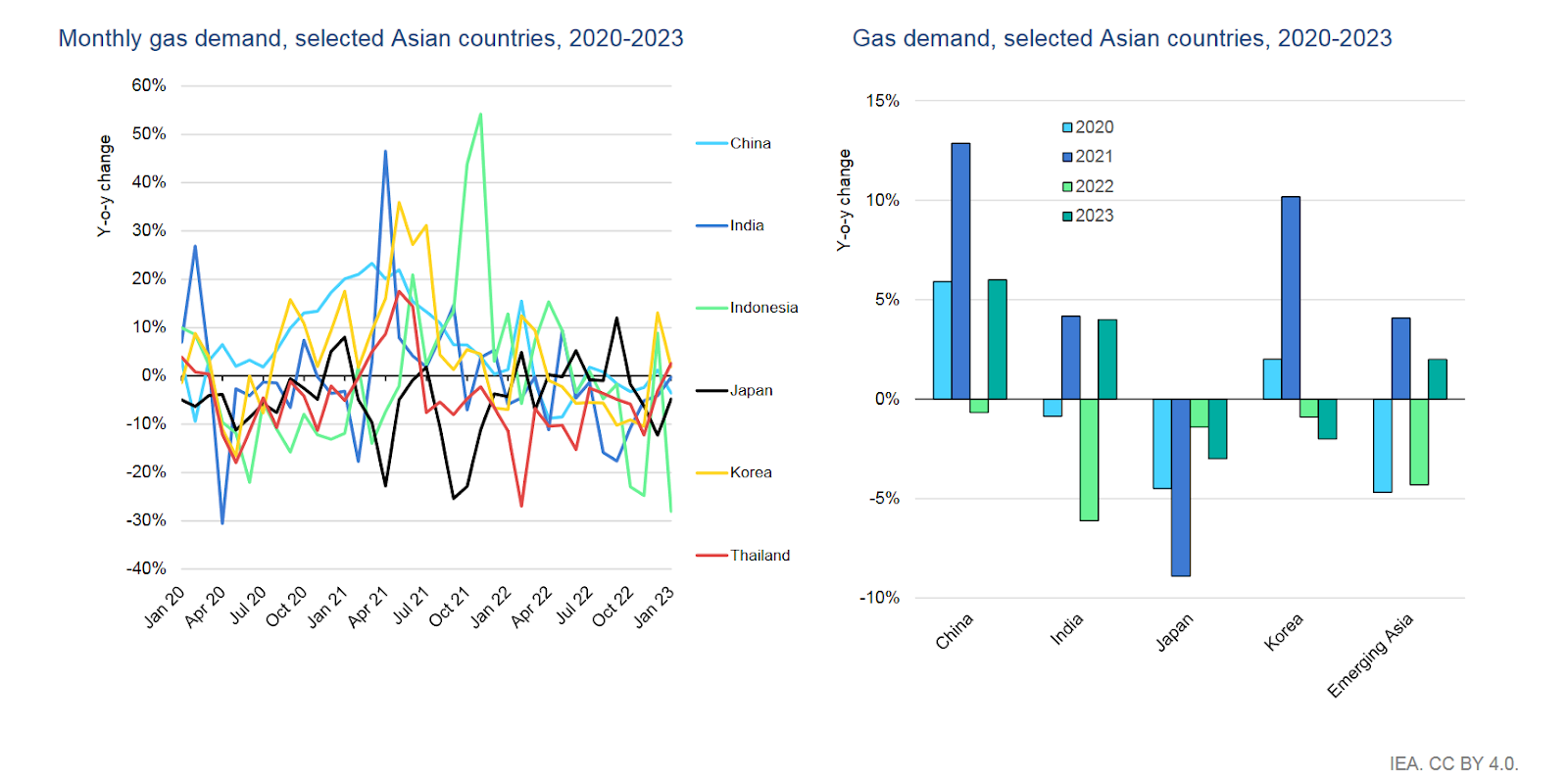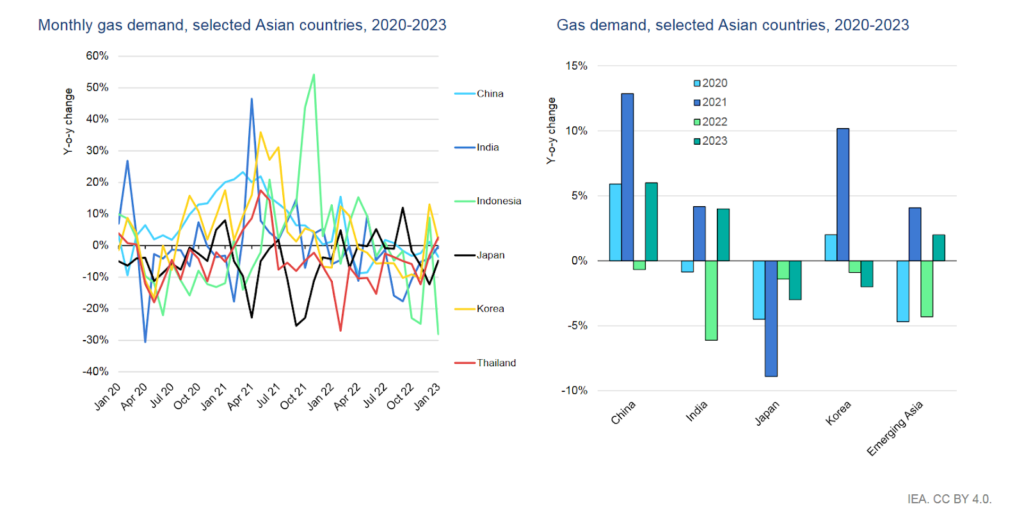 Natural Gas Price Forecast 2023
The IEA's analysts expect Asian spot LNG and TTF prices to drop significantly throughout 2023. This will dramatically ease the fiscal burden on emerging Asia. More importantly, it will give breathing room to many struggling economies and communities across the continent.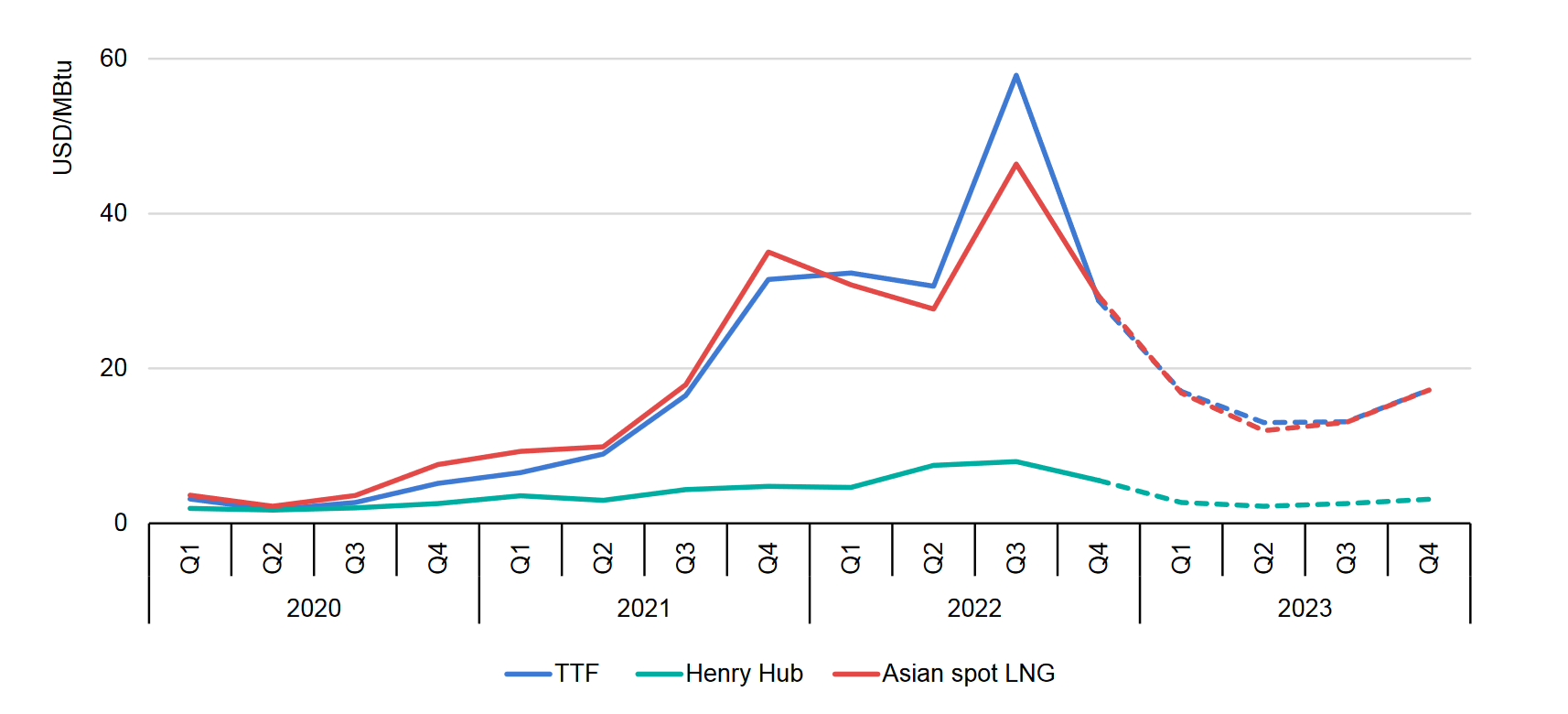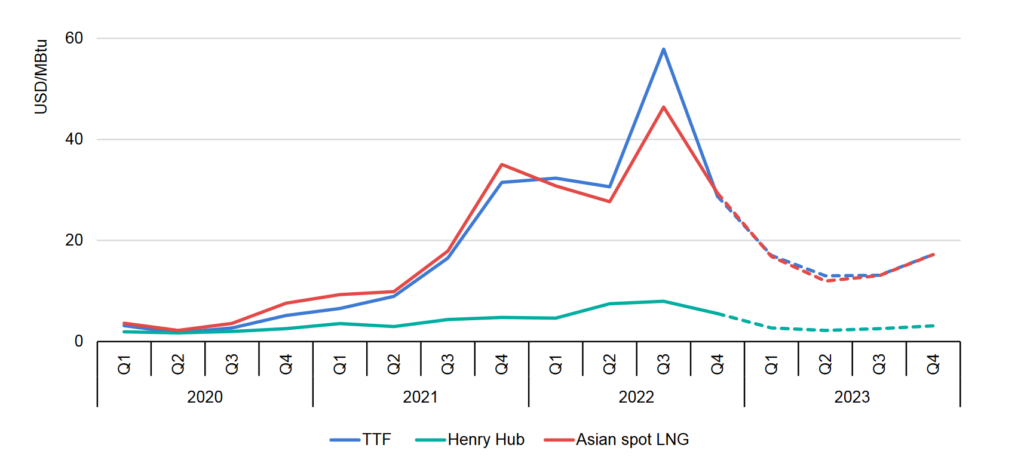 However, this doesn't mean that gas will become affordable. The IEA notes that the prices will remain above their historical averages, meaning countries will still have to pay generously to ensure deliveries. The IEEFA's estimates are even more grim, projecting gas prices to remain structurally elevated for several years.
Moreover, these forecasts can't account for any potential instabilities that could further exacerbate price jumps. And, as recent history has shown, such situations are embedded in the DNA of the global natural gas market.
Emerging Asia's best shot at preserving economic stability and improving energy independence is speeding up the transition towards clean energy sources. Solar and wind have continuously undercut even the cheapest forms of fossil fuel power. In the first half of 2022, solar generation helped China, India, Japan, South Korea, Vietnam, the Philippines and Thailand collectively avoid potential fossil fuel costs of approximately USD 34 billion.
Our previous analysis has shown that the benefits of the clean energy transition significantly outweigh the costs. With that said, Asian countries' pathway seems clear.
by Viktor Tachev
Viktor has years of experience in financial markets and energy finance, working as a marketing consultant and content creator for leading institutions, NGOs, and tech startups. He is a regular contributor to knowledge hubs and magazines, tackling the latest trends in sustainability and green energy.
Read more