Renewable Energy in Indonesia – Current State, Opportunities and Challenges
29 January 2021 – by Viktor Tachev
The demand and potential for renewable energy in Indonesia are increasing simultaneously, due in large part to the fact that Indonesia is amongst the fastest-growing energy consumers globally. It comes as no surprise with robust economic developments, steady trends in population growth and increased urbanization throughout the last decade. It is also the largest in the Association of Southeast Asian Nations (ASEAN).
Indonesia is the world's fourth-largest producer and leading exporter of coal, and it is Southeast Asia's biggest gas supplier. It is also the largest producer of biofuels worldwide. This makes the country's policy a crucial factor in the renewable energy transition within the region.
The growth of renewable energy in Indonesia
The energy demand across Indonesia is expected to increase by 80%, while the electricity demand is projected to triple from 2015 to 2030.
Recent data reveals that Indonesia has slightly increased its reliance on conventional fuels, such as domestic coal and imported petroleum products, to satisfy its energy consumption needs. However, its growing usage of renewables is more notable. Renewable energy sources have consistently been added to the country's overall energy mix, which paints a positive trend for Indonesia's future shift to green energy.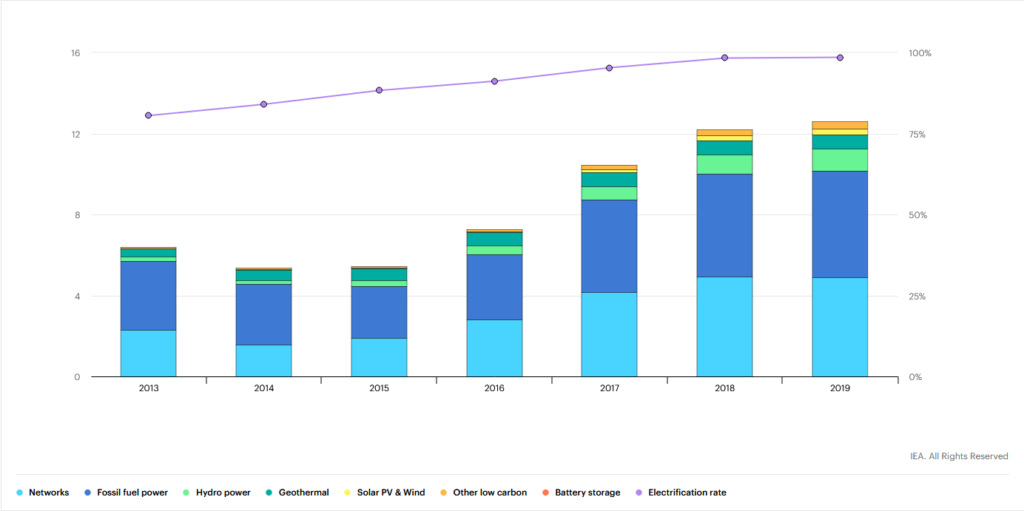 IEA, Power investment trends in Indonesia, IEA, Paris https://www.iea.org/data-and-statistics/charts/power-investment-trends-in-indonesia
This data indicates that, in the short-term, growth in renewables will exceed the demand for coal and oil, which, in the long-term, will significantly reduce Indonesia's overall share in the country's energy consumption.
The potential of renewables in Indonesia
Indonesia is included within the top five countries with the highest share of renewables in total final energy consumption in the Asia-Pacific region. The renewable share in the power mix comes mainly from hydropower plants (around 8 per cent) and geothermal plants (5 per cent).
Indonesia has plans from the government through a national energy policy to have 23 per cent of its total primary energy supply generated by modern renewable sources by 2025 and 31 per cent by 2050. However, estimations by IRENA reveal that the country should be able to achieve its 2050 target 20 years earlier.
By 2030, experts project that the island country will have over three million four-wheel and 42.5 million two and three-wheel electric vehicles.
However, for these forecasts to be accurate, experts estimate that the country would need approximately $16 billion worth of investments per year until 2030.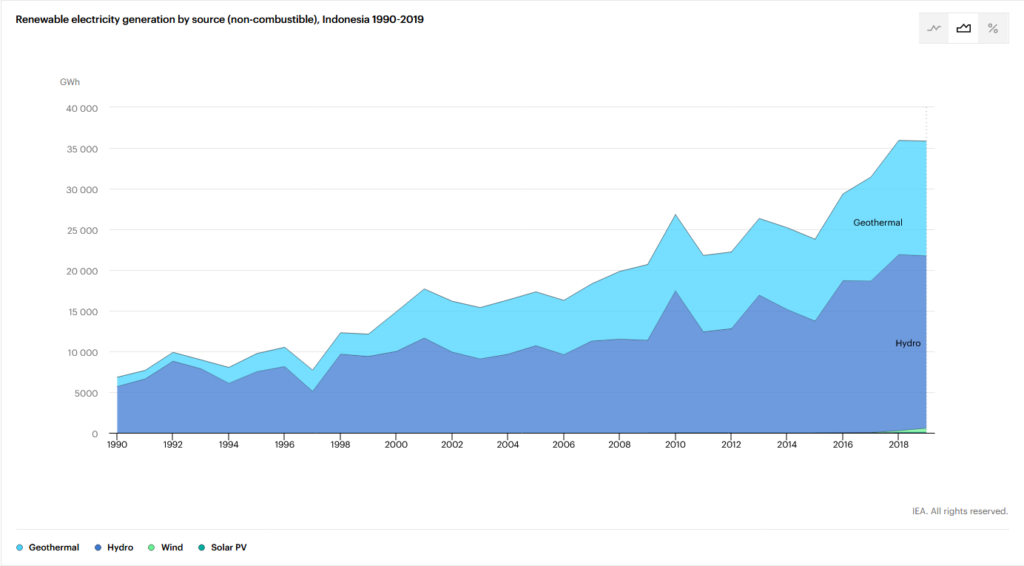 Source: IEA
Yet, capitalizing on its potential is essential, as Indonesia is currently among the world's largest emitters of CO2. China, Japan, the Republic of Korea, India and Indonesia together account for 40% of the global total.
The advantages of Indonesia's renewable energy policy
The pros of Indonesia's progressive national energy policy are evident from every angle – from an economic, political and collective well-being perspective.
By replacing conventional fuels for renewable energy, the savings to the energy system in 2030 are estimated to be USD $1.7 billion per year. With the cost of air pollution included, the figure can rise significantly up to anywhere between $15 to $50 billion per year (based on indoor and outdoor air pollution, CO2 emissions and several other factors).
Compared to current policies, a heavier reliance on renewables will lead to a major cut in net energy system costs. It will also reduce air pollution and CO2 emissions, allowing savings of up to USD $53 billion, or 1.7 per cent of its GDP per year by 2030.
As an indirect advantage, renewables will also contribute to creating more jobs and empowering technological transfers. According to projections from IRENA, the increase in renewable energy jobs is expected to skyrocket from 100,000 to 1.3 million by 2030. The main drivers of this exponential boom are expected to be solar panel production and electric vehicle manufacturing.
Renewable sources will also help Indonesia become more self-sufficient. Experts project that green energy will reduce the demand for fossil fuels by approximately 10 per cent. As a result, Indonesia would be able to reduce imports of petroleum products and coal.
The challenges facing a renewable energy transition
If Indonesia wants to meet its goals, investments in renewable energy will need to accelerate rapidly. But, it is not only a question of more investment. It is essential to consider where these investments are routed, which raises several crucial challenges facing the power sector and the end-use of energy in various sectors of the economy.
For the power sector, the challenges include the highly-fragmented nature of Indonesia's grid, operational issues within off-grid areas and financing opportunities for new projects currently limited by local banks and land acquisition issues.
From an energy consumption perspective, the challenges include the lack of adequate design standards for thermal and water heating in industrial buildings, limited awareness of the renewable energy potential, space limitations and a focus on liquid biofuels.
There is also the issue of continuous fossil fuel subsidies. IEA's report concludes that to help support sustainable economic recovery in Indonesia, an enhanced investment framework for renewables and reforms that attract higher levels of private capital is essential.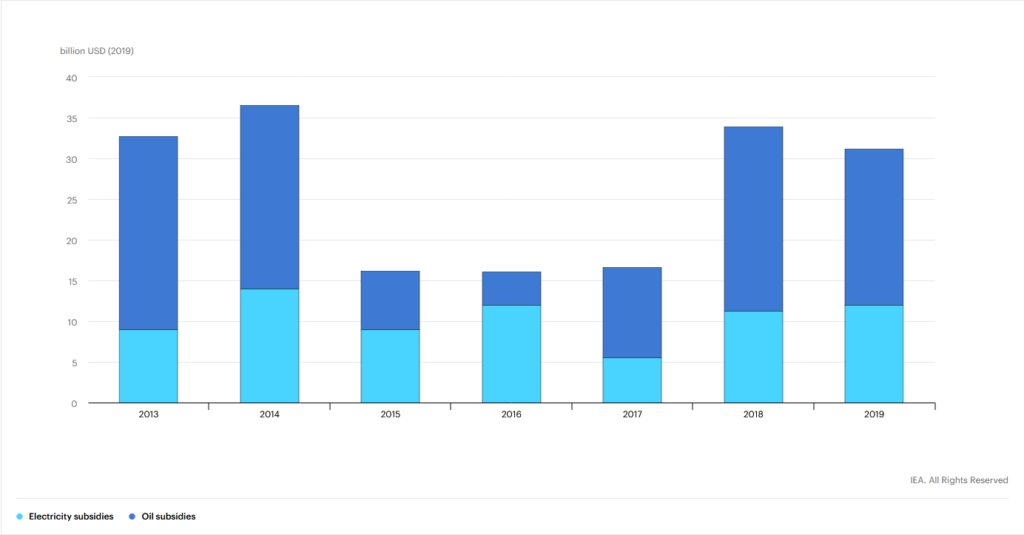 Source: IEA
Another critical challenge is the relatively high costs. The average cost per megawatt of solar PV capacity in Indonesia is 65 per cent higher than in India and 10 per cent higher than in Thailand.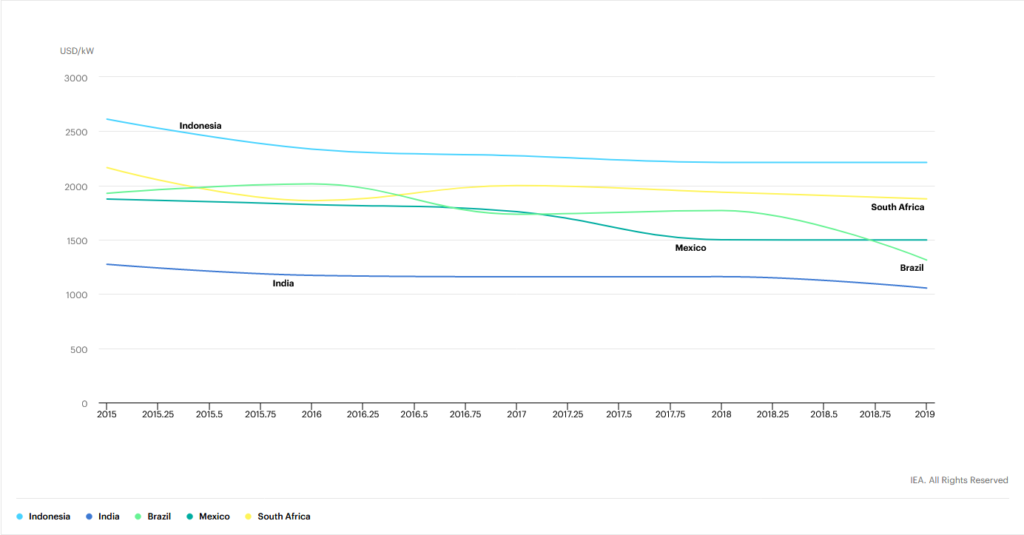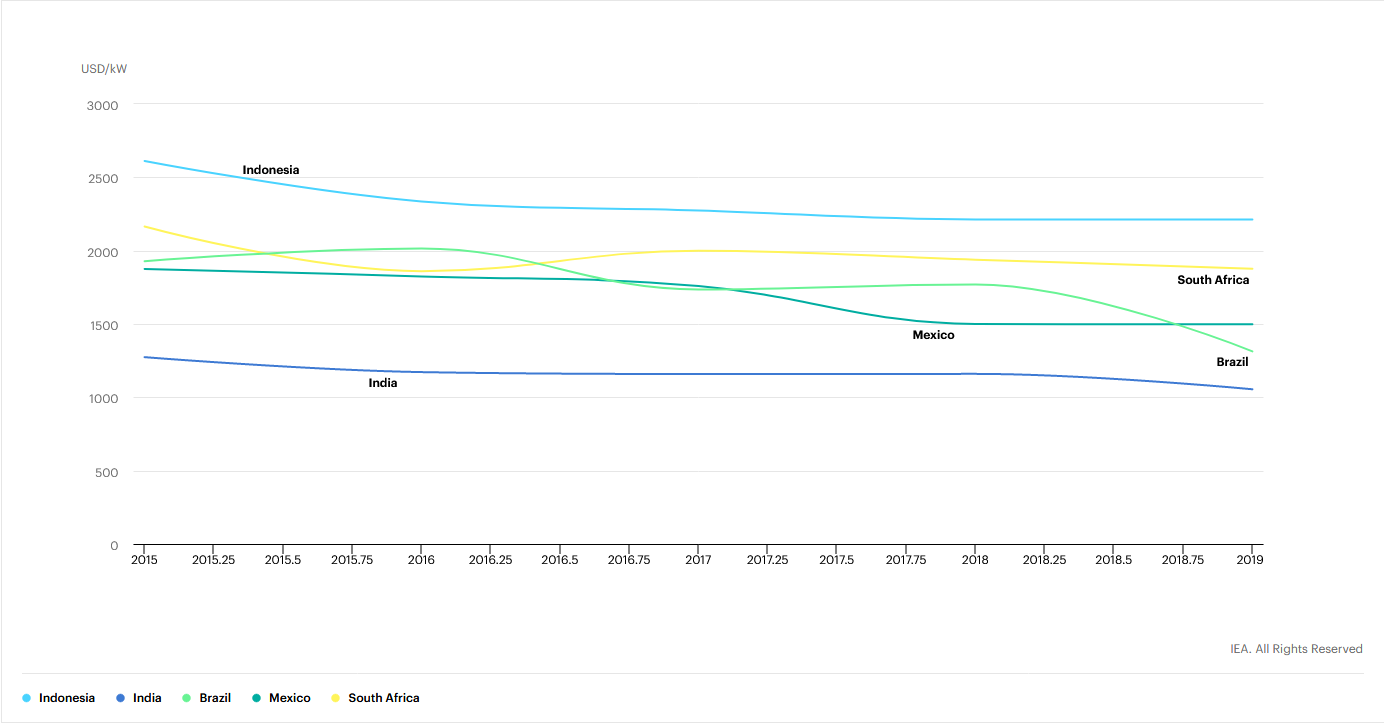 Source: IEA, Capital costs of wind in selected emerging economies
The IEA's report on Indonesia concludes that public sources and SOEs have played a more significant role in financing fossil fuel power than renewables. Besides, private sources accounted for around 50 per cent of the funds invested in renewable energy sources.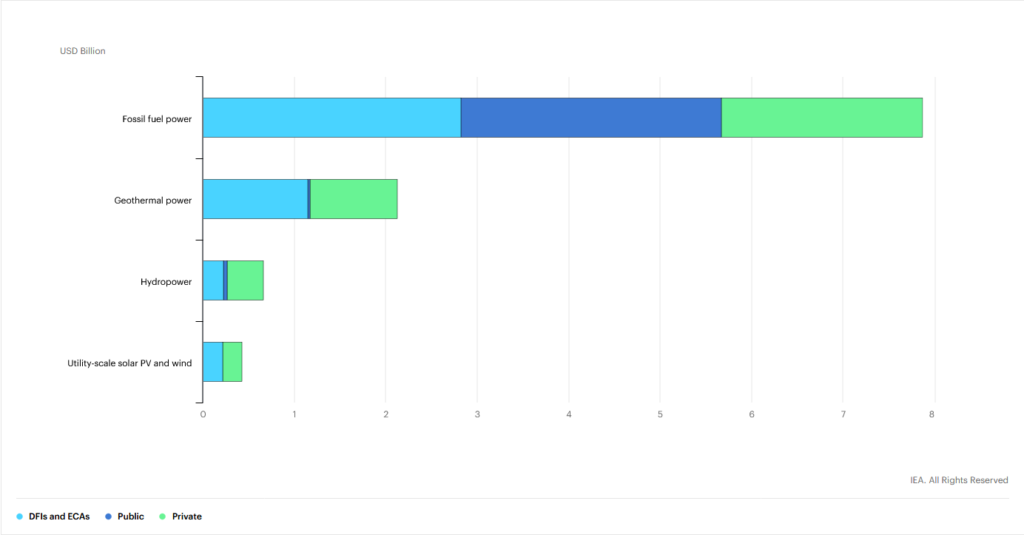 This demonstrates the importance of a proactive national policy if Indonesia wants to remain on track to achieve its goals. Fortunately, efforts in this regard are already in the pipeline with the Indonesian government planning to build a new "smart and clean" capital city that relies on renewable energy for its electricity needs, introduced in 2019.
How renewable energy transition affects the coal industry
Despite the shift towards renewable energy, Indonesia's coal industry is projected to continue to grow, although at a much slower rate. It is expected to reach a plateau by 2030 and subsequently start shrinking at the expense of growing renewables.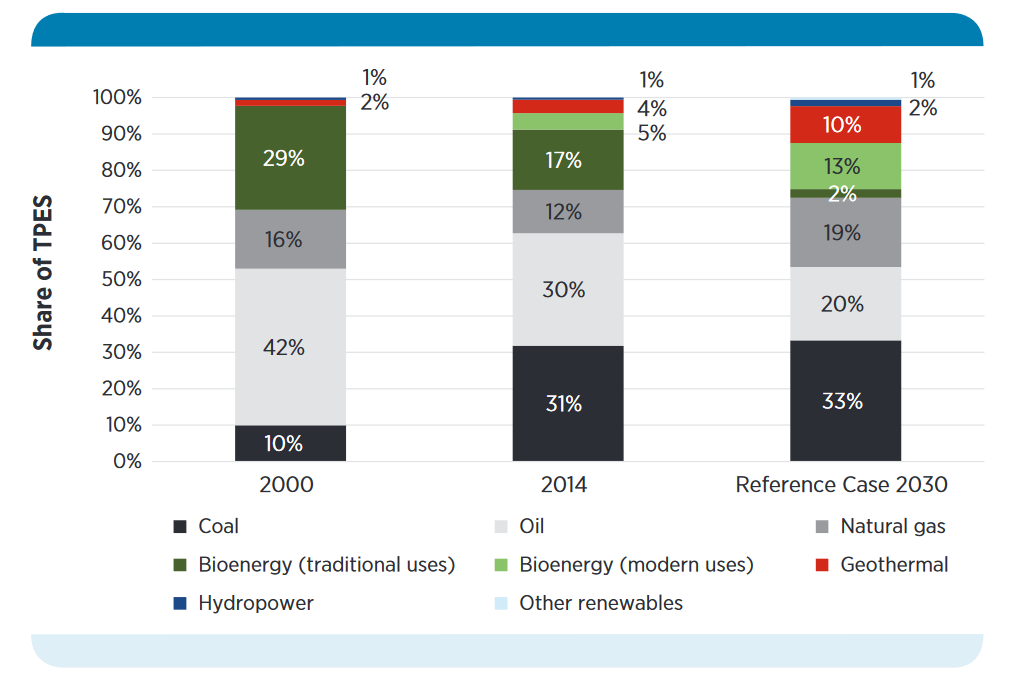 Source: IRENA
It is expected that the most affected sector in the short term will be the oil sector. In recent years, however, Indonesia's imports of oil have rapidly increased at the expense of local production.
by Viktor Tachev
Viktor has years of experience in financial markets and energy finance, working as a marketing consultant and content creator for leading institutions, NGOs, and tech startups. He is a regular contributor to knowledge hubs and magazines, tackling the latest trends in sustainability and green energy.
Read more