Renewable Energy in Malaysia – From Oil To Sustainability
Photo drshahrinmdayob / Shutterstock.com
Malaysia's energy mix is heavily geared towards coal, oil and natural gas. However, the country has ambitious renewable energy and decarbonisation goals over the next 30 years. The rapid development of domestic renewable energy is crucial to stay on track.
13 September 2023 – by Eric Koons
As a significant global fossil fuel industry player, Malaysia must realign itself towards renewable energy. Malaysia is in the world's top 25 oil producers, and the government-owned Petronas is one of the world's largest oil and gas companies. The country has built a legacy around non-renewable energy resources.
However, with the intensifying global focus on sustainability, energy efficiency and climate change, Malaysia has also announced renewable energy targets to diversify its energy mix. As part of the Eleventh Malaysia Plan for 2016–2020, the government aimed to achieve 23% electricity generation from renewable energy sources by 2025.
Renewable Energy in Malaysia 2023
In 2023, Malaysia announced more ambitious targets as part of its Malaysia Renewable Energy Roadmap (MyRER). MyRER targets renewable energy in Malaysia to meet 31% of the country's energy demand by 2035 and 70% by 2050. This is an over 10-fold increase in current renewable energy capacity and will require significant financial investment and incentives for the renewable energy sector.
How Much of Malaysia's Energy Is Renewable?
Renewable energy in Malaysia makes up just 8% of the country's total energy consumption. This share has slightly increased since the early 2000s, when it accounted for less than 3%, yet it is about equal to the country's renewable energy share in the late 1980s.
With the goal of expanding this to 31% by 2035, there is a need for swift and ongoing action. Lead times for utility-scale renewable energy facilities are several years, so projects must be developed soon to meet the country's long-term objectives.
Fossil fuels still dominate Malaysia's current energy landscape. Over 90% of the country's energy comes directly from fossil fuel sources, with 35.7% from oil, 19.4% from gas and 36.8% from coal. While oil consumption has been on a slow decline since the 1970s, gas consumption has remained relatively stable since the early 2000s, and coal has been steadily increasing. Malaysia has to boost renewable energy research and development to reduce carbon emissions.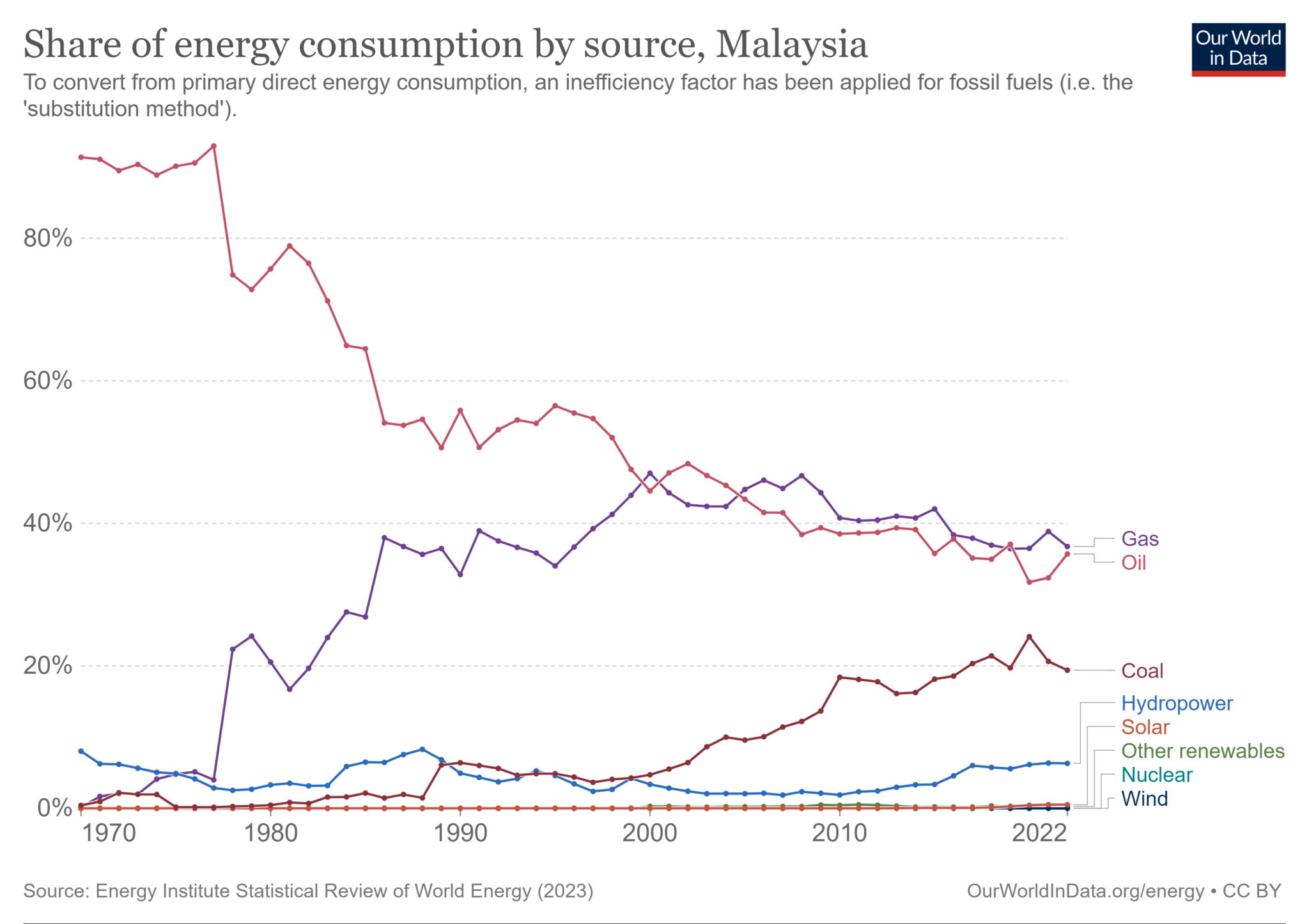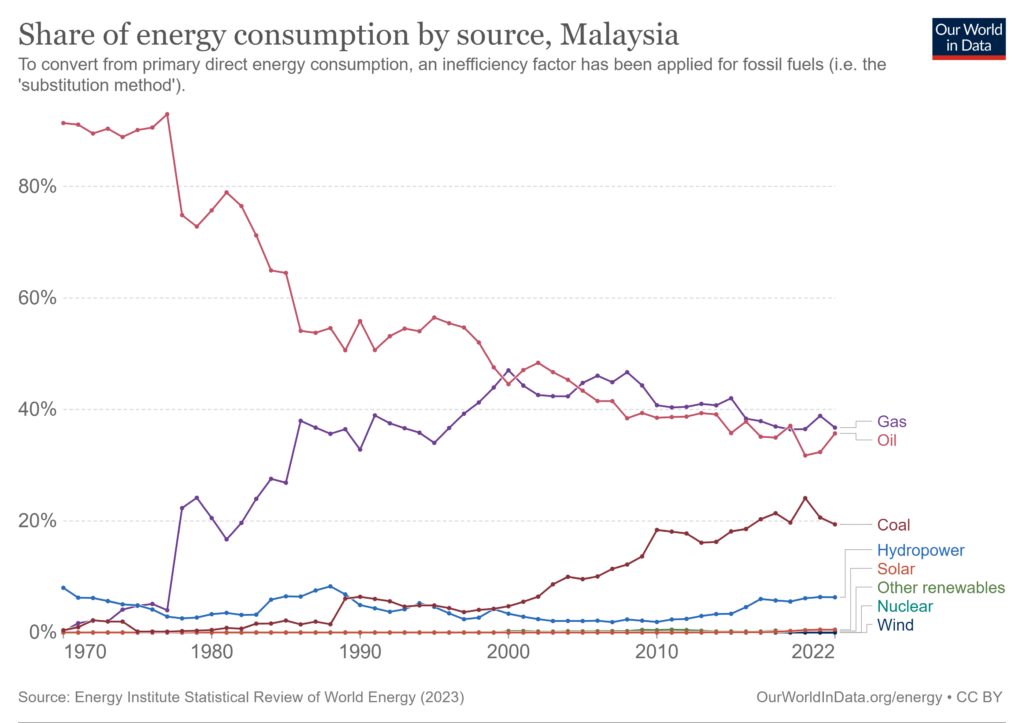 What Is the Largest Renewable Energy Source in Malaysia Currently?
A deeper look at Malaysia's existing renewable energy capacity shows that the vast majority comes from hydropower – 6.3% of the country's entire energy supply. Solar comes in second at 0.53%, with all other renewable generation at just 0.27%. Both hydropower and solar power have been slowly increasing over the past decade, yet overall capacity remains low.

Hydropower has been the dominant renewable energy option due to the country's plentiful water resources. The country has approximately 189 rivers, totalling over 57,000 km in length. Many major rivers run from the highlands towards the more densely populated coastal regions, particularly in mountainous Borneo Malaysia. This gives the country an estimated technical hydropower potential of 123,000 GWh per year, with 70% of that in the Borneo state of Sarawak.
Alternatively, Peninsular Malaysia's hydropower potential is much lower, and options like solar represent an alternative solution.
Malaysia's Greenhouse Gas Emissions
Renewable energy plays most the important role in reducing greenhouse gas emissions. As renewable energy capacity rises, emissions will decline. However, with fossil fuels still the country's primary energy source, emissions remain high. Malaysia is the world's 22nd-highest emitting country and has been experiencing rapid growth of per capita and total emissions since the 1960s.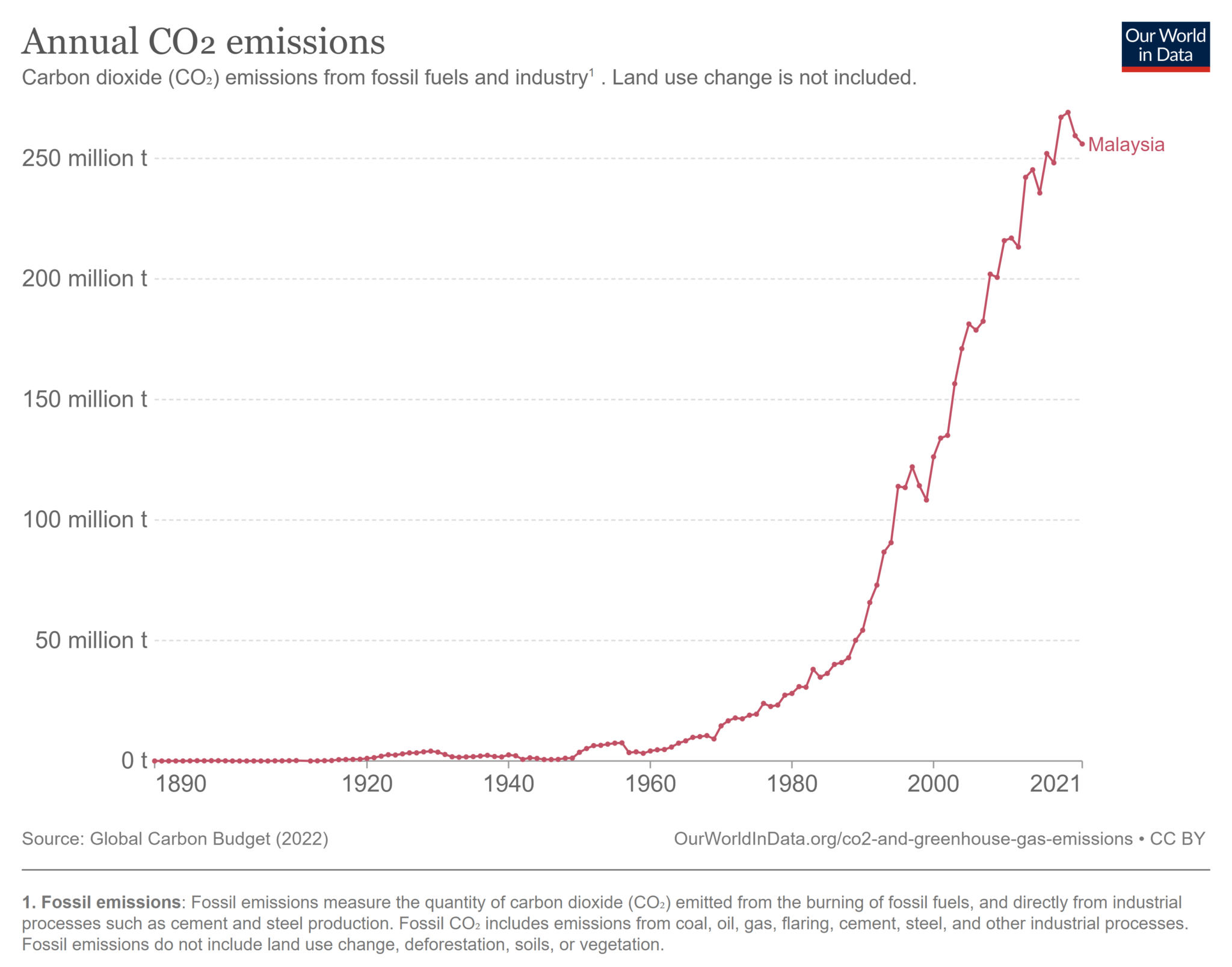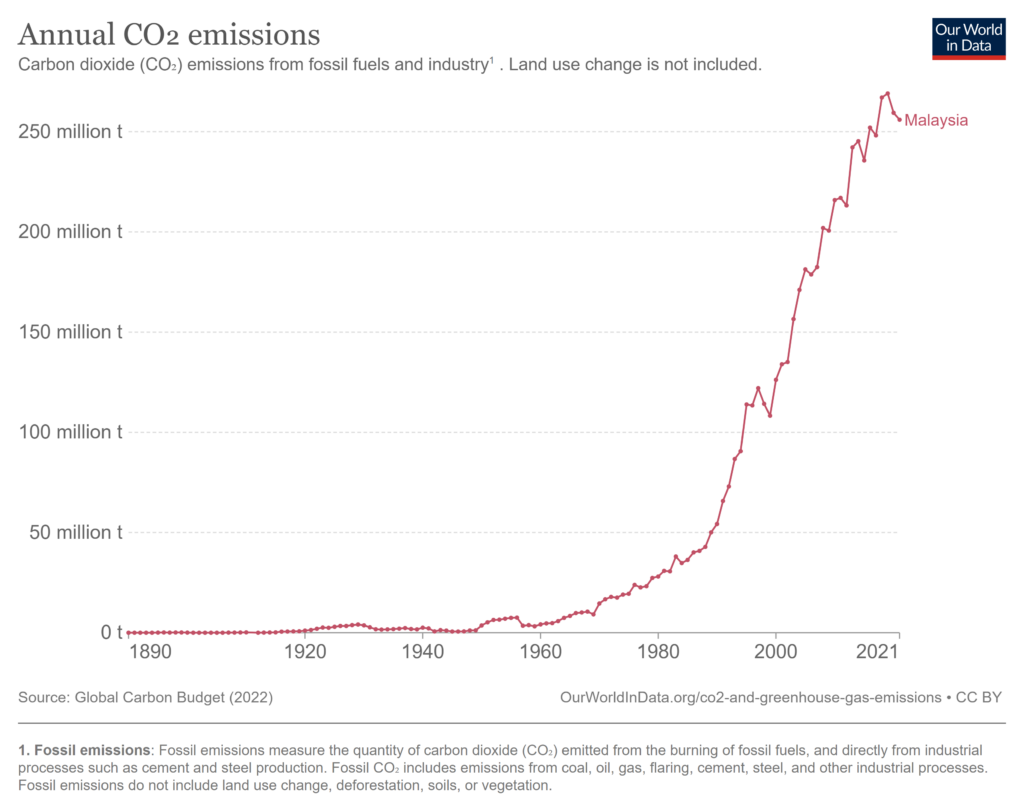 This expansion coincides with the country's rapid industrialisation and shift from agriculture to industry. As the country made this shift, its GDP rapidly expanded, leading to a higher standard of living and urbanisation.
As a result, electricity and heat generation is the highest emitting sector, followed by land use changes (deforestation), transportation and manufacturing. Decarbonising these sectors is highly dependent on adopting renewables and sustainable development policies.
What Is the Future of Green Energy in Malaysia?
Malaysia can meet its energy demands through the domestic expansion of sustainable energy capacity, mainly with biomass, solar power and hydropower.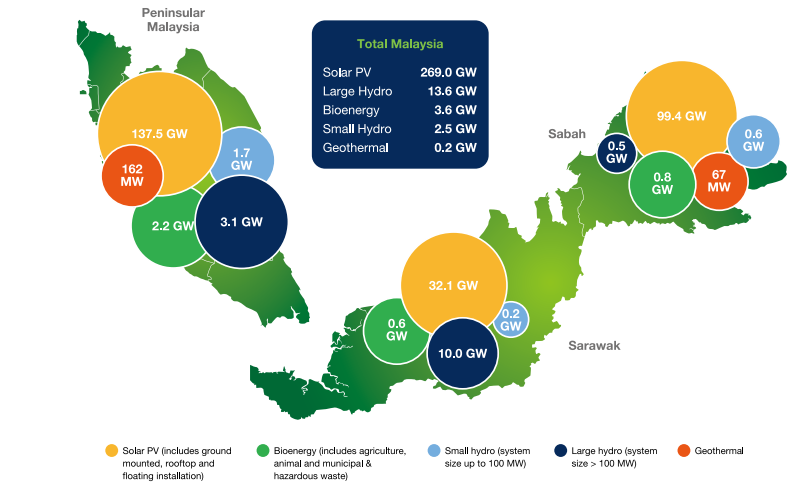 Malaysia has some of Asia's highest solar irradiation rates due to its location. The Malaysian government estimates there is a solar energy potential of 269 GW in the country, with the vast majority being ground-mounted systems.
Hydropower has a significantly lower potential at 16.1 GW, bioenergy at 3.6 GW and geothermal at 0.2 GW. Bioenergy has an exciting role to play in the renewable energy space. Nearly 100 million tonnes of palm oil and fruit are processed annually in the country. This produces nearly 20 million tonnes of byproduct fibre waste, which is often incinerated. Utilising this waste in a biomass system is a viable solution to capitalise on an already existing resource.
Malaysia Renewable Energy Roadmap: Investment and Policy
Despite Malaysia's ambitious renewable energy goals, pledges alone will not ensure a successful energy transition. According to a recent report from the International Renewable Energy Agency (IRENA), Malaysia must double its planned investment in the renewable energy industry between now and 2050, from USD 159 billion to over USD 375 billion.
However, the report stresses that there is not only a financial gap but also a need for well-aligned policies, infrastructure readiness and human capital development to manage new technologies. It's not just about setting targets but backing them up with actionable plans and the necessary capital.
by Eric Koons
Eric is a passionate environmental advocate that believes renewable energy is a key piece in meeting the world's growing energy demands. He received an environmental science degree from the University of California and has worked to promote environmentally and socially sustainable practices since. Eric's expertise extends across the environmental field, yet he maintains a strong focus on renewable energy. His work has been featured by leading environmental organizations, such as World Resources Institute and Hitachi ABB Power Grids.
Read more