The Future of Energy Transition Under S. Korea's New President Yoon Suk-Yeol
Source: The New York Times
President-elect Yoon Suk-yeol appears to be a wild card for South Korea's energy transition. On the one hand, he has blatantly stated that it is impossible to reach 100% renewable energy by 2050. On the other hand, he believes the country should strengthen its current renewable energy target for 2030. We hope he pushes for the later point, which will help South Korea become a leader in the region's push for renewables.
25 March 2022 – by Eric Koons
South Korea's recent election on March 9 was one of the fiercest election campaigns in the country's democratic history, signalling the changing of the guard from the liberal leadership of Moon Jae-in to the conservative politics of South Korea's next President Yoon Suk-yeol.
The right-wing candidate, Yoon Suk of the conservative People Power Party, claimed victory by the narrowest of margins, earning 48.6% of the popular vote. Meanwhile, his rival, Lee Jae-Myung of the Democratic Party, conceded defeat with 47.8% of the vote.
As the president-elect Yoon Suk prepares to enter office, the public, especially young men, has great expectations for what Yoon will achieve during his presidency. However, his conservative politics have brought an air of uncertainty to South Korea's energy transition, gender equality and relations with North Korea. He has been compared to former President Donald Trump of the United States.
Yoon has stated that he sees the goal of reaching 100% renewable energy sources by 2050 as impossible. Views such as this may impact how the country decides to move forward with its energy policy under Yoon's government.
What Is the Current Stance of South Korea on Energy Transition?
Under the President Moon government, South Korea was beginning to take strides in the right direction, gradually reducing its reliance on fossil fuels.
In 2019, fossil fuels made up 87% of South Korea's energy mix (43% petroleum, 28% coal and 16% natural gas). Another 10% of the mix came from nuclear power, and 3% from renewables.
By February 2021, that mix was slightly less reliant on fossil fuels, at 82.5%. The change saw substantial decreases in petroleum and coal, with a notable increase in natural gas up to 23.7%. Renewable energy in the grid doubled but is still the lowest among OECD members.
The country passed a bill in September 2021 that mandated climate neutrality by 2050. Part of the bill requires South Korea to cut its greenhouse gas emissions by 35%, from its 2018 levels, before 2030.
However, climate analysts and critics have noted that South Korea should be cutting its emissions by 59% by 2030 if it wants to be in line with the commitments made in the Paris Agreement.
Although the country still has a long way to go to meet its carbon neutrality goals, under the Moon government, Korea has made some small but important steps towards progress.
What Are Climate Philosophies of South Korea's President-elect Yoon Suk-Yeol?
As mentioned earlier, Yoon has already voiced his disagreement with the notion of reaching net-zero carbon emissions by 2050. He adds that the country must continue to use traditional energy sources while working towards sustainable growth.
Yoon, who will hold office for the first time in his political career, is a strong proponent of nuclear energy. He highlighted this by announcing plans to increase nuclear production. He also vows to resume the construction of the nuclear power plant projects that were put on hold by the Moon administration.
Yoon agrees on the importance of increasing the share of renewable energy in the domestic energy mix. He has stated that South Korea should increase its climate target to cut 40% emissions by 2030.
While Yoon is not against the idea of renewable energy, his views on the matter seem likely to slow the country's transition to clean energy sources. This comes at a time when climate agencies are sounding the alarm over the Earth's current climate situation and trajectory.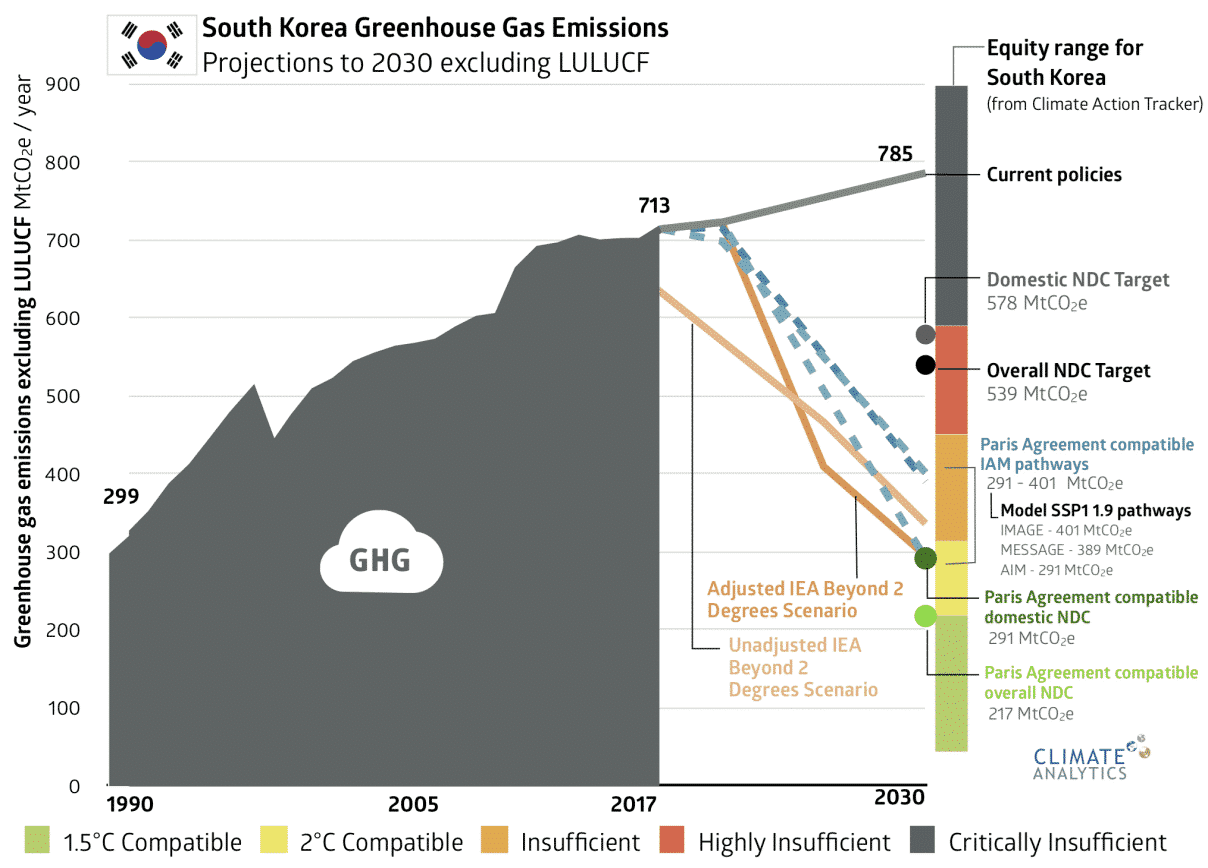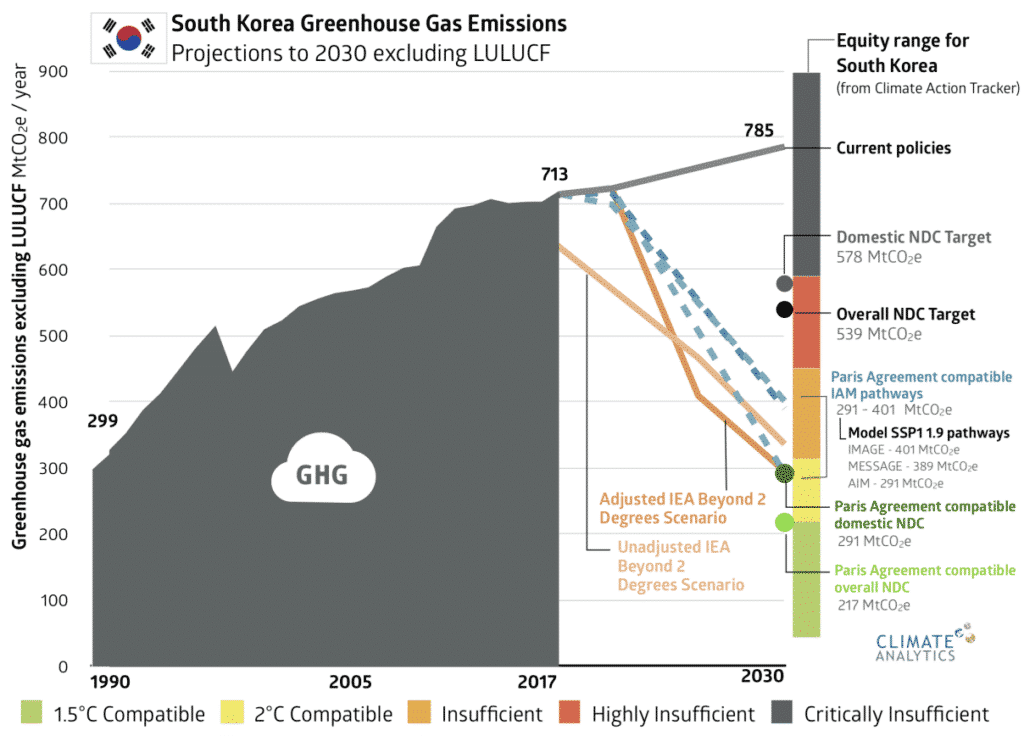 The Uncertainty of Yoon's Allegiance to Big Business
Yoon finds himself in a peculiar place when it comes to his relationship with big business in South Korea. The former prosecutor-general has had major run-ins with the bigwigs of South Korean business, but he is now vowing to develop amicable relations with Korea's largest companies.
Yoon indicted Samsung's Vice Chairman Lee Jae-yong in 2017 on bribery charges. Lee was found guilty and given two and a half years in prison for his crimes.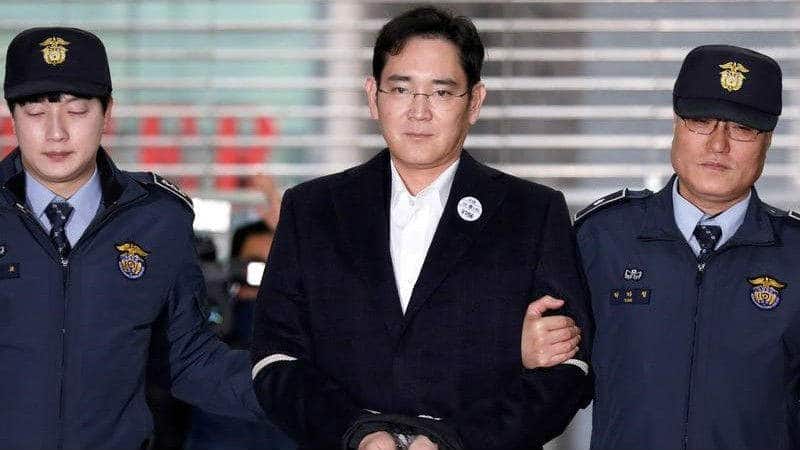 Furthermore, when Yoon was working at the prosecutor's office in 2007, the honorary chairman of Hyundai, Chung Mong-koo, was put behind bars for embezzlement.
And in 2012, Yoon also indicted SK Group's Chairman Chey Tae-won on embezzlement charges.
Yoon has a tricky relationship with South Korean business but has promised to be helpful to their causes. This may involve some degree of leniency regarding climate regulations.
Samsung, arguably the economic engine of South Korea, has been less than stellar in its transition to green energy. With Yoon at the helm, it appears unlikely that the government will push these companies to clean up their acts.
Can Joe Biden Influence Yoon to Be More Climate Friendly?
Although the possibility of an accelerated energy transition in South Korea seems low, perhaps there is one saving grace. This is that Yoon Suk-yeol has repeatedly talked about the importance of having a good relationship with the United States.
While the U.S. is by no means a shining example of a clean energy economy, the country is taking the need to transition seriously. President Joe Biden has had conversations with Yoon about the importance of dealing with the climate issue.
South Korea's strong relationship with the US will hopefully influence the incoming administration to develop policies that will ensure a movement towards clean energy.
South Korea's Energy Transition Is At a Fork in the Road Under Yoon Presidency
Yoon has the power to decide whether South Korea will lead Asia's energy transition or lag behind. Early signs point to the president-elect being very lenient with Korean polluters while pushing for increased nuclear production. And while nuclear energy is considered better than fossil fuels, it will only prolong the transition to renewable sources.
If Yoon's campaign promises are anything to go by, South Korea is likely to fall behind in the Asian energy transition. However, this may all change once he enters office. What politicians say during a campaign and what they actually do after taking office can be two separate things.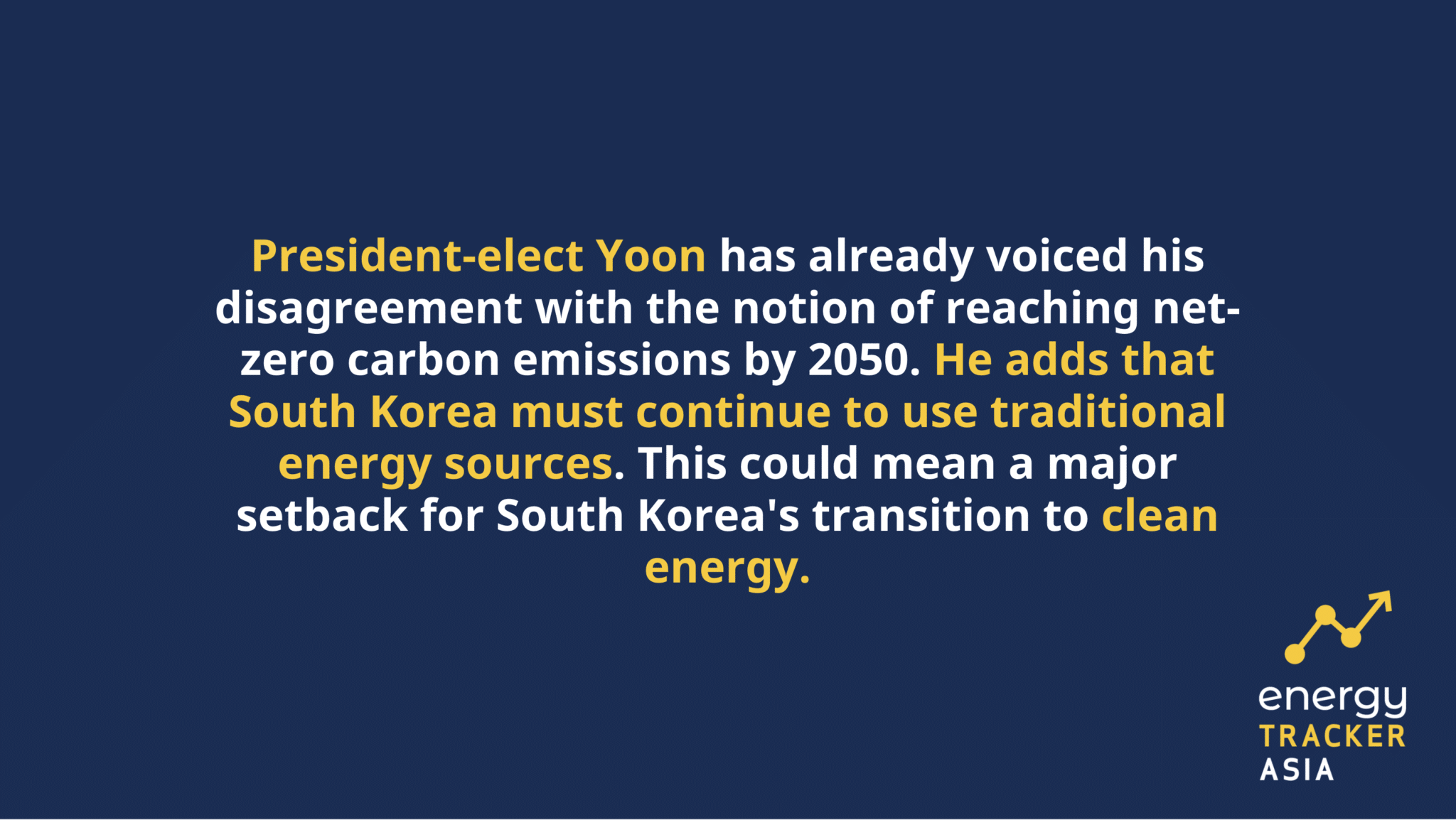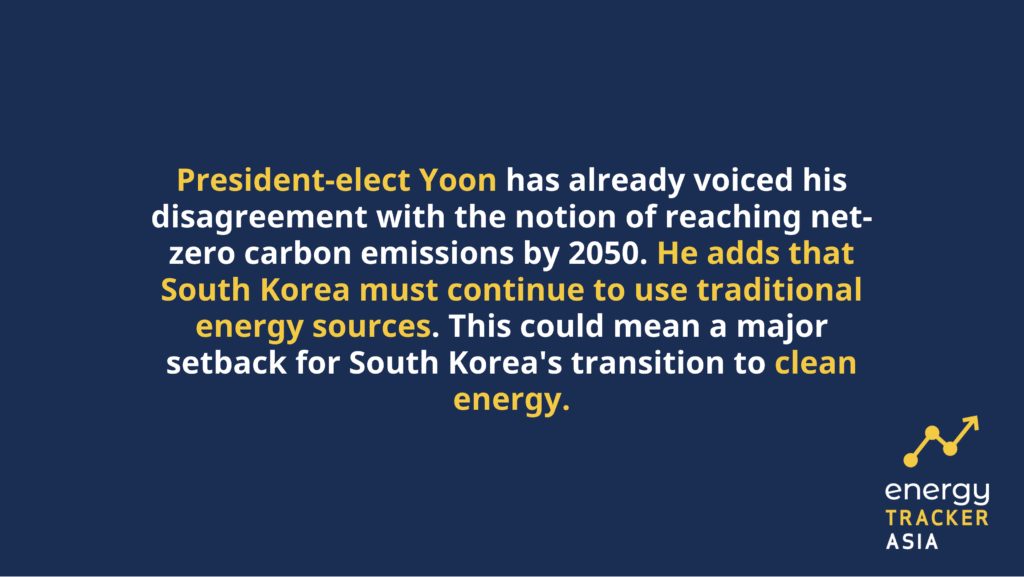 by Eric Koons
Eric is a passionate environmental advocate that believes renewable energy is a key piece in meeting the world's growing energy demands. He received an environmental science degree from the University of California and has worked to promote environmentally and socially sustainable practices since. Eric's expertise extends across the environmental field, yet he maintains a strong focus on renewable energy. His work has been featured by leading environmental organizations, such as World Resources Institute and Hitachi ABB Power Grids.
Read more