Using Gas for Cooking in Asia: History, Drawbacks And Future
In the search for cheaper and cleaner cooking alternatives, countries across the world are replacing gas stoves with induction and electric appliances. While low and middle-income countries in Asia might find this shift challenging at first, the path forward is clear – dirty and expensive fuels will make way for cleaner and cheaper alternatives.
01 September 2022 – by Viktor Tachev
Using gas for cooking is a concept that took Asia by storm a few years ago. Aggressive marketing campaigns by the gas lobby portrayed gas as a clean and cheap fuel. However, the idea of using gas or liquefied petroleum gas (LPG) for cooking is short-sighted.
The History of Using Natural Gas for Cooking
There have been campaigns to promote gas for cooking in the US since the 1950s and the 1960s. This organised marketing push spread to the entire world, including Europe, Asia and Australia. Today, various interested parties – from companies like Tokyo Gas to national organisations like the American Gas Association (AGA) – are pushing the agenda that cooking gas should be the go-to cooking fuel.
Marketing for Cooking Gas
With TV commercials, social media campaigns and initiatives with cooking influencers and professional chefs over the years, the idea of using gas for cooking has been actively communicated to audiences across the US, Australia, Ireland, Japan and other countries.
Campaigns usually state that using natural gas for cooking increases access to clean and cheap energy for low-income households and enables people to have a professional quality kitchen experience in their own homes.
As a result, cooking gas became a widely preferred option across many low and middle-income countries worldwide, reaching a 52% share in 2020. Among them are also many Asian developing countries.
The Drawbacks of Cooking with Natural Gas
There are growing arguments against using gas for cooking due to various reasons. These include:
1. Expensive and Unpredictable Gas Prices
AGA claims that cooking with natural gas costs half as much as cooking with electricity, reducing the energy bill by up to 30%. However, the present geopolitical situation has thrown this theory out the window.
Previous analysis has shown that a 1,000% increase in gas prices in the span of several months isn't uncommon. This increased volatility affects mainly Europe and Asia. Both markets account for 94% of global natural gas imports and a third of global gas consumption. However, the main difference is that most economies in Asia are developing. Unlike European nations, these nations find it more challenging to deal with the constantly increasing crude oil and gas prices.
For example, currently, Bangladesh is suffering from record-high natural gas prices. Meanwhile, the current model directly passes price volatility to the end user in the Philippines. Other Asian countries are also suffering from the high costs of natural gas and LPG cylinders.
According to different analysis groups like the IEEFA and Fitch Solutions, high gas prices and volatility aren't likely to go down in the short term.
2. Shocking Health Concerns
Burning fossil gas produces a mix of pollutants known to be harmful to health if present in sufficient concentrations. Cooking with gas is responsible for up to 12% of childhood asthma cases in Australia. A child living in a gas-cooking household faces a similar risk of asthma to one living with smokers. Gas cooking is also linked to a greater risk of respiratory infections, small reductions in lung function in children and rhinitis.
Without ventilation, air pollutants, such as nitrogen oxides (NOx), emitted during just a few minutes of gas stove usage can significantly increase the risk of triggering respiratory diseases.
3. Emissions from Gas Stoves vs Electric Stoves
Furthermore, homes with gas stoves have between 50% to 400% higher concentrations of nitrogen dioxide (NO2) than those with electric stoves. The resulting pollution from the gas stoves often reaches levels that would be illegal outside. For example, the latest air pollution guidelines from the WHO slashed the annual limit of NO2 from 40 micrograms per cubic meter to 10 micrograms. However, those could reach values of 2,000 micrograms in kitchens.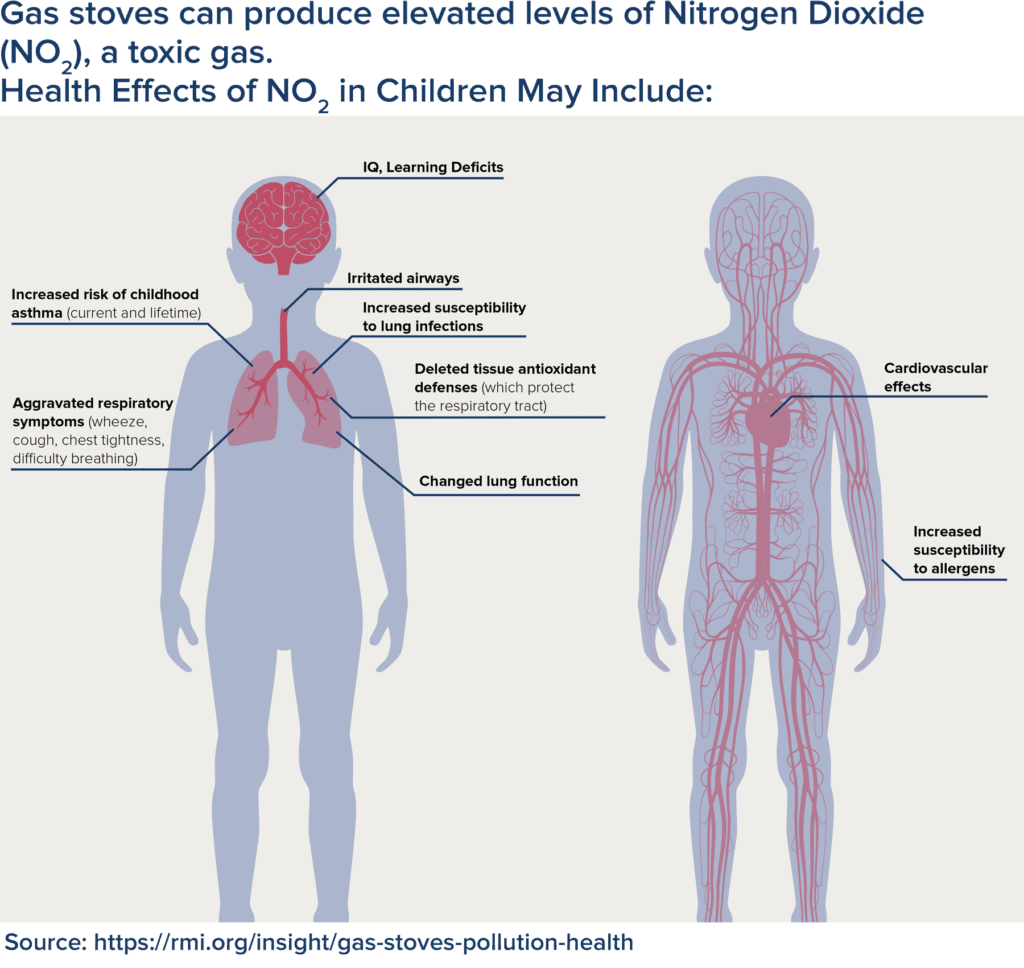 4. Indoor Air Pollution
Peak indoor air pollution from gas stoves can reach five times higher levels than the legal outdoor limit. Furthermore, research suggests that gas cooking produces about twice as much PM 2.5 as cooking with electricity.
While the health impact can be mitigated with better ventilation or modern appliances such as natural gas range or LPG stoves, it can't be entirely eliminated. Furthermore, poorer households are more exposed to the harmful effects of gas cooking appliances since they find it more challenging to afford proper maintenance of natural gas equipment.
5. Harmful to the Climate and the Environment
The process of deriving natural gas like other fossil fuels is impacting water and air quality. Exploration, drilling and production practices also negatively affect soil and wildlife.
Furthermore, natural gas is a highly polluting fuel. While it emits 50 to 60% less carbon dioxide (CO2) than coal, it emits large quantities of methane. Over a 20-year period, its warming potential is 84 to 86 times higher than carbon dioxide. In fact, over 75% of gas stoves' methane emissions are released when the stoves are turned off. During a 20-year time frame, annual methane emissions from all gas stoves in US homes have a comparable climate impact to the yearly CO2 emissions of 500,000 cars.
Slashing methane emissions has become a common global goal, and achieving it will help slow climate change down.
Alternatives to Cooking Gas
According to scientists, swapping gas stoves for electric induction cooktops will reduce the impacts on health and the planet. Compared to gas, electric alternatives are more efficient and healthier.
A 2019 Consumer Reports article comparing gas and electric stoves for cooking concludes that electric ranges outperform their gas counterparts in various aspects. This is even without considering induction appliances, which are way more efficient and safer than gas. Energy Star finds that induction cookware transfers heat with about 85% efficiency. This is far more than gas (32%) and most electric stoves (75-80%). Estimates reveal that induction cooking can generate a potential energy saving of between 5% to 20% when compared to traditional electric cooktops, and it has an energy saving of more than 65% compared to gas.
The health, environmental, and safety concerns are why various US states, cities, and many developed EU countries are introducing regulations and imposing restrictions to push gas out of the kitchen. Europe is the leader in using induction stoves, making up over 35% of the global market. In the US, they are also starting to become popular. Appliance producers and energy experts are promoting them as eco-friendly alternatives to natural gas stoves.
However, in Asia, induction stoves face several notable challenges which stand in the way of adoption.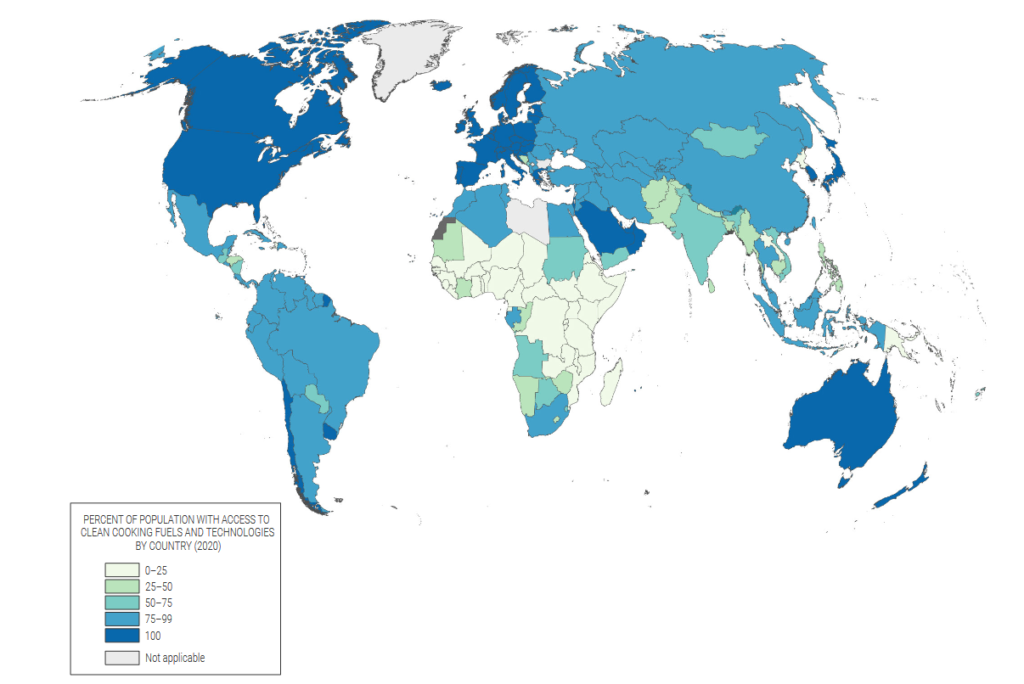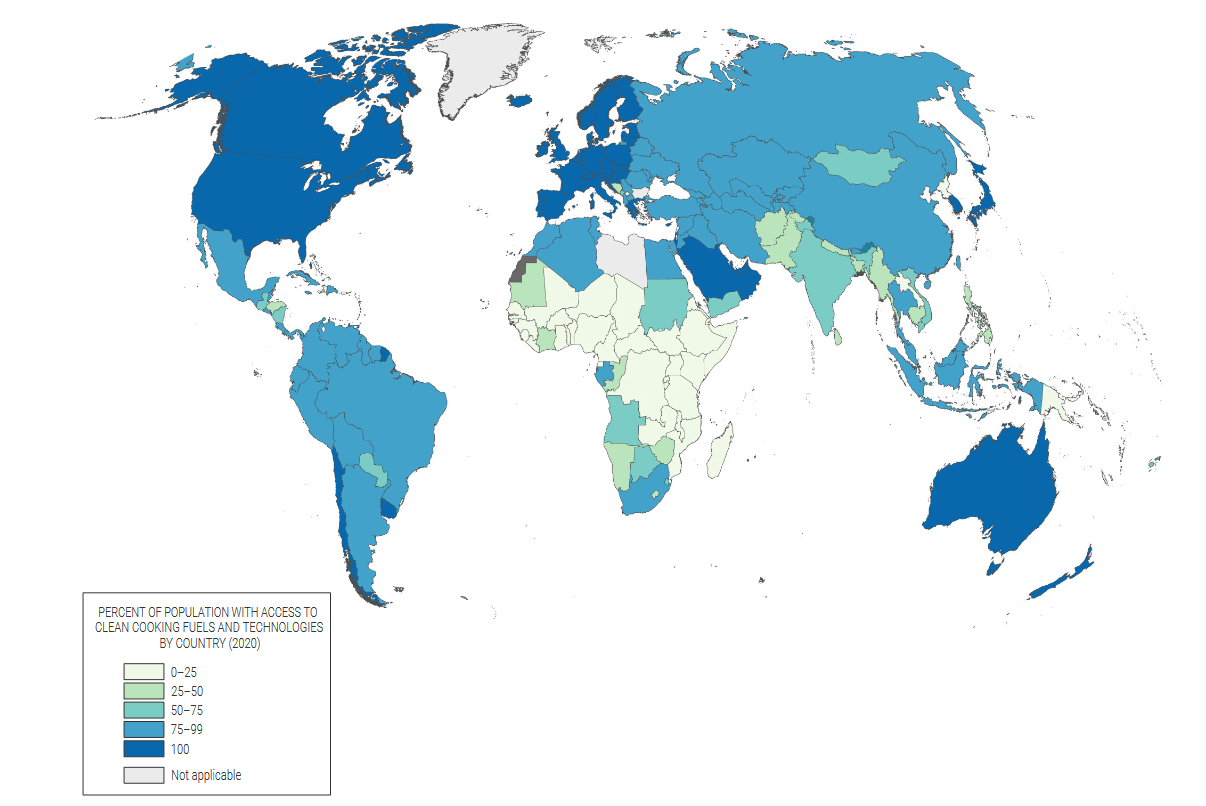 Challenges for Transitioning to Clean Cooking
The guaranteed way to make cooking cleaner today is to replace gas with induction stoves. The switch will make a real difference once the continent reduces the share of fossil fuels it uses or when renewables become responsible for most of the produced electricity.
Replacing gas stoves with induction ones would be costly – at least in the short term. However, once their market share increases, costs for induction ranges and cooktops will start dropping as they become widely used.
Other notable challenges include a lack of awareness of the benefits of induction stoves, hesitancy to switch away from gas due to trusting the lobby's aggressive marketing and additional costs for replacing cookware to fit the induction technology's requirements.
Gas Stoves to Make Way for Induction Appliances in Asian Households
Asia accounted for most of the clean cooking access gains globally in the past decade, with 2.5%. By 2030, access to clean cooking on the continent will reach 90%. More importantly, the Asia-Pacific will experience the fastest CAGR for the induction stoves market from 2021 to 2028.
A major reason is the presence of leading consumer induction cooktop providers in the region. By 2030, experts expect the top six cooktop producers to receive 100% of their revenue from induction and electric appliances. Alongside them, local producers like Bajaj in India, which offer induction stoves at prices deemed affordable by most consumers, will be another driving force behind the shift.
Looking ahead, gas stoves will make way for induction appliances due to their superiority. This shift will start accelerating when induction stove prices start decreasing due to economies of scale – something we will see during the energy transition.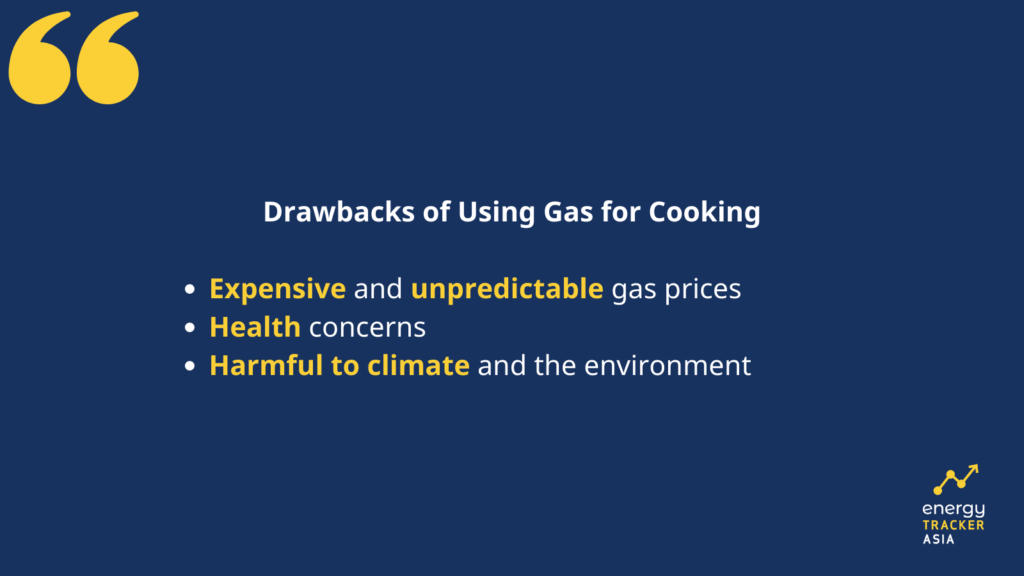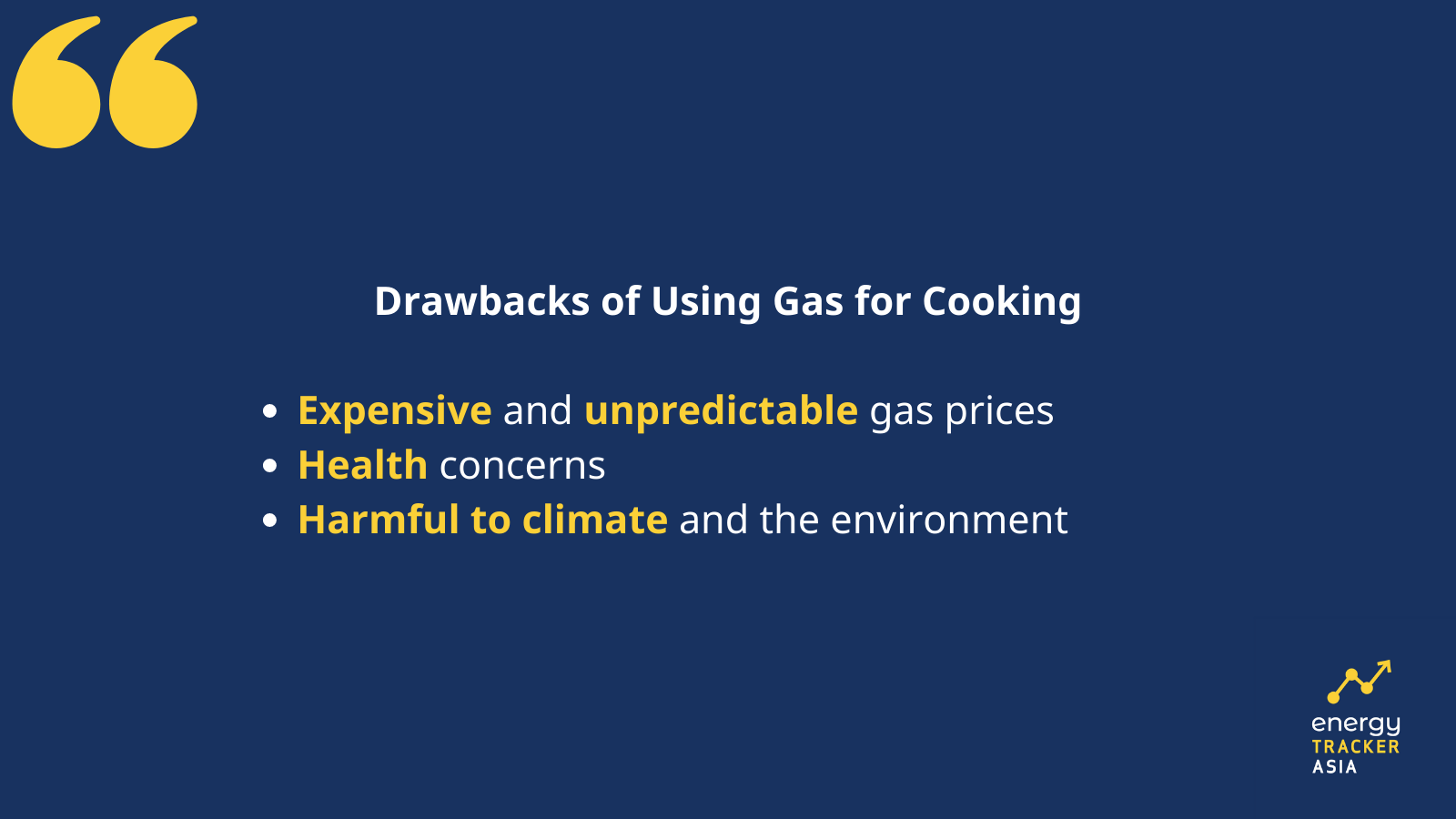 by Viktor Tachev
Viktor has years of experience in financial markets and energy finance, working as a marketing consultant and content creator for leading institutions, NGOs, and tech startups. He is a regular contributor to knowledge hubs and magazines, tackling the latest trends in sustainability and green energy.
Read more