Global Methane Pledge COP26: Its Impact on Asia's Oil and Gas Industry
In the build-up to the COP26 conference in Glasgow, all eyes were set on global leaders to make meaningful progress in addressing methane emissions, the second leading cause of climate change. While the Global Methane Pledge is a necessary first step, governments and the fossil fuel industry will have to do more if we are to remain on track to meeting the Paris Agreement goals. In the meantime, the oil and gas landscape in Asia will have to change.


05 November 2021 – by Viktor Tachev
Last updated on 08 November 2021
The Global Methane Pledge is an initiative to reduce global methane emissions. Methane is a potent greenhouse gas emission and is second only to CO2 in contributing to climate change or global warming, with fossil fuels being one of the largest emitters. The global methane pledge announced at COP26 in Glasgow is a game-changer in the battle against climate change. The commitment will force global oil and natural gas industry majors to reduce methane emissions if they want to survive in a booming era of renewable energy. For Asia, the pledge will have far-reaching impacts.
Why Do Global Methane Emissions Matter?
Methane's warming potential is 84 times that of CO2 over 20 years, making it a deadly force for climate change or global warming. To date, it is globally responsible for around 30% of rising temperatures. The UN has described reducing global methane emissions as one of the best ways to combat climate change. Other models show that if methane emissions fell by 50% in the 2040s, the potential decrease in global temperatures could be as low as 0.3°C. The world should reduce methane emissions to save itself.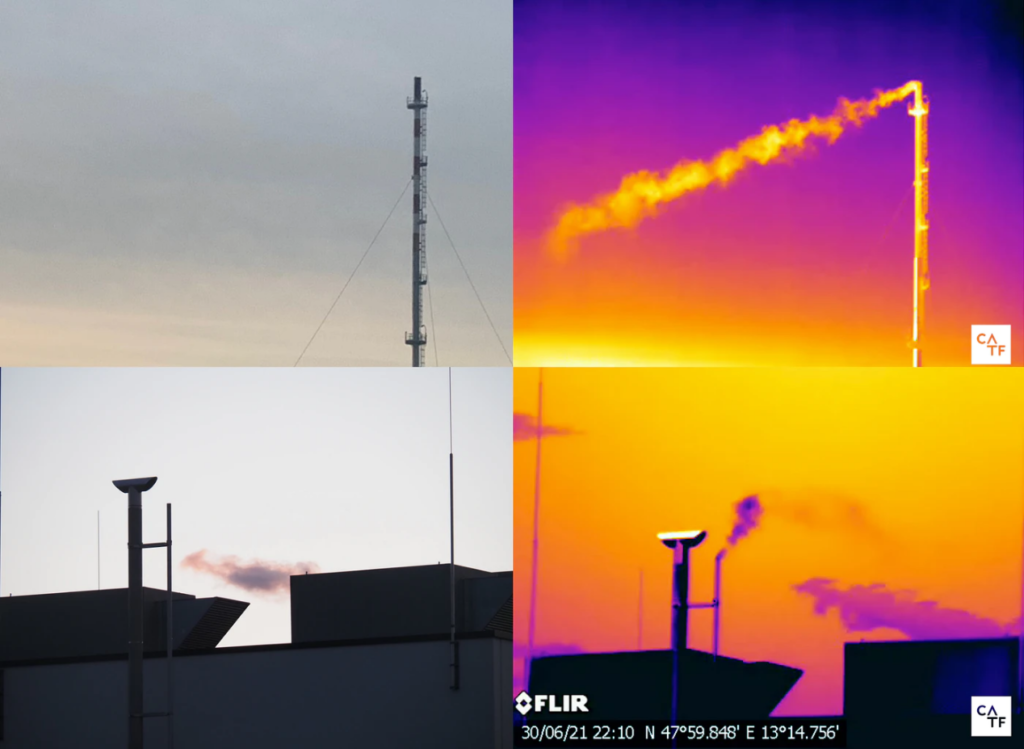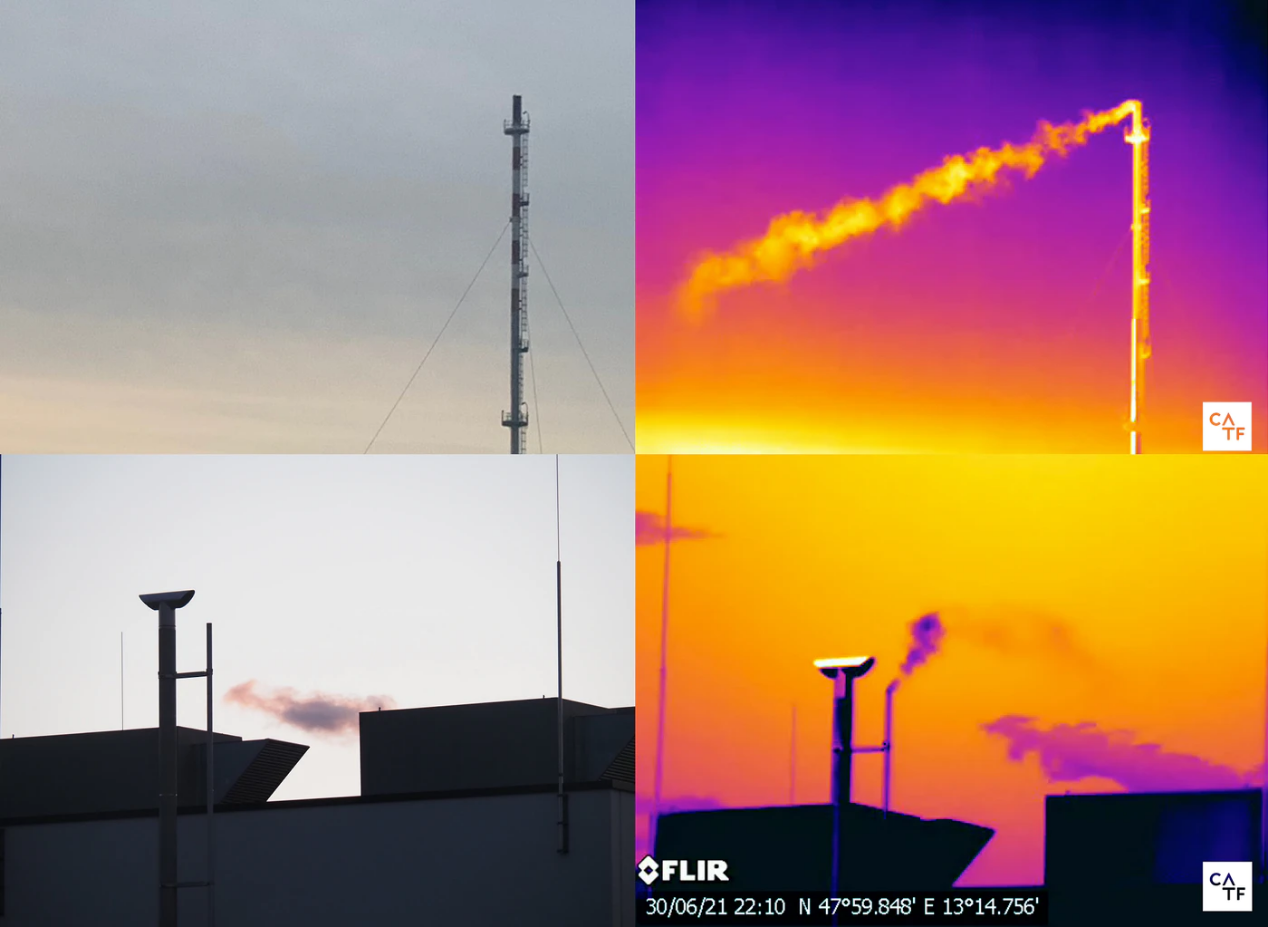 Methane Emissions from the Oil and Natural Gas Industry
Today, 2.5 times more methane emissions exist in the atmosphere compared to pre-industrial times. And records keep going higher year after year. A significant contributing factor to this high amount is the fossil fuel sector, which makes up around 35% of all emissions. According to the International Energy Agency, oil production accounts for 40% of that share. In 2020 alone, 70 Mt of methane, the equivalent of total-energy related CO2 emissions from the European Union, made its way into the atmosphere.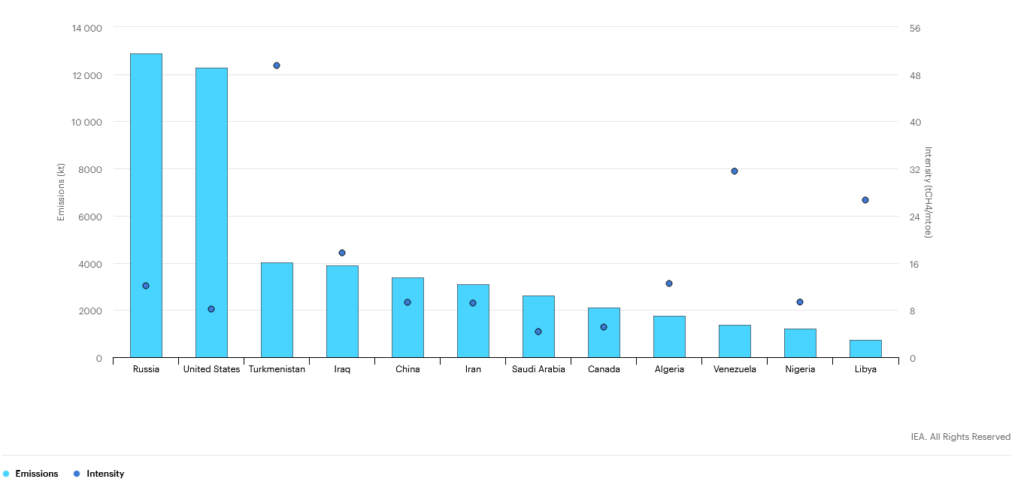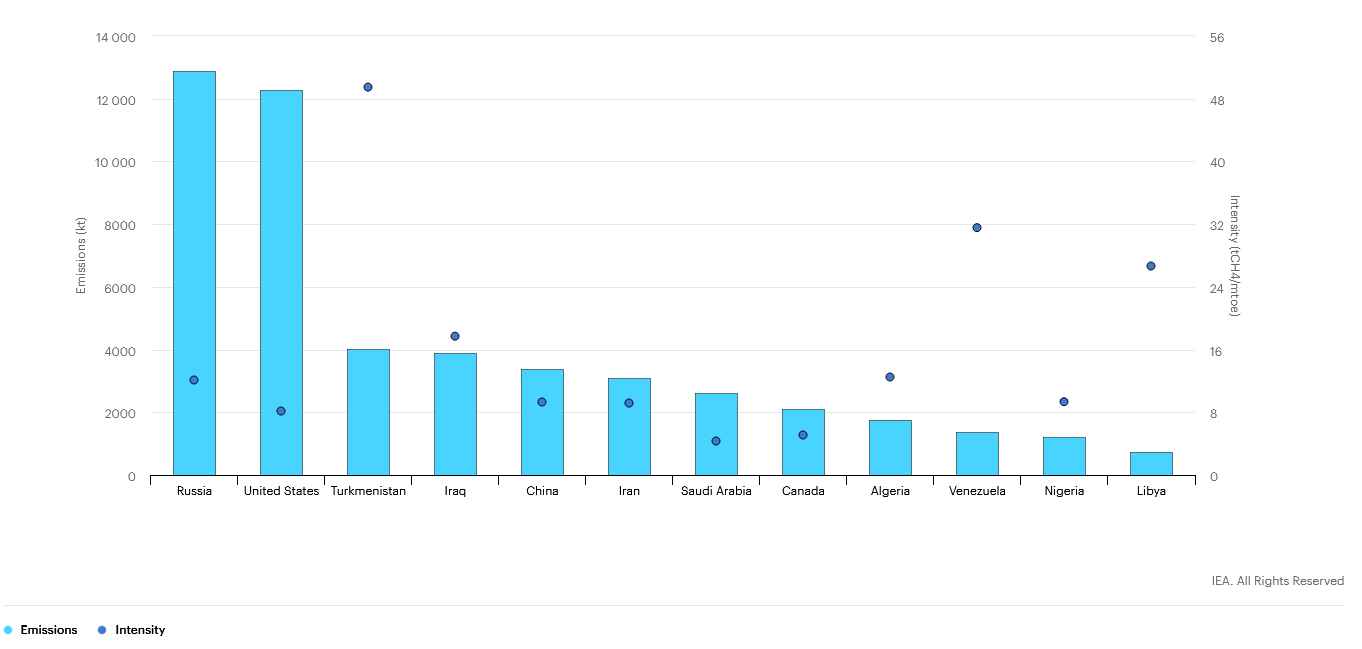 Coal Mine Methane Emissions and Carbon Dioxide Emissions
Coal contributes for 72% of greenhouse gas emissions and and 46% of carbon dioxide emissions. Coal mines are also significant contributors to methane emissions, with their impact more extensive than the shipping and aviation industry combined. In fact, in the latest analysis from Ember Climate coal mine, methane leaks are comparable to those found in the oil and gas industry. In the short term, these coal mine leaks are like their oil and gas counterparts, larger than the EU's total CO2 emissions.
Cutting Methane Emissions is Necessary to Keep Paris Agreement Target
If the world is to keep within the Paris Agreement target of keeping global average temperature rise to 1.5°C, fossil fuel methane emissions need to plummet by at least three quarters this decade.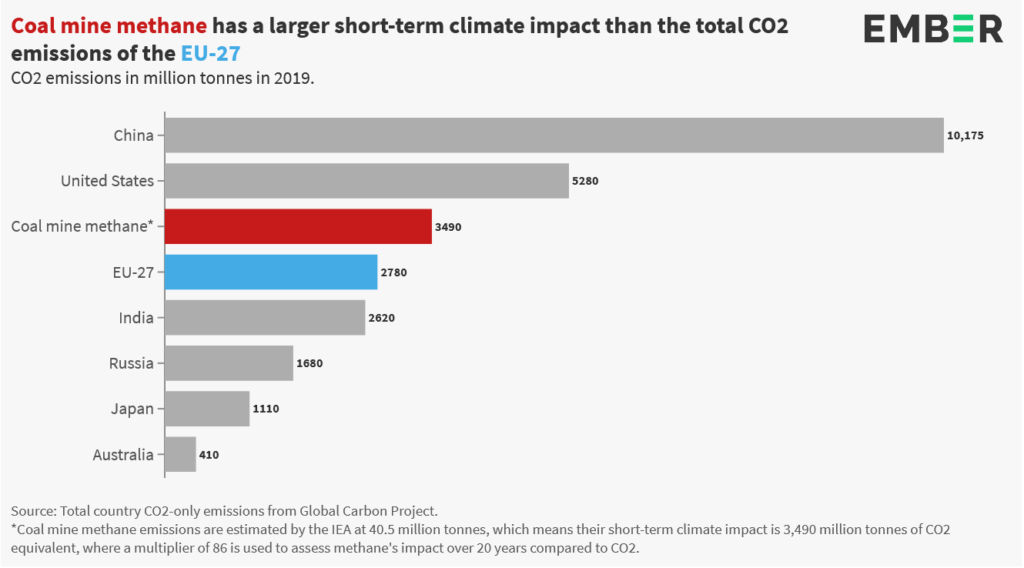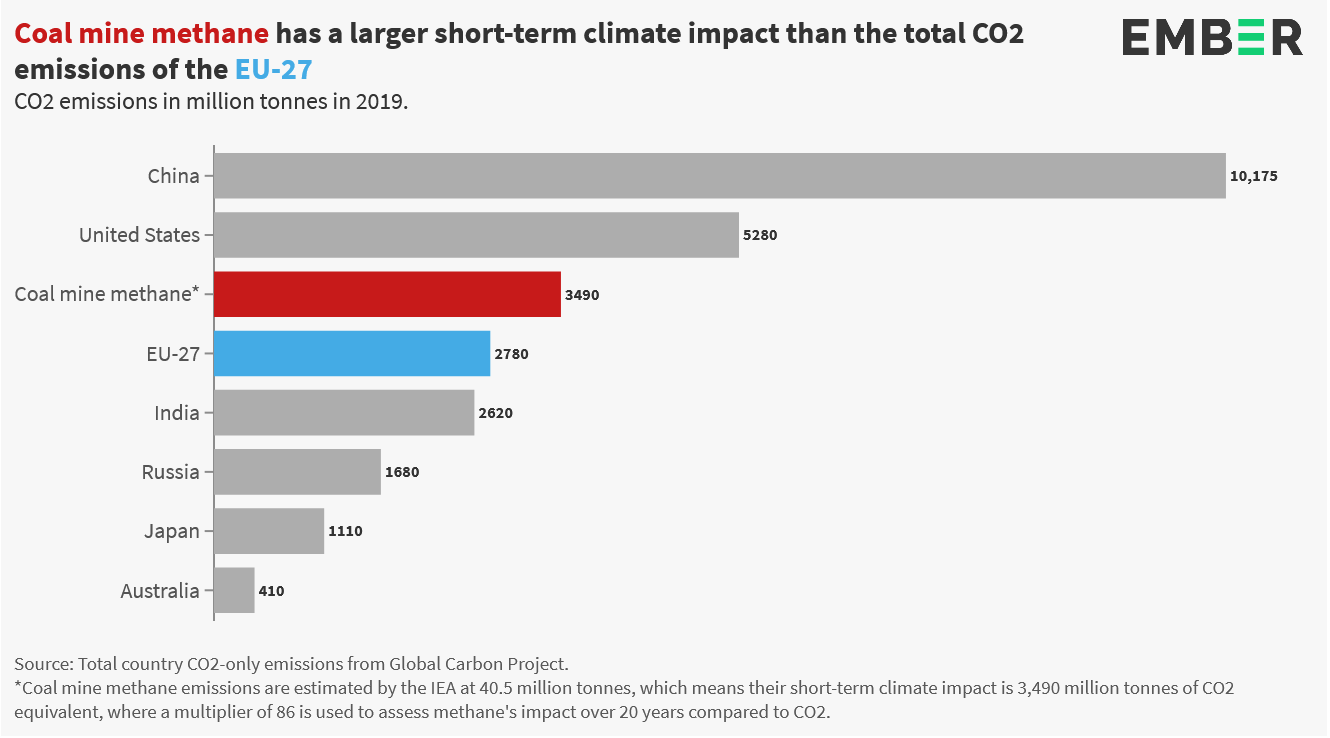 COP26 and the Global Methane Pledge
The global methane pledge at COP26 is the first international agreement targeting to curb methane emissions. Countries have pledged cutting methane emissions by 30% by 2030, compared to 2020 levels. If successful, warming is projected to decrease by 0.2°C by 2050, a great news for climate change.
The initiative is back by over 100 countries. This includes the biggest methane emitters like the US, the European Union, the UK, Brazil, Japan, Saudi Arabia, Indonesia and South Korea. The US government already has a blueprint on how it will reach its goal. President Joe Biden at COP26 said that methane is responsible for half of world's global warming.
While the initiative is an excellent first step, it is far from adequate. To meet the Paris Agreement's targets of keeping warming at 1.5°C, a 45% reduction by 2040 is paramount. Importantly, even achieving the 30% target in time is debatable. Leading methane emission emitters like China, Russia, India and Australia did not join the pledge.
Moreover, the focus of the methane reductions falls primarily on the oil and gas industry and neglects coal mines.
Regional Outlook: Asia's Oil and Gas Industry
Now, more than ever, Asia is increasingly dependent on fossil fuels, looking likely to continue for some time. Oil refinery throughput on the continent will grow by 60% between 2018 – 2050, with oil demand rocketing to 9 million barrels per day by 2040.
Also expected to increase significantly is gas demand. Already, countries like China and India view gas as a transitional fuel. In Southeast Asia, 54 oil and gas projects will go up, along with greenhouse gases, between 2019 – 2025.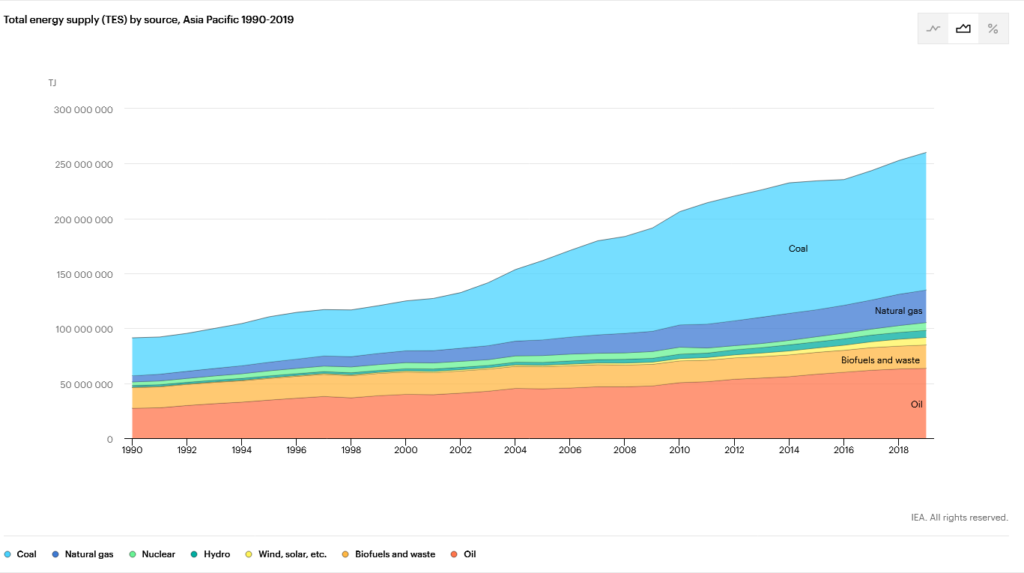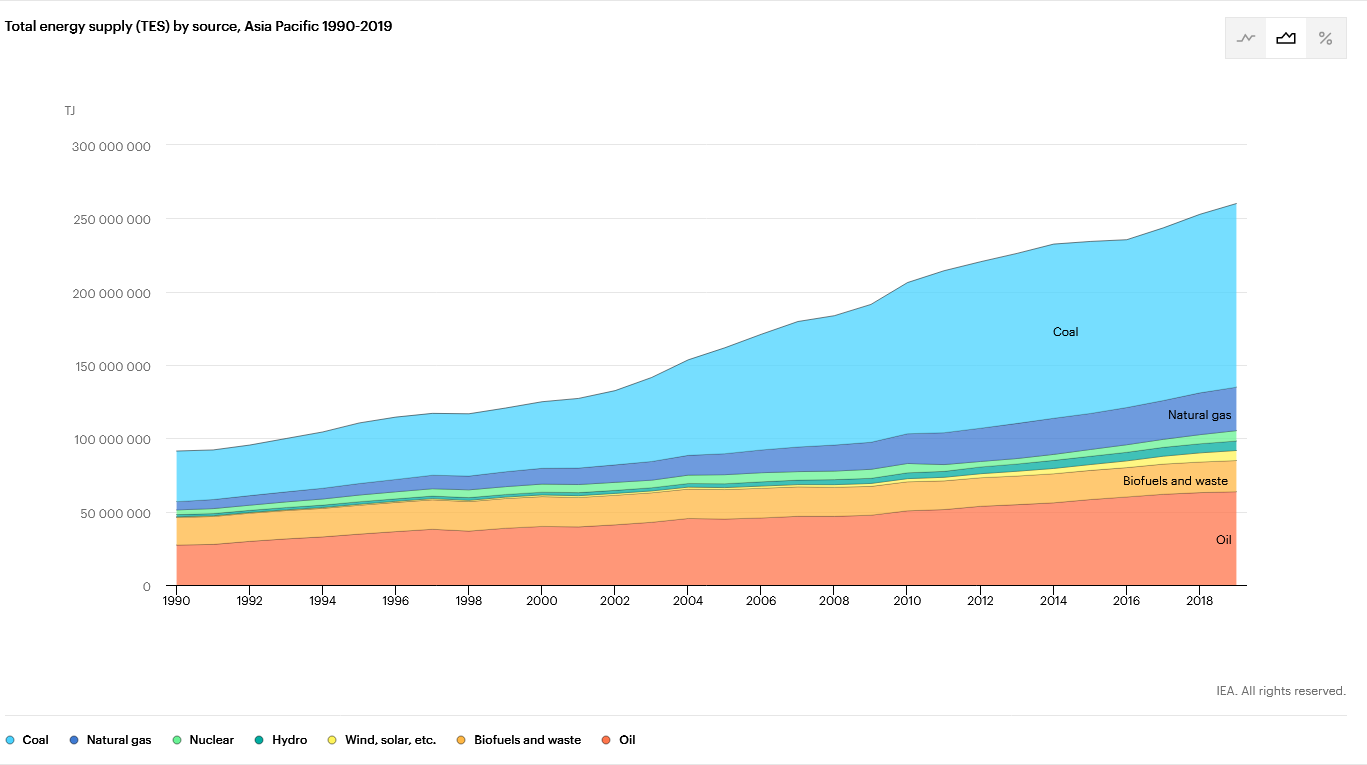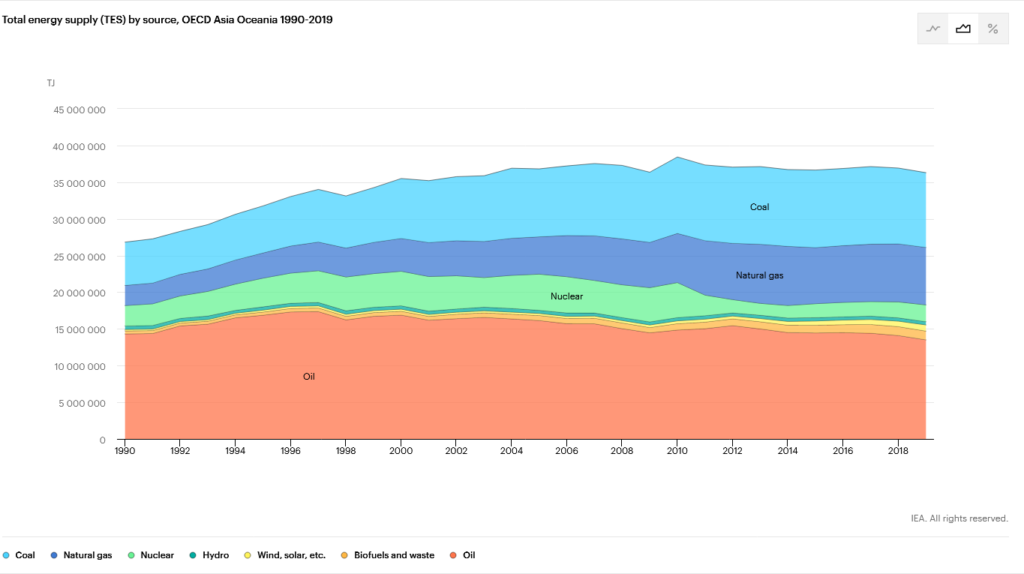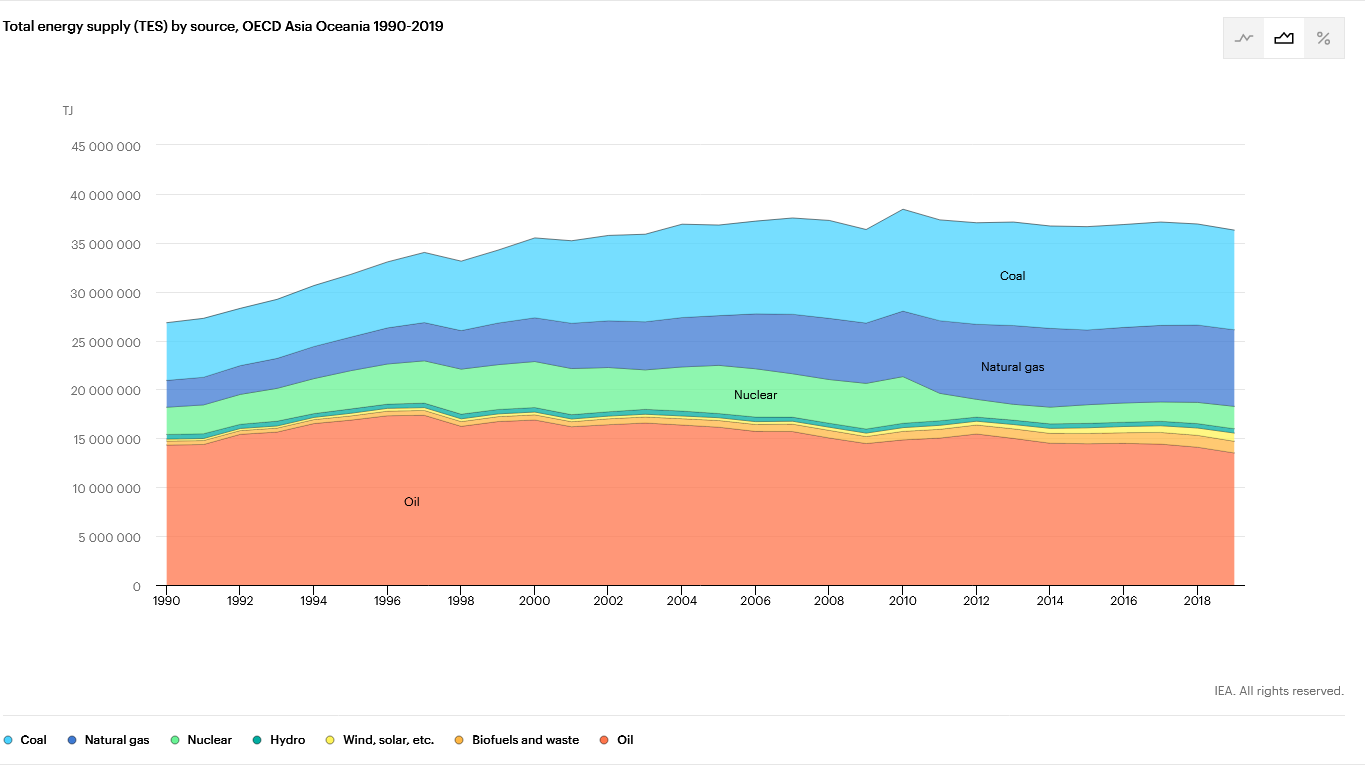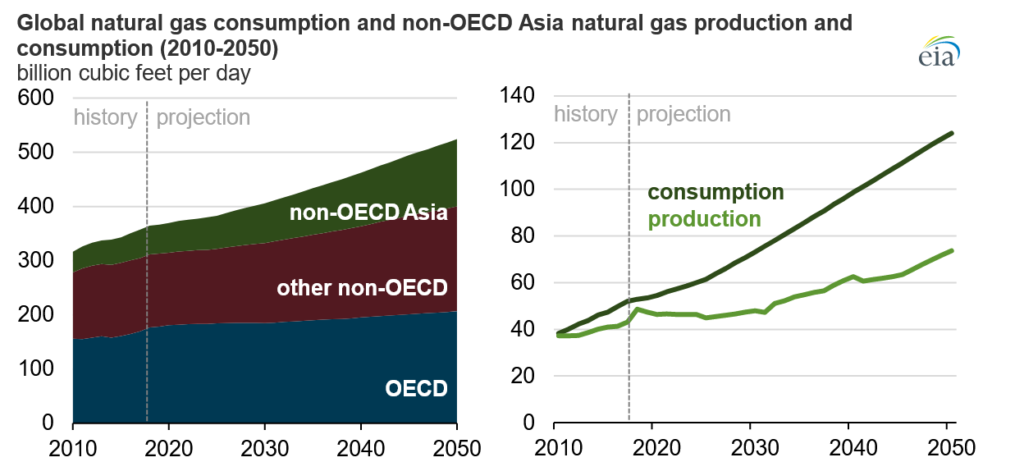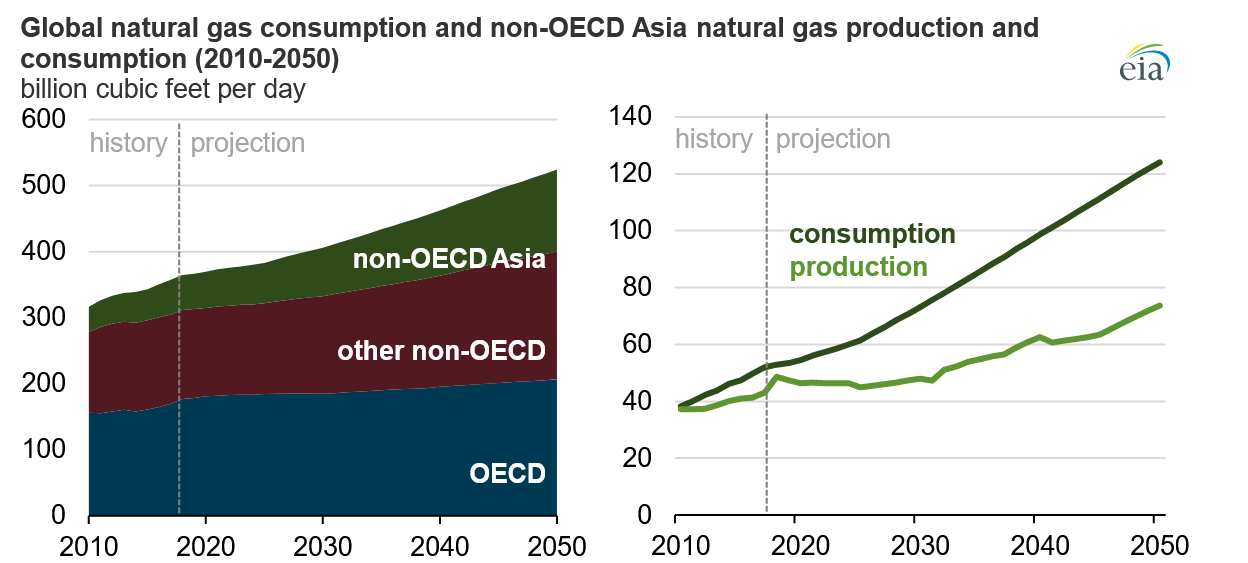 The Impact of the Global Methane Pledge
The global methane pledge will pressure countries like Japan, South Korea, Indonesia and Vietnam to reconsider their fossil-fuel related plans. As the pledge shows, the use of gas as a transitional fuel is losing popularity. This will go hand-in-hand with the oil and gas industry to ensure they plug and capture methane leaks. This would require little to no cost based on existing technology and methods.
Capital allocation initiatives in Asia will also experience impacts. For example, Australia announced a doubling of climate finance commitment to countries in the Asia-Pacific with USD 2 billion until 2025. The oil and gas industry will likely miss out on new financing initiatives as such.
Across Asia, its energy markets will also experience shocks, along with gas oriented policies. Countries may begin to impose gas import limits or look towards supplies with supposedly fewer emissions like "carbon neutral LNG".
Overall, however, methane emission reductions will trigger major transformations across the oil and gas industry. It will only spare those who are proactive in limiting their environmental impact. This will also better position these producers in an inevitable clean energy transition.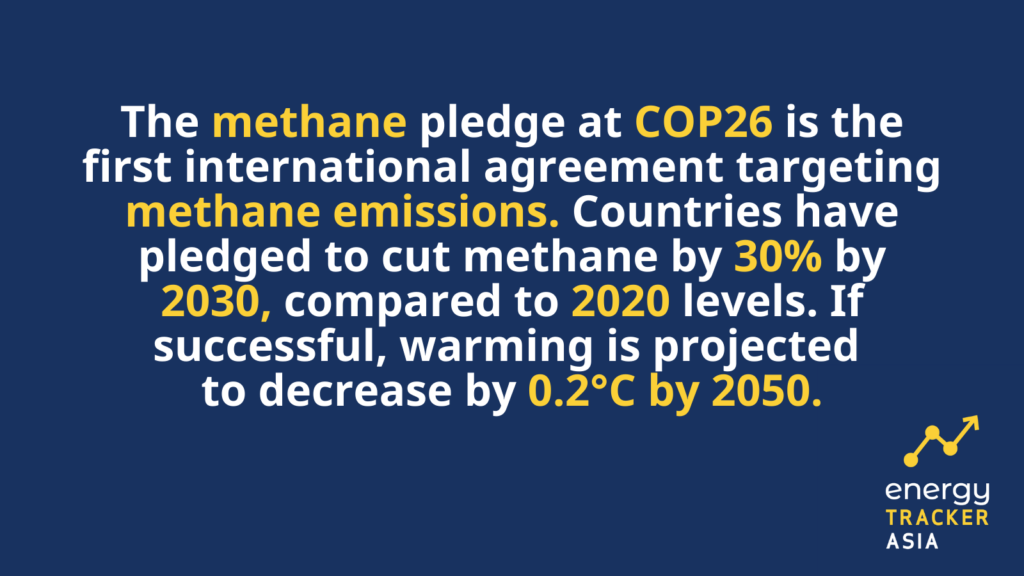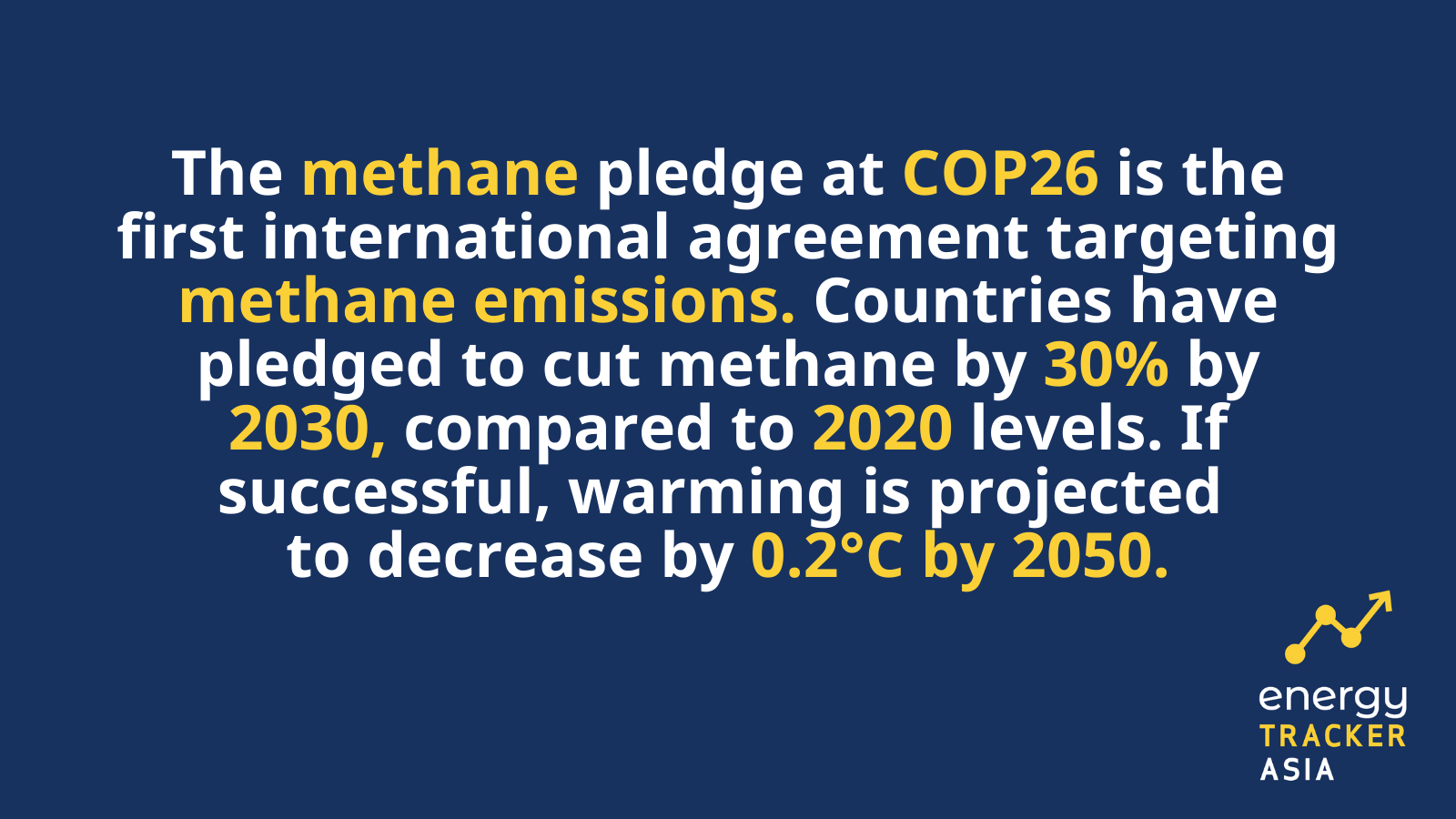 by Viktor Tachev
Viktor has years of experience in financial markets and energy finance, working as a marketing consultant and content creator for leading institutions, NGOs, and tech startups. He is a regular contributor to knowledge hubs and magazines, tackling the latest trends in sustainability and green energy.
Read more