Net-Zero Pledges – Who's Walking the Talk?
Amazon is committed to being carbon neutral by 2040. (tdworld.com)
28 June 2021 – by Eric Koons
Last updated on 22 July 2021
The transition towards clean energy and net-zero emissions is speeding up, driven by pledges from many countries, record breaking clean energy investments, and the potentially game-changing COP26 meeting to be held later this year.
COP26 is the first 5-year progress check built into the historic 2015 Paris Agreement. And clearly some countries have taken their commitment more seriously than others. The table below shows countries that have achieved net-zero emission, have targets in law, or have targets under proposed legislation. Notably absent from this list are the two largest economies, China and the USA.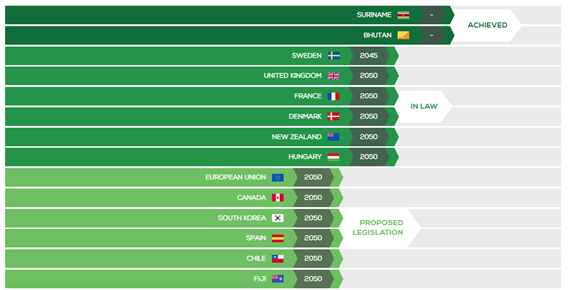 In addition to country wide goals, large companies have an important role to play in this energy transition. Not only do business directly impact local communities, but they play a key part in helping countries achieve national net-zero goals. More and more businesses are starting to make this transition as it provides multiple benefits – not only does it enhance their image, but in many cases, it is the economically logical choice.
Countries with Net-Zero Targets
As we've seen above, several nations are clearly serious about achieving net-zero emissions. The major economies of the United Kingdom and France have targets cemented in law, whilst the European Union, Canada, South Korea and Spain are some of the major countries with proposed legislation.
A larger bunch of countries have made net-zero pledges yet have not put anything into law. This is where the USA makes the list, along with other heavyweights like Germany and Japan.
Many of these countries including Asian giants China, Japan and South Korea remain big users of coal. This will need to change considerably to meet these targets.
Companies are Forging Ahead – Playing a Major Role in This Transition
Driven by economics and the desire to be seen as environmentally responsible, the corporate world is rapidly shifting to renewable energy, independent of governments. Corporate power purchase agreements for renewables hit a record 23.7 GW in 2020. It's not just governments incentivizing people to use solar anymore. In many cases it is the corporate world leading the way.
Interestingly, US-based corporations appear to be some of leaders in this trend. Elsewhere, the US-government can hardly be described as doing the same.
Companies like Google, with big data centers, are huge consumers of energy and hence can have a significant influence on a country's renewable energy output. This is not just in terms of clean energy produced, but also by setting an example for governments and other corporations.
Google as an example of net zero carbon dioxide emissions
Google is a shining example for other companies. It reached net-zero carbon emissions in 2007, and last year announced that it had offset all of the carbon dioxide it had ever produced. Even more importantly, they are not stopping there. Google announced they will source all of their energy from clean energy sources by 2025.
How has Google done this?
First of all, it has increased energy efficiency, which has effectively limited its growing energy demands. Compared with five years ago, Google now produces close to seven times more computing power with the same amount of electricity.
Then, Google has been both actively procuring and buying power from renewable energy assets. A bunch of renewable energy deals announced in 2019 came online in 2020. These spanned four continents and include the following:
Google's first offshore wind project came online in the North Sea. It is providing power to one of their major data centers in Belgium.
In Chile, Google started to purchase power from a new solar farm to meet their growing demands in South America.
Google began harnessing energy from solar panels distributed across hundreds of public buildings throughout Singapore.
In the U.S., large-scale solar and wind projects have been tapped into as major energy providers for their remote offices and data centers.
Amazon's Green Initiatives – Net Zero Emissions and renewables
Amazon is also joining the party. They recently signed a massive PPA with Lightsource BP in Ohio for their 375 MW solar farm. Expanding beyond the U.S. they have also announced nine new utility-scale solar and wind energy projects in Canada, Spain, Sweden, and the UK. Amazon said it aims to power 100% of its activities with renewable energy by 2025, five years ahead of its original goal of 2030, and be net-zero by 2040.
What about Apple's carbon emissions?
Companies like Apple are even going a step further. Not only looking at their own company, but considering their whole supply chain. Apple announced a target of becoming net-zero across its entire business and supply chain by 2030. This announcement is a great example for others to follow. 75-90% of carbon emissions come from business supply chains. Therefore, buyers can force companies along their whole chain to become green.
These companies are clearly benefiting from the positive publicity they are receiving from their move to clean energy. They are also reaping economic benefits, with clean energy rapidly becoming the cheapest form of energy.
Corporate Influence on COP26 Net-Zero Goals
Huge energy users like Google, Amazon and Apple are powering ahead towards net-zero emissions. And they are shining examples to both governments and other companies on how to achieve clean energy targets, and the plethora of benefits that follows.
Asian corporations need to follow their lead. In doing so, they can capitalize on the economic opportunities available and help promote clean energy development in renewable resource rich Asia. Finally, beyond their own gain, they will help stimulate clean energy transition throughout the region, helping nations create and meet their own net-zero goals.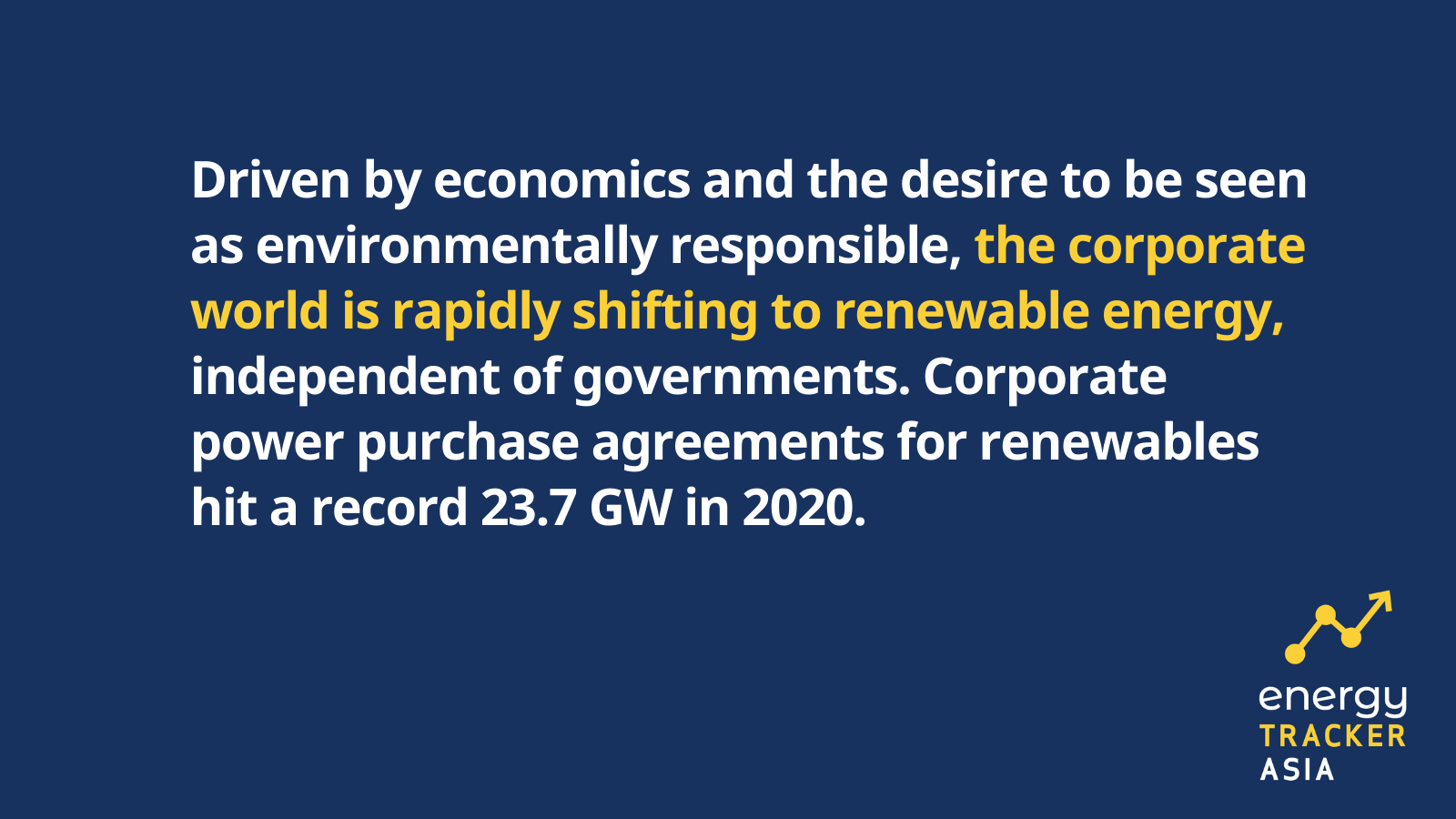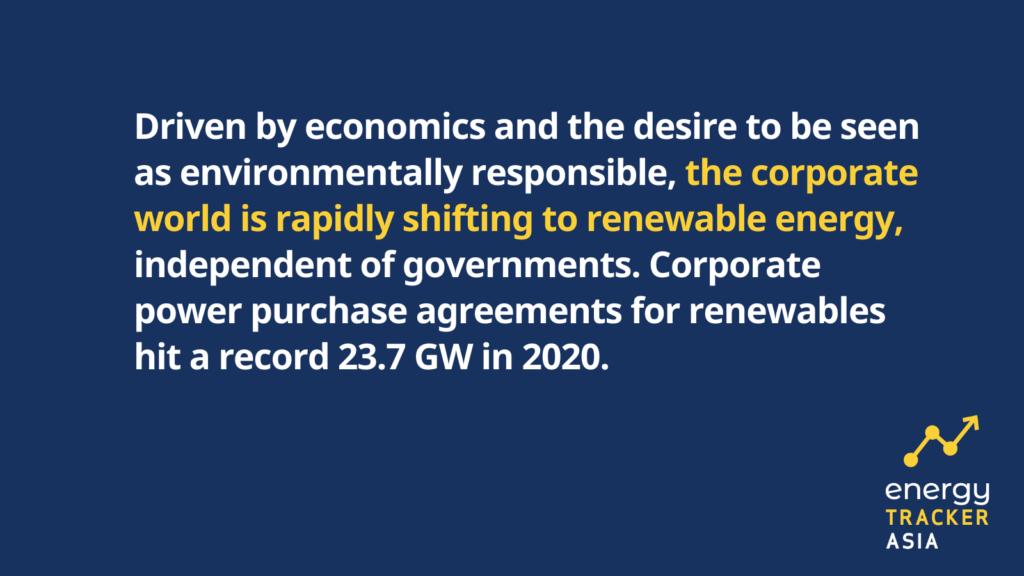 by Eric Koons
Eric is a passionate environmental advocate that believes renewable energy is a key piece in meeting the world's growing energy demands. He received an environmental science degree from the University of California and has worked to promote environmentally and socially sustainable practices since. Eric's expertise extends across the environmental field, yet he maintains a strong focus on renewable energy. His work has been featured by leading environmental organizations, such as World Resources Institute and Hitachi ABB Power Grids.
Read more