Vietnam Coal Pledge at COP26 – A New PDP8 and Net-Zero by 2050
Over the past year, Vietnam has been going back and forth in its energy roadmap. However, the country used the stage of COP26 to announce ambitious renewable energy targets and a commitment to phase out coal - a clear sign that it is getting back on the right track.
11 November 2021 – by Viktor Tachev
Vietnam Coal Pledge at COP26 is a significant development to phase out coal power. Energy policy in Vietnam this year has been dynamic. Every step forward that sees an increase in clean energy capacity, Vietnam took a step back with further coal and natural gas uptake. COP26, however, gave Vietnam a big stage to announce new ambitious plans to phase out coal power. The change of heart from one of the fastest-growing economies globally and a major coal using countries is a welcome sign for Asia's net-zero goals and climate change. To phase out coal fired power plants, New coal power generation should be discouraged everywhere.
Vietnam's Year in a Nutshell – a Renewable Energy Leader Diverting to Coal
In 2015, Vietnam had just 4 MW of installed solar power capacity. Fast-forward to 2020, and 11.6 GW was installed in just one year, behind only China and the United States. The combined solar and wind power capacity reached 175 GW per capita in the same year, the highest in Southeast Asia.
Today, Vietnam has over 17 GW of solar and 11.8 GW of wind power installed, placing it in the top ten countries globally with the highest installed solar capacity. Wind power potential in Vietnam also shows enormous growth potential, with an estimated 311 GW available.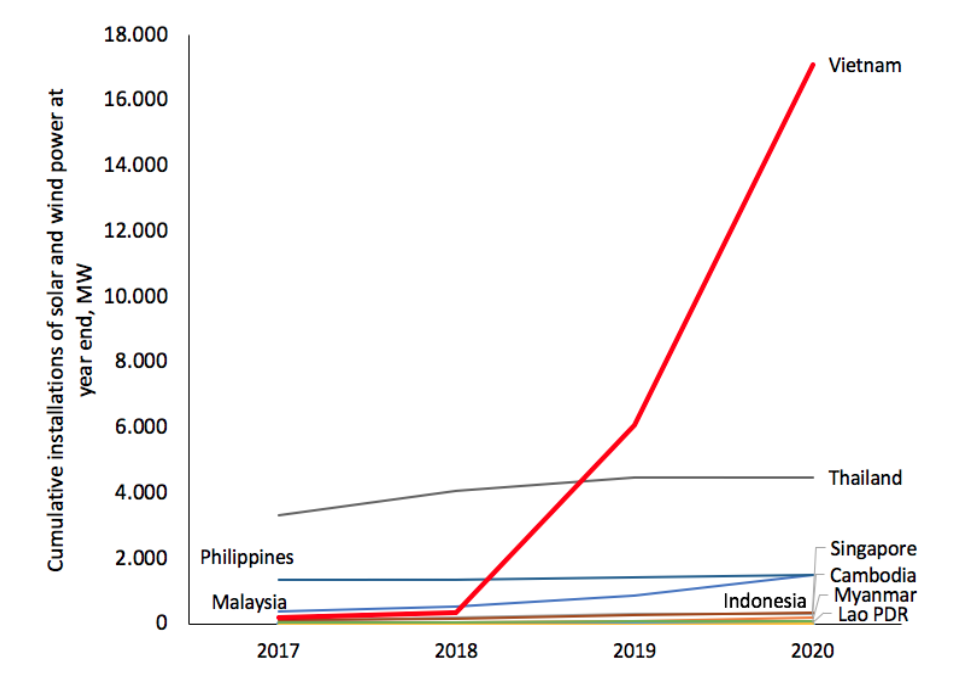 However, in September 2021, the government took a surprising turn and proposed an updated PDP8 draft, shifting its focus back to coal power generation domestically. It presented a sacrifice of 8 GW of planned renewable energy for an additional 3 GW of coal fired power. By the end of the decade, Vietnamese policymakers wanted to target 41 GW of coal power, up from previous goals of 20.7 GW.
The shift in policy opened Vietnam to risks in a lack of financing and a growing fleet of stranded assets. Collectively, slowing the country's and regions clean energy transition.
Vietnam Coal Pledge at COP26 – Back on the Right Path
With the apparent setback, Vietnam made yet another course correction recently at COP26. Representatives from Vietnam took the opportunity at COP26 to announce promising new energy plans.
Coal Fired Power Phase-Out by the 2040s – Reducing New Coal Power Generation
By the 2040s, Vietnam pledged to phase out coal. This included not building or investing in coal fuelled power generation and new coal plants. Representatives added further that coal will be gradually decreased by 30% by 2030, with gas and renewable energy sources to replace the lost energy. It's a great news for reducing greenhouse gas emissions and fossil fuels and for other environmental and economic benefits. Remember, coal is the dirtiest of fossil fuels.
This represents a step in the right direction in terms of a clean energy transition, as Vietnam is the ninth largest coal consumer globally. Its regional neighbours like South Korea and Indonesia similarly announced coal phase-outs by the 2030s and 2040s, respectively.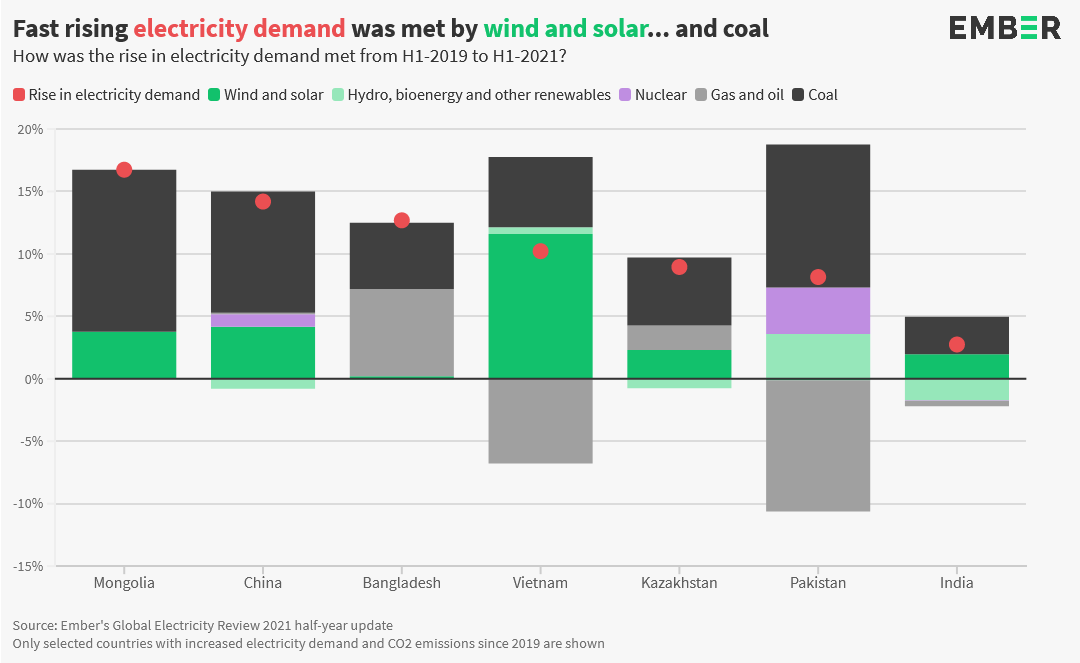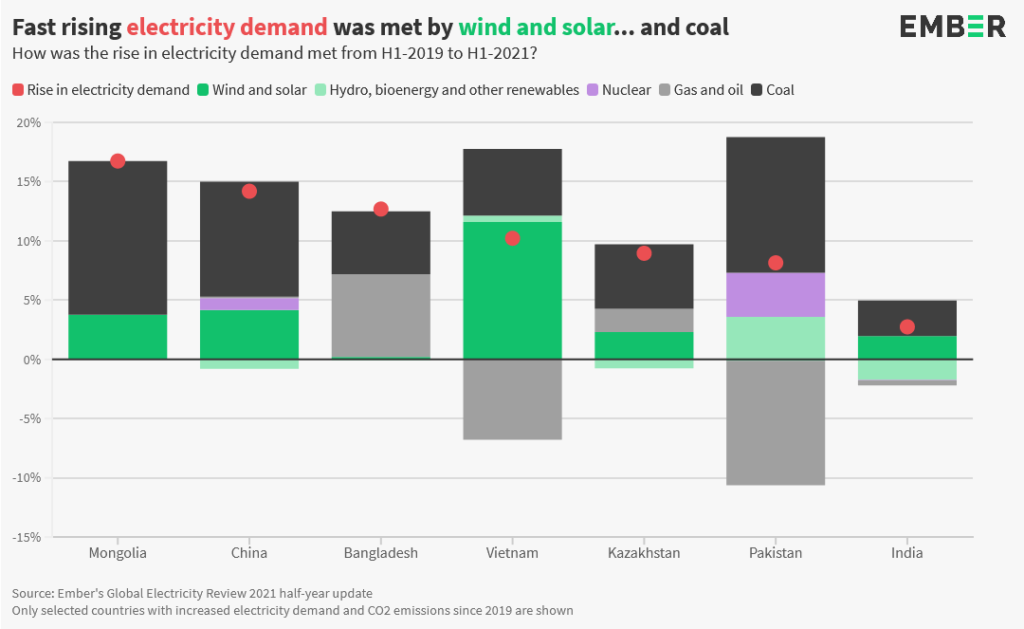 A Bigger Share for Renewables and Net-Zero by 2050
A doubling in clean energy capacity by 31-38 GW is now what Vietnam aims to achieve. This increase will see renewables hold a 15 to 20% share of the country's total energy supply, with a net-zero goal also announced by Prime Minister Pham Minh Chinh by 2050.
Vietnam's COP26 commitments are now complementing several clean energy investments. Orstead, a leading renewable energy developer, recently announced two potential wind farm projects in Vietnam. Other joint ventures between T&T Group, a private economic group, and France's Total Eren, a renewable energy company, signed a deal to invest USD 3 billion in renewable projects across Vietnam.
Reduced Emissions and an End for Deforestation
To complement these developments, Vietnam also joined over 100 countries to reduce methane emissions by 30% and to stop deforestation by 2030. Both are significant steps regionally and globally in efforts to combat the impacts of climate change.
Implementation Will Be Key
Vietnam Coal Pledge at COP26 shows that once there is political will applied to a unified vision, anything is possible. However, while the plans to phase out coal don't lack ambition, the next crucial step is implementing the changes. Vietnam can get back on the right track, even with its past diversions.
by Viktor Tachev
Viktor has years of experience in financial markets and energy finance, working as a marketing consultant and content creator for leading institutions, NGOs, and tech startups. He is a regular contributor to knowledge hubs and magazines, tackling the latest trends in sustainability and green energy.
Read more