Vietnam Has Approved the PDP8: What Comes Next?
The approval of the PDP8 is finally here. While not without its potential flaws, the plan allows Vietnam to start leaping towards its net-zero by 2050 target – a moment that energy investors have long been waiting for.
12 June 2023 – by Viktor Tachev
After years of delays and numerous revisions, Vietnam approved the Power Development Plan 8 (PDP8). The move is significant, as it can unlock massive foreign investments in the country's energy transition. However, the plan's approval is just the first step. The Vietnamese government should follow up with ambitious regulatory actions – something it has already proven to be capable of.
The Final Version of the Vietnam PDP8 in a Nutshell
As per the PDP8, Vietnam will increase its power generation capacity to 150 GW by 2030, up from 69 GW at the end of 2020. By 2050, the total capacity will reach between 490 and 573 GW.
The country aims to keep its power sector emissions between 204 and 254 MtCO2e by 2030. If JETP donors fulfil their funding pledges, the emissions can drop to 170 MtCO2e. By 2050, the emissions will drop to between 27 and 31 MtCO2e.
In terms of power imports and exports, Vietnam plans for between 5 and 8 GW of power deliveries from Laos by 2030. By 2050, the imports will rise to 11 GW. By 2030, Vietnam will export between 5 and 10 GW of clean power.
As per the PDP8, Vietnam will need USD 134.7 billion in power development investments between 2021 and 2030. Between 2031 and 2050, the figure could rise to USD 399.2 and USD 523.1 billion.
In terms of the Vietnam's energy mix, the PDP8 gives a boost to wind energy and gas. Additionally, the country plans to reduce reliance on coal.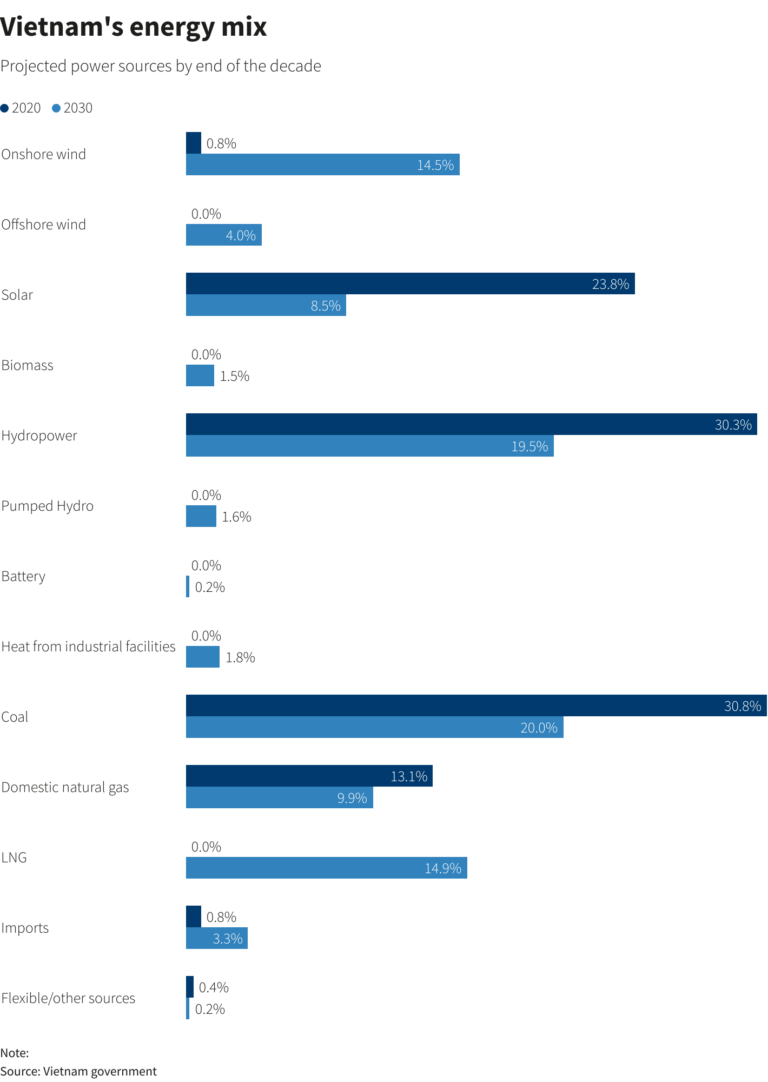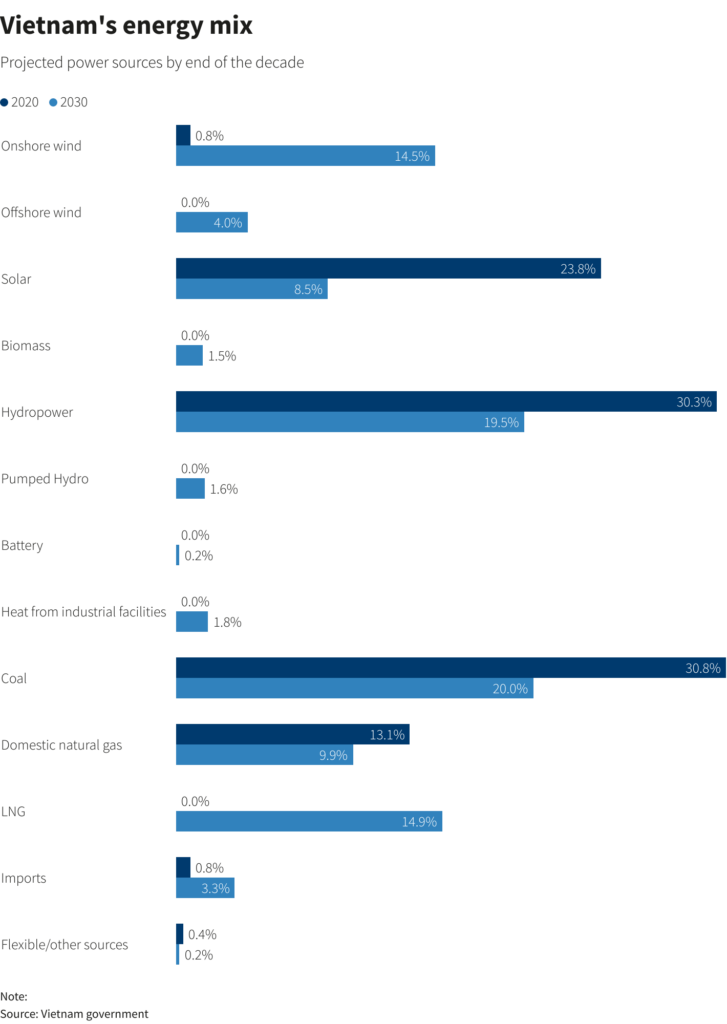 Coal Power
As per the PDP8, coal will hold a 20% share of Vietnam's energy mix by 2030, down from 30.8% in 2020. However, due to the increase in the total power capacity, the energy from the coal-fired power projects will jump to 30 GW by 2030. In 2020, it was 21 GW.
The PDP8 includes no new coal power plants. Vietnam will build only coal power projects that are currently under construction or have been planned before.
Yet, according to Reuters, the G7 isn't 100% satisfied that Vietnam's economy will continue heavily relying on coal during this decade. At the end of last year, the group pledged to provide Vietnam with USD 15.5 billion in initial coal phaseout support.
At the same time, Vietnam estimates it will need a total of USD 658 billion to move away from coal. Moreover, the government notes that around 20% of the investment is needed this decade.
Gas Power
As per the Power Development Plan VIII (PDP8), local gas and LNG will be the backbone of Vietnam's energy system by 2030. This type of power will account for 24.8% of the total, with 37.33 GW.
This is an increase of over four times compared to 2020, when the capacity totalled 9 GW.
Liquefied natural gas will hold the lion's share with 14.9%. Domestic gas will account for 9.9% of the total power mix in 2030.
Furthermore, by 2030, Vietnam plans to develop over 22 GW of new LNG power capacity, up from zero today.
Solar and Wind Power
The share of renewables, excluding hydropower, will top 31%. This is up by 6% from 2020.
Wind power, with 18.5%, will be the main growth market. Most of its share will be onshore wind power.
Offshore wind power, foreign investors' key area of interest, will grow to 6 GW by 2030. By 2050, it will top 70 GW.
Interestingly, solar power, which saw remarkable growth in 2020, will decline to a share of just 8.5%.
Hydropower's share will also drop to 19.5% in 2030, down from 30% in 2020.
However, if the pledges of G7 countries for Vietnam's JETP materialise, renewables' share could reach 47% by 2030.
The Power Development Plan 8 and the Risks and Opportunities For Vietnam's Energy System
The PDP8 is a major step in the country's plan to become a net-zero economy by 2050. The plan identifies significant opportunities for green energy development in the energy sector, but some of its targets also surface economic, financial and energy security risks.
The Risks
The PDP8 aims to ensure the energy security of Vietnam. However, the increased reliance on gas means the country is at risk of doing precisely the opposite.
Local gas resources are depleting, while new gas fields are proving more expensive to develop and operate.
Pushing ahead with gas imports won't solve the problem. The country's economy has already felt the pressure from relying on gas imports. Vietnam even postponed gas infrastructure development due to the LNG market turmoil.
The IEEFA sees gas prices remaining high since long-term contracts with deliveries before 2026 are reportedly sold out globally. Furthermore, no new supplies are expected to come online soon. As a result, the agency warns that price-sensitive Southeast Asian buyers are exposed to volatile and expensive spot markets.
Furthermore, academics warn that the continued investments in coal, gas and LNG infrastructure will elevate the stranded asset risk in the country.
Global Energy Monitor estimates that USD 500 billion in new gas infrastructure across Asia faces a stranded asset risk. Vietnam's plants and projects are among the most exposed. Furthermore, Carbon Tracker warned that new gas plant developers in Vietnam would have minimal time to start operating their units before they become unable to compete with renewables. In business-as-usual and net-zero by 2050 scenarios, 98% and 100% of all gas projects in Vietnam, respectively, would have a negative NPV.


Vietnam also faces potential stumbling blocks for clean energy development. For example, without any supporting policies, the speed at which new projects can launch will remain unclear.
Another potential area of concern is Vietnam's reliance on untested and expensive energy transition technologies like coal and ammonia co-firing.
The Opportunities
While the decarbonisation strategy in the approved version of the PDP8 could have been more ambitious, it is much more promising than some of the plans in the recent drafts.
For example, the targets for emissions from power generation align with the commitments set in the JETP. The same goes also for clean energy development.
The PDP8 recognises Vietnam's vast technical potential for different renewable power technologies. Onshore and offshore wind are 221 GW and 600 GW, respectively. For solar power, the total technical capacity is 963 GW.
Acknowledging the vast technical potential for clean energy development in the official energy plan is a huge first step. Next, the country can lean on the findings to further improve its targets. Currently, even the most ambitious ones will capture just around 30% of total potential, leaving huge room for the growth of clean energy technologies in the country.
Another promising target is Vietnam's ambition to become the region's leading green energy exporter. Singapore already has plans to import electricity from offshore wind projects in Vietnam.
Moving Forward: Vietnam After PDP8 Approval
Energy analysts and investors lauded the approval of the PDP8, and rightly so. The country's abundant renewable energy resources have become a central focus of the energy transition – a promising sign for energy market investors.
However, the government should complement the PDP8 by supporting administrative reforms and legislations, further easing the influx of foreign investment.
Furthermore, Vietnam should reconsider its plans for increased reliance on gas and LNG. According to the IEA, achieving net zero by 2050 means no approvals for new oil and gas fields from 2021 onwards. Pushing ahead with gas threatens Vietnam's decarbonisation journey and exposes it to an increased stranded asset risk, which could top USD 6.5 billion.
While the PDP8 shows promise, it depends on how quickly the government works to achieve its targets. The following steps should come soon, as Vietnam could lose up to 11% of its GDP by 2030 if it doesn't respond timely to the climate crisis.
by Viktor Tachev
Viktor has years of experience in financial markets and energy finance, working as a marketing consultant and content creator for leading institutions, NGOs, and tech startups. He is a regular contributor to knowledge hubs and magazines, tackling the latest trends in sustainability and green energy.
Read more