Renewable Energy Investments in Vietnam in 2022 – Asia's Next Clean Energy Powerhouse
The boom of renewable energy in Vietnam has made the country a global leader in sustainability and a top clean energy investment destination.
12 May 2022 – by Viktor Tachev
For the last five years, Vietnam's electricity demand has grown by 10% annually. Due to the country's robust economic boom, population growth and heavy industrialisation and urbanisation, the trend is poised to continue.
Notably, Vietnam's recent effort to diversify its power mix with a heavy focus on investing in renewable energy places it in a prime position. Through this, the country hopes to secure a sustainable future and attract foreign investments in renewable energy in Vietnam.
Renewable Energy in Vietnam and Green Energy Progress
In 2014, the share of renewable energy in Vietnam was just 0.32%. In 2015, only 4 megawatts (MW) of installed solar capacity for power generation was available. However, within five years, investment in solar energy, for example, soared.
As of 2020, Vietnam had over 7.4 gigawatts (GW) of rooftop solar power connected to the national grid. These renewable energy numbers surpassed all expectations. It marked a 25-fold increase in installed capacity compared to 2019's figures.
In 2021, the latest data showed that Vietnam now has 16.5 GW of solar power. This was accompanied by its green energy counterpart wind at 11.8 GW. A further 6.6 GW is expected in late 2021 or 2022. Ambitiously, the government plans to further bolster this by adding 12 GW of onshore and offshore wind by 2025.
Today, the country's concentrated efforts and dedicated policies are why Vietnam is Asia's next renewable energy powerhouse.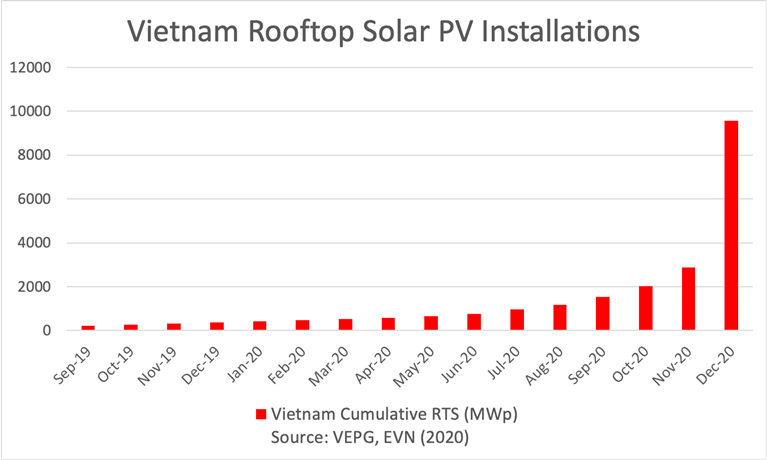 How Does Vietnam Fare to Global Renewable Energy Leaders
Since signing the Paris Agreement in 2015, many countries have started actively working on their renewable energy programmes. A little over six years later, clear leaders are emerging in the green energy race.
Vietnam's potential in the renewable energy sector
According to the International Renewable Energy Agency (IRENA), Vietnam ranks in the top 10 countries with the highest installed solar energy capacity.
Vietnam's ambitious green energy goals now place it in a position to become a region and global leader. Its high solar PV potential and green energy investments are paying off.
Investments in wind power projects have tremendous potential too. Vietnam has one of the best wind resources in Southeast Asia, with an estimated potential of 311 GW.
If Vietnam retains its lightning pace of renewable energy expansion, it will further climb the rankings. This would mean it could potentially surpass countries like Australia and Italy in renewable energy development. While there is still a long way to go to catch up to countries like Germany, data show that the opportunities for Vietnam are there for the taking.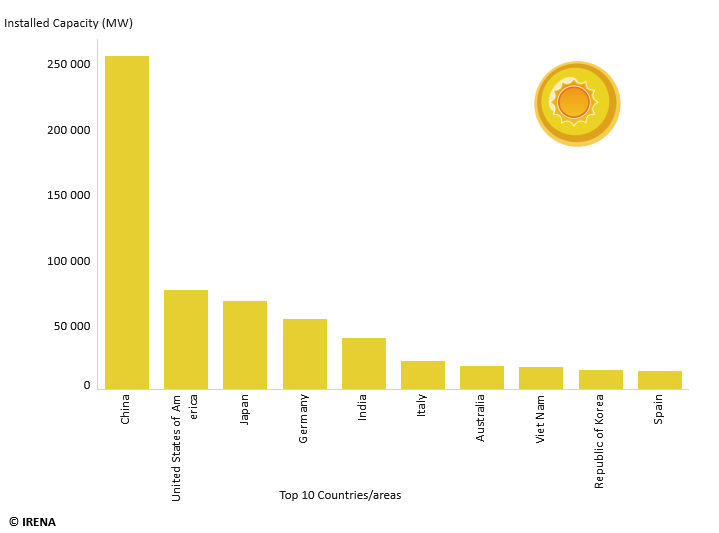 Green Energy Investments Across Vietnam Are Growing
Vietnam will be a focal point for renewable energy financiers and investors. This is primarily due to the wide variety of green energy opportunities like investing in solar energy.
While its current energy plan is ambitious, McKinsey says there is room for improvement. The consultancy concluded that a renewables-led pathway could unlock several opportunities for Vietnam. This includes saving 10% in overall power costs, cutting down 1.1 giga-tonnes of greenhouse gas emissions and 0.6 mega-tonnes in particulate emissions. It would also see a 60% decrease in energy imports by 2030.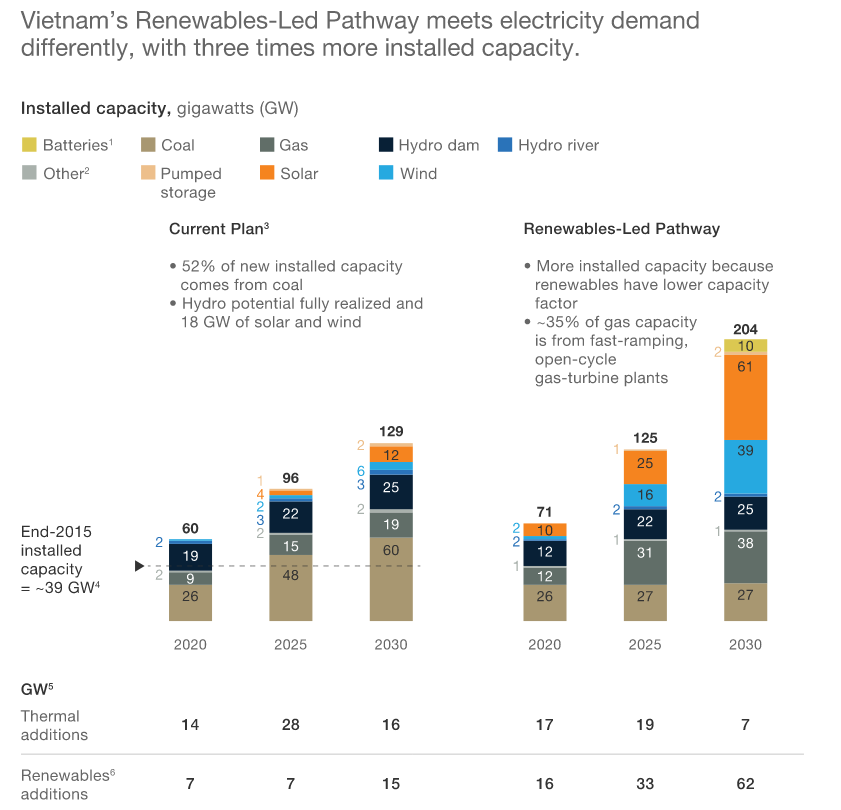 Growth Projections for Investments in Vietnam's Renewable Energy
Foreign investors, mainly in solar and wind power projects, already recognise the country's relatively flexible terms and policies for easing project financing. Data shows that foreign investments in Vietnam's renewable energy have dramatically increased in recent years.
According to a report by VietinbankSC, the rates will increase. This means the value of the local renewables market will hit USD 714 billion and keep developing for at least 25 years. According to the bank, between 2020 and 2030, the market for solar power will grow by 12.8%. Meanwhile, the market for wind power will soar by 34.2% annually.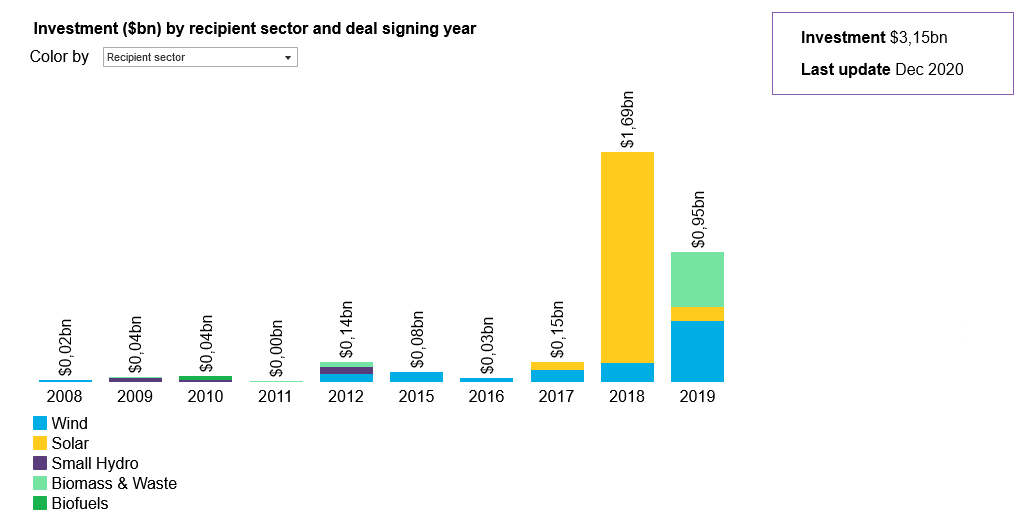 Renewable energy in Vietnam is well on the way to becoming mainstream. As investments in solar and wind energy increase, so too does the country's profile of becoming a renewable energy leader in Asia and beyond. In the draft PDP8 plan, Vietnam labels out plans to shift from FiTs to auctions, ensuring a steady growth rate. This would also drive the price of already cheaper renewables down further. Importantly, the government intends to move away from coal by postponing or cancelling projects over 17 GW.
There's no denying Vietnam's renewable energy potential. It has everything it needs to shift gears and swiftly move into making renewable energy the primary source of the country's energy.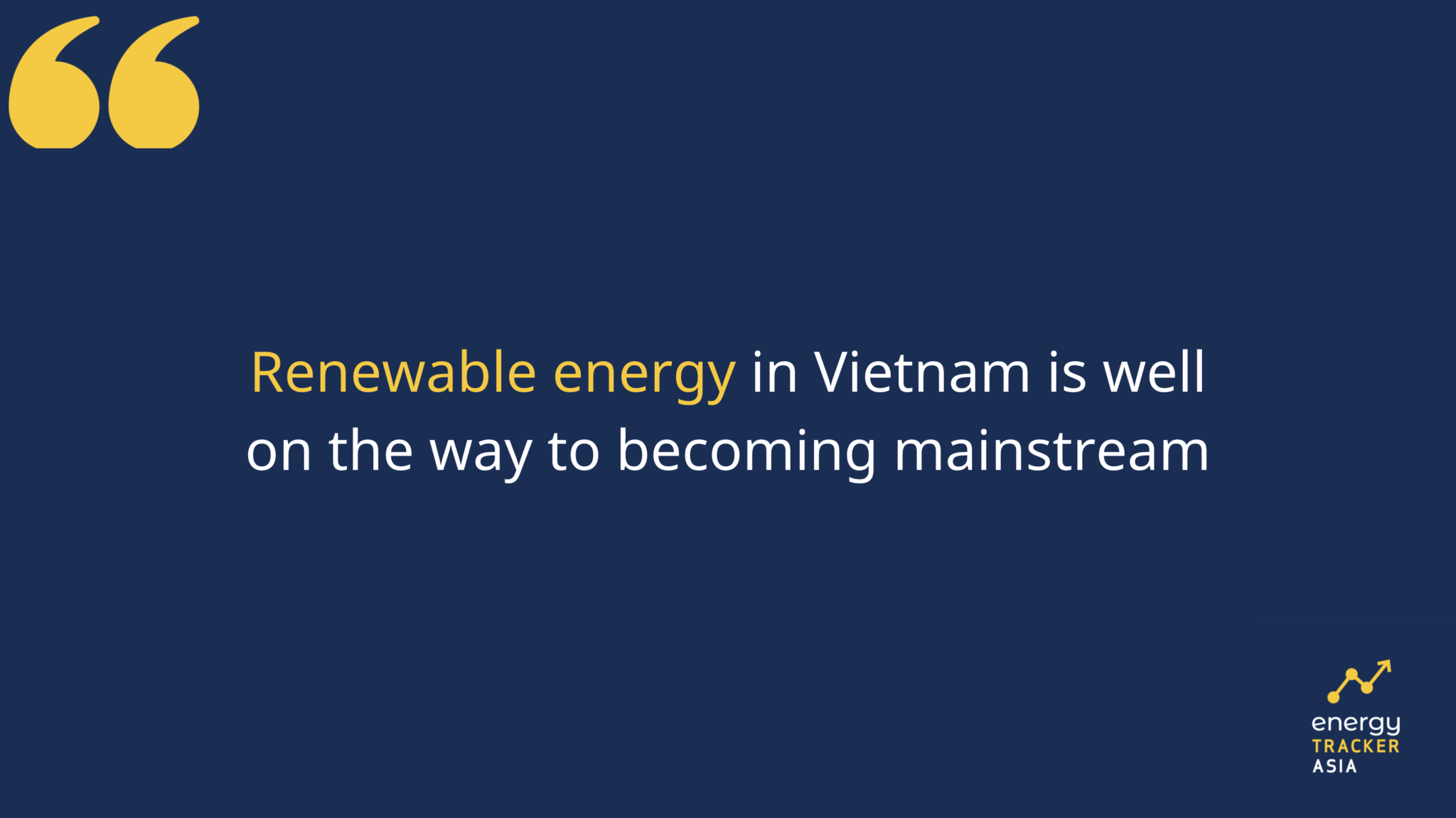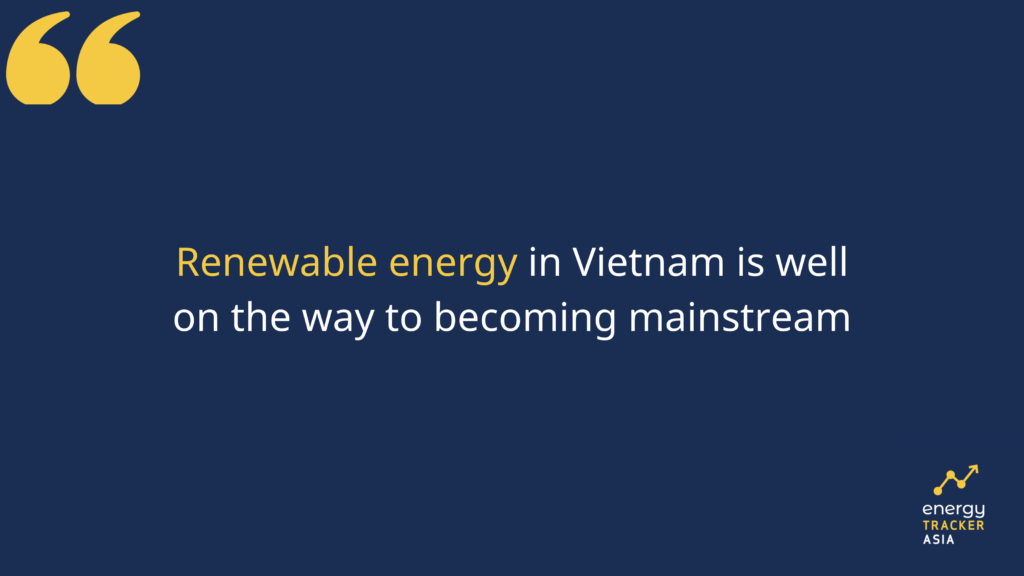 by Viktor Tachev
Viktor has years of experience in financial markets and energy finance, working as a marketing consultant and content creator for leading institutions, NGOs, and tech startups. He is a regular contributor to knowledge hubs and magazines, tackling the latest trends in sustainability and green energy.
Read more