Best Ammonia Stocks of 2023
Yara's green ammonia plant planned for Australia. Source: Boiling Cold
The green ammonia market is growing, with a rapid expansion predicted before 2030. This gives rise to a range of stock choices that investors can use to capitalise on the market and support the energy transition.
01 September 2023 – by Eric Koons
Ammonia stocks are witnessing a transformative phase underpinned by growth, demand and groundbreaking innovations in the energy and production landscape. Companies, both titans and start-ups, are progressively directing their capital towards the green ammonia market, with experts predicting an industry CAGR of nearly 75% over the next seven years.
This interest marks ammonia as a potential mainstay in the future of renewable energy. Additionally, the ongoing investment is a critical piece of the International Energy Agency's (IEA's) 2050 net-zero strategy, which aims to have green ammonia and green hydrogen account for 30% of transport fuels by 2050.
Who Is the Biggest Producer of Ammonia?
China is the biggest producer of Ammonia. Historically, ammonia production has been dominated by powerhouses such as China, India, Russia and the United States. However, this has been mainly for the fertiliser industry, which has traditionally used fossil fuel-reliant production methods. As sustainability improves, some countries are changing their focus towards green ammonia. Meanwhile, a new league of producers is emerging.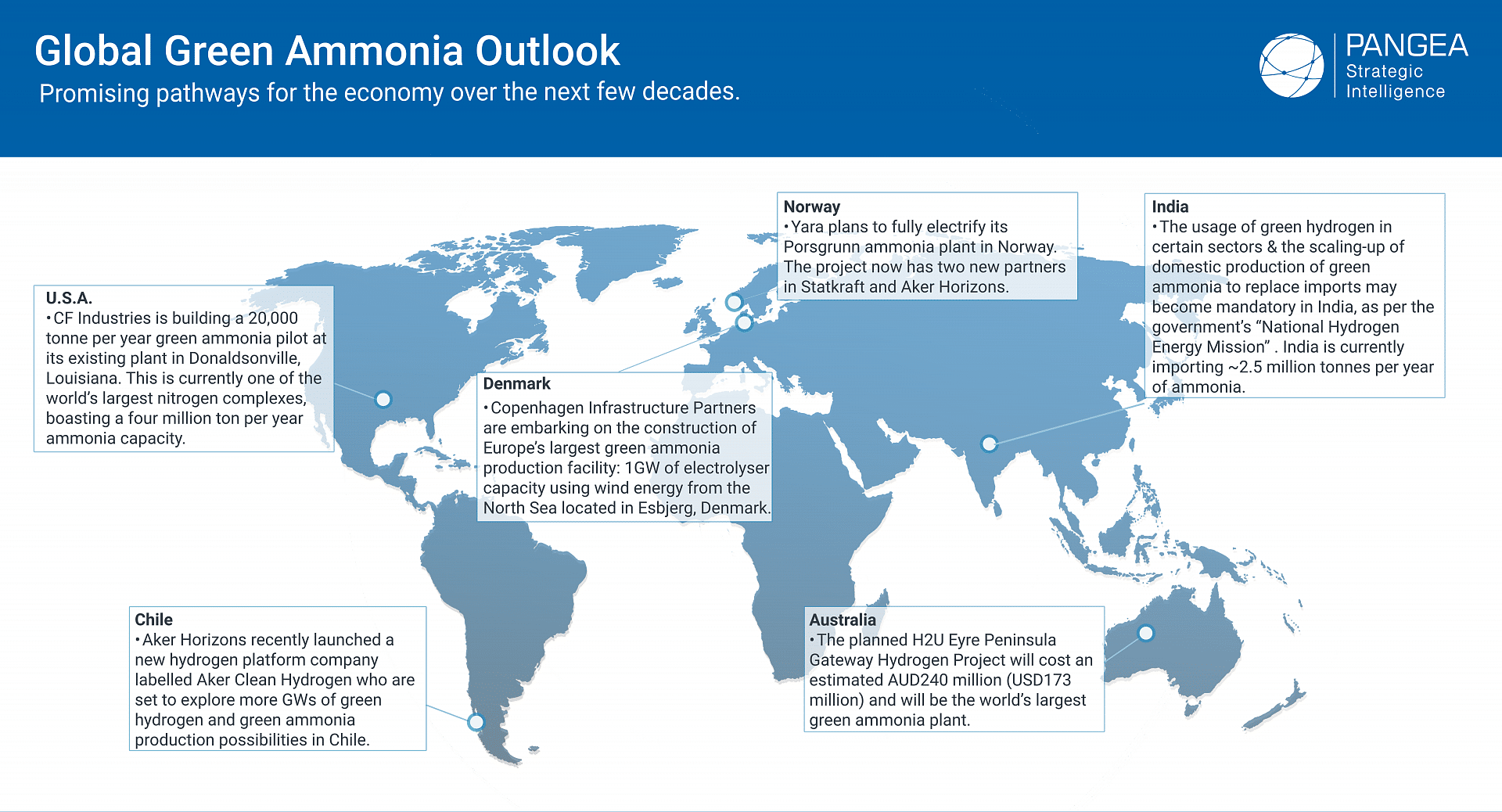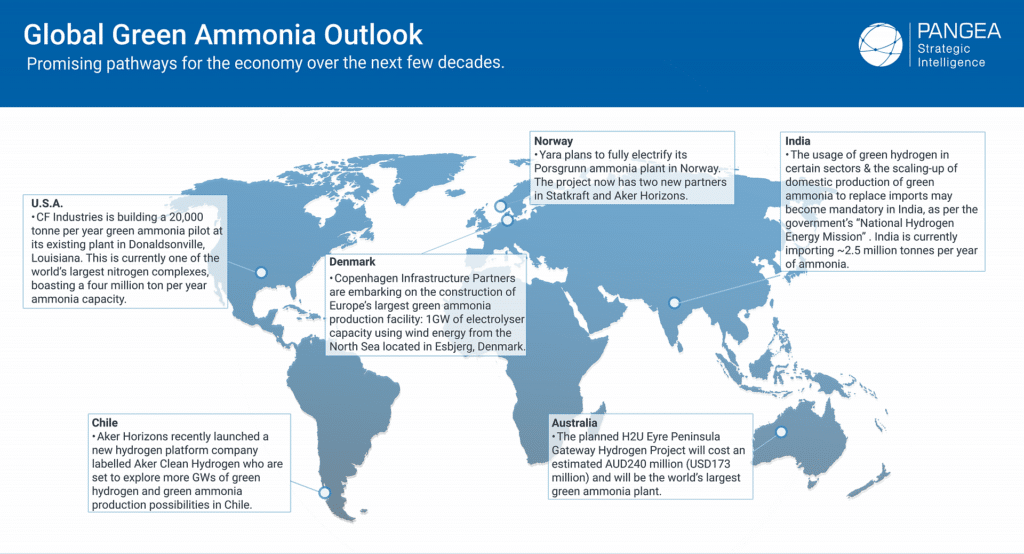 Australia, with its abundance of renewable resources, is leaning into green ammonia production. As of 2023, 93% of its announced low-carbon ammonia capacity in the country was for green ammonia. This will account for over 40 million tonnes of annual production capacity. Likewise, India, Japan and the United States are providing significant financial incentives to the private sector for the development of green ammonia markets.
What Companies Make Green Ammonia?
The green ammonia industry is still nascent but growing, drawing investments from major global players and stock-holding companies.
Siemens Energy, for instance, is making strategic investments to scale its green ammonia production facilities and is partnering with academic experts to further its research and development. Yara, a traditionally dominant player in the fertiliser sector, is realigning its strategy, leveraging its technical prowess to develop green ammonia production and infrastructure networks.
Meanwhile, ACWA Power, with its stronghold in the Middle East, offers insights into how regional players are capitalising on the shift towards clean energy sources.
Is Ammonia a Good Investment?
The global financial and energy sectors are abuzz with a critical question: Amid shifting energy dynamics, does ammonia present a lucrative investment landscape?
Historically, the ammonia market, tied to agriculture through fertilisers, has presented predictable returns. However, the landscape is changing. Green ammonia's potential in sectors like shipping, where it can replace heavily polluting fossil fuels, presents a new avenue of profitability. Furthermore, with research pointing towards its use in power generation and industrial applications, its market scope has broadened significantly.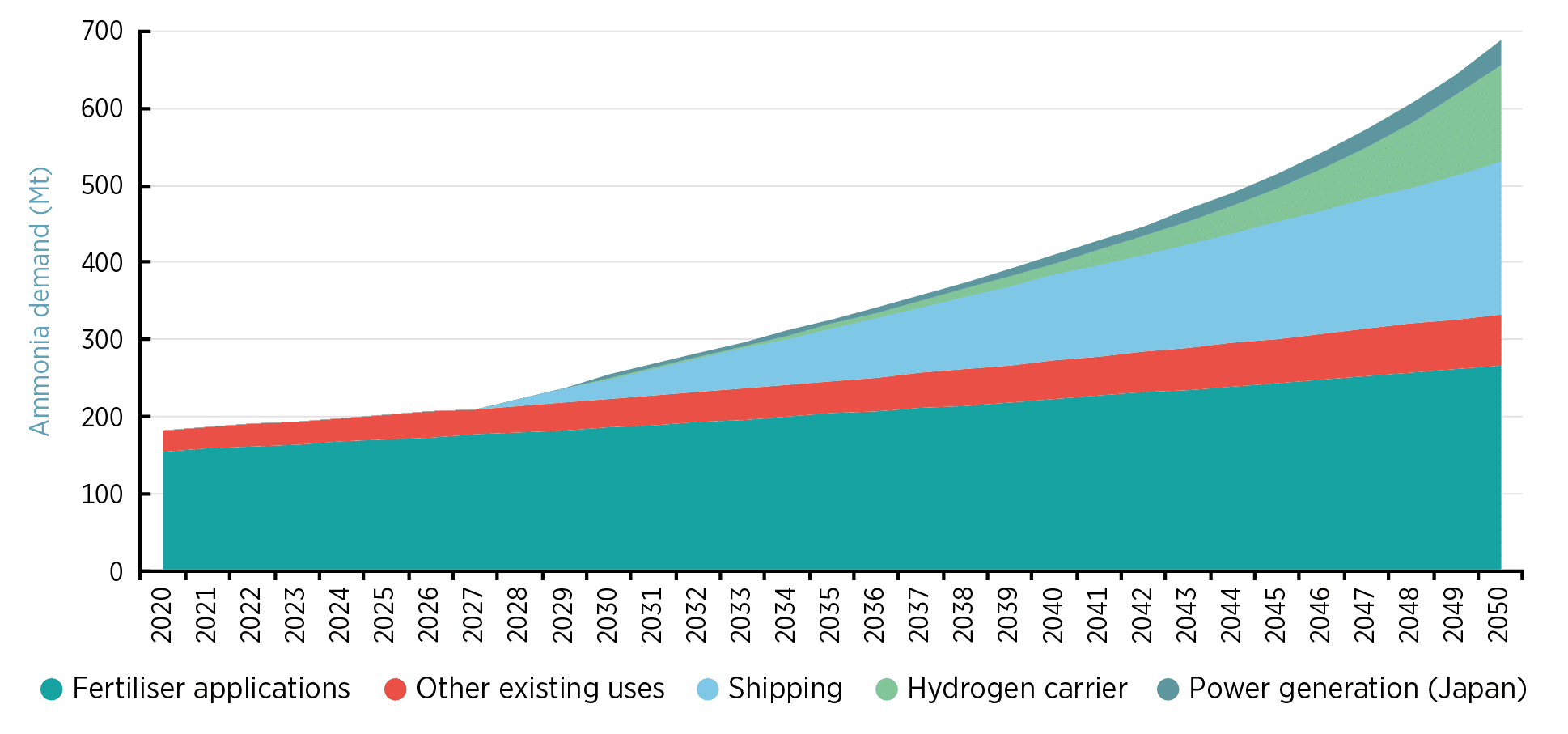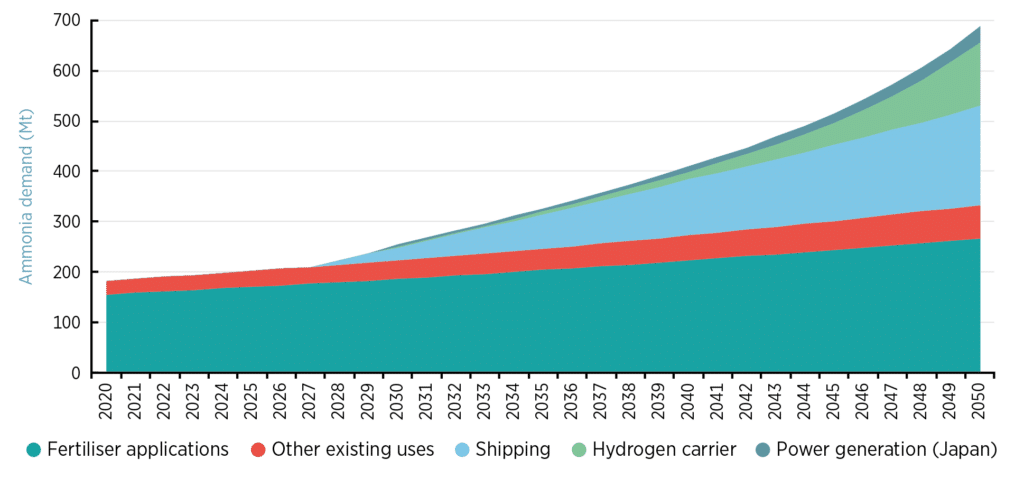 Projections underscore this potential, with the green ammonia market cap estimated to leap from USD 109.98 million in 2023 to nearly USD 5.4 billion by 2030.
Best Ammonia Stocks of 2023 to Invest in Today
The stock market, which often reflects future potential rather than current standings, is buzzing with green ammonia stocks. However, many of these options for ammonia stocks are larger companies with ties to dirtier, fossil fuel-reliant production methods.
For example, Siemens Energy, regularly ranked as one of the best ESG-scoring companies in the industrial sector, is still heavily invested in coal and gas-fired power plants. Investing in large energy providers requires the investor to trust that the company will phase out its fossil fuel practices in favour of renewable options. At the end of the day, there is no guarantee that this will happen.
Emerging Green Ammonia Investment Opportunities
Alternatively, smaller public stock companies are solely working on green ammonia and other renewable energy options. However, these come with the risks associated with less financial stability and transparency.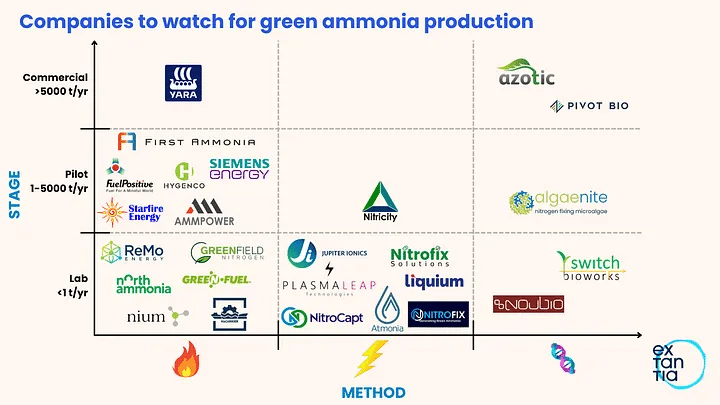 AmmPower is a Canadian-based company working to make commercial-scale green ammonia production cost-effective by investing in the catalytic reaction process. While not yet making sales, it holds several letters of intent from import hubs to develop production and distribution facilities.
FuelPositive is another Canadian company developing a modular green ammonia production system. While also not making sales, it is starting its first demonstration project.
The Ammonia Frontier: Potential Beyond Numbers
While the overarching ammonia industry remains massive, green ammonia represents less than 1% of the industry. However, it holds the promise of tomorrow. The energy transition becomes more viable as investments surge, driving research to reduce costs and increase adoption.
For stakeholders worldwide, the trajectory of green ammonia isn't merely about environmental stewardship and reducing carbon emissions. It's about anchoring oneself in an industry that promises unparalleled growth and sustainability. Embracing the green ammonia revolution could be the defining investment of this decade.
by Eric Koons
Eric is a passionate environmental advocate that believes renewable energy is a key piece in meeting the world's growing energy demands. He received an environmental science degree from the University of California and has worked to promote environmentally and socially sustainable practices since. Eric's expertise extends across the environmental field, yet he maintains a strong focus on renewable energy. His work has been featured by leading environmental organizations, such as World Resources Institute and Hitachi ABB Power Grids.
Read more