Are Large Japanese Companies Living Up to their Climate Commitments in 2022?
The climate and sustainability-related pledges of Japanese companies are a reflection of the government's commitment. While on paper everything sounds ambitious, the reality is there is much work left to be done on both micro and industry levels.
16 May 2022 – by Viktor Tachev
Japanese companies are a driving force in the country's decarbonisation journey, which has ramifications for the entire world. While Japan's climate commitments sound ambitious, the reality shows a lack of tangible results. For one of the world's most carbon-intensive economies to change, it must start producing results. Largest Japanese companies can no longer hide behind pledges and commitments. They have to produce real evidence showing that they are actually changing.
The Carbon Footprint of Japanese Companies
Japan is the fifth-largest greenhouse gas emitter globally. Sectors like energy conversion, industry and transportation make up most of the country's CO2 emissions.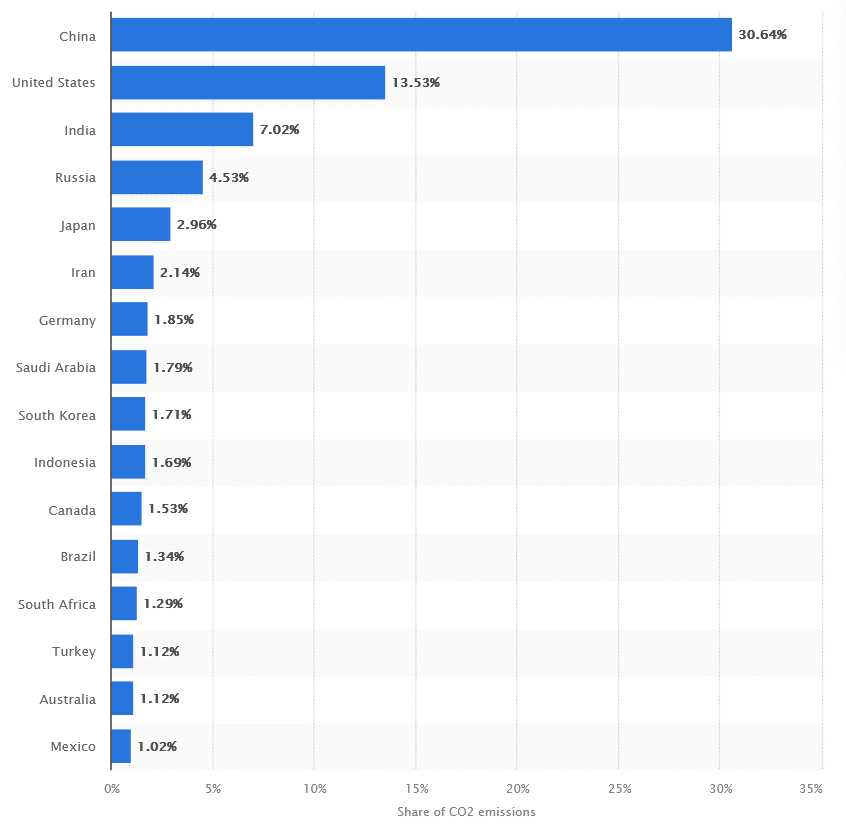 For example, Japan's electricity and heat sector account for 1.18% of the global CO2 emissions. The transportation and manufacturing sectors account for 0.43% and 0.4%, respectively.
In 2019, Japan's tech sector, for example, consumed more electricity than New Zealand in 2020. Considering that 75% of Japan's electricity still comes from fossil fuels, this paints a worrying picture.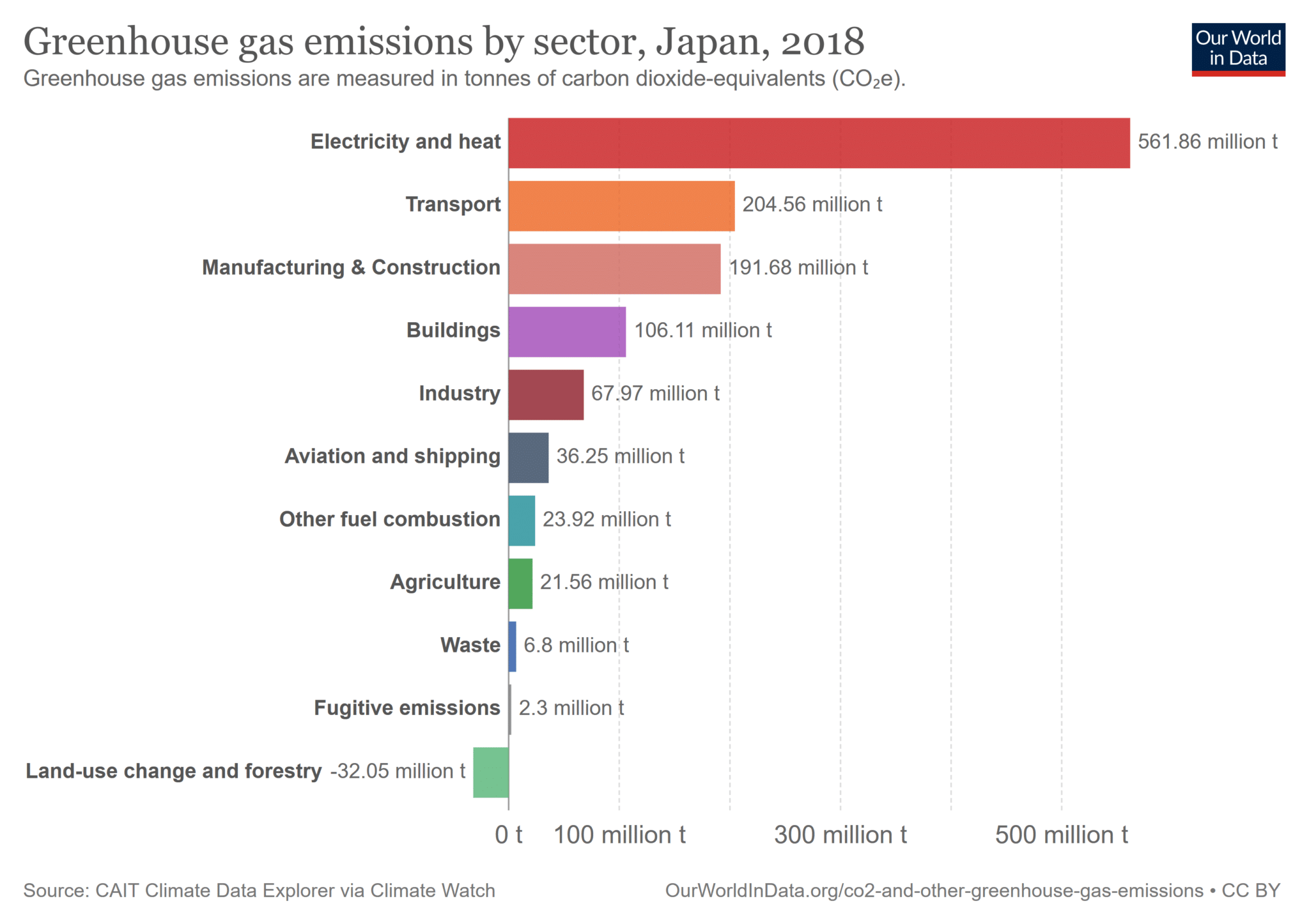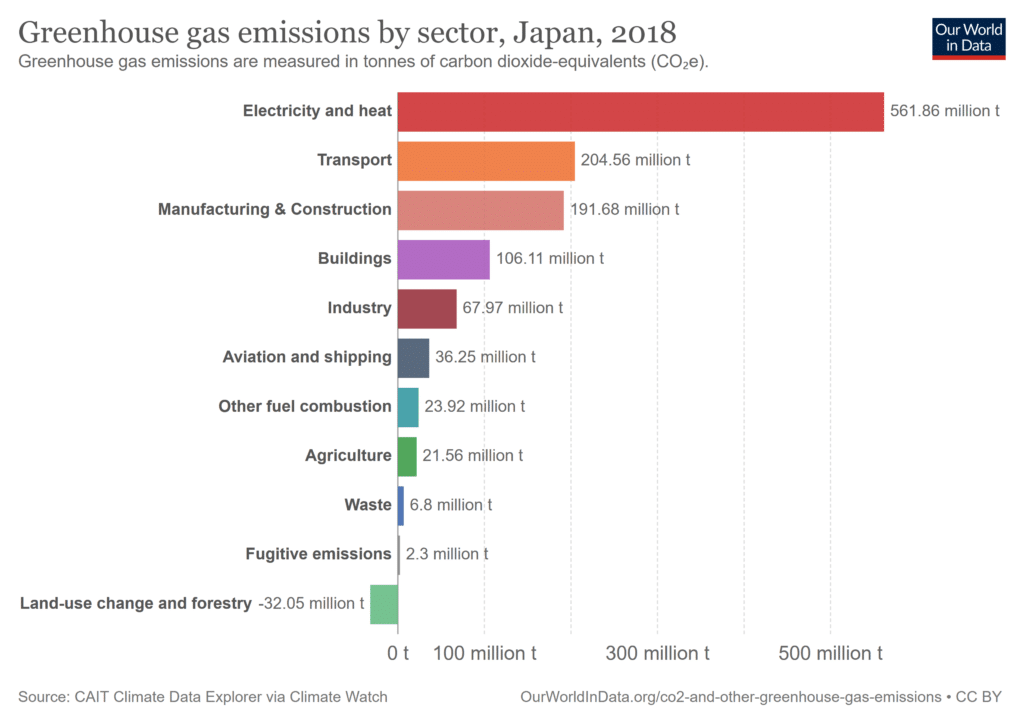 The Climate Commitments of Japanese Companies
In recent years, the top Japanese companies have released climate policies and goals in line with Japan's net-zero commitments. Today, close to 40% of Nikkei 225 companies have made net-zero emissions pledges. Meanwhile, nearly 30% of the leading Japanese firms plan to boost green investments along with their revenue and profits.
Mitsubishi Heavy Industries is aiming for net-zero operations and a net-zero value chain by 2040. Sumitomo has pledged a 60% emission reduction by 2035, compared to 2019, and plans to halt all coal-fired power generation by the late 2040s. The Mizuho Financial Group is aiming for carbon neutrality by 2050. The Mitsubishi UFJ Financial Group is pursuing net-zero emissions in its finance portfolio by 2050 and in its own operations by 2030. The SMBC group also aims to become net-zero by 2030.
Leading financing institutions like Mizuho, Sumitomo Mitsui and Mitsubishi UFJ Financial Group (MUFG) have declared to stop financing coal-fired power plants. They also showed their intentions to start actively supporting sustainability and climate change.
Hitachi is aiming to achieve carbon neutrality at all its business sites by 2030. It also aims to reach a 100% reduction in CO₂ emissions across its value chain by 2050. Toshiba has pledged a 50% reduction in emissions across its value chain by 2030. Sony Group plans to move to 100% renewable energy by 2030 in the U.S. and globally in 2040. The Japanese company has already done so in Europe and China. However, the decarbonisation of its operations in Japan, which account for 80% of the group's total emissions, remains a hurdle. This is not the case for Yahoo Japan and Rakuten, however. Both companies have pledged to transition to 100% renewable energy by 2023 and 2025, respectively.
Furthermore, the Japan Climate Leaders' Partnership (JCLP) urged the government to pursue more ambitious renewable energy targets. The JCLP also requested that the government phase out inefficient coal-fired power plants, halt the construction of new ones and introduce carbon pricing.
Underneath the Climate Commitments of Largest Companies of Japan
Many Japanese companies are going directly against their pledges.
Banks like the Sumitomo Mitsui Banking Corporation (SMBC) and Sumitomo Mitsui Trust Bank are both members of the JCLP and are among the biggest lenders to the coal industry at the same time. Due to Japanese institutions' large interests in coal, the country holds second and third positions in the ranking of the most active coal investors and financiers, respectively.
Mitsubishi Heavy Industries recently completed the construction of an integrated coal gasification plant in Hirono, Japan, and a 500 MW natural gas-fired power generation system in Java, Indonesia. One of its subsidiaries, Mitsubishi Power, also launched a 500 MW natural gas turbine commercial operation in Indonesia. Other companies like Mitsui & Co., Marubeni, ITOCHU Corporation and J-POWER also support fossil fuel projects.
Despite its targets of reducing CO2 emissions by 60% by 2035 and becoming carbon neutral by 2050, Sumitomo was one of the EPC contractors in Bangladesh's Matarbari coal plant project. However, after significant public pressure, it withdrew from the project.
Japan's tech industry is also stalling on its climate commitments. Despite achieving net-zero CO2 emissions by 2050, Canon's think tank – the Canon Institute for Global Studies (CIGS) – was exposed for spreading climate change denial, sowing doubt in climate science, spreading misinformation and promoting fossil fuels.
Greenpeace's Race to Green report found that companies like Toshiba and Canon still do not have renewable energy targets. The targets for others companies like Sony and Panasonic, which have committed to 100% renewable energy, have been set far in the future – between 2040 and 2050.
Furthermore, over 80% of the Japanese companies with significant energy consumption, which are required to report to the government about their carbon-neutrality goals, have not formed a road map for going carbon-free yet.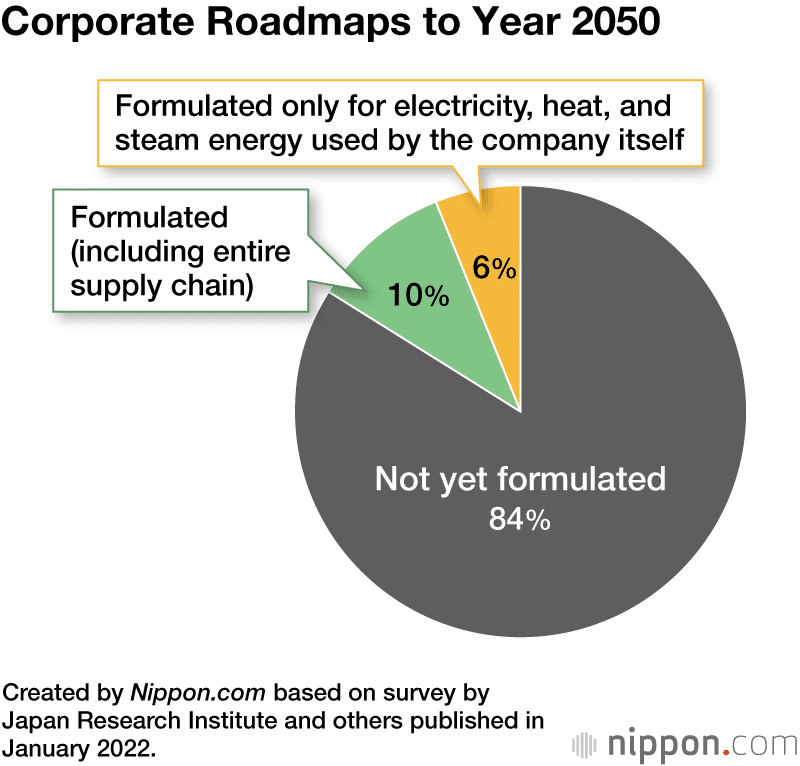 Japanese Companies Have to Do Better
Considering that Japan has gone against its pledge to end international coal financing by 2021, relying on the profit-oriented corporate sector to lead by example is perhaps unrealistic. Given that the public and private sectors together generate 80% of Japan's greenhouse gas emissions (the fifth-largest globally), the need for immediate action is critical. If Japan's government and corporate sector do not team up to achieve meaningful progress, the country's net-zero commitments will not materialise.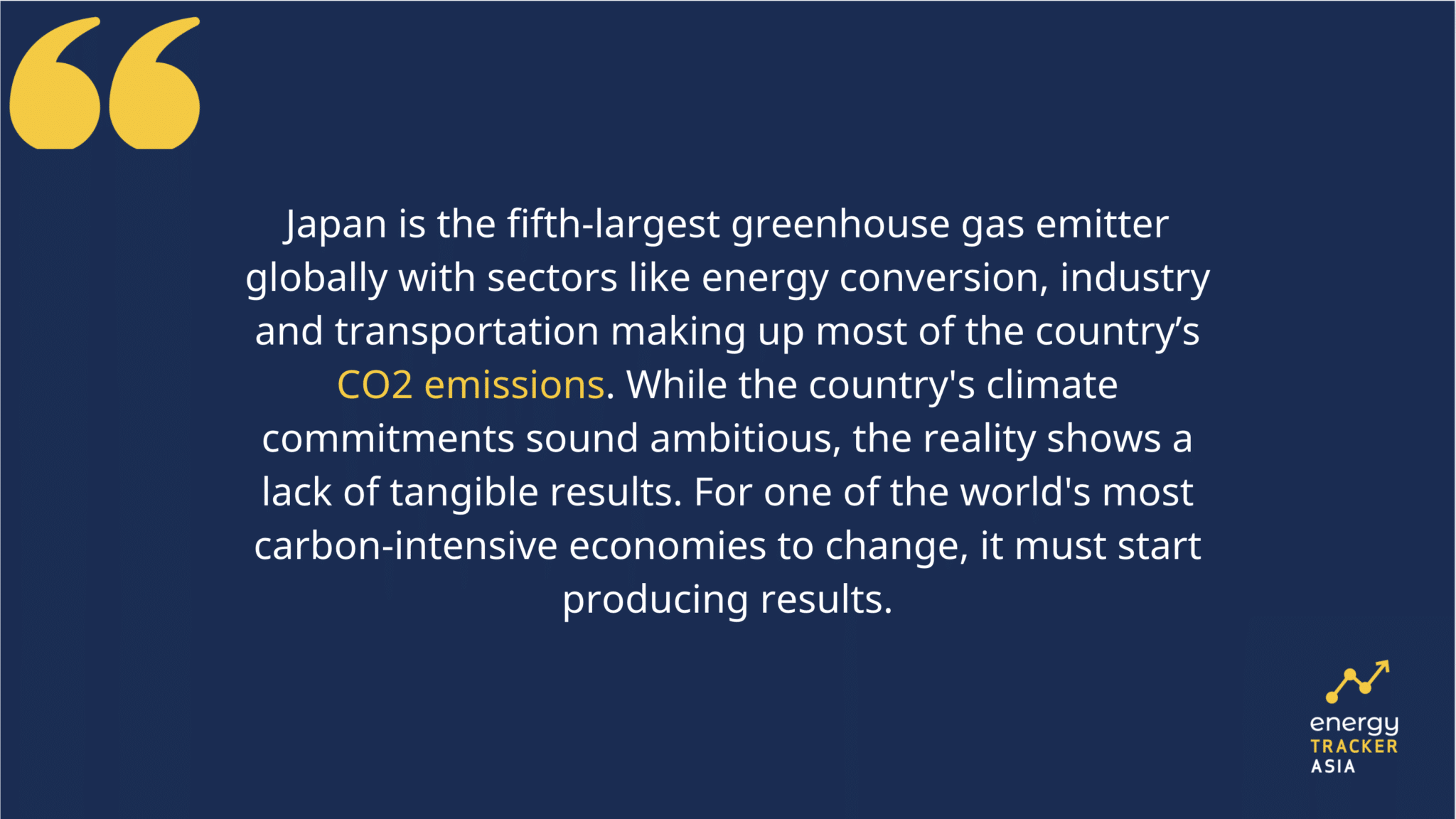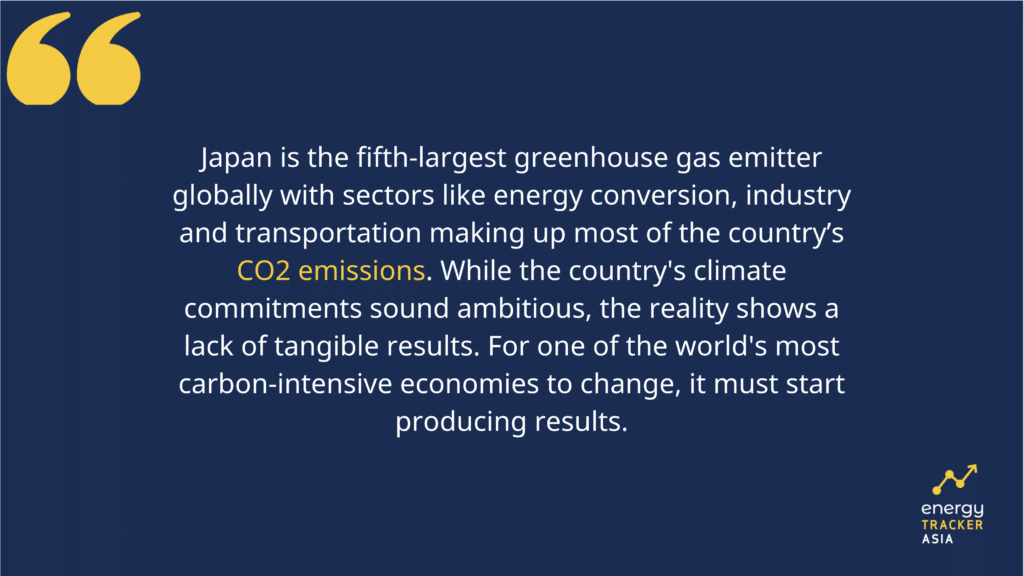 by Viktor Tachev
Viktor has years of experience in financial markets and energy finance, working as a marketing consultant and content creator for leading institutions, NGOs, and tech startups. He is a regular contributor to knowledge hubs and magazines, tackling the latest trends in sustainability and green energy.
Read more