The Japan Net-Zero Commitments: Ambitious and Honest or Unrealistic and Hypocritical
As one of the most developed and powerful economies globally, Japan should be at the forefront of the clean energy transition. While the country has made multiple pledges, its actions and meaningful results are still lacking.
02 May 2022 – by Viktor Tachev
The problem with Japan's net-zero commitments is that they sound ambitious, but the reality is that they will struggle to effectively address the country's energy issues. Making the leap from the world's fifth-largest GHG emitter to a decarbonised economy by 2050 requires immediate and robust action. Japan's net-zero pathway, however, focuses on distractions instead of looking at effective methods of achieving results.
The Specifics of Japan's Net-Zero Commitments
In January 2020, Japan's government published its Environment Innovation Strategy. Through the plan, Japan aims to lead the world in reaching carbon neutrality. Next, the government introduced its Green Growth Strategy, an industrial policy aiming to "create a positive cycle of economic growth and environmental protection". In other words, the strategy looks at introducing structural changes to the energy and industrial sectors and undertaking investment for sustainable innovation. To take care of all the investment activities, the government launched its two-trillion-yen (USD 18.2 billion) Green Innovation Fund.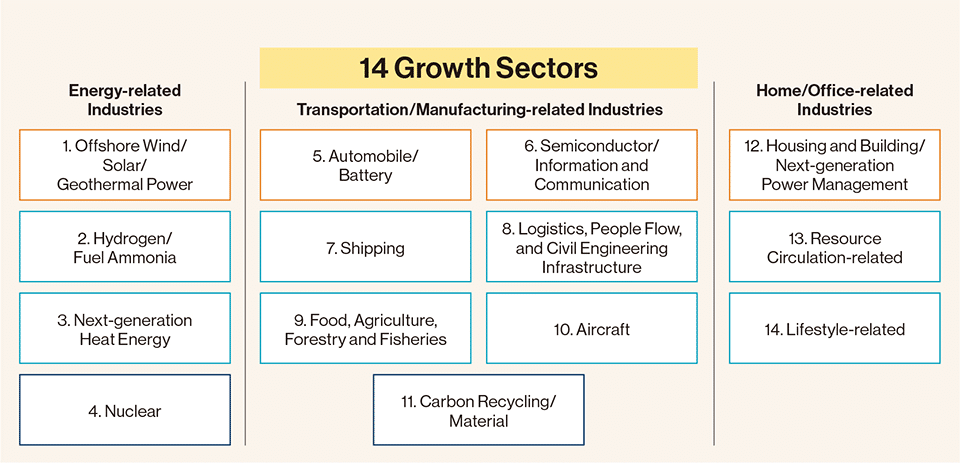 In October 2020, Japan announced it would become net-zero by 2050. In April 2021, the country followed up this pledge with a target to reduce emissions by 46% by 2030. By that time, the non-fossil fuel power supply sources will make up close to 60% of the country's energy mix, with renewable energy holding around 36% to 38% of the total share.
By 2050, Japan aims to have renewable energy sources account for about 50% to 60% of the energy mix.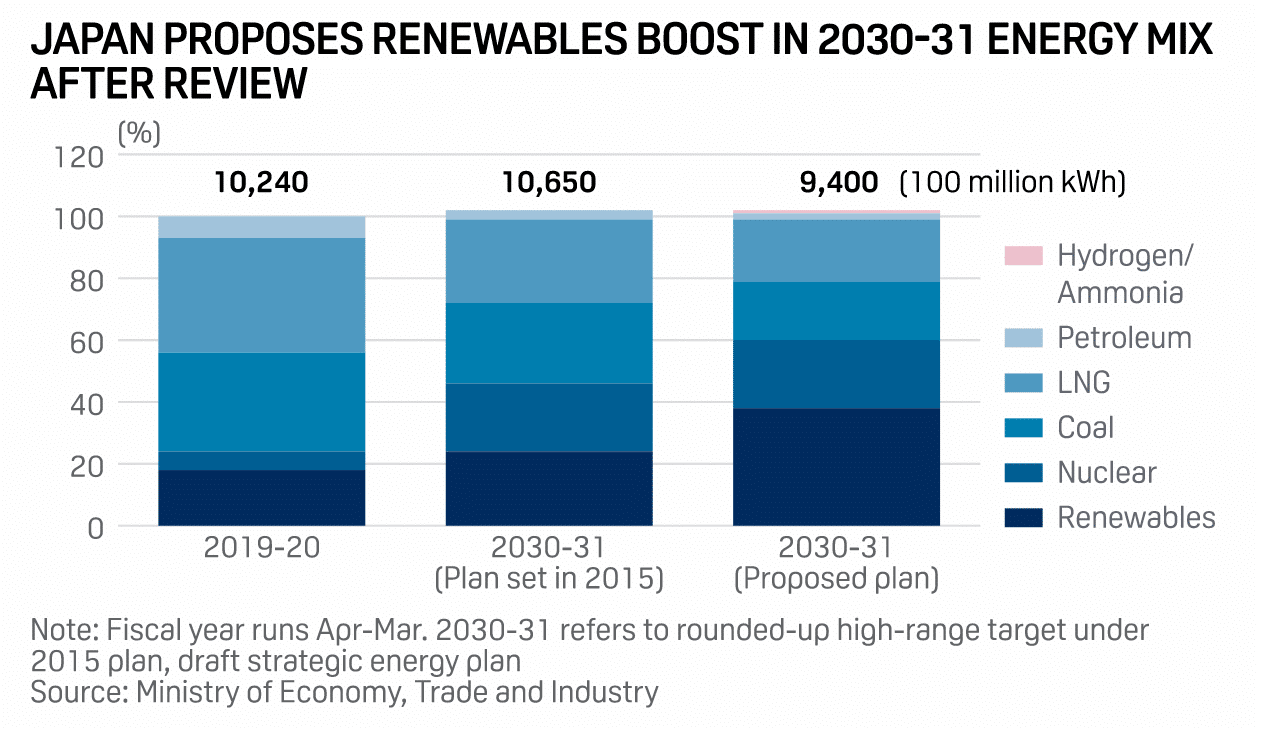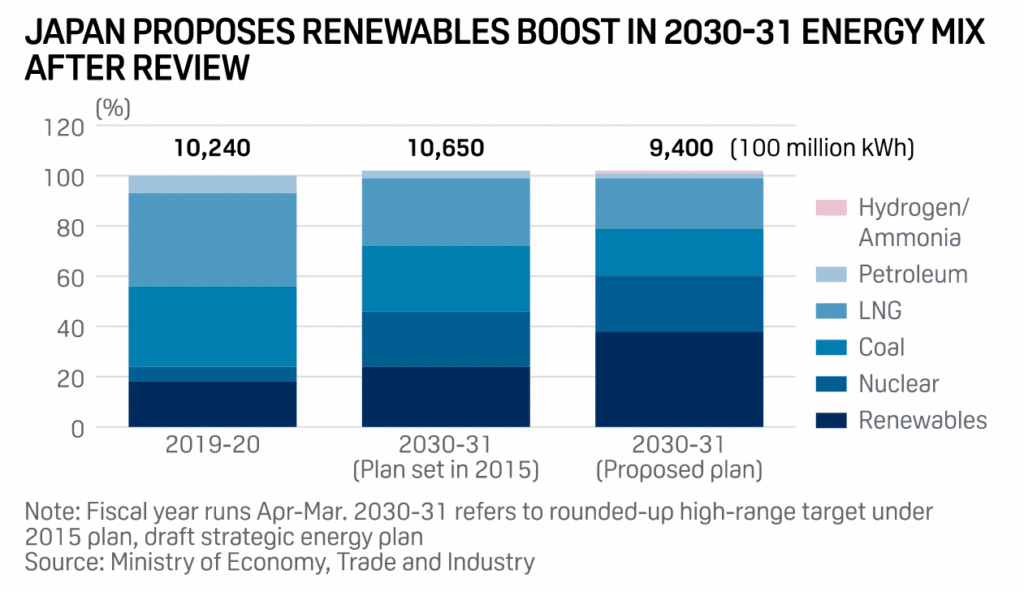 Looking Beneath Japan's Net-Zero Commitments
Japan's Ministry of Economy, Trade and Industry describes the country's roadmap for addressing climate change as "bold and ambitious". However, Climate Action Tracker finds the roadmap "insufficient", while it also rates the net-zero target as "poor", even after the revision of the Green Growth Strategy in June 2021. Furthermore, Wood Mackenzie deems the country's 46% emission reduction target by 2030 "extremely challenging".
A closer inspection of Japan's plans showcases that the country will struggle to solve many of the inherent issues of its energy sector that are present today.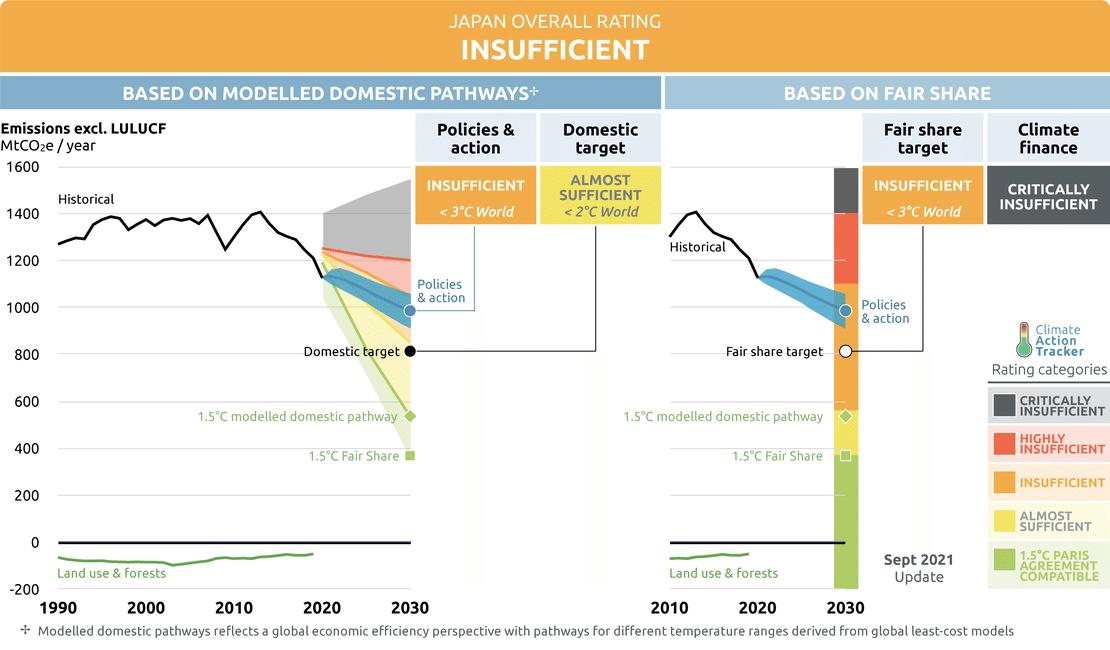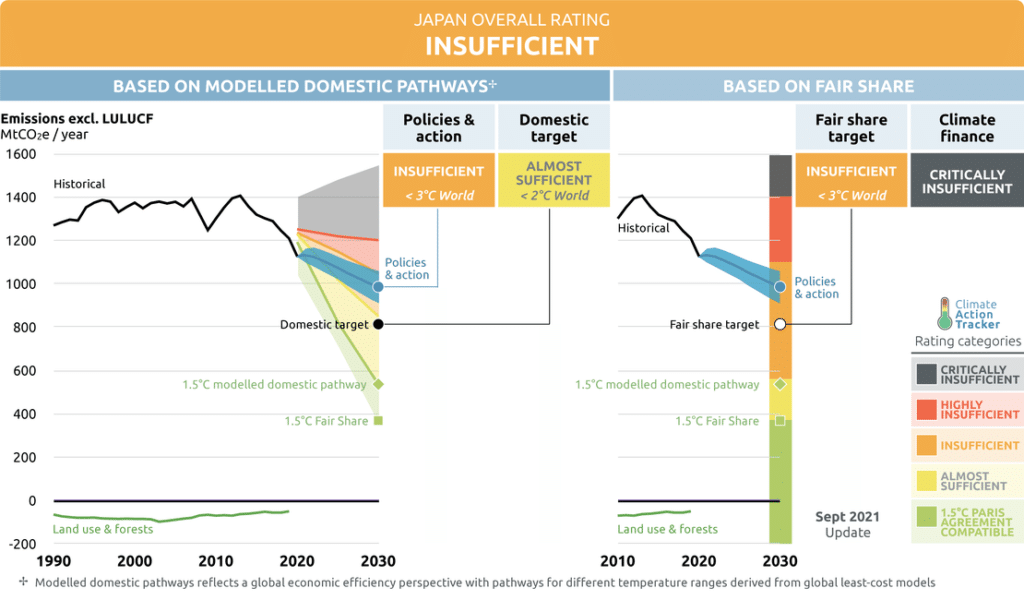 Hesitance to Explore Renewables and Extending the Life of Fossil Fuels
Japan's energy outlook for 2050 states that covering the entirety of the country's electricity demand only with renewables is "unrealistic". The report singles out costs, grid issues and social conditions as the prime reasons.
Behind the scenes, the country continues to finance fossil fuel projects at home and abroad. The latter comes despite earlier pledges to stop international fossil fuel financing. Furthermore, the Global Coal Exit List (GCEL) reveals that Japanese banks hold the top three positions in the list of the biggest lenders to the coal industry. At the same time, Japan's Government Pension Investment Fund is the fifth-biggest institutional investor in coal.
The Hydrogen Hype
Japan's fascination with hydrogen is well-documented. It all started in 2017 with the introduction of the Basic Hydrogen Strategy. The move made the country the first to adopt a national hydrogen framework. Through a series of policies, the country aims to make hydrogen the backbone of its energy transition.
In January 2022, when Japan's Energy for a New Era (JERA), a company responsible for over 10% of Japan's emissions, announced plans to invest close to USD 600 million in the co-firing capacity of hydrogen-derived ammonia and coal. The Green Innovation Fund will cover 70% of the needed investments.
However, there are several problems stemming from Japan's focus on hydrogen.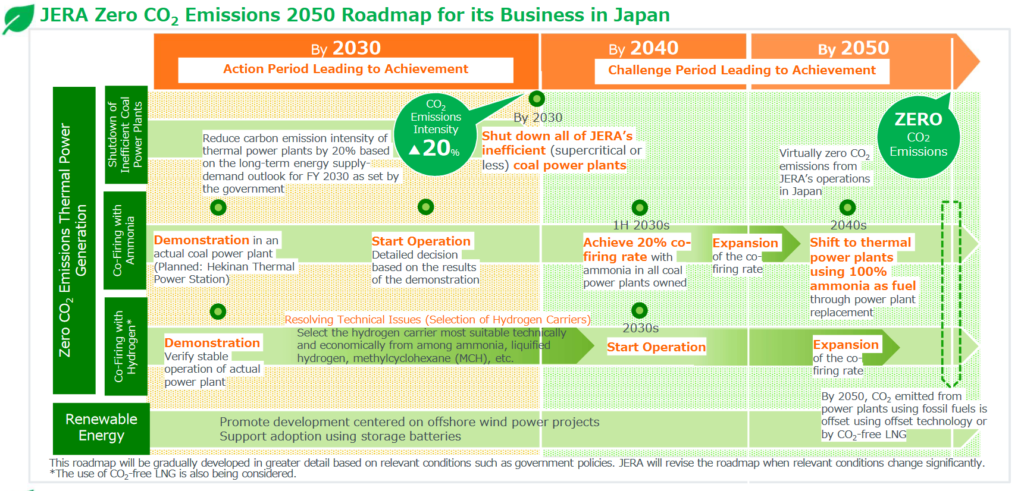 First, green hydrogen, for now, barely exists outside laboratories. Its real-world application is limited due to notable challenges for its commercialisation. As such, its suitability is yet to be tested en masse, leaving more question marks than answers. Furthermore, green hydrogen remains expensive worldwide, with minor exclusions. Due to this, Japan has considered using blue hydrogen in the short term. In addition, the country is yet to adopt a national certification standard for the carbon footprint or "colour" of hydrogen on a national level.
Furthermore, JERA's plants will also rely on fuel with no green credentials. The co-firing plans will use blue ammonia, which is incompatible with a decarbonisation pathway.
Next, hydrogen's climate impact is severely underestimated. The UK government's Department of Business, Energy and Industrial Strategy (BEIS) study concludes that hydrogen is twice "as powerful a greenhouse gas as previously thought". It reacts with other greenhouse gases in the atmosphere and exacerbates their global warming potential.
Increased Dependency on Energy Imports
When it comes to energy supply, Japan is heavily import-oriented. Today, it is the world's fifth-largest oil importer. In January 2022, the country's increased dependency on natural gas imports and skyrocketing global prices drove it to a situation where it had to turn back to coal. The country's needs were met by coal imports, which hit a two-year high of 17.3 million tonnes. Today, the country relies on imports for meeting 96% of its energy needs.
The national primary energy output and consumption ratio is just 11.2%, compared to 60.7% for the EU. The war in Ukraine further highlighted Japan's increased reliance on imports. Тhe country is now looking for all possible ways to cut ties with Russia.
However, Japan's hydrogen move will not solve the energy dependency problem. Domestic hydrogen production will not be sufficient, and imports will meet up to 80% of the total demand in Japan by 2050. This is also likely to be the case for the ammonia plans by which the ammonia will, once again, come from abroad.
All this locks Japan in a loop. Instead of becoming more self-sufficient, the country becomes more dependent on imports.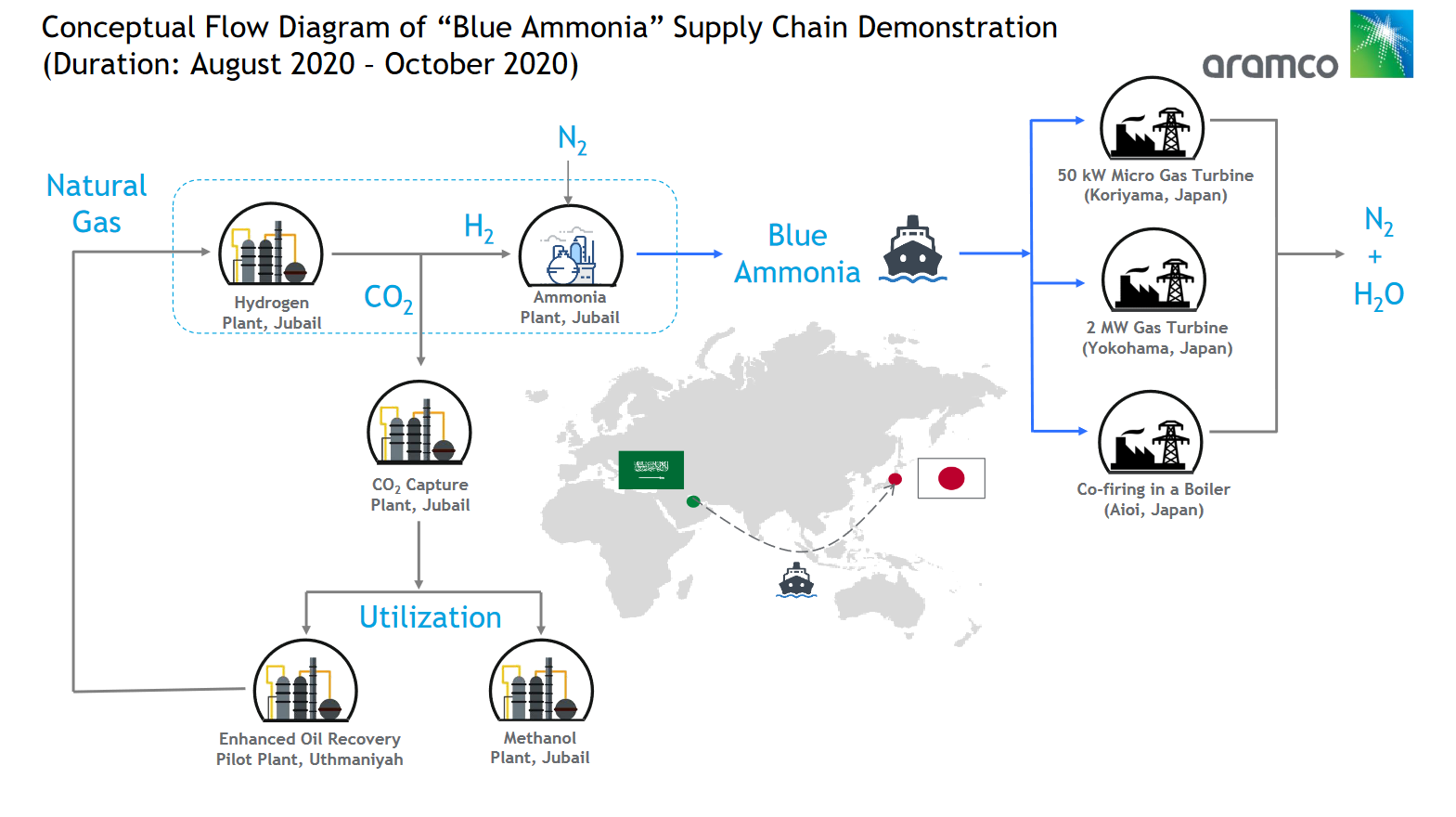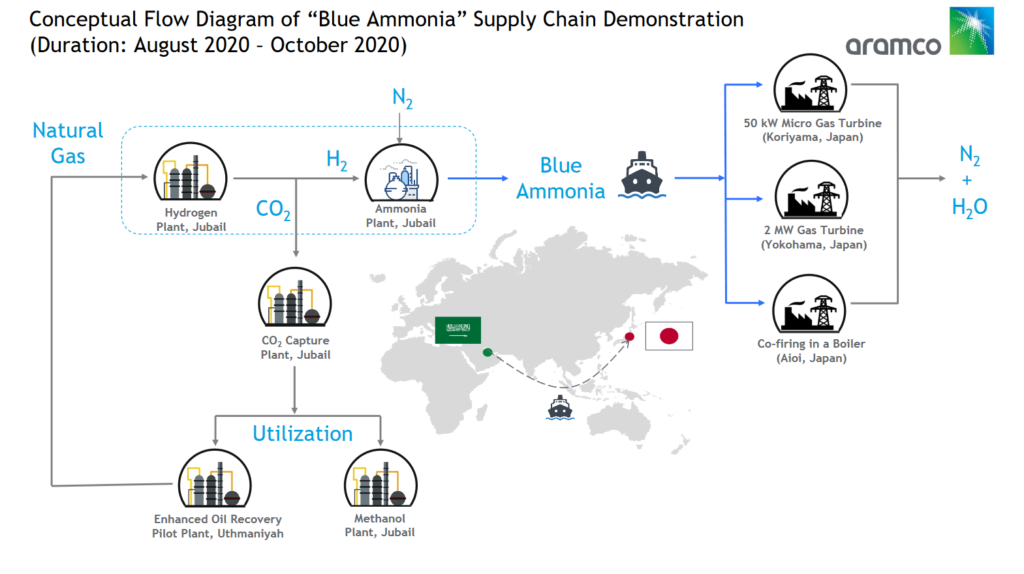 Japan's Net-Zero Commitments: A Tale of Distractions and Unrealised Potential
Japan's Ministry of Economy, Trade and Industry's website states that to achieve the country's climate-related targets, Japan will concentrate its efforts in three directions: promoting innovation and technology, promoting green finance and supporting international cooperation in the field of green technologies.
However, hydrogen and coal-ammonia co-firing are not the innovations that empower a net-zero journey. Continued financial support for coal plants abroad is far from what should be considered "green finance". Additionally, backing unnecessary-polluting fossil fuel plants abroad is the opposite of "international cooperation in green technologies".
All this raises the question of whether the country is honest about its decarbonisation journey. The duality of Japan's strategy is eroding its credibility in the eyes of the public. The country needs to focus on real solutions, and it needs them now. Achieving net-zero in less than 30 years will not succeed if the country continues with conceptual ideas and distracting technologies like hydrogen. There are better, cheaper and cleaner energy solutions within an arm's reach.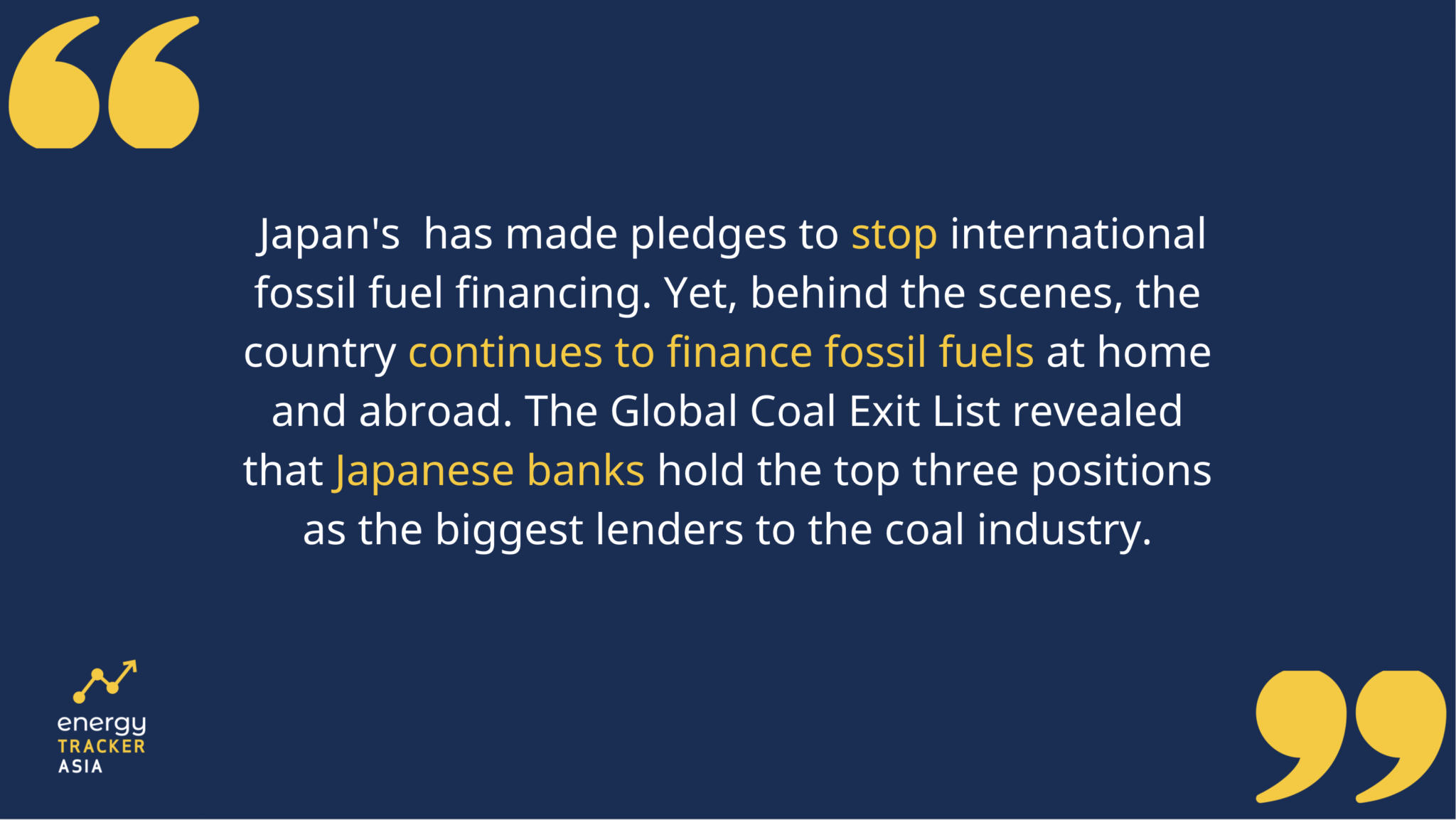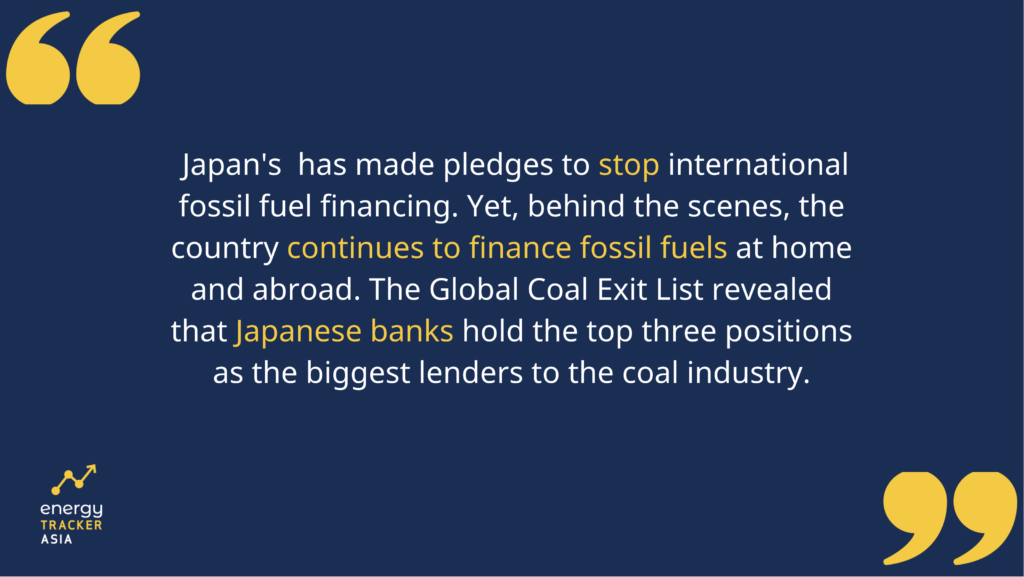 POLL
The Japan Net-Zero Commitments – Ambitious and Honest or Unrealistic and Hypocritical
by Viktor Tachev
Viktor has years of experience in financial markets and energy finance, working as a marketing consultant and content creator for leading institutions, NGOs, and tech startups. He is a regular contributor to knowledge hubs and magazines, tackling the latest trends in sustainability and green energy.
Read more