The China Belt and Road Initiative Investment Report 2021 and its Message to the World
The latest Belt and Road Initiative Investment Report is a statement from China that it will be looking to strengthen its position as a global clean energy leader. It plans on doing this from extensive green financing and undermining the support for coal.
25 February 2022 – by Viktor Tachev
Last updated on 28 February 2022
In September 2021, China declared to stop building new coal power plants abroad and shift to green, low carbon energy. At the time, many remained sceptical. However, the latest China Belt and Road Initiative Investment Report clarifies that the country has remained true to its word. Not only this, but China is progressively increasing its green energy commitment.
The China BRI Projects Investment Report – Tracking Chinese Enterprises Funds in 2021
In 2021, the Belt and Road Initiative's (BRI) engagement in the energy sector amounted to USD 22.3 billion—down from USD 26.1 billion in 2020 and USD 44.8 billion in 2019 due to COVID-19. Although, Chinese energy investments still made up a significant chunk of Chinese BRI investments and since 2013 has accounted for around 40%. Other than Gwadar, the Chinese government has also made other strategic port investments.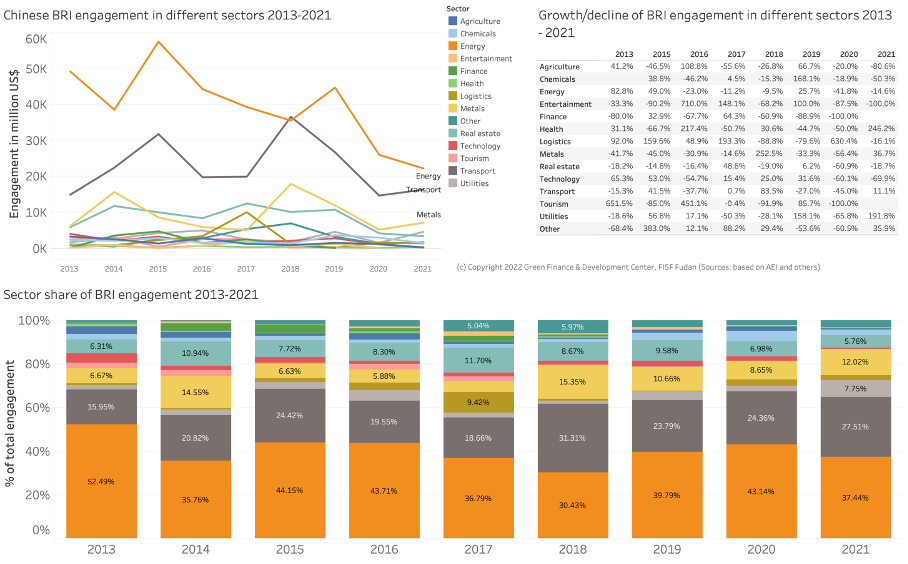 Notably, the China Belt and Road Initiative Investment Report stated that it did not make coal investments in 2021. Meanwhile, it remains heavily supportive of other fossil fuels. In fact, oil and gas investments increased threefold compared to 2020.
Oil accounted for approximately USD 6.4 billion—up from USD 1.9 billion reported in 2020. The countries receiving capital flows included Iraq, Tanzania, Uganda, Kuwait and Ecuador. Gas investments totalled USD 4.5 billion, soaring by USD 2.7 billion more than 2020. The top recipients of gas investments included Iraq, Russia, Thailand and Uzbekistan.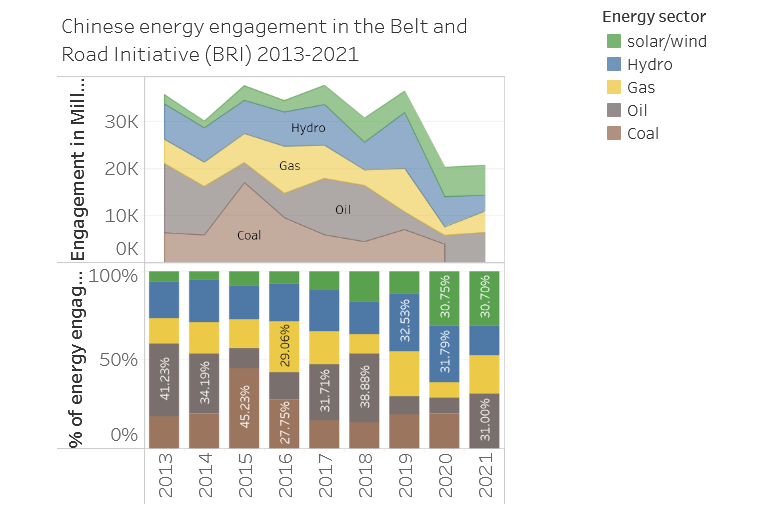 However, on the bright side, there was substantial support for clean energy. Clean energy finance and investments increased fractionally to USD 6.3 billion—up from USD 6.2 billion in 2020.
What's In Store for 2022 and Beyond
In 2022, Chinese investments are expected to prioritise projects like solar and wind power, which are smaller and faster to implement, hence good for China's economy and economic prosperity.
Furthermore, the country is likely to scale back large and economically inefficient fossil fuel projects, especially in foreign countries. This is primarily due to the ever-decreasing energy costs from green sources. However, reputation and environmental risk also play a crucial role.
The report also suggested that institutions across the board will focus on developing social and environmentally conscious fossil fuel phaseout strategies. In fact, this is already happening. The Ugljevik III, a 700 megawatt (MW) coal-fired power plant in Bosnia and Herzegovina, has lost the support of Chinese financial institutions. Similar fates await other coal plants worldwide that rely on Chinese funding.
"With more Chinese investors and relevant insurance companies being aware of financial and environmental risks in coal-fired power plants, paired with a clear top-down signal to support green energy development in overseas markets," said Dr Christoph Wang, author of the China Belt and Road Initiative Investment Report 2021. "I would expect the majority of the announced coal-fired power plants to be reviewed and likely to struggle to find financing."
Wawa Wang, the Director at Just Finance International, a think tank, echoed similar sentiments. "With a top-down signal to build more green projects, we see some changing risk calculus for investing or constructing projects with significant environmental risks," said Wang.
China Setting Examples for the World and Global Economy through Silk Road Economic Belt
The BRI and substantial clean energy support and development coming from China is setting an example for the globe.
For example, the BRI motivated the EU and the US to launch similar initiatives. These included the Global Gateway and Build Back Better World. Without a doubt, competition spurred on by these programmes will positively affect clean energy transitions and sustainability across the globe.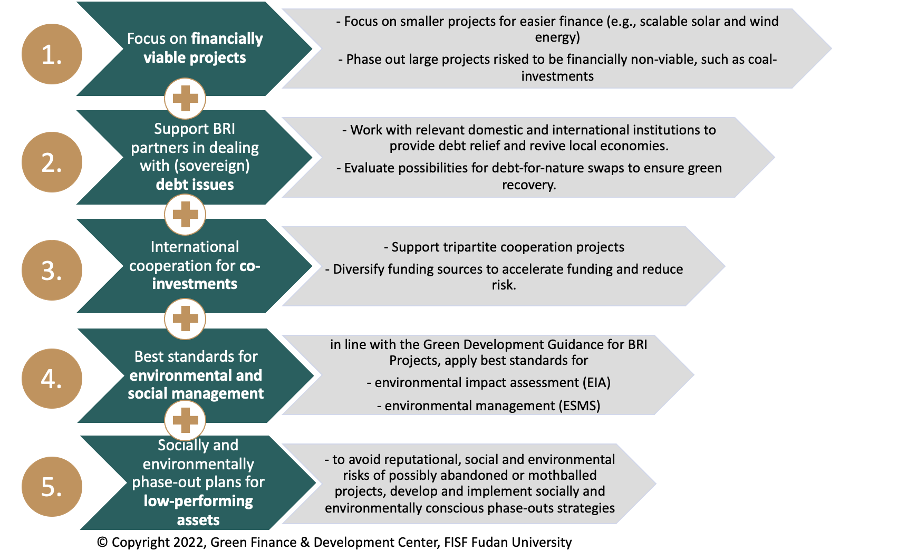 It also highlights that collaboration, especially in green financing, is crucial. The Zhanatas Wind Farm in Kazakhstan is an example of this. The project was co-financed by the European Bank for Reconstruction and Development (EBRD), the Asian Infrastructure Investment Bank (AIIB), the Industrial and Commercial Bank of China, and the Green Climate Fund (GCF).
Furthermore, China has shown how supporting guidelines can give an industry a massive boost on a national scale. The Greening Overseas Investment and Cooperation and the Guidelines for Ecological Environmental Protection of Foreign Investment Cooperation and Construction Projects—issued by the Ministry of Commerce (MOFCO)—advocate for stricter environmental standards. This is especially relevant across countries with weak or underdeveloped domestic standards. These principles can also make their way into corporate governance.
The China Belt and Road Initiative Investment Report and a Global Response
China's actions across the country and globe demonstrate its commitment to renewable energy growth and phasing out coal. Recent progress, alongside ambitions, prove that even the most carbon-intensive economy can build green energy at scale. China has also shown it can follow strict environmental and social standards.
The BRI has set the pace for the globe as a local and international leader. As the world catches up, it will see an increase in positive competition related to clean energy, the energy transition, sustainability, and most importantly, the decoupling of economies from fossil fuels.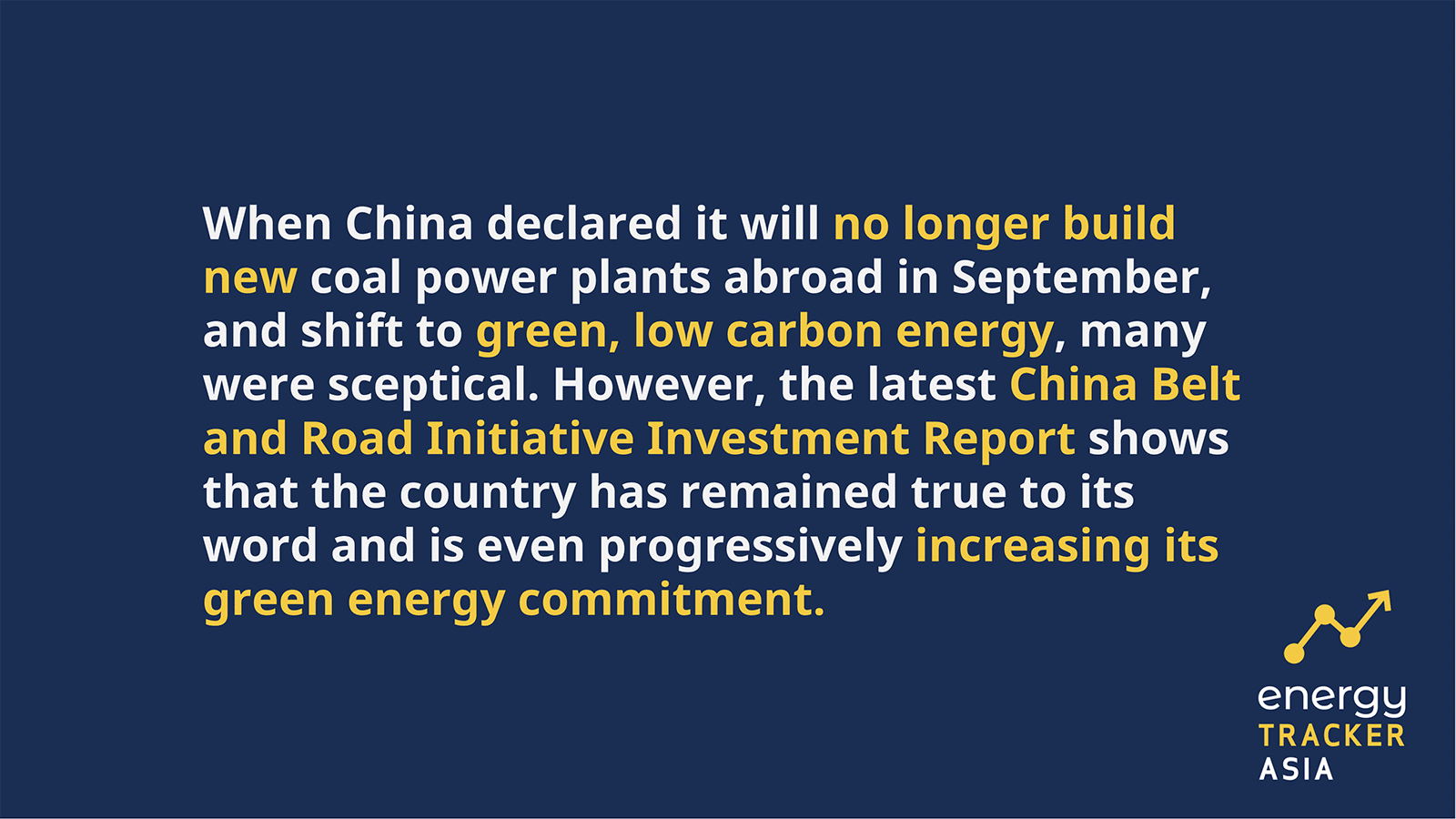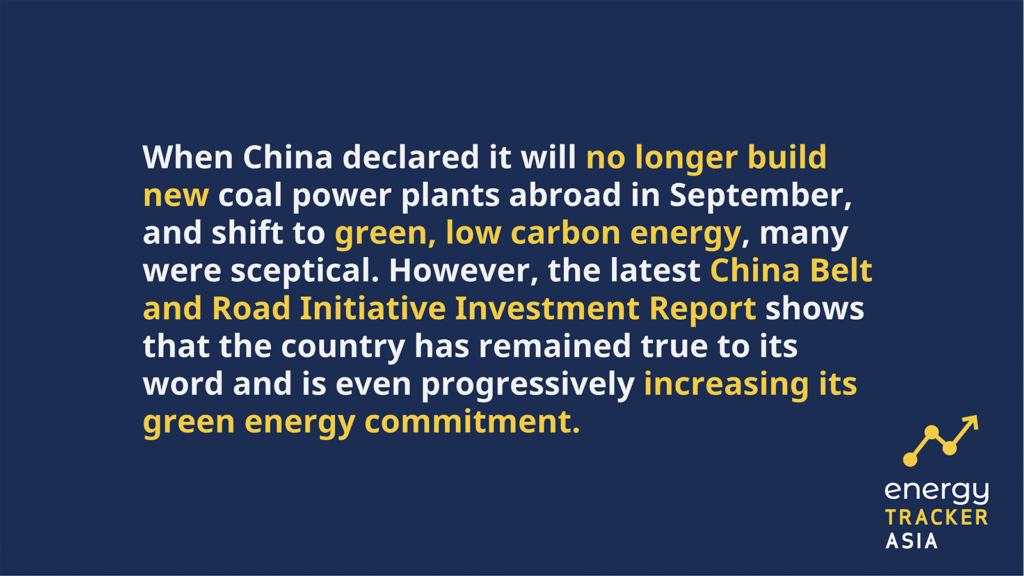 by Viktor Tachev
Viktor has years of experience in financial markets and energy finance, working as a marketing consultant and content creator for leading institutions, NGOs, and tech startups. He is a regular contributor to knowledge hubs and magazines, tackling the latest trends in sustainability and green energy.
Read more