Repercussions of China's Coal Pledge on Asian Economies
"Energy factory (coal plant)" by Marcel Oosterwijk is licensed under CC BY-SA 2.0
China's historic pledge to stop coal financing abroad will help in lowering global carbon emissions. However, the decision may also risk economic growth in Asian countries like Vietnam and Indonesia. Experts demand stronger commitments from Beijing in order to support the renewable energy transition in the region.
30 September 2021 – by Ankush Kumar
China's Coal Fired Power Stations Abroad
Climate supporters globally have greatly acknowledged China's historic pledge to stop constructing new coal-fired power plants abroad. After South Korea and Japan's declaration to end their overseas coal financing, the pressure was on Beijing. "China will step up support for other developing countries in developing green and low-carbon energy, and will not build new coal-fired power projects abroad," stated President Xi Jinping on 21st September.
China Coal to be Replaced Through a Green Recovery
His UN General Assembly announcement also stressed the need to accelerate the energy transition and achieve green recovery. Jinping added that CO2 emissions would peak before 2030 in the country. Furthermore, China wants to achieve carbon neutrality before 2060.
The move would help in lowering carbon emissions. However, experts believe it could also derail economic growth in developing nations, especially in Asia. They suggest that pulling off from coal financing should be followed by China's increased overseas investments in renewable energy.
Impact of China's Announcement on Overseas Coal Market
Global Energy Monitor (GEM)'s updated data predicts China's pledge to impact 44 coal power plants totalling 42,220 Megawatts (MW) of capacity. The scrapping of these coal projects could result in a total savings of USD130 billion over the lifespan of these plants.
China's announcement will undoubtedly have severe repercussions across the world. According to GEM, it will entirely wipe out the pipelines for new coal plants in Kenya, Madagascar, and the Ivory Coast. Surprisingly, in Asia, the worst hit would be the coal projects in Bangladesh and Mongolia. GEM estimates that the number of proposed coal plants in both the Asian economies would reduce by over 90%.
The cancelling of China-backed 44 power plants would reduce coal demand annually by 30 million tonnes. Experts believe this will immensely help lower down the optimism of global fossil-fuel exporters as estimation by the U.S. Energy Information Administration (EIA) sees the future of global coal demand growth shrinking by 1,100 million tonnes over the 44 plants' lifetimes. The shrinking demands would align the economic goals of the world with the pathways for limiting global warming to 1.5C.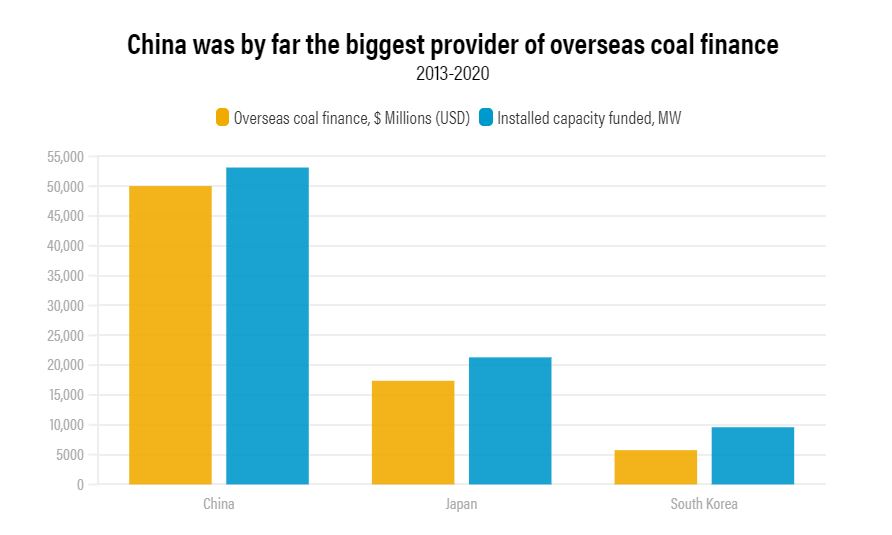 China Continues Domestic Coal Projects
In China, its carbon emissions rose once again and in 2019 increased by 2% according to a CarbonBrief analysis. Official Chinese economic data also indicated that 65% of the annual growth in energy consumption originated from fossil fuels. Coal, being the most polluting fossil fuel, accounted for 57.7% of China's energy consumption in 2019.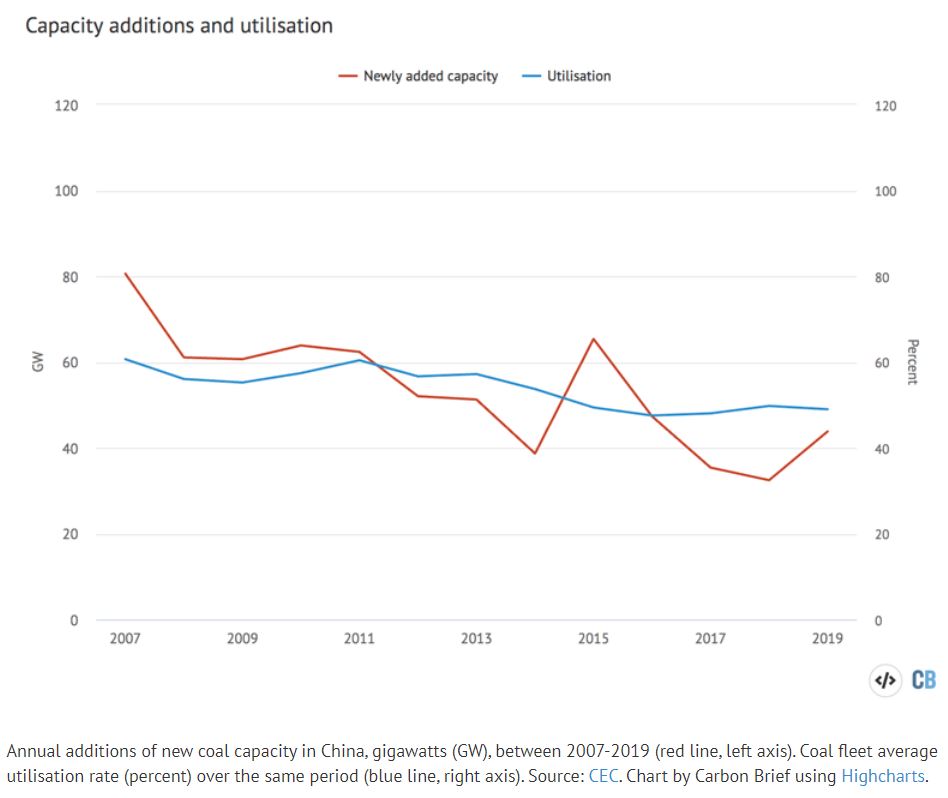 Outlook for Coal Fired Power Plants in China
Although China has declared not to finance overseas coal projects, it continues boosting domestic construction of power plants. In 2020, China sanctioned 36.9 GW of coal power projects within the country. This was more than its combined last three year tally of 28.5 GW approved from 2017-2019. The nation also held 85% (73.5 GW) of global capacities for proposed new coal-fired power plants in 2020.
Asian Economies Increasingly Scrapping Coal-based Power Plants
"Prior to this announcement, China had plans to support over 40 gigawatts (GW) of new coal-fired power plants in 20 developing countries," stated the Natural Resources Defence Council (NRDC). These coal plants were majorly located in Bangladesh, Cambodia, Indonesia, Laos, Mongolia, Pakistan, Sri Lanka, and Vietnam in Asia. Financed by China, these eight countries have 30 pre-construction coal plants with a total capacity of 29.06 GW.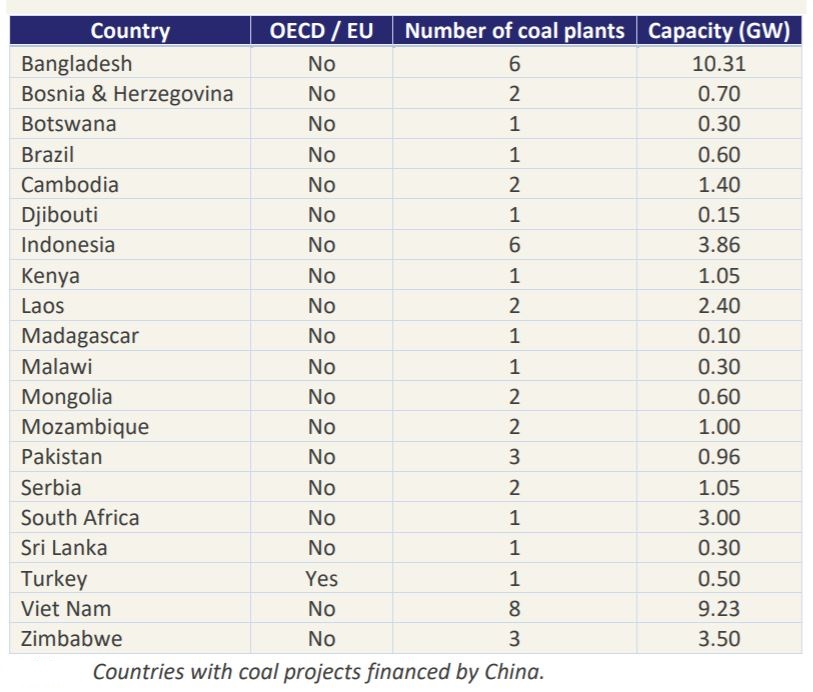 Most of these countries have started shying away from coal projects. They are facing challenges of overcapacity, rising costs, and poor infrastructure. As a result, in June, Bangladesh cancelled coal projects amounting to 8.7 GW of capacity. Pakistan, Vietnam and Indonesia's largest utility firm PLN have already pledged not to construct any new coal-fired power plants. NRDC further stated that in 2019 and 2020 China supported coal power plants worth USD47 billion were cancelled. As a result, China's overseas coal plant funding was largely restricted in the initial phase of this year.
Massive Coal Projects in Indonesia At Risk
The consultancy firm Wood Mackenzie expects that projects in Indonesia and Vietnam would be most affected as they rely heavily on foreign investments. "Our assumption of 29 GW generic coal projects in Indonesia after 2025 could be at risk due to China's pledge," stated the firm.
China's announcement has undoubtedly put overseas coal projects into uncertainty. "We don't know what will happen to Chinese coal projects in places like Pakistan that are planned but yet to begin construction," IEEFA's Energy Finance Analyst Simon Nicholas told ETA. He assumes that coal projects not yet under construction will now be cancelled. "Or possibly these projects will continue, and the announcement only applies to any further project proposals."
Will China Boost Energy Transition in Asia by Investing in Renewables?
As a next step, will China also take the opportunity to finance renewable energy projects abroad? The country is the top producer of wind and solar energy in the world. It is home to five of the world's six largest solar-module manufacturers. In 2020 China build more windfarm capacity than the entire world combined a year before. Therefore, one cannot undermine the potential of China in developing renewable energy projects.
In his speech, Xi Jinping did mention green and low carbon energy. However, "Chinese activity in constructing and financing wind and solar in developing nations has been limited," Nicholas added. The falling prices of renewable energy and technological development still give hope to the region.
Many countries in Asia have high renewable energy reserves. However, they need tangible policy and financial support, wrote Zhang Jing, a senior energy campaign at Greenpeace East Asia to ETA. "Currently, financiers have not developed straightforward ways to finance renewable energy projects. Especially those that do not fit an energy finance market structured around coal," said Jing. "Chinese financiers have a role to play in developing financing channels."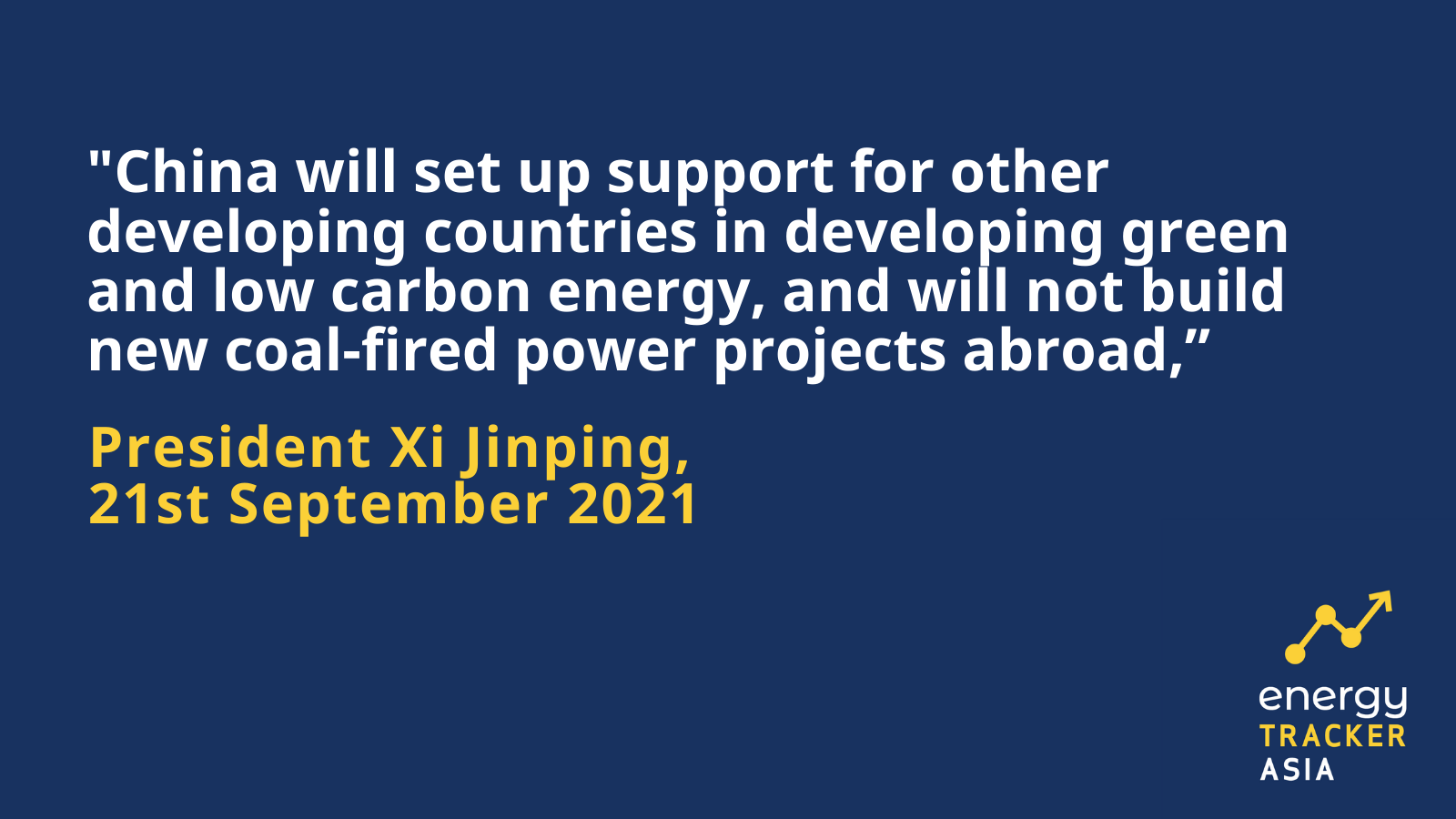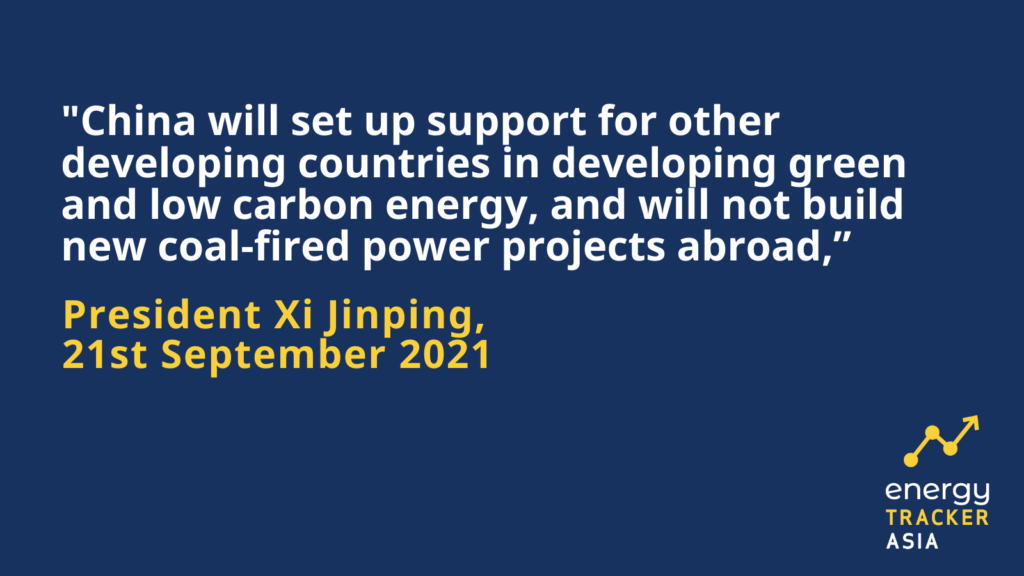 by Ankush Kumar
Ankush Kumar is a Berlin-based freelance journalist who writes on energy transition, human rights, and enterprise technologies. He was formerly associated with India's largest media conglomerate The Times Group, covering power utilities, coal, and renewable energy. Kumar was part of the Clean Energy Wire media study tour in 2018 to cover Germany's coal phase-out.

As a journalist, Kumar was also involved in a cross-border story on lead-acid poisoning caused by battery recycling. The story won the prestigious "Ernst-Schneider-Preis" of the German Chamber of Commerce and Trade as well as the "Deutscher Journalistenpreis – djp" of The Early Editors Club in 2019. On April 22nd, 2021, at the Second Annual Fetisov Journalism Awards his co-authored story won the 2nd prize in the category of "Contribution to Civil Rights." Over the years he has written articles for The Caravan, Financial Express, The Economic Times, Der Spiegel, Frankfurter Rundschau, and other reputed publications.
Read more