Steel Producers Are Slow To Reduce Emissions
Source: The Business Journal
Steel plays an integral role in our modern world, yet it is also known for its high rate of emissions. One way to curtail these emissions is by implementing electric arc furnaces in production. While some countries have adopted this technology, others continue to develop facilities reliant on heavy-emitting technologies. Experts believe the steel industry is falling behind and may hinder the world from reaching net-zero by 2050.
13 July 2022 – by Eric Koons
Steel producers are part of a hard-to-abate sector for emissions. However, these emissions must decline for the world to reach its net-zero goals. Making the situation more complicated is the fact that steel is in demand. And it is an important raw material for decarbonisation efforts and renewable energy infrastructure.
Steel Demand will Grow – According to World Steel Association
The global steel industry accounts for 11% of carbon dioxide emissions and over 7% of global greenhouse gas emissions. Steel demand grew by 2.7% in 2021, and according to the World Steel Association, steel demand is forecast to grow by 0.4% in 2022 and a further 2.2% in 2023.
Change in Steel Industry
With rising steel demand, emissions will likely continue to increase unless something changes within the industry. A change is necessary for the industry to achieve the net-zero by 2050 target outlined by the International Energy Agency (IEA). The IEA outlines that carbon intensity within the steel industry will need to fall by an average of 4% annually between 2020 and 2030.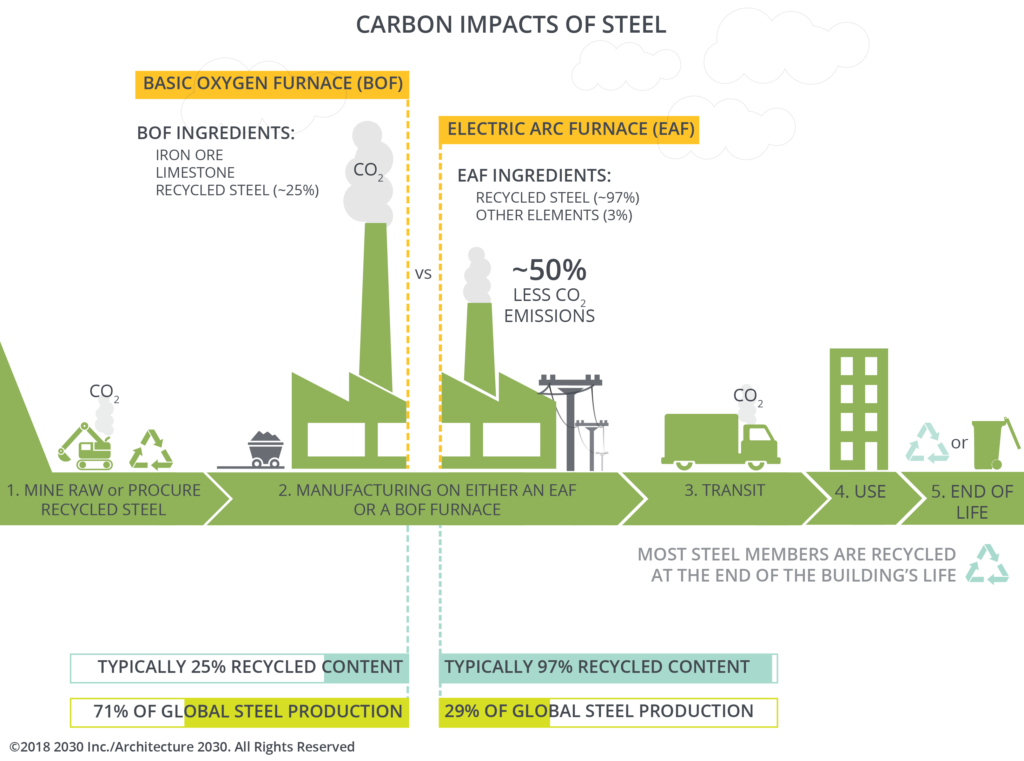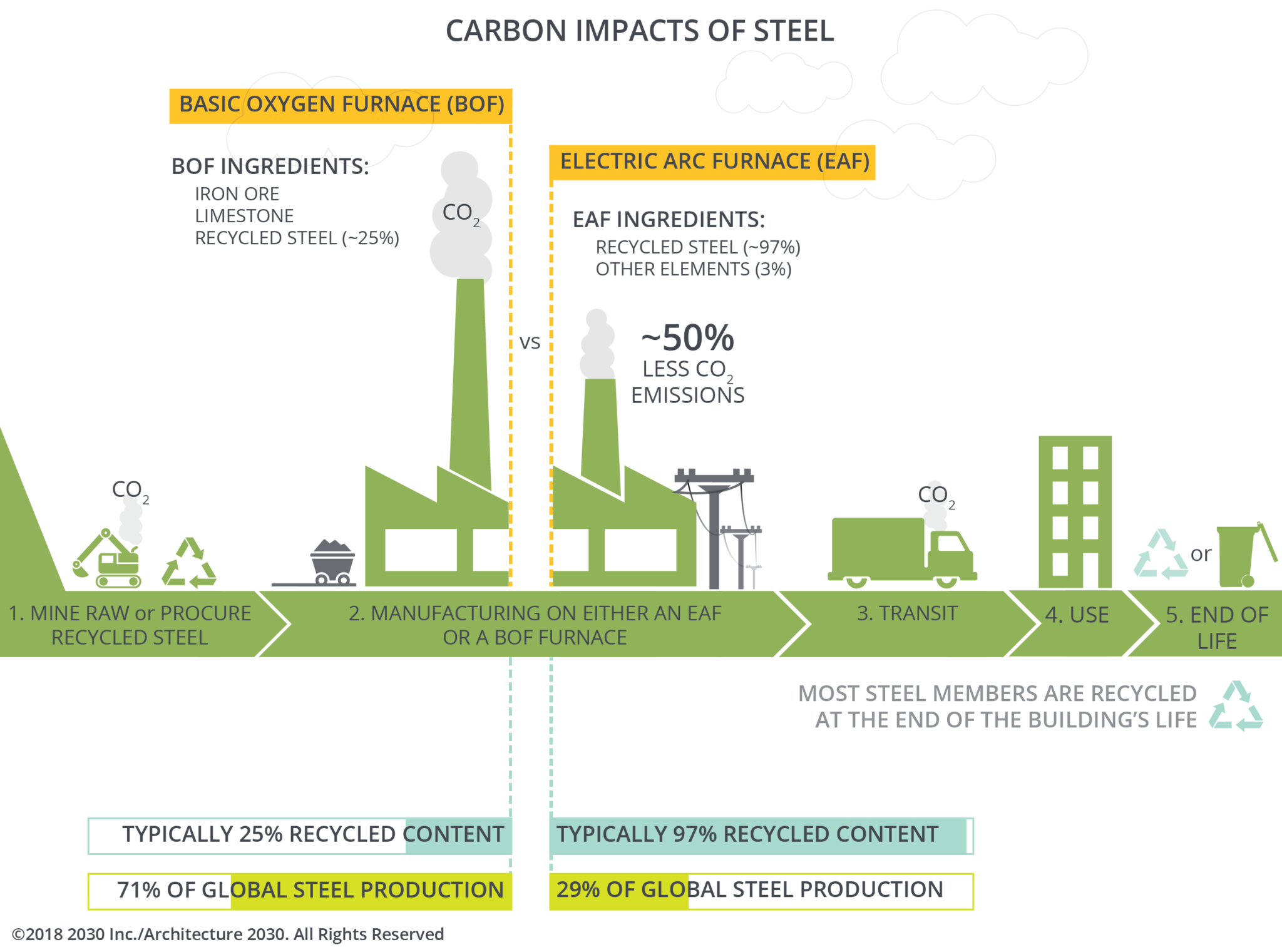 The first way to meet this goal is by reducing crude steel production and increasing reuse and recycling. This comes with many challenges, as steel is typically long-lasting, so demand outpaces recycling rates.
Another solution is reducing energy intensity and emissions rates directly in production. This is achievable with electric arc furnaces (EAF) instead of the historically more common blast furnace- basic oxygen furnace (BF-OF). EAF steel manufacturers typically produce 50% fewer emissions than BF-OF operations.
Global Energy Monitor: Pedal To The Metal 2022
A recent report released by Global Energy Monitor (GEM) takes a deeper look into the state of BF-OF and EAF facilities globally. GEM finds that 37% of global steelmaking capacity must be EAF by 2030 and 53% by 2050 for the world to reach the IEA's net-zero 2050 target.
Unfortunately, the largest steel producing companies are behind on these targets, with only 31% of existing operations using EAF technology and 28% of projects in development slated for EAF.
This is not promising and raises many questions about why EAF is not gaining traction in some regions, particularly when significant risks go beyond the environmental factors resulting from BF-OF in the coming decades.

BF-OF Capacity is Rising in Asia
Despite the targets discussed by the International Energy Agency and Global Energy Monitor, steel production and the development of BF-OFs continue to rise. Asia is the fastest-growing economy; hence, it is becoming a steel capacity development hotspot.
Steel Producers Face Stranded Asset Risk
Even though there is still BF-OF development, some regions are seeing growth in EAF adoption. The change is mostly due to market demand, policy interventions and producer incentives for lower-emissions steel.
This comes at a critical time when countries are becoming more aware of climate change's potential social and economic damage. As a result, policies like New Zealand's new emissions reduction law and the United States' recent emissions reduction initiatives for the industrial sector will likely become more common.
These types of policies will disrupt the status quo and force businesses to rethink how they handle production. For the steel industry, it may lead to the ban of higher-emissions steel or tariffs on production and imports. This reduces any potential cost benefits that are currently present for BF-OF production.
This creates a significant stranded asset risk for BF-OF facilities. The steel industry and steel mills could face up to USD 518 billion in stranded asset risk as countries work towards meeting their long-term carbon neutrality commitments.
This financial risk will continue to grow unless there are efforts to alter the current steel capacity development plans. These plans account for 351.8 mtpa of the emissions-heavy BF-BOF facilities currently in different stages of development.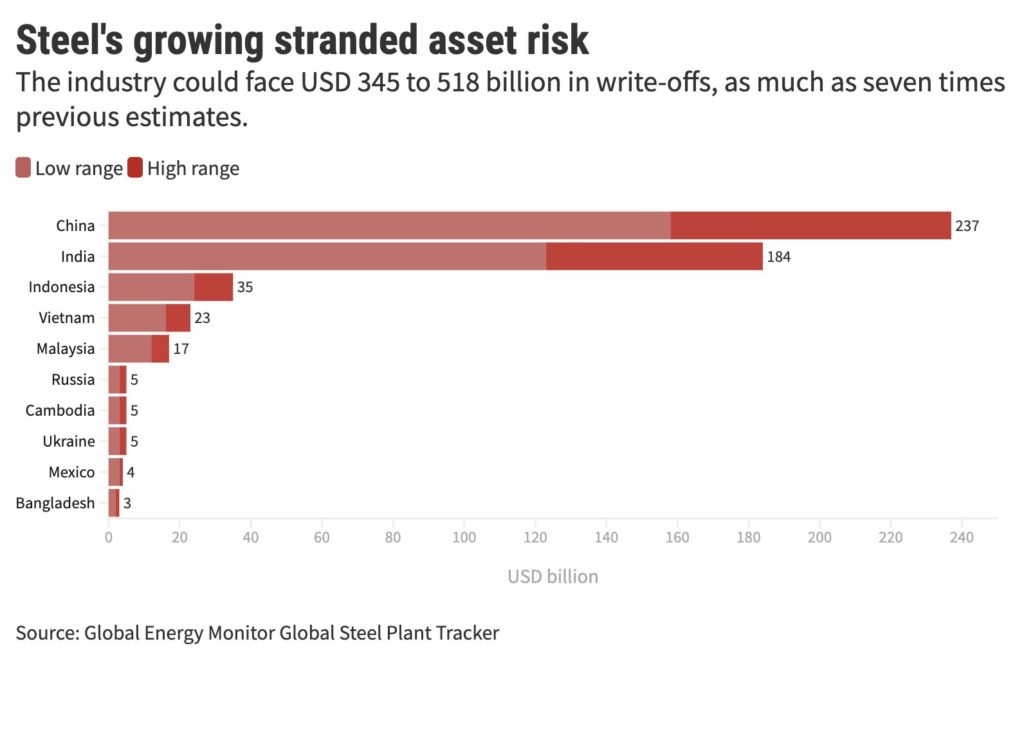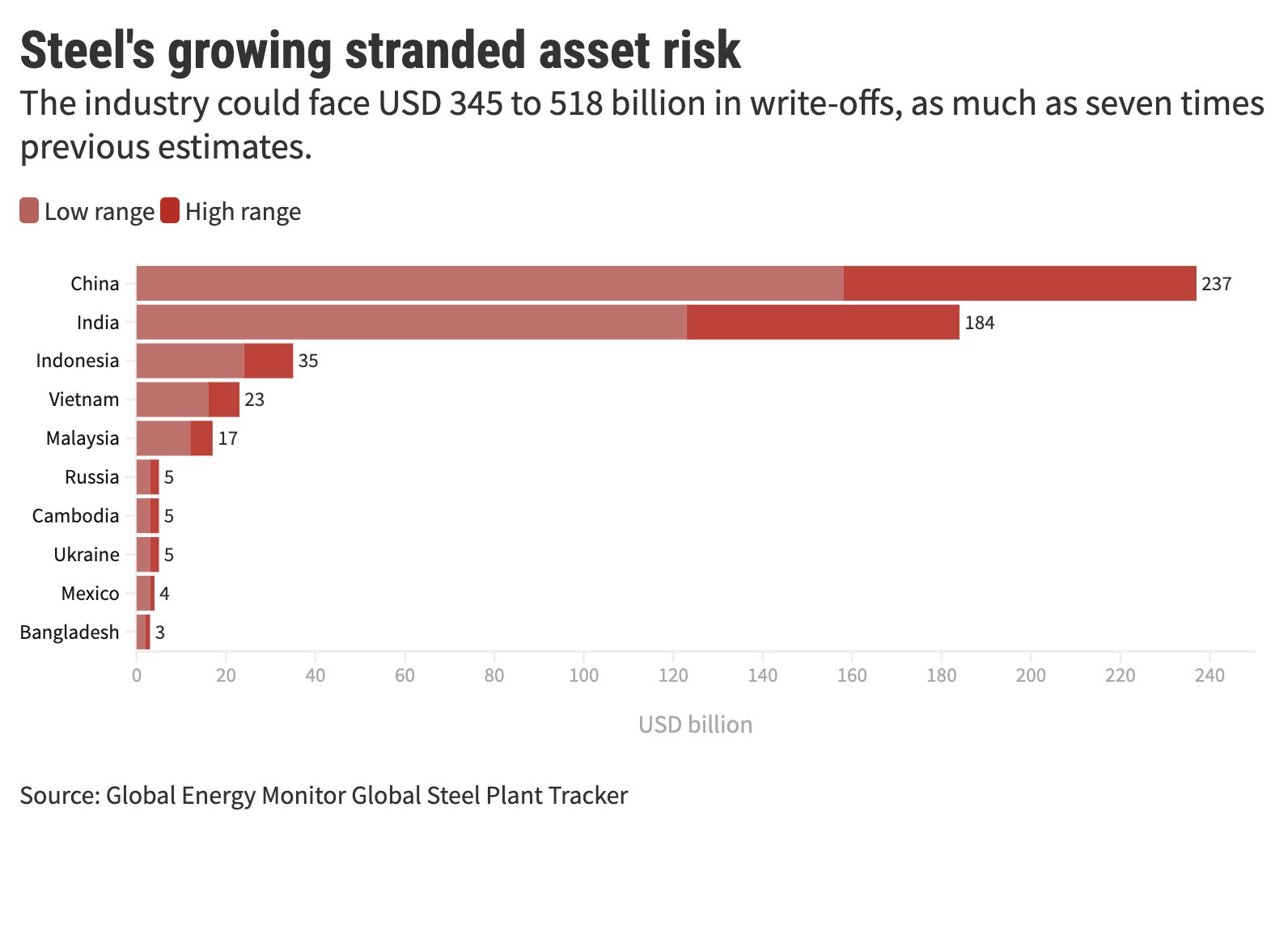 The Future of Global Steel Production: G7 vs non-G7 Countries
There is a significant divide in EAF and BF-OF capacity development between steel producers in G7 and non-G7 countries. G7 countries are only developing EAF and have stopped all BF-OF construction. Alternatively, EAF production only accounts for 25% of steelmaking capacity currently under development in non-G7 countries.
While this is in line with G7 countries leading the charge on climate change policy, it also means that non-G7 countries are accepting the higher stranded asset risk. The risk is particularly problematic for the smaller and generally less developed economies of the non-G7 nations because they are less capable of dealing with the financial burden.
By not transitioning towards EAF, these countries are creating further economic risks for themselves without the possibility of bailouts. As mentioned earlier, most of these countries belong to the Asian continent – China, India, Malaysia, Indonesia and Vietnam.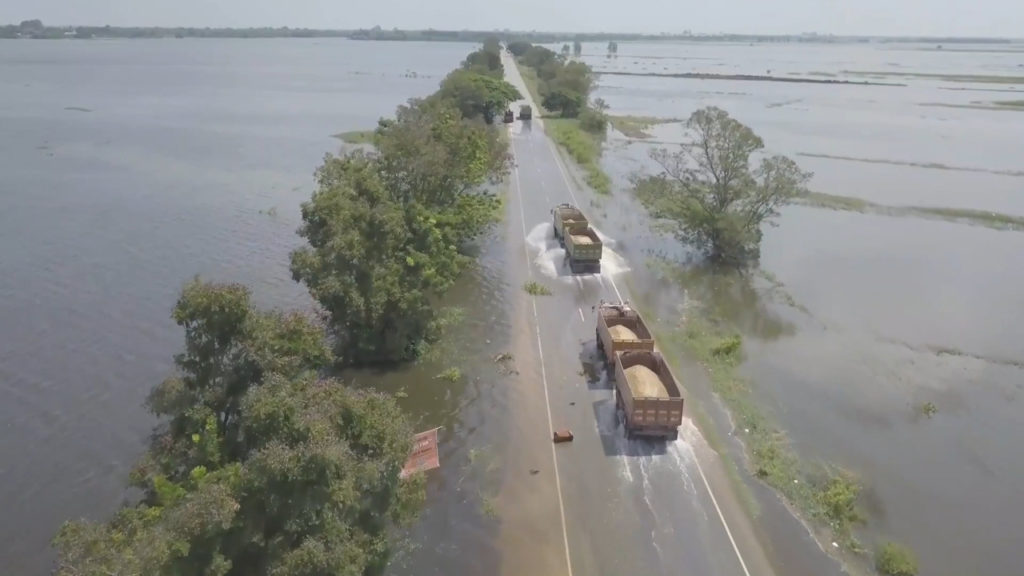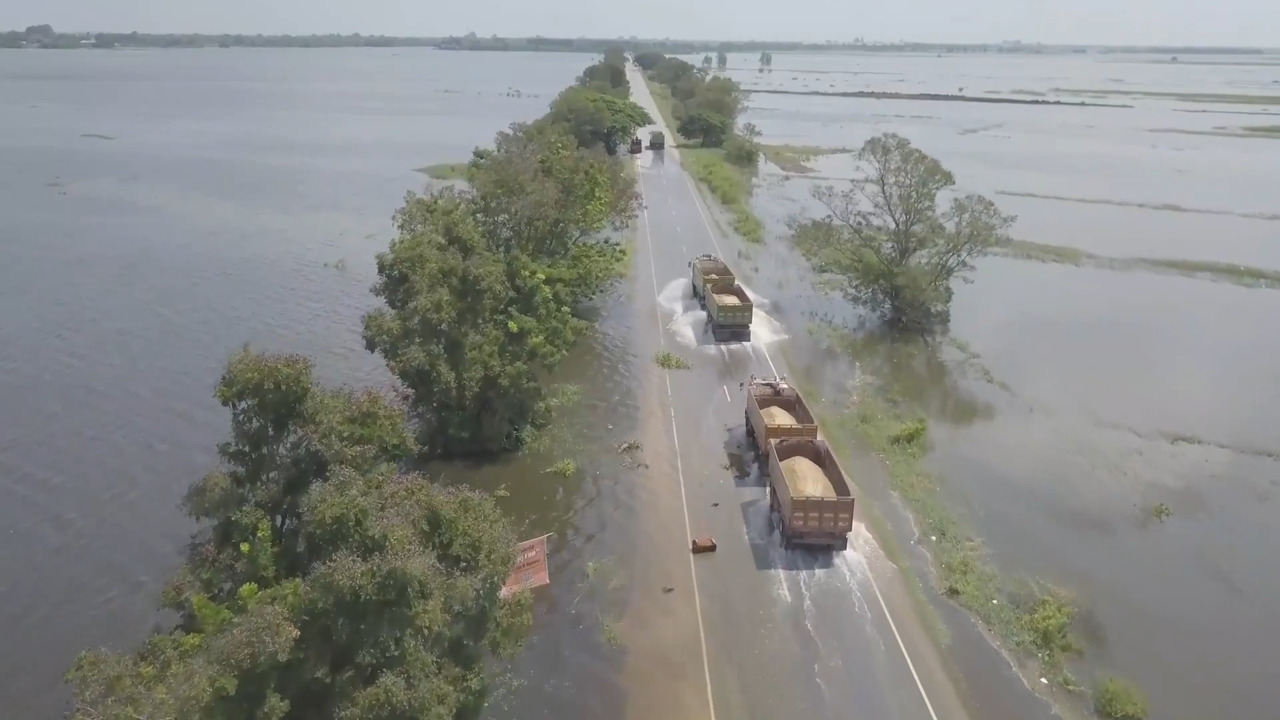 Asia Is At Risk of Severe Climate Impacts
Asia, in particular, should be focusing on EAF adoption. The region is full of developing countries, but its population and industrialisation are steadily increasing. These changes will drive emissions to increase across the region.
However, Asia is also one of the regions that will be the most hard-hit by climate impacts. For example, rising sea levels in Bangladesh will displace over 30 million people by 2100, forcing mass migrations to population centres that are already struggling to support the existing population.
As a result, the region needs to take significant steps to reduce its overall emissions and develop climate resilience. These changes should prioritise phasing out BF-BOF while embracing the energy transition to harness its massive wind and solar potential.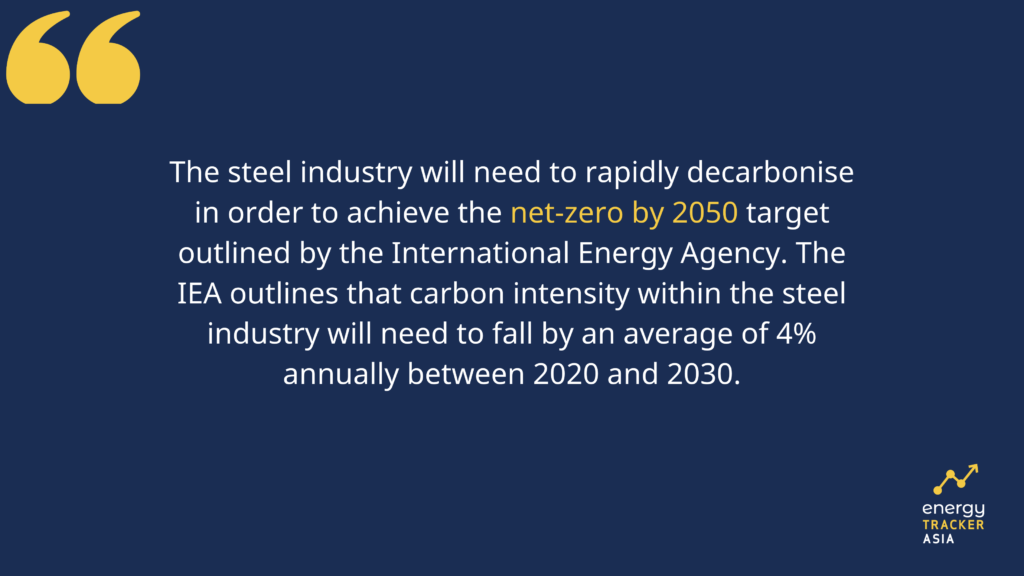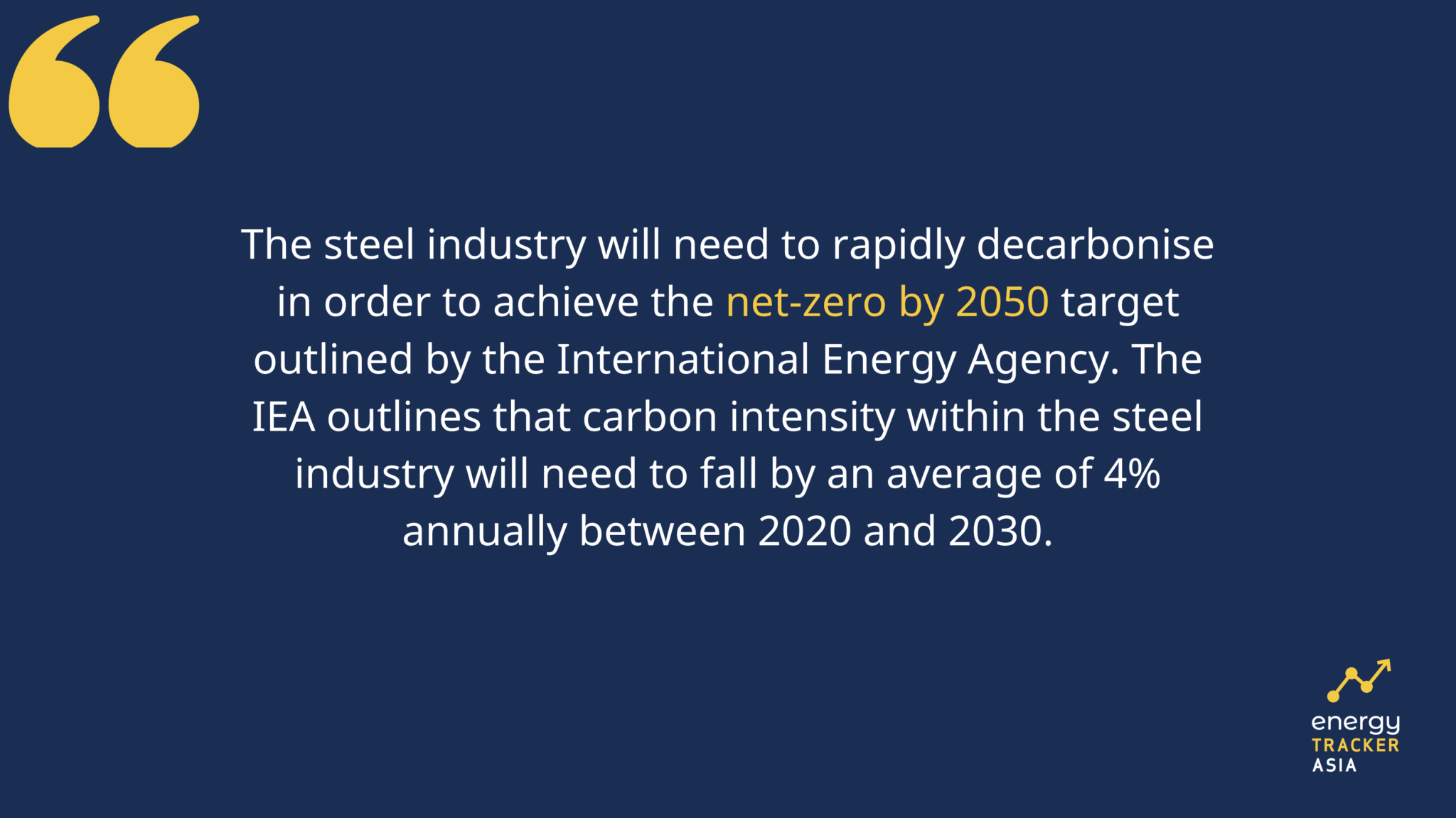 by Eric Koons
Eric is a passionate environmental advocate that believes renewable energy is a key piece in meeting the world's growing energy demands. He received an environmental science degree from the University of California and has worked to promote environmentally and socially sustainable practices since. Eric's expertise extends across the environmental field, yet he maintains a strong focus on renewable energy. His work has been featured by leading environmental organizations, such as World Resources Institute and Hitachi ABB Power Grids.
Read more