The Risks of the Myanmar LNG Pipeline
For Myanmar, global net-zero pursuits seem like the least of its worries. Yet, the country needs to reconsider its LNG pipeline unless it wants to worsen its reputation and economic and security implications.
03 March 2022 – by Viktor Tachev
The Myanmar liquefied natural gas (LNG) market is facing a plethora of risks, and they are driving project developers and financiers to reconsider the country's potential. The political and economic instabilities play a prominent role in this conundrum. Until Myanmar can convince parties that their reputations and ESG considerations are adequately addressed, the country will continue seeing projects cancelled coupled with energy insecurity and growing energy prices.
Emerging Asia and Spotlight on Myanmar's Liquefied Natural Gas Plans
Over the next two decades, Asia will become one of the leading global growth markets for LNG demand. Much of the resulting growth goes back to declining domestic gas reserves and greater economic growth. Another, though, leads back to a persistent narrative that LNG is a cheap "bridge fuel".
Yet, the Institute for Energy Economics and Financial Analysis (IEEFA) report identifies several hurdles in Asia's LNG-to-power value chain. Notably, they include upfront barriers and long-term financial risks for governments and investors alike. Furthermore, countries will also deal with higher energy costs, fuel supply insecurity, and, importantly, insufficient renewable energy penetration.
Despite all this, many Asian countries, including Myanmar, will likely try and fulfil their LNG pipeline plans.
According to IEEFA, however, fundamental project, country, and financial market constraints will significantly reduce the pipeline of feasible LNG-related projects. Additionally, capital for LNG investments will be highly limited due to the project finance market's credit risks and lending capacities. As a result, the agency sees just 38% of the announced LNG terminals and 34% of the gas-fired power capacity materialising. For Myanmar, of the 10.9 gigawatts (GW) proposed, the report suggests that only 2.5 GW is feasible.
What the LNG-to-Power Over-reliance Means for Myanmar
As soon as Myanmar's army seized power, its energy roadmap was clear. In May 2021, it approved an LNG power plant costing USD 2.5 billion. This impact on Myanmar could be severe if issues remain unresolved, as an iron fist governs the country. First, the country's economy would have to stabilise; secondly, it would have to navigate the shaky and highly volatile global LNG markets—difficult even for global superpowers. A failure to do so would carry several risks and barriers.
Cancelled LNG Power Plant and Projects Due to Financial Issues and Competition for Capital
Globally, LNG pipelines are diminishing as countries pursue net-zero targets. Meanwhile, the gas market will likely take even more hits as projects compete for limited financing. Today, it faces severe constraints by prudential limits on banks' exposure to individual countries, sectors and borrowers. And Myanmar, in particular, lacks what it needs to convince financiers that it offers a fruitful and stable investment environment.
Since the military coup, investors' perception of the country has deteriorated. Post-coup trends additionally show that financiers and project developers (LNG and hydropower developers included) are also cutting ties with the country. Even Chinese project developers are starting to back off. Two notable Chinese-backed LNG projects have halted operations in the past year alone due to financial instability.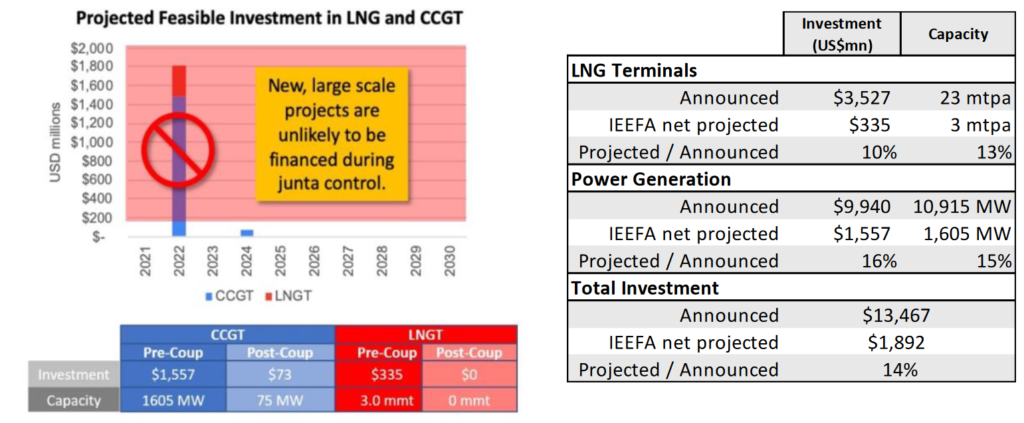 Multilateral development banks are also unlikely to lend a helping hand. Given the circumstances, cross-border financial institutions will need much convincing even to consider investing in Myanmar.
Volatile US-Denominated Market Threatens a Fragile Economy
Over the past two years, LNG spot market prices in Asia have bounced between all-time lows and record highs. At one point, the cost of power hit USD 300 per megawatt-hour (MWh). In comparison, solar PV has yielded lower prices by a seven-fold amount.
In other words, the exorbitant prices have negatively affected price-sensitive LNG importers in Asia. As a result, they had to choose between buying unaffordable imported LNG or suffering from power shortages in households and businesses.
A previous analysis by Energy Tracker Asia explained how LNG threatens regional financial stability. However, in Myanmar's case, the risk is even more jarring—from unstable political and economic environments to a massive devaluation in its local currency.
Other Challenges
Furthermore, the IEEFA report points out that many countries in Asia, including Myanmar, have little to no existing midstream gas infrastructure. Myanmar is also heavily reliant on fixed tariffs. While fixed tariffs aim to protect consumers from price changes, they are often adjusted infrequently. This requires governments to provide budgetary support to utility companies and can indirectly affect taxpayers.
What Awaits Myanmar?
For Myanmar, these challenges and other drawbacks and incompatibilities of LNG with net-zero pathways will be tough to face. However, there are alternatives if the country wishes to shift course. Currently, hydropower dominates the country's energy mix, but there is also vast room for renewables like solar and wind.
For example, as of 2020, Myanmar has only reached 1% of its installed capacity for solar electricity generation. A paltry figure compared to an estimate of around 51,973 terawatt-hours of electricity generated per year. Wind power also sees significant growth space with 4,032 megawatts (MW) potential. Yet, without substantial changes in political stability and earning the trust of green energy developers, possibilities will remain only on paper.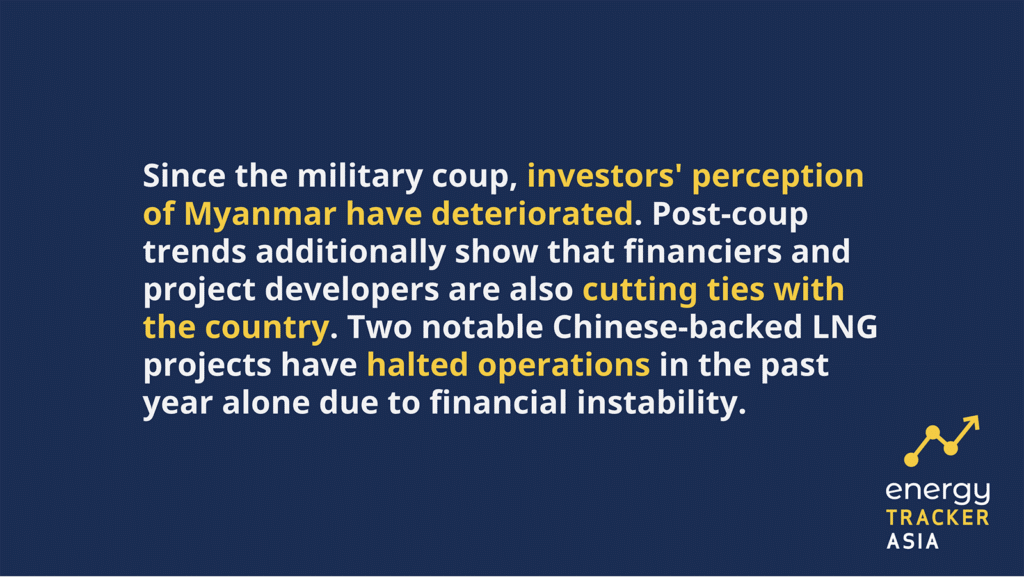 by Viktor Tachev
Viktor has years of experience in financial markets and energy finance, working as a marketing consultant and content creator for leading institutions, NGOs, and tech startups. He is a regular contributor to knowledge hubs and magazines, tackling the latest trends in sustainability and green energy.
Read more