Twitter vs Facebook: A New Report Reveals Which Social Media Companies Take Climate Change Misinformation Seriously
Greenwashing is a serious concern for all types of sustainability movements. While climate change misinformation has historically been found in advertising and company publications, social media platforms are the new battleground. A new report by Greenpeace, Avaaz and Friends of the Earth highlights how each social media giant is currently handling greenwashing. The results show poor performance across the board.
08 June 2022 – by Eric Koons
Greenwashing and climate change misinformation are becoming more common as companies and governments shift away from fossil fuel economies. However, the misinformation battle is not being fought in public but rather on social media.
To reduce greenhouse gas emissions, greenwashing practices of fossil fuel companies must be stopped and should spread more awareness regarding fossil fuels and renewable energy. The fossil fuel industry keeps this climate debate alive to save fossil fuel interests that there is no human-caused climate change.
Twitter, Facebook, TikTok, Instagram and Climate Crisis
Major platforms like Twitter and Facebook are under fire for their inability to remove false statements and dangerously misleading opinions about the climate crisis from their sites. Likewise, TikTok and Instagram have been plagued by fake influencers, consumer scams and misinformation. This has made the proliferation of greenwashing and climate change misinformation rife on social media.
A new report by Avaaz, Friends of the Earth and Greenpeace USA titled "In the Dark: How Social Media Companies' Climate Disinformation Problem is Hidden from the Public" highlights this issue. It hones in on just how poorly social media platforms perform when it comes to curbing misleading information.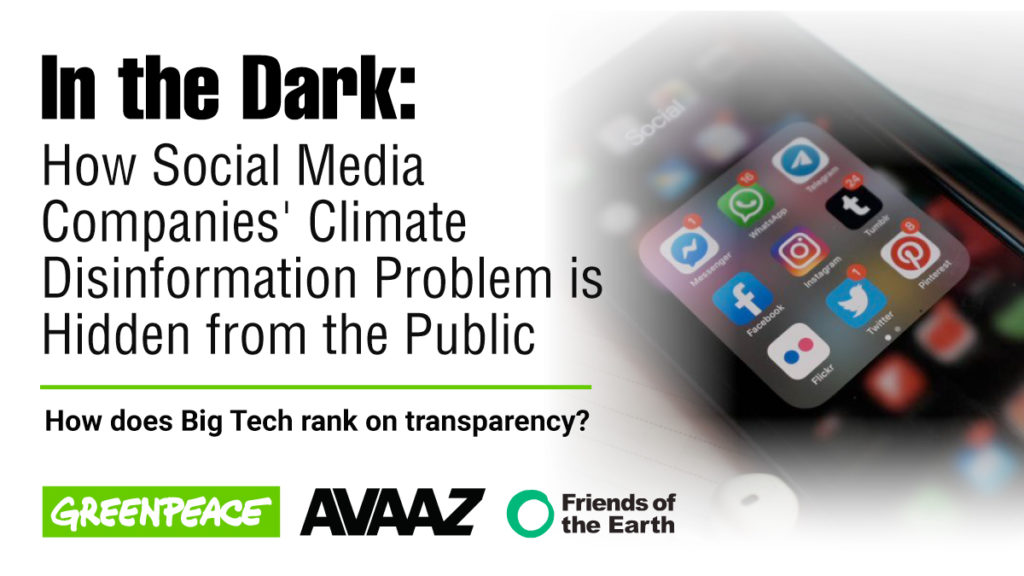 Global Consequences of Misinformation about Climate Science
"Despite half of US and UK adults getting their news from social media, social media companies have not taken the steps necessary to fight industry-backed deception – in fact, they continue to allow these climate lies to pollute users' feeds," the report states. The report goes on to say that the companies' policies and reports show that they are unable to keep up with the "evolving tactics of climate disinformers". It also states that the the climate change deniers and disinformers have shifted their tactics, admitting that climate change is real. However, they are dispersing information that undermines and opposes climate action.
Additionally, the Intergovernmental Panel on Climate Change (IPCC) has highlighted the issue of climate change misinformation in its own reports. The IPCC points out that there is a finite amount of time to act on climate mitigation and adaptation. The spread of misinformation reduces the public's understanding of the issues and affects how we can implement solutions. This is an issue that will lead to slower and weaker climate change action in the long run.
With this in mind, Avaaz, Friends of the Earth and Greenpeace USA took a deeper look at how social media companies stack up on the issue. To compare, the report scores social media platforms' efforts to reduce climate change misinformation. However, the analysis of all major platforms showed that social media companies largely fail to act against climate disinformation.
Truth in Numbers – The Rankings
Based on 27 policy questions, the report ranks Pinterest and YouTube as doing the most to reduce climate change misinformation. They both scored 14 out of 27. The report highlights Pinterest's new policy rollout, which includes a climate disinformation definition in its community standards. Pinterest and YouTube were also the only platforms to consult climate scientists and experts on their climate change misinformation policies.
After these two, Facebook (9/27), TikTok (7/27) and Twitter (5/27) filled out the rankings. The lack of transparency on their policies and the inability to hold repeat offenders accountable are the leading reasons for their low scores.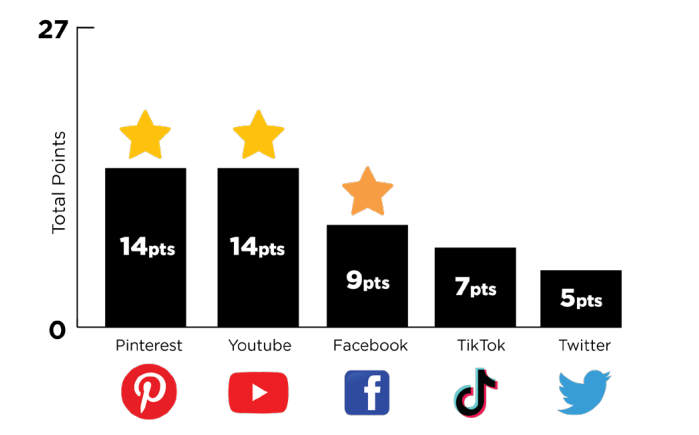 One of the core issues identified by the report is the lack of oversight on most social platforms. Every platform, except for Twitter, has the option to flag content as misinformation. Yet, there is no indication of what happens to the content and no explanation of the steps in place for accounts that continue to spread misinformation. As a result, this is where Pinterest and YouTube's policies against climate misinformation did well. However, YouTube's policies rest solely on advertising, not content – a grey area that the report highlights as an inconsistency in terms of its efficiency in curbing misinformation.
Finally, the report sets out clear solutions to follow in order to fight climate misinformation on these platforms better. The recommendations include:
Disclosing the algorithms and processes they already have in place,
better reporting and monitoring,
a discussion on where platforms keep data about how they are effectively tackling the issue,
showcasing what active steps they are taking,
and developing more proactive policies and user protection rules to limit the reach of climate misinformation.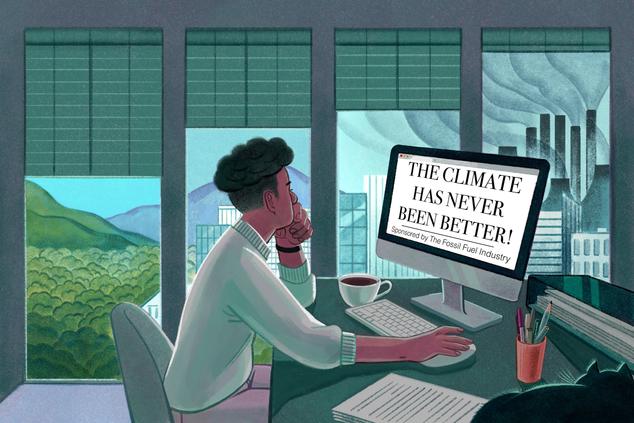 A Future of Climate Change Misinformation and Global Warming
A key consideration for improving social media platforms' ability to cut down on misinformation is creating a definition of climate change misinformation.
Pinterest has shown that this is achievable in conjunction with climate experts. While the report highlights the lack of action and oversight on social platforms regarding climate change misinformation, research shows that consumers are becoming more aware of greenwashing.
This leads to the public being more adept at identifying it, but the lack of enforcement on social platforms limits the effectiveness of crowd-based content monitoring.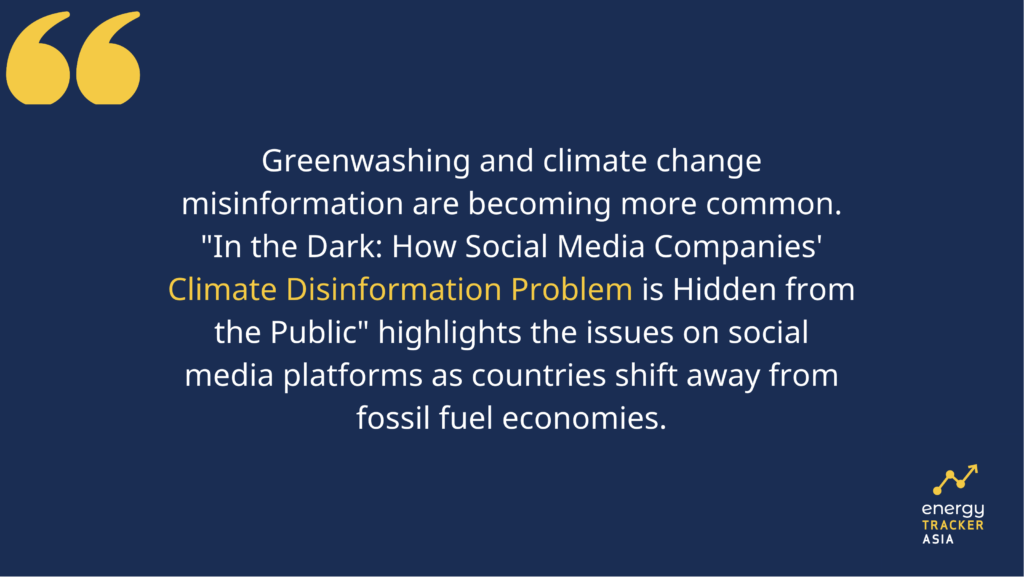 by Eric Koons
Eric is a passionate environmental advocate that believes renewable energy is a key piece in meeting the world's growing energy demands. He received an environmental science degree from the University of California and has worked to promote environmentally and socially sustainable practices since. Eric's expertise extends across the environmental field, yet he maintains a strong focus on renewable energy. His work has been featured by leading environmental organizations, such as World Resources Institute and Hitachi ABB Power Grids.
Read more