Asia's Economic Benefits from Non-Conventional Sources of Energy
This picture taken on May 2, 2014 shows fishermen working near tthe first towers of wind turbines from Vietnam's first wind power plant along a sea coast on the southern coastal province of Bac Lieu. The Bac Lieu wind power plant will have a capacity of some 99,2 MW from a total of 62 wind turbines. Up until now the Southeast Asian communist nation has been relying mainly on power produced from thermo and hydro power plants. AFP PHOTO/Duy Khoi (Photo credit should read DUY KHOI/AFP via Getty Images)
04 February 2021 – by Eric Koons
The economic benefits of non-conventional sources of energy reaped by Asian countries depend on various factors. While it varies for each country, it also depends on the energy source's cost, the availability of resources and government initiatives.
Yet, so far, the overall economic benefits of non-conventional sources have been substantial. They have lead to the creation of business opportunities, new jobs and multiple investment opportunities. Below are a few examples of Asian countries capitalizing on different types of non-conventional energy sources.
Non-Conventional Sources of Energy examples in Asia
Solar power in Mongolia and India
Solar energy is currently one of the fastest-growing non-conventional sources of energy. Its capacity is growing at a rate of 22 per cent per year. It is captured with photovoltaic cells that convert the sun's energy into electricity, storing it in batteries or connecting it directly to the power grid.
In Mongolia, nomadic herders comprise over a quarter of its population, but have had limited or no access to electricity. Through governmental programs and World Bank initiatives, 60 to 70 per cent of these herders have gained access to electricity since 2000. This has been achieved through portable photovoltaic solar home systems. By 2012, this had resulted in the sale of over 67,000 solar home systems, the establishment of 50 sales and service centers, and increased sales of consumer electronics, for example radios and televisions.
During 2019, India's levelized cost of energy (LCOE) from solar photovoltaic (PV) became 14 per cent cheaper than coal-fired power. This mostly stemmed from importing cheap PV panels from China, an abundance of land, and its low-cost labor. With PV becoming cost-competitive, it has increased the demand and investment for this type of renewable energy. By 2030, India's aim is for non-conventional energy sources to account for 40 per cent of its total energy.
Offshore wind in Taiwan
Wind energy is the world's second-largest non-conventional source of energy. It accounted for five per cent of the world's total electricity in 2017. Wind turbines obtain power generation by converting kinetic energy stored in wind into electricity.
In Taiwan, the government was able to successfully establish an offshore wind energy supply. They did this by using carefully planned feed-in tariffs, precise zoning, industry alliances and Power Purchase Agreements. These initiatives have enabled Taiwan to incentivize, scale and create competition for offshore wind development. This has resulted in investment opportunities for international equity and debt financiers. It has also lead to the emergence of local supply chain companies and the creation of over 20,000 jobs.
Geothermal power in Indonesia
Geothermal power is unique, as it can supply energy as heat or electricity. It does this by harnessing naturally occurring high temperatures, located relatively close to the Earth's surface. This is typically done by using heat to turn water into steam, ultimately turning a turbine.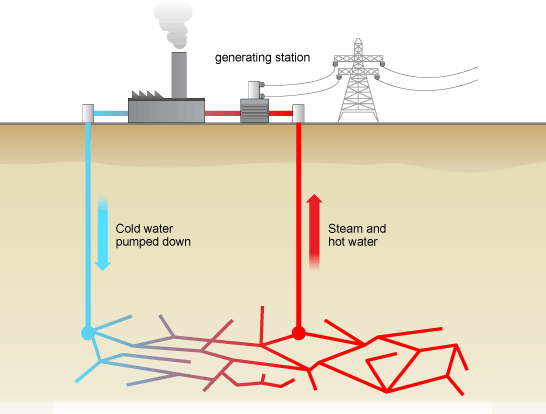 Indonesia contains the world's second-largest amount of geothermal resources, due to its location at the intersection of two tectonic plates. The Indonesian government has realized this, and it is planning to increase its geothermal energy power capacity by 200 per cent by 2028. This will increase the business development opportunities for local and international geothermal companies involved in EPC and/or IPP business models. Additionally, this will also create new job opportunities.
To recap, the economic benefits experienced by Asian countries with non-conventional sources of energy depend on various factors within each country. In some countries, population behaviors or failing energy technologies have created business and job opportunities. In others, the relative cost of conventional energy (coal), multiple government initiatives and the availability of economically viable natural resources have created numerous investment opportunities.
Such examples show non-conventional sources of energy / renewable energy sources yields benefits and sustainability to their respective nations without the environmental dangers attached to the production of fossil fuels, such as the waste, costs, and co2 emissions industrial power plants may produce.
by Eric Koons
Eric is a passionate environmental advocate that believes renewable energy is a key piece in meeting the world's growing energy demands. He received an environmental science degree from the University of California and has worked to promote environmentally and socially sustainable practices since. Eric's expertise extends across the environmental field, yet he maintains a strong focus on renewable energy. His work has been featured by leading environmental organizations, such as World Resources Institute and Hitachi ABB Power Grids.
Read more