Top Carbon Capture Projects in 2022
Source: Clean Air Task Force
Carbon capture has seen a steady increase over the last several decades. The largest concentration of CCS facilities is currently found in North America, but several other regions are pushing to increase their capacity over the next decade. Carbon capture has yet to see widespread implementation, but as the technology improves and costs decline, we expect to see its adoption increase.
27 May 2022 – by Eric Koons
Many experts see carbon capture projects as key infrastructure additions in the global push towards reaching net-zero emissions. With the Intergovernmental Panel on Climate Change's (IPCC) latest report warning of a fading window of time to act on rapid emission reductions, decision-makers are working towards enacting solutions capable of having an impact.
Governments and industries are using carbon capture technology to reduce emissions. Captured carbon dioxide can be re-used in industrial processes. As a result, there are several active and planned carbon capture projects around the world already setting the tone in global emissions-reduction projects.
Carbon Capture Projects in the United States and Canada
North America is a leader in carbon capture and storage facilities. The United States and Canada each have thirteen active carbon capture projects, with Canada planning for another 13 to be built soon.
The Texas-based Century Plant is considered the most successful carbon capture facility in North America. Currently, it absorbs 8.4 million tonnes of carbon dioxide annually. The next three largest carbon capture and storage projects are Shute Creek, Great Plains Synfuel and Petra Nova, which are all in the United States. These facilities are responsible for 11.6 MTPA. Rounding out the top 5 is Canada's Boundary Dam project, which takes in 1 MTPA.
Carbon Capture and Storage Projects 2022 in Europe
According to the Clean Air Task Force, over 20% of the EU Innovation Fund applications are for carbon capture. We expect rapid growth in this sector as the region continues to ramp up its carbon emissions reduction plans.
Additionally, the European Union has several carbon capture projects that are underway in tandem in line with the planned rollback of its fossil fuel sector's operations. Unlike other regions, the EU has indicated a desire to not couple CCS within its energy sector, namely natural gas. Alternatively, they will be independent additions to the overall infrastructure.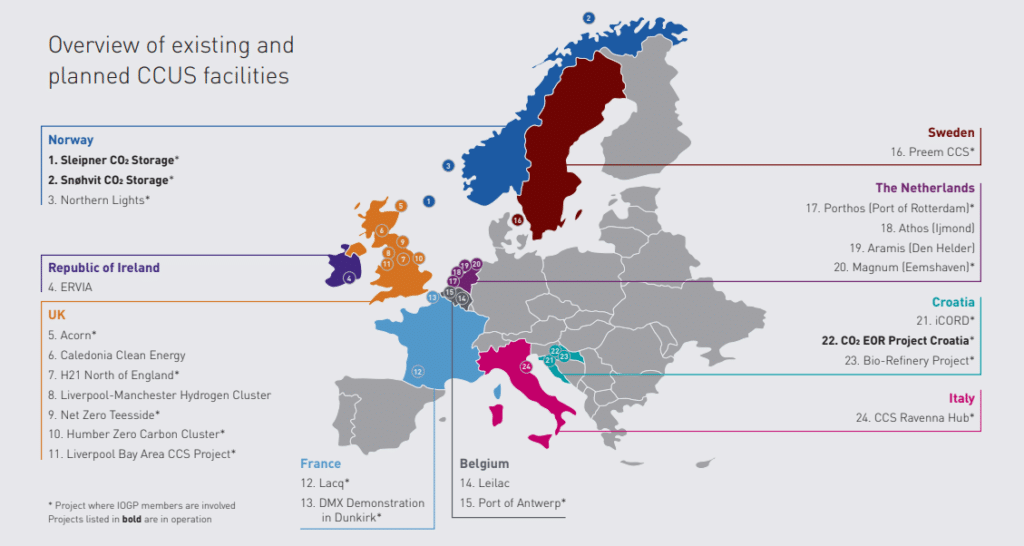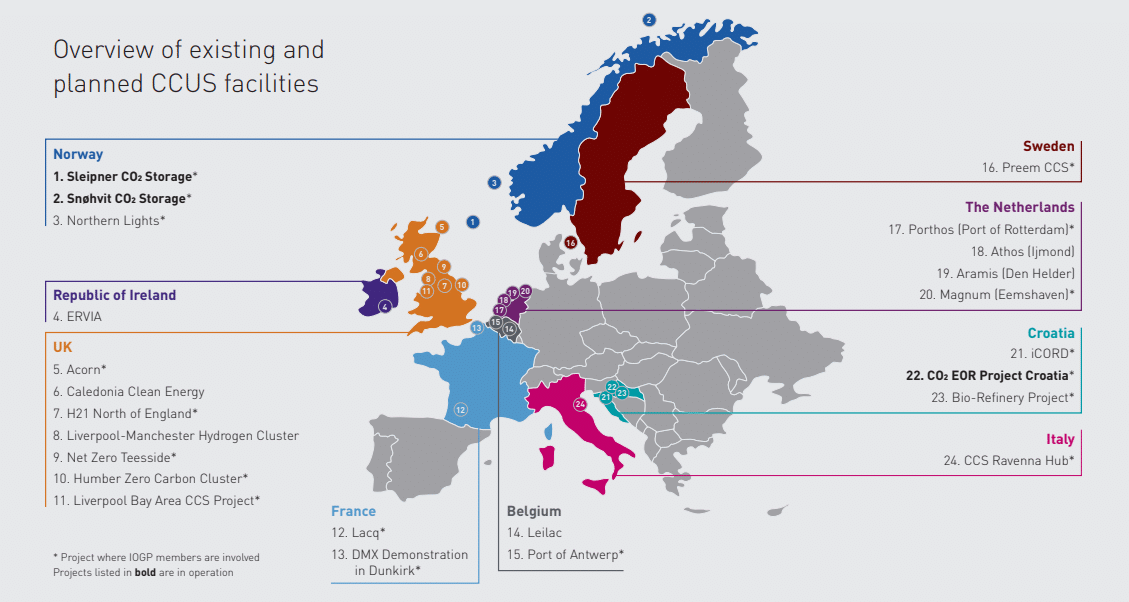 Carbon Capture Projects in the Middle East
There are three CCS projects currently active in the Middle East. More are underway as the region continues to develop strong energy and innovation policies to meet its net-zero goals. In addition to CCS, countries like the UAE are seeking to create low-carbon steel and blue hydrogen for export. Additionally, they are financing renewable energy transitions overseas. Saudi Arabia has also announced a fund for carbon capture projects that will develop more CCS plants in the region.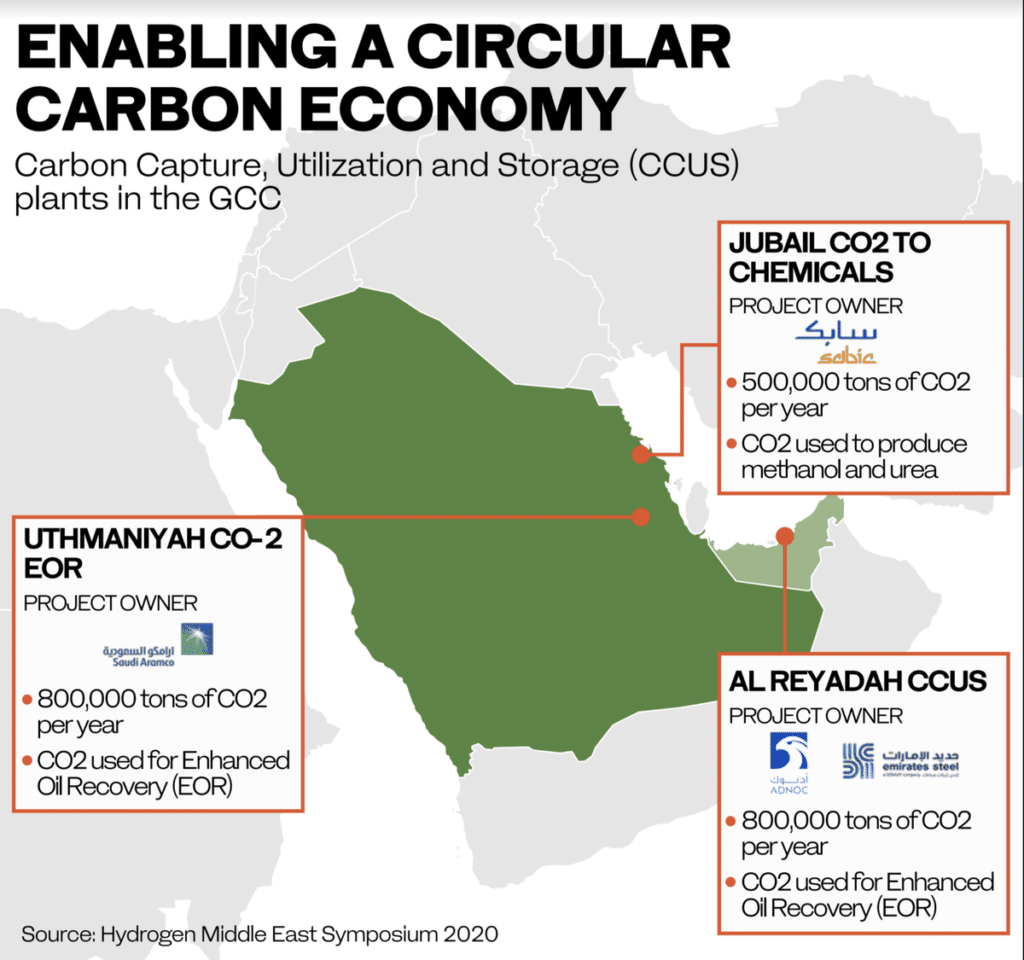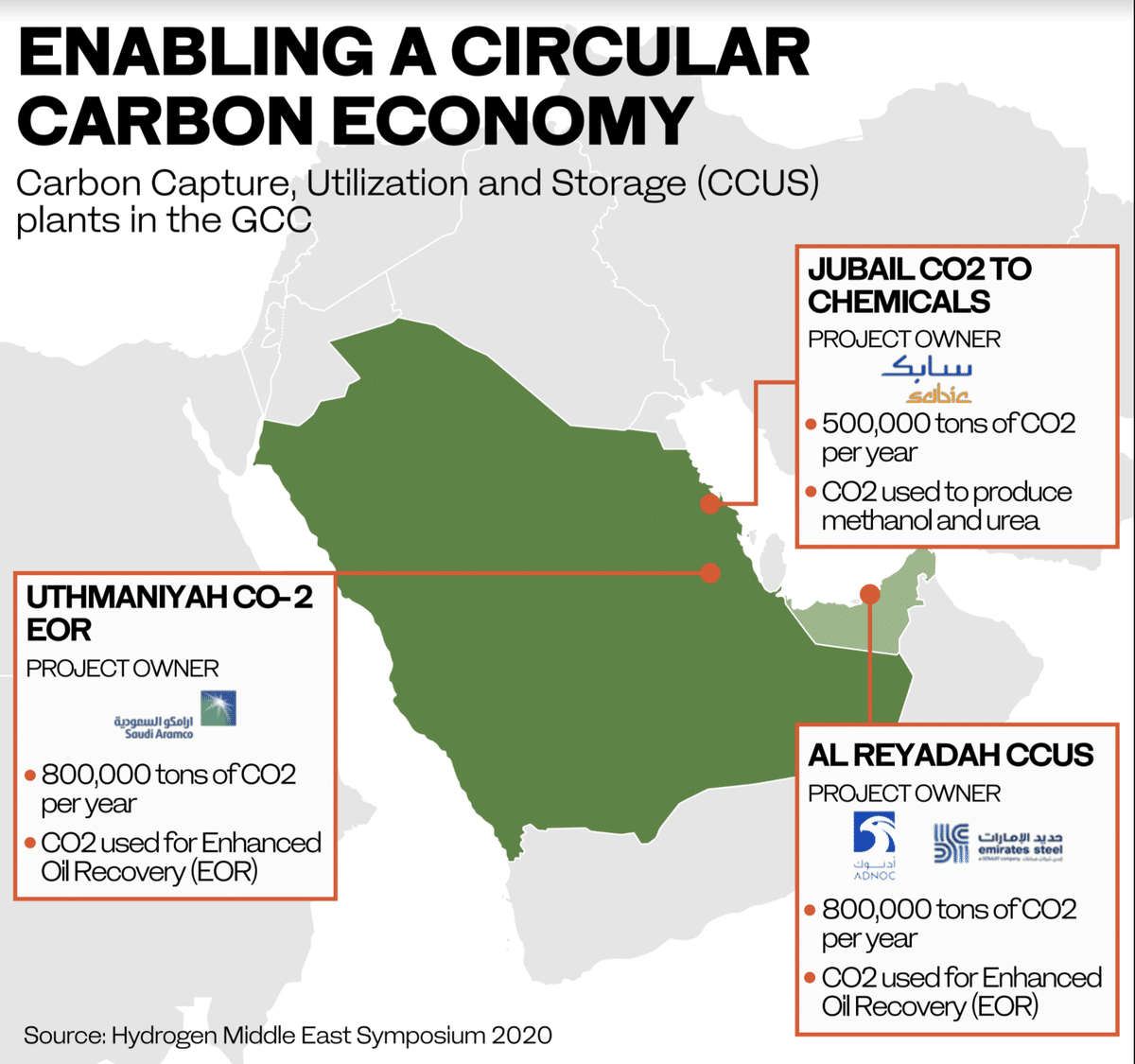 Other Global Carbon Capture Projects
In Asia, the Pacific, Africa and Latin America, carbon capture projects are in various stages of development. Asia is a prime candidate for energy-related CCS, either pre-combustion carbon capture or post-combustion capture, as the region's energy demands continue to rise. Bolstered by large amounts of liquefied natural gas projects coming online in Asia, experts see CCS playing a significant role in reducing greenhouse gas emissions associated with these projects. Furthermore, pilot plants are coming online to test feasibility in Africa, while carbon capture facilities in Australia and Latin America have had mixed success.
Carbon Dioxide Capture Can Augment Renewable Energy
An accelerated reduction of carbon emissions entering the atmosphere is necessary to reach the global target of limiting global warming to 1.5 degrees Celsius. This means reducing fossil fuel consumption, creating more sustainable supply chains and developing technologies capable of creating low-carbon transport, energy and economies.
As such, the adoption of carbon capture is becoming a go-to for many decision-makers who are keen on continuing industrial output and using fossil fuels but want to reduce overall emissions. Carbon capture has been touted as a key tool in the fight against climate change and environmental degradation; that's why so many carbon capture projects.
While carbon capture definitely has a place in the world's low-carbon future, it is not a perfect solution. It is only an addition to hard-to-decarbonise industries. Therefore, the world still needs the widespread adoption of renewable energy.
This article is part of our comprehensive coverage of global carbon capture.
We will discuss more related topics in the following articles, such as the latest carbon capture technology.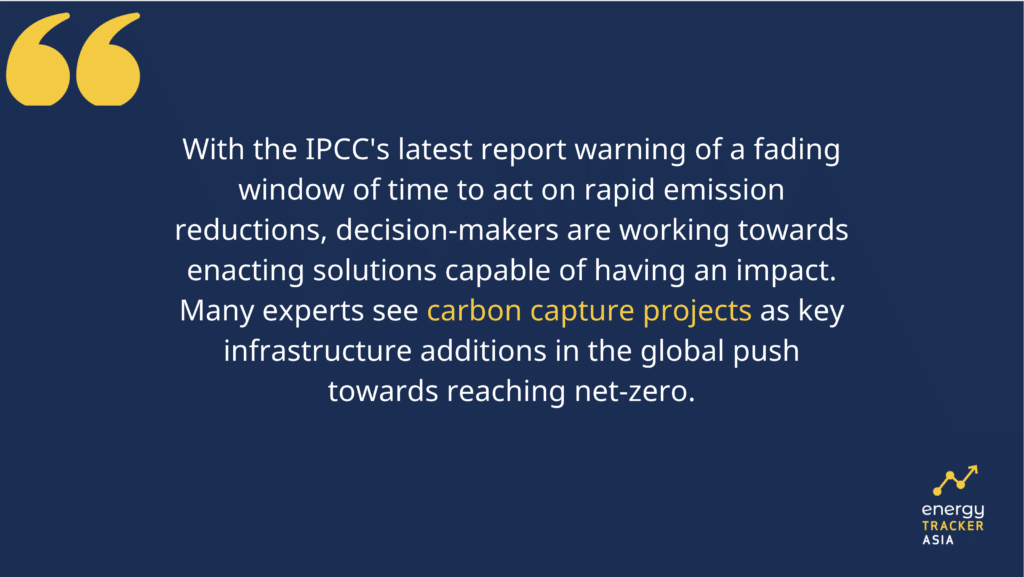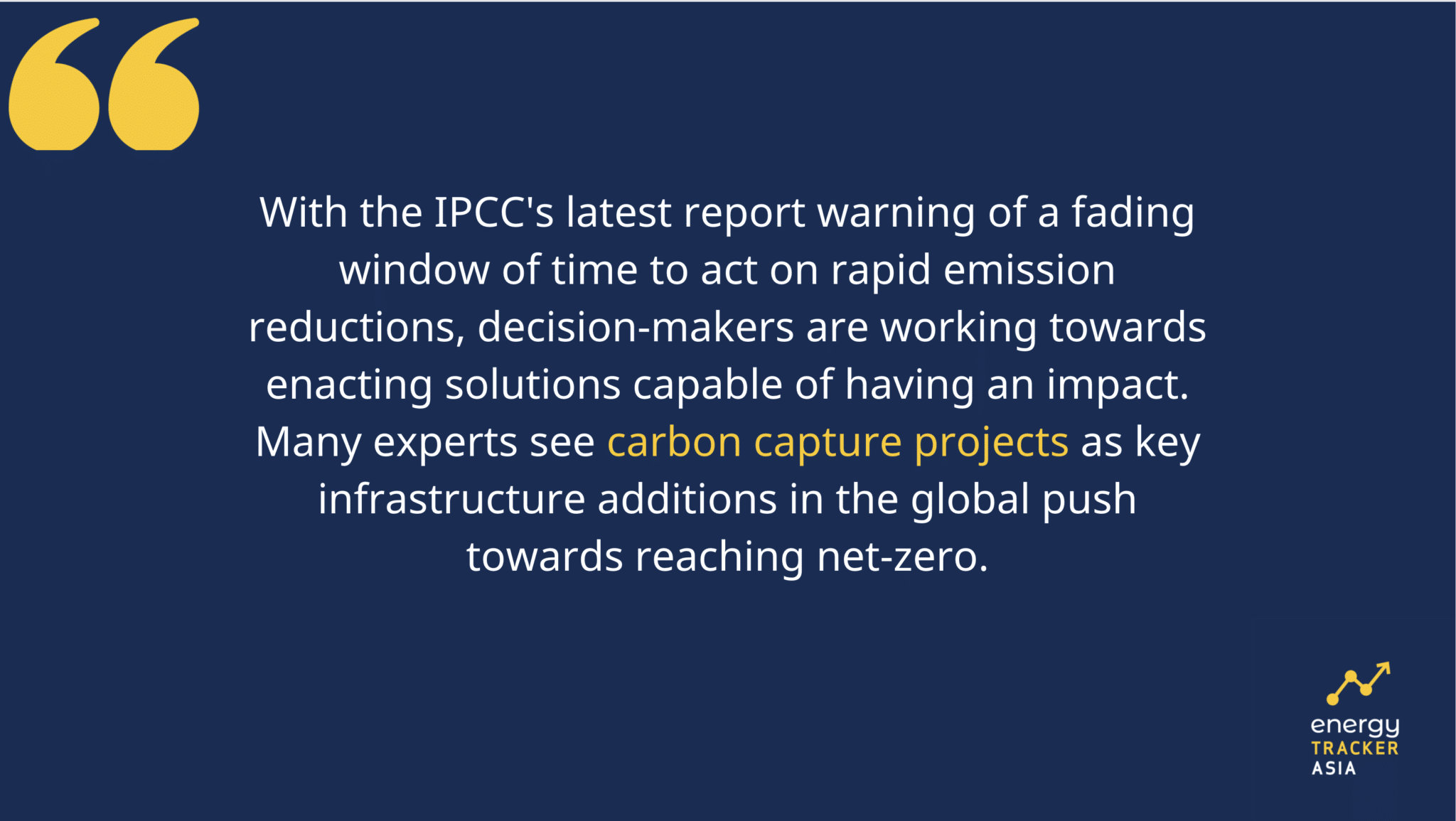 by Eric Koons
Eric is a passionate environmental advocate that believes renewable energy is a key piece in meeting the world's growing energy demands. He received an environmental science degree from the University of California and has worked to promote environmentally and socially sustainable practices since. Eric's expertise extends across the environmental field, yet he maintains a strong focus on renewable energy. His work has been featured by leading environmental organizations, such as World Resources Institute and Hitachi ABB Power Grids.
Read more