Climate Action 100+ Net-Zero Company Benchmark: Sufficient Progress But a Lack of Real Action
While companies have shown significant progress in terms of net-zero commitments, experts say they still fall short of achieving actual results.
16 November 2022 – by Viktor Tachev
The Climate Action 100+ Net Zero Company Benchmark's latest release reveals that companies have shown continued progress towards their net-zero commitments. However, it also concludes that the development and implementation of credible decarbonisation strategies are lacking.
The Climate Action Report in a Nutshell
Climate Action 100+, the largest investor initiative regarding climate change, has released its second interim report for 2022. It tracks the progress of 159 companies against a set of key indicators related to their alignment with the Paris Agreement and the three core goals of the initiative: emissions reduction, governance, and disclosure. The report has unveiled many positive signs surrounding companies' progress since its March issue, including:
75% of the companies are committed to net zero by 2050 or sooner, compared to 69% in March.
92% have some level of climate change oversight on a board level, compared to 90% in March.
91% are aligned with recommendations by the Task Force on Climate-Related Financial Disclosures (TCFD), up from 89% in March.
Climate Action's team believes investor engagement has been crucial in accelerating net-zero company progress.
The Other Side of the Coin
The report also signals that credible transition plans don't match the encouraging progress on net-zero commitments by focus companies:
10% of the companies have short-term targets aligned with a 1.5°C scenario and cover all material emissions.
20% have ambitious medium-term targets aligned with a 1.5°C scenario that cover all material scopes.
19% consider major sources of emissions, like Scope 3, of their operations as key elements of their decarbonisation strategies.
51% have net-zero commitments by 2050 or earlier that cover all scopes.
10% have committed to fully aligning their capital expenditure strategies with their GHG targets or the Paris Agreement.
10% have broad alignment between their direct climate policy engagement activities and the Paris Agreement.
No company meets all criteria of the provisional assessment on climate accounting and audit evaluated by CTI and the Climate Accounting and Audit Project (CAAP).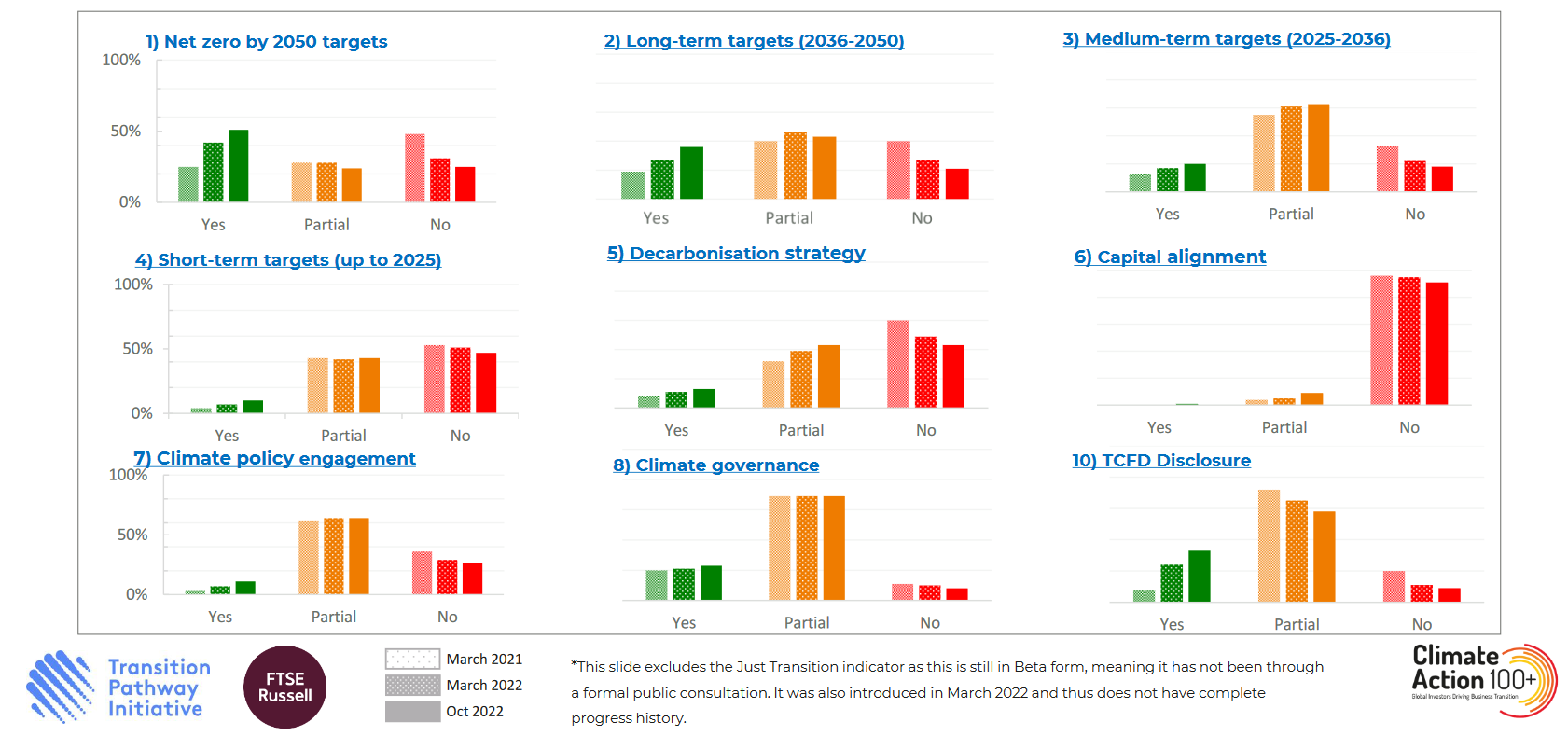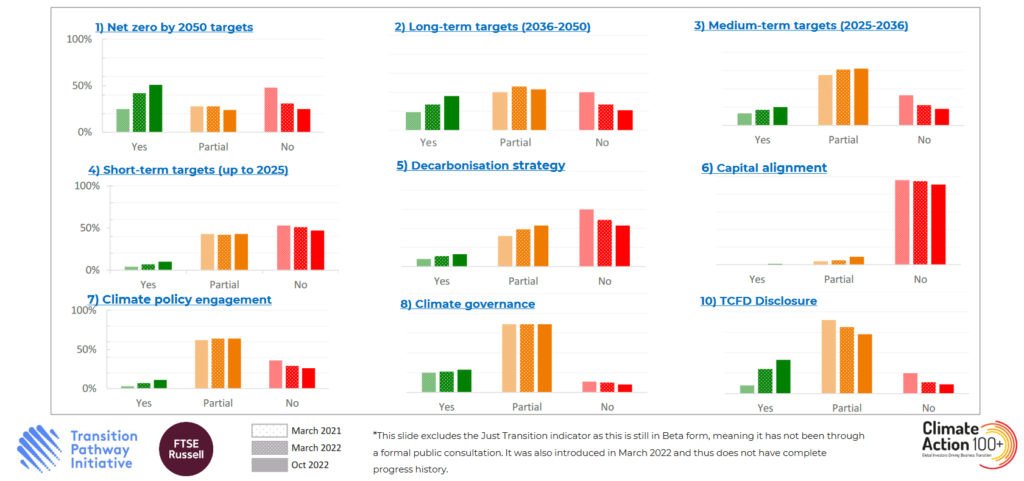 Sectoral View of Companies' Net-Zero Ambitions
Sector-specific insights reveal that the electric utility and oil and gas sectors are some of the biggest laggards. As a result, fossil fuels remain an integral part of their operations, with no clear pathways on how their role will be limited. Some of the findings confirming this include the following:
Only 25% of electric utility companies have a coal phaseout plan aligned to global warming to below 2°C (not 1.5°C).
61% of approved projects of oil and gas companies are inconsistent with global warming to below 2°C (not 1.5°C).
94% of electric utility focus companies don't plan on building sufficient clean energy capacity. This leads them on a pathway to a >2.7°C global warming for the next five years.
Just 17% of automobile companies plan to produce electric vehicles in the next five years.
No heavy industry (steel and cement) or aviation companies have aligned their operations' emission intensity with a below 2°C scenario.
Moving Ahead: The Next Steps For Companies
All-in-all, the report signals that companies are expressing their determination to decarbonise their operations but, at the same time, are falling short of providing an actionable roadmap on how they plan to do that. As a result, the overall effect is that most companies' actions are still inadequate in aligning with the Paris Agreement.
To change course, companies need to solidify their progress with credible transition plans, and they need to take action quickly. The basis for shaping the strategies for achieving climate targets should include the following.
Aligning Net-Zero and Financial Goals
Companies should start aligning CAPEX strategies with net-zero transition goals. Currently, the report identifies only a single company that has aligned its capital expenditure with a 1.5°C future.
In general, steps that link business performance and decarbonisation strategies can help accelerate the transition towards more sustainable operations. Similar practices already exist, with some companies aligning executives' compensation to climate transition progress. Others also add bonuses if specific climate-related targets are met.
Climate Action 100+ also warned about the importance of integrating climate risks into accounting and audit practices.
"Despite requirements to do so, the financial impacts of climate risk have not been integrated into financial reporting. As a result, investors don't have all the resources to push companies to confront the realities of the coming low-carbon economy. If companies are serious about meeting net-zero targets, now is the time to step up and show us the extent of their progress and the current financial impacts of achieving these goals."

Barbara Davidson, Head of Accounting, Audit, and Disclosure at Carbon Tracker Initiative
Quicker Fossil Fuel Phaseout
Companies, especially from the heavy industry and power sectors, should prioritise the fossil-fuel phaseout in their short-term and medium-term strategies.
Understandably, companies should start with coal phaseout strategies, which remain inconsistent with the Paris Agreement pathway to date.
Oil and gas infrastructure should follow. No electric utility focus company with gas capacity has such plans. Most companies have announced only partial phaseout strategies on a broader sector level. Companies also face increased reputational and financial risk without plans to minimise their reliance on gas.
Increase Renewable Energy Adoption
Companies should set more ambitious renewable energy targets. Currently, most focus companies from the electric utility sector remain far from aligning with a 1.5°C or even a 1.8°C global warming scenario.
Focus on Short-term and Medium-term Targets
While companies have set long-term targets for the most part, companies should also develop credible interim short-term and mid-term goals. Furthermore, the targets should cover all relevant emissions scopes – Scope 3 included. Without such measures, their paths would remain inconsistent with the International Energy Agency's net-zero emissions by 2050 scenario.
Furthermore, the Climate Tracker Initiative notes that it is essential for climate policy engagement activities to accelerate on both corporate and industry levels.
"Companies are making net-zero commitments, but investors want those companies to turn intentions into concrete short- and medium-term actions to provide the confidence they can get to net zero."

Rebecca Mikula-Wright, CEO of AIGCC and IGCC and current vice-chair of the Global Steering Committee
Net-zero Company Ambitions Should Get Stronger
The climate crisis is intensifying, and the window to limit global warming to the needed levels is closing quickly. At the same time, companies remain far from aligning with the Paris Agreement.
"Now more than ever, we must focus our attention on getting companies to take real action, beyond just setting targets for their decarbonisation efforts."

Simiso Nzima, Managing Investment Director of Global Equity at CalPERS and a member of the global Steering Committee
The net-zero journey is a joint effort – one in which companies and their investors can collectively make a difference.
The primary responsibility for continuing the progress made so far, as well as the drive for more ambitious net-zero targets and actionable roadmaps, should come from companies' board rooms.
However, investors in those companies also have a role to play. They can pressure board members to start outlining practical actions on how they will meet their net-zero commitments and accelerate the transition towards greener operations.
Ultimately, the benefits of succeeding in the decarbonisation efforts will be received by all.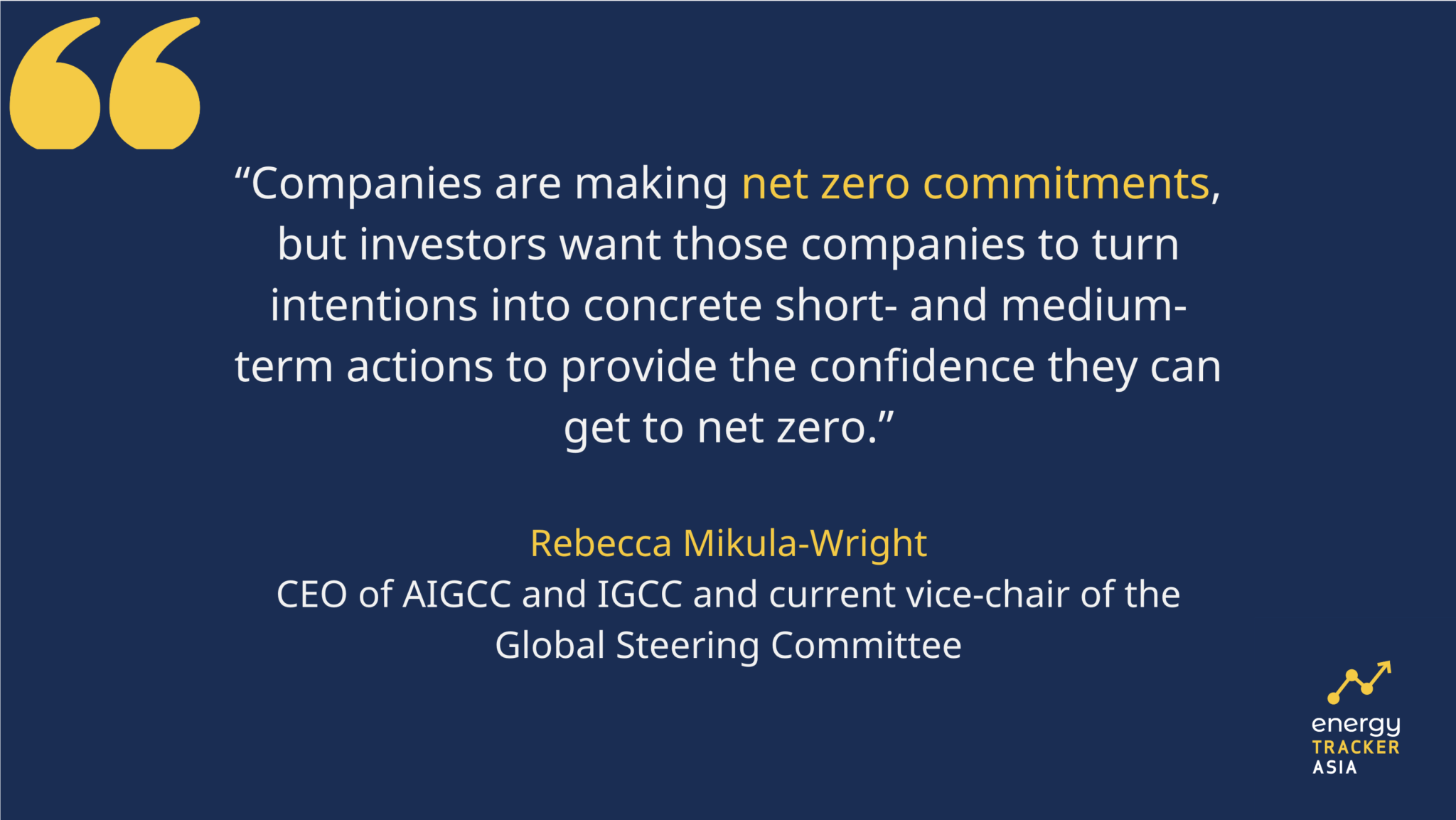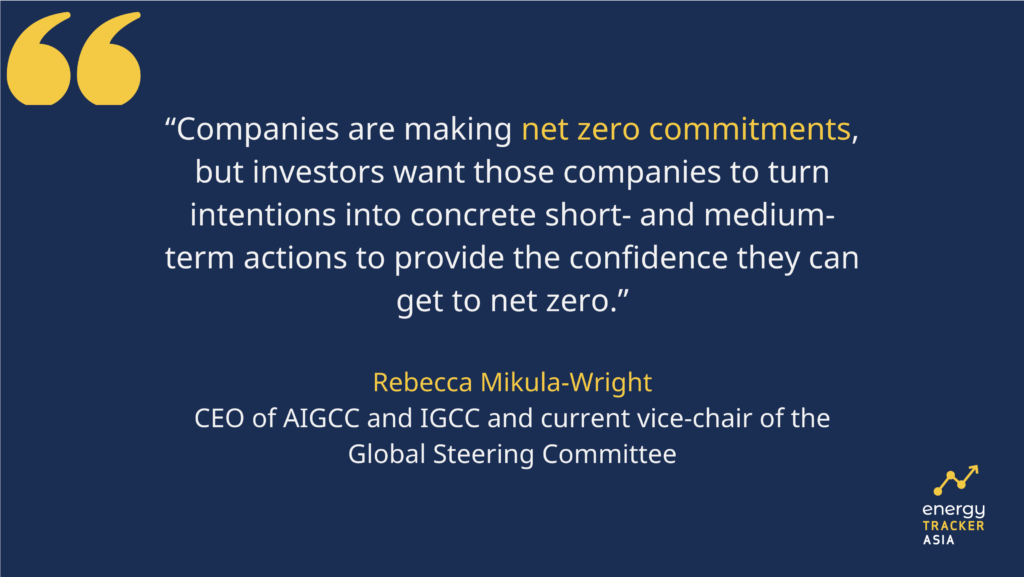 by Viktor Tachev
Viktor has years of experience in financial markets and energy finance, working as a marketing consultant and content creator for leading institutions, NGOs, and tech startups. He is a regular contributor to knowledge hubs and magazines, tackling the latest trends in sustainability and green energy.
Read more