"Companies Funding Russian War" – CREA's 2022 Report Exposes
Fossil fuels are not only fuelling the climate crisis but are also the engine that powers the Russian war in Ukraine. By buying Russian fossil fuels, Asian companies are becoming responsible for the war atrocities in the heart of Europe.
23 August 2022 – by Viktor Tachev
The moment Russian bombs started raining over Ukrainian cities was the moment financial institutions, and companies buying fossil fuels should have acknowledged that they are helping fund Russia's war efforts. Some were quick to react by imposing bans on Russian fossil fuel imports. Others, however, continued doing business with the Russian government and Russian banks as usual. Furthermore, many of the companies, especially oil companies that continue buying Russian fossil fuels, are from Asia. Whether they stop or not will reveal what they value more: profits or human lives. The public is watching.
The CREA Report Unveils the Companies Funding Russia's War
In a specialised report, tracking fossil fuel imports in the first two months of the Russian invasion of Ukraine, the Centre for Research on Energy and Clean Air (CREA) uncovered 23 companies funding Russian war indirectly in Ukraine. East Asian countries were some of the most active importers of Russian coal, oil and LNG globally. Among them are power utilities and industrial companies from Japan, South Korea and Taiwan, including:
JFE Steel, Chubu Electric Power, TEPCO, Tokyo Gas, Mitsubishi, Nippon Steel, Sumitomo, Kyushu Electric Power, and Tohoku Electric Power (Japan),
KEPCO, Hyundai Steel, and POSCO (South Korea),
and Taiwan International Ports Corporation, Formosa Petrochemical Corporation, and Taipower (Taiwan).
In an updated report tracking shipments in the first 100 days of the invasion, CREA finds that some of the companies didn't receive imports in May. However, whether this was due to terminated purchases or simply a lack of deliveries for the month remained unclear.
Meanwhile, others continued actively purchasing Russian fossil fuels in May. Among these companies are GS Energy, JERA, CPC Corporation, Hokkaido Gas, Taipower, Chubu Electric Power, TEPCO, Nippon Steel, POSCO, Formosa Petrochemical Corporation and JFE Steel.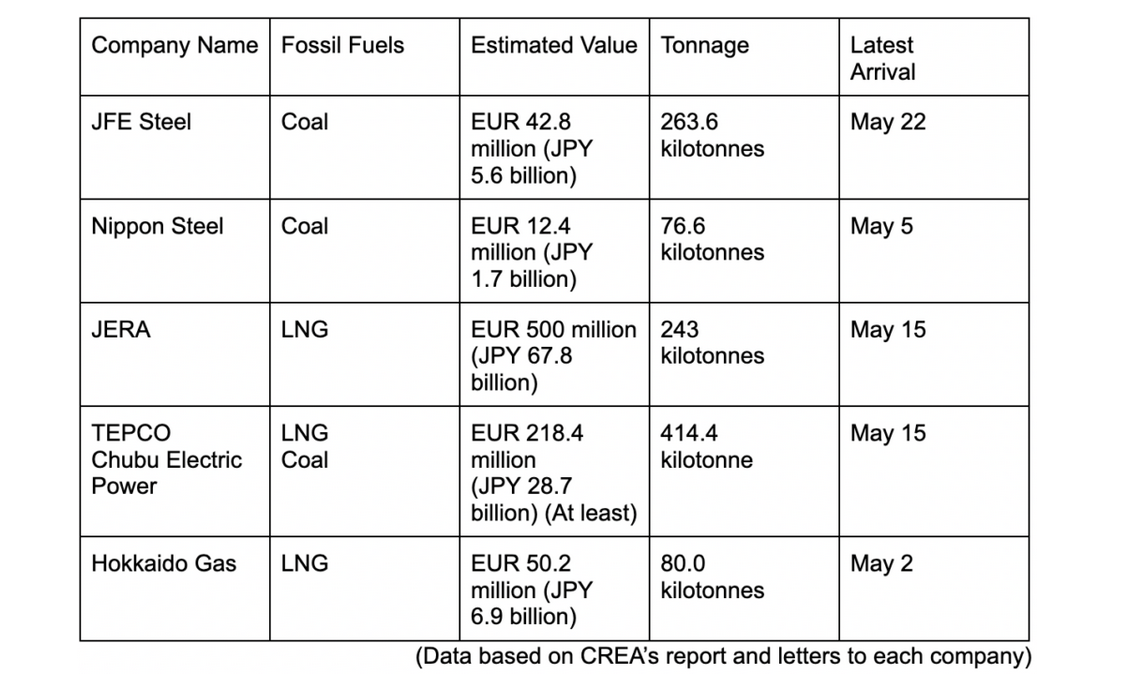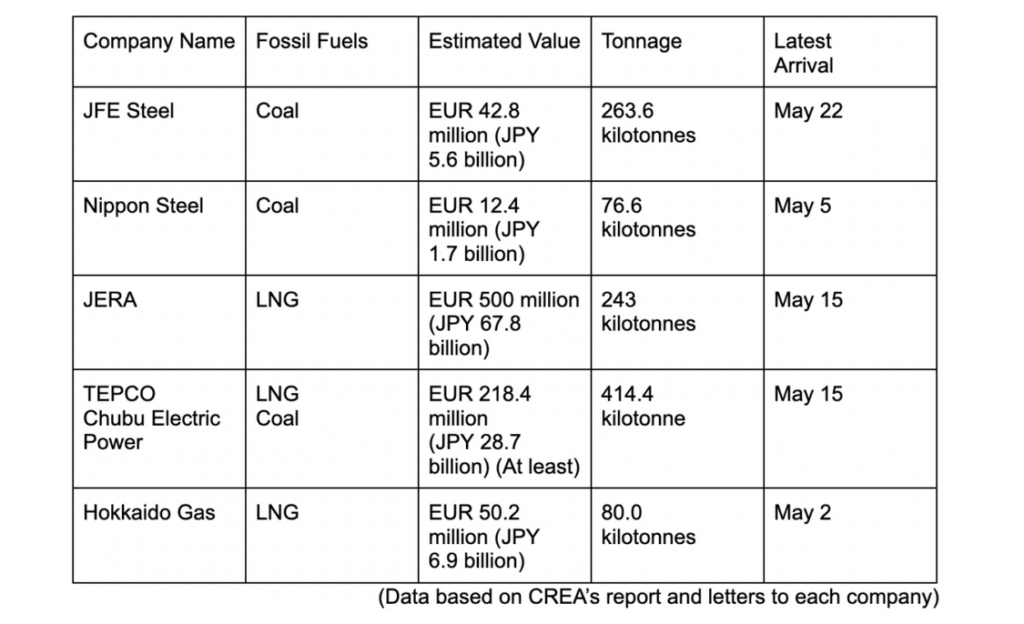 Furthermore, in May, there were also new additions to the list. Among them are Malaysia's national electricity company TNB, alongside Indian refiners Reliance, Nayara Energy, BPCL and IOCL. Due to this, India's share of Russia's total crude oil exports rose from around 1% before the invasion to 18% in May.
CREA's report also lists the busiest global ports for Russian fossil fuel imports in May. Among their operators are energy giants from China, India, Japan, South Korea and Taiwan – potential new additions to the list of companies purchasing Russian fossil fuels.
What Is the Link Between Fossil Fuels and War
The link between fossil fuels and war is well-documented historically. From the Iran-Iraq War of 1980-1988 and the Gulf War of 1990-1991 to the Sudanese Civil War of 1983-2005, there are many conflicts have been triggered, escalated or directly funded by the fossil fuel industry.
Russia's war in Ukraine is no exception. According to the IEA, 45% of Russia's federal budget in 2021 came from oil and gas revenues. At the end of May 2022, Russia's Minister of Finance Anton Siluanov revealed that the country's earnings from fossil fuel exports would grow. He announced that a part of the 1 trillion rubles of additional oil and gas revenue in 2022 would be used to "conduct a special operation". This is a term the Kremlin has used to hide its war atrocities on state media.
Furthermore, the CREA report finds that Russia spends around EUR 840 million daily of Russian money on war activities. At the same time, its fossil fuel export revenues in the first 100 days of the war exceeded this sum.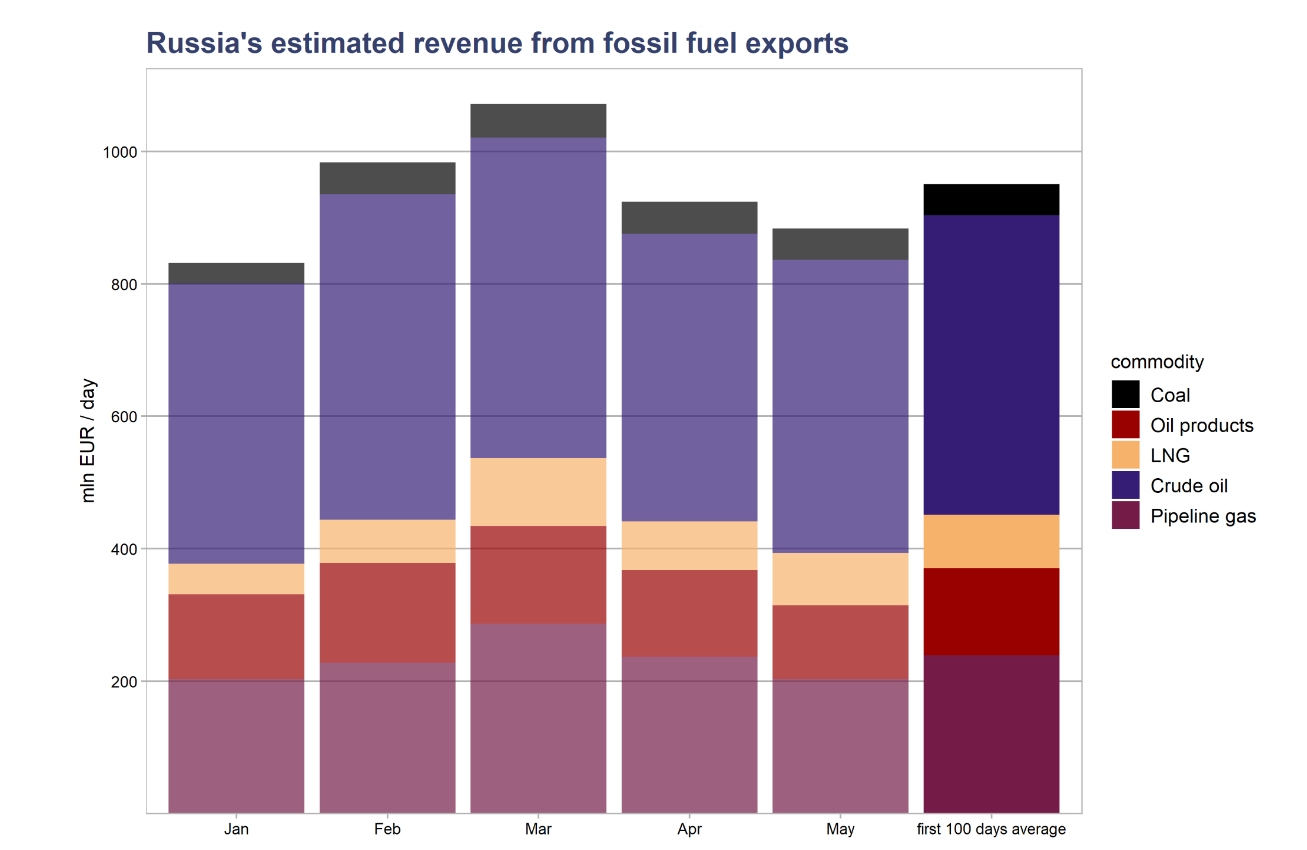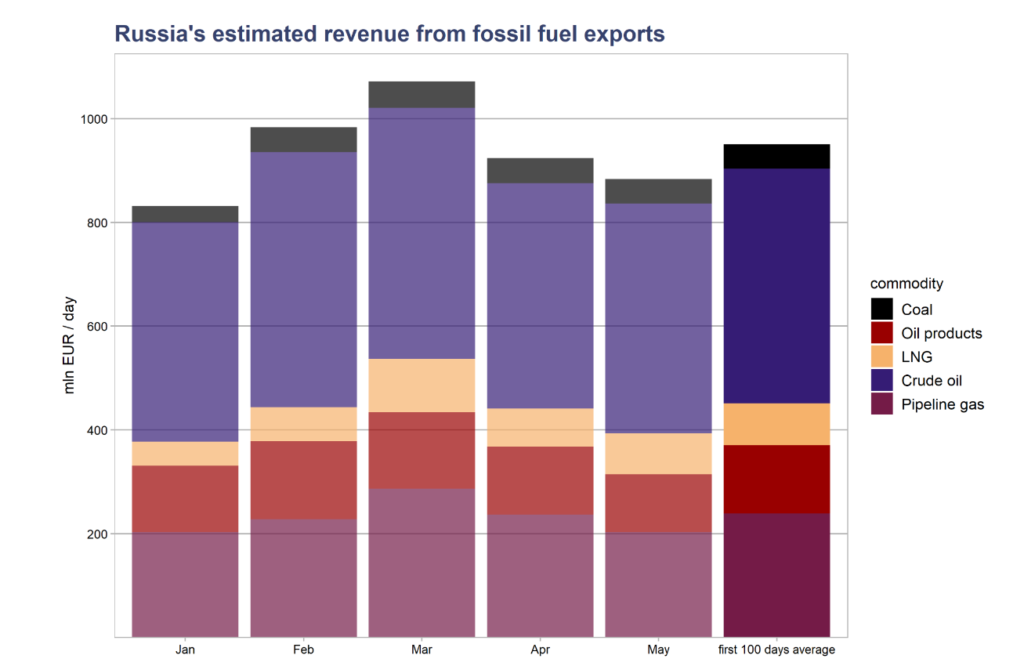 Fossil fuels have now become a weapon not only for geopolitical goals but also for military aims. Ukraine's President Voldoymr Zelensky and his advisors have stated that fossil fuel money has become "blood money" and a way to finance "war crimes".
Companies buying Russian coal, oil and gas can't be exempt from blame regarding the ongoing war in Ukraine. Their funds are filling the Kremlin's war chest and enabling it to continue increasing the civilian casualty toll and destruction.
Public Backlash Against the Financial Institutions and Companies Funding Russian War
In the eyes of the public, the companies buying Russian fossil fuels are now the companies funding the Russian war.
Activists worldwide, including Russia, are joining forces to urge countries and corporations to change. Young European activists even confronted leaders face-to-face, telling them to stop importing Russian fossil fuels.
Furthermore, Ukrainian environmental NGOs launched a campaign urging Japanese companies to stop fossil fuel imports from Russia. Energy Transition Coalition, a Ukrainian Environmental NGO coalition, sent letters to 6 Japanese companies, including JFE Steel, Nippon Steel, JERA, TEPCO, Chubu Electric Power and Hokkaido Gas. The alliance of NGOs demanded that companies stop all fossil fuel imports and promote renewable energy instead.
CREA's report urges government officials and corporate buyers of Russian fossil fuels to end all purchases to strengthen the effect of the sanctions and create a plan to replace Russian fossil fuels with clean energy.
The public pressure has already had some positive results. The European Union is beginning to take a stand against Russian energy. The union will ban seaborne imports of Russian crude oil as of December 5, 2022, and petroleum product imports as of February 5, 2023. Furthermore, it plans to completely end its dependency on Russian oil and gas imports by 2030.
On the contrary, Asia has emerged as Russia's saviour, bailing it out and strengthening its war chest through increased fossil fuel imports. CREA recently launched their website to provide updates and data on this issue.
Time to Defuse Russian Fossil Fuels as Weapons of the Russian War
The climate impact of fossil fuels should have been enough of a reason to stop buying them. However, the use of fossil fuels to fund the war in Ukraine gives an even more compelling argument.
The moral compass of the companies funding Russian war in Ukraine needs a major readjustment. This time, the choice isn't simply between fossil fuels or renewables. This time, it is about fossil fuels or human lives.
by Viktor Tachev
Viktor has years of experience in financial markets and energy finance, working as a marketing consultant and content creator for leading institutions, NGOs, and tech startups. He is a regular contributor to knowledge hubs and magazines, tackling the latest trends in sustainability and green energy.
Read more