The Electricity Sector in Bangladesh: What Comes Next?
Transitioning the power sector in Bangladesh towards renewable energy would unlock massive benefits for the country, its economy and society.
30 April 2023 – by Viktor Tachev
Last updated on 02 May 2023
The past year has exposed the vulnerabilities of the fossil fuel-dependent electricity sector in Bangladesh. If the government wants to tackle inherent problems like energy dependence, fuel supply instability and high power costs, it has to capitalise on the country's significant, untapped clean energy potential. Other Asian nations have already gone down that road and aren't turning back.
The State of the Electricity Sector in Bangladesh 2023
The power sector in Bangladesh is among the most dependent on fossil fuels in Asia, as they hold a staggering 98% share in the energy mix, according to Ember's Global Electricity Review 2023. For reference, in 2022, 61% of global electricity came from fossil fuels.
Bangladesh Energy Mix
Ember's report notes that while the share of renewables in electricity generation is on the rise worldwide, in Bangladesh, solar and hydropower account for just 2% of the electricity mix. The result is among the lowest in South Asia, far behind India (23%) and Pakistan (43%).
The IEEFA's Charting an Electricity Sector Transition Pathway for Bangladesh report estimates that gas power is responsible for 49% of the generated electricity in the country. The shares of oil and coal are 32% and 11%, respectively. Renewables generate just 2.5% of the electricity, with 259 MW solar and 230 MW hydropower capacity.
The electricity sector relies predominantly on fossil fuel imports, as local reserves are drying up. According to the IEEFA, Bangladesh imports its remaining power requirements from India.
The Risks of Fossil Fuel Dominance in the Power Sector of Bangladesh
Bangladesh is at the start of a crucial period. The country needs to redesign its power generation sector structure drastically. It needs decarbonisation and reduced reliance on fossil fuel imports, as well as a mass scaling up of its renewable power and improvement of its electricity grid. Without actively addressing these aspects, the country faces various risks.
Energy Dependence, Continuous Blackouts and High Electricity Production Costs
Bangladesh faces the "perfect storm" of problems. As power demand continues to increase the power sector's import dependence means the country has to deal with fossil fuel price volatility in the global market.
Throughout 2022, there were periods when Bangladesh had to pay five to 10 times higher natural gas prices than in 2021 and 2020, for example, eventually pricing it out of LNG markets. This halted imports throughout most of 2022, which resumed for the first time in eight months in January 2023. Since, the country couldn't secure enough LNG at affordable prices, it even had to seek financial help from creditors and the IMF.
As a result, most of the country faced significant blackouts expected to continue until 2026.
At the start of 2023, the government even had to increase the gas prices for the power, industry and commercial sectors by up to 179%, shortly after it hiked electricity prices as well.
The unreliable fossil fuel imports and their high costs also create economic hardships for the country. For example, ensuring reasonably priced electricity is especially important for the country's garment industry, which contributes to over 10% of the GDP and 80% of its total exports.
Furthermore, the energy instability is also taking a toll on other economic sectors. It prompted the World Bank to slash its growth projections for the Bangladesh economy in 2023.
Adding Fuel to the Fire of Climate Change
The Global Climate Risk Index ranks Bangladesh as the "seventh extreme disaster risk-prone country" globally. It is also among the top 10 in terms of climate change-induced losses.
Virtually every part of the country is vulnerable to climate impacts, including cyclones, floods, landslides, storms, and earthquakes. For example, scientists estimate that the coastal areas are at risk of rising sea levels of between 0.4 to 1.5 m by 2100, displacing up to 30 million people.
In 2022, the country suffered one of the most devastating floods, affecting 7.2 million people. Bangladesh also dealt with the worst heatwave in the past 30 years.
The IPCC warns that climate change may cost Bangladesh 2-9% of its GDP by 2050. This results from the increased extreme heat, rising sea levels and unpredictable weather events. The group also predicts that 4 million people risk losing their homes, and 25% of the country's population will live in water scarcity by 2050.
Studies reveal Dhaka is losing USD 6 billion worth of labour productivity annually due to heat stress. This equals 8% of the city's yearly labour output. By 2050, the figure might jump to 10%.
Parts of the country face a potential 40% drop in agricultural output, including a decrease in rice production by up to 17% and wheat production by up to 61%. In the southern parts of the country, over 2 million people depend on these staples for food.
Bangladesh's Energy Energy Potential
Currently, the low share of renewable energy in the electricity sector in Bangladesh is a damning indication that Bangladesh isn't tapping into its existing potential.
Its geography favours solar power development, with yearly radiation of around 1,900 kWh/m2. Utilising just a third of the 1,500 km2 area of ponds can help ensure 15 GW of floating solar power capacity. Taking advantage of some of the shallow water areas and some big lakes can provide another up to 45 GW or more. Regarding solar roof systems, utilising just 10% of the 5,000 km2 available area would ensure another 25 GW.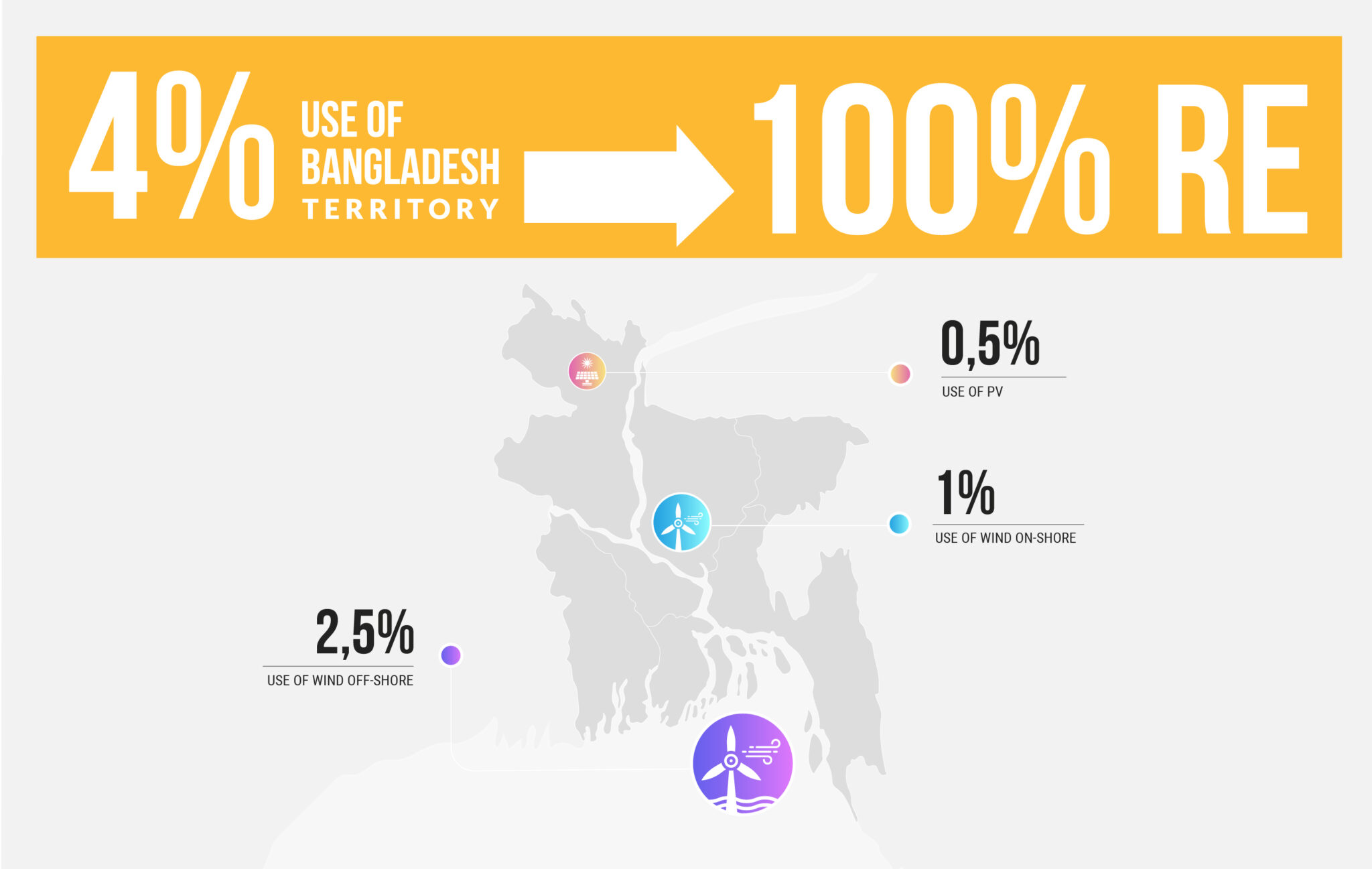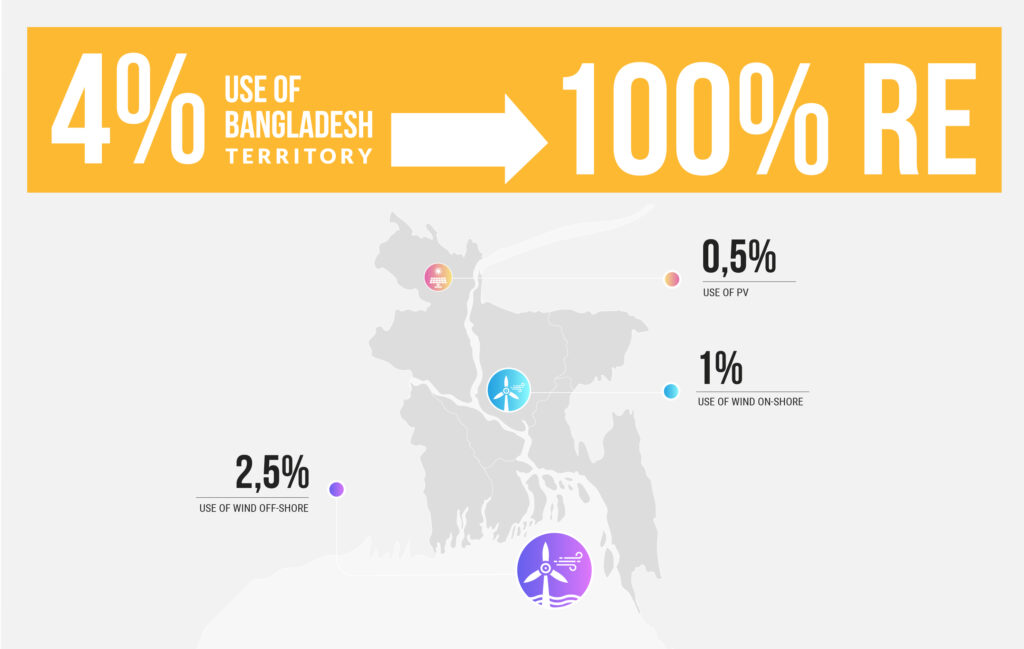 In terms of wind power, the country has a territory of over 20,000 km2 with wind speeds of up to 7.75 m/s, suitable for 30 GW capacity.
According to some studies, Bangladesh has a technical potential for 156 GW of solar and 150 GW of wind power. Furthermore, utilising just 4% of the country's territory would ensure enough capacity for a 100% renewable energy-powered system.
On top of that, the country has vast hydropower potential, with over 50% of its capacity remaining untapped today.
Renewables as the Best Pathway for Bangladesh's Power Sector
As of April 2023, Bangladesh has just 967 MW of clean energy capacity. Yet, solar and wind power remain two of the country's most readily available options to implement. The IEEFA estimates that Bangladesh's existing power system can incorporate between 1.7 and 3.4 GW of solar power during the day. At night, it can use up to 4 GW of wind power. Furthermore, rooftop and utility-scale solar promise to guarantee a lower LCOE of USD 0.05/kWh and USD 0.072/kWh, respectively, compared to an average electricity generation cost of USD 0.084/kWh for the 2021-22 financial year. Moreover, the latter is expected to jump even higher during the next fiscal year.
Although the country is a little later than its Asian neighbours, Bangladesh plans to capitalise on its clean energy potential. The current target is to add 40 GW of renewables by 2030 for a total share of 30%. By 2041 clean energy sources (60 GW) are expected to meet 40% of the power generation capacity. The government also plans to import 9 GW under regional and sub-regional cooperation.
According to the IEEFA, achieving this plan won't be a seamless journey. The country faces various challenges, including land constraints, financing problems, institutional barriers, power sector reform and the lack of a standard renewable energy procurement process – to name a few.
However, the agency is clear: a clean energy transition is vital for the country, as it will help address issues like the rising costs of electricity generation, fuel import dependence, the fuel subsidy burden on the government and more.
Moving Towards a More Sustainable Power Sector
The IEEFA suggests focusing on measures, like drafting more ambitious targets backed by a tracking mechanism, removing caps on rooftop solar installations, involving the private sector and independent power producers and mapping sources to mobilise finance. As per the agency's estimates, fulfilling the 40% clean energy target by 2041 would require between USD 27.5 and USD 30.75 billion, depending on the scenario.
While this might sound a lot, the IEEFA notes that it is lower than the power sector's subsidy burden. During the 2021-22 financial year, it topped USD 2.8 billion.
Countries including India, Vietnam and Indonesia have already taken advantage of renewable energy sources to ease the burden of their fossil fuel dependence. The results have shown great success and ensure more affordable power for these nations. If Bangladesh aims for a stabler and more sustainable electricity sector and a healthier and more resilient economy, it should do this too.