Energy Crisis in Bangladesh Highlights Risks of Fossil Fuels
Bangladesh sources most of its energy from fossil fuels, with natural gas making up the lion's share. Due to COVID-related supply chain issues and global political instability, fossil fuel prices are steadily climbing. As a result, the country has had to halt natural gas imports, leading to rolling blackouts. This highlights the risks associated with fossil fuel reliance and the need for local renewable energy production.
21 March 2023 – by Eric Koons
An energy crisis is gripping Bangladesh. The nation is dealing with an energy supply deficit created by a strong reliance on fossil fuels – namely imported coal and natural gas.
Bangladesh has achieved the full electrification of its nation of 169 million people. This has helped the country develop its economy, increase economic growth and build its ready-made garment industry, contributing to 10% of Bangladesh's gross domestic product and 80% of its total exports. However, the current energy crisis in Bangladesh is putting this at risk.
As Abu Siddique reports for Mongabay, the Bangladeshi government is working to curb electricity demand to meet production." Power supply has been shut for an hour or two every day, rotating between areas throughout the country," said Siddique. In the country, shops and malls have been ordered to close by 8 p.m., and government offices have been told to reduce electricity consumption by 25%.
These actions have done little to reassure the industrial sector, which is beginning to invest in its own power supplies. This is usually provided by costly imported diesel-powered generators. The need for alternative solutions is clear as Bangladesh's energy crisis extends into 2023.
What Is the Current Situation of the Power Crisis in Bangladesh?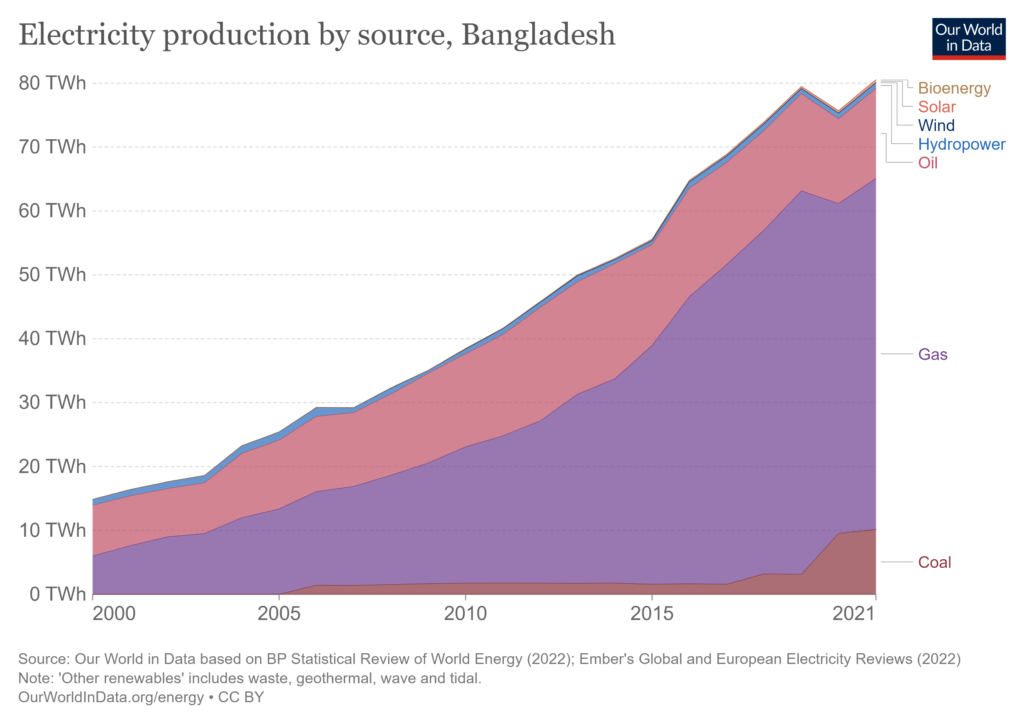 Bangladesh and its power sector rely heavily on both domestic and imported fossil fuels. As of 2021, over 98% of energy production came from natural gas, oil, diesel and coal. Low-carbon energy makes up less than 2% of the energy mix.
Fossil fuels' high energy potential makes them a good power generation tool for developing nations. Yet, the fuels are becoming rapidly unsustainable due to environmental, economic and social costs. This is even more pronounced for imported fossil fuels.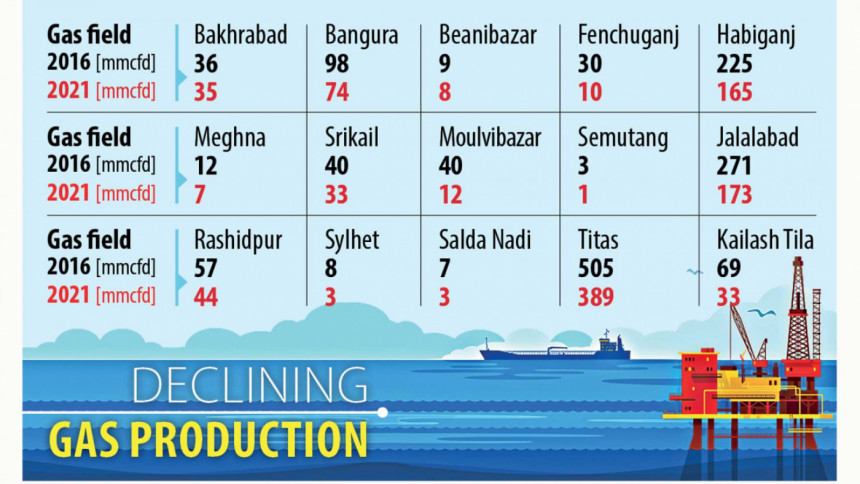 While Bangladesh can source most of its energy domestically, its natural gas fields are drying up, forcing the government to rely more on foreign fuel imports. As a result, Bangladesh imports up to 26% of its natural gas. External factors have made imports difficult for Bangladesh, forcing the country to load shedding and attempt to manage the energy crisis.
For a developing nation that relies on exporting consumer goods, curbing power consumption has directly impacted its productivity. However, despite the limitations, Bangladesh's energy grid has yet to stabilise. In October 2022, the grid failed, and intermittent blackouts continued to plague the system.
What Is the Primary Cause of the Energy Crisis in Bangladesh?
Across Asia, the historical reliance on fossil fuels is putting the continent at odds with the global shift to renewable energy. The fact that fossil fuels like natural gas and oil have historically been cheaper and easier to acquire than other alternative energy sources has made them the default energy source in the region. Bangladesh is no different.
However, the Russia-Ukraine war has significantly impacted the global market by driving prices of fossil fuels to record levels. The reduction in the country's fuel production has put the Bangladeshi government in a difficult position.
"The Russia-Ukraine war, which began in March, also affected the energy market. Crude oil topped USD 100 a barrel, while the open market LNG price rose more than sixfold to USD 38 a unit," explains Faysal Atik. Due to the prices, the government stopped buying LNG in June, affecting the gas supply to power plants and leading to the power crisis.
Bangladesh, like other countries in the region and farther afield, has felt the impacts of fossil-fuel dependency. The inherent lack of energy security and price volatility from fossil fuels is more apparent than ever.
Overcoming Bangladesh's Energy Crisis by Investing in Renewable Energy
"Dhaka's scant attention to renewable energy and policies like capacity payments have exacerbated this energy crisis too."

Aditya Gowdara Shivamurthy, Observer Research Foundation
In his conclusions, Shivamurthy highlights Bangladesh's lack of allies in developing its energy sector. Before the war, Russia had invested heavily in Bangladesh's nuclear and natural gas capacities, and China had financed most of the country's energy sector projects. Reliance on these foreign nations has put the country at risk during times of instability and economic downturn. Heavy dependence on these nations may put the country at odds with other developed regions, like the US and the EU.
Bangladesh needs a long-term power system master plan to become more self-reliant and energy independent. This means diversifying its energy mix and investing more in renewables. Currently, the country aims to source 40% of its energy from renewables by 2041. This is an ambitious target, yet it will still leave the country reliant on imports. A roadmap to 100% domestic, renewable energy production is necessary for the developing nation.
by Eric Koons
Eric is a passionate environmental advocate that believes renewable energy is a key piece in meeting the world's growing energy demands. He received an environmental science degree from the University of California and has worked to promote environmentally and socially sustainable practices since. Eric's expertise extends across the environmental field, yet he maintains a strong focus on renewable energy. His work has been featured by leading environmental organizations, such as World Resources Institute and Hitachi ABB Power Grids.
Read more