Green Stimulus Potential as a Response to COVID-19 Economic Impacts
The COVID-19 pandemic is delivering the world's first comprehensive financial shock since 2008 and is set to tip the global economy into a recession that is likely to affect the biggest economic disruption for decades.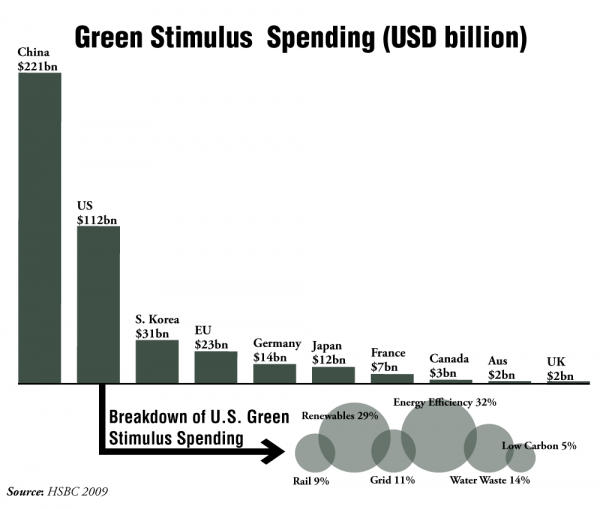 As governments and financial bodies engineer responses to the crisis, stimulus packages to prevent economic recession, stimulate employment and speed up recovery will form. These are likely to include fiscal stimulus plans to boost public spending, which could increase employment and income, and monetary stimulus measures undertaken by central banks, such as interest rate cuts and direct market interventions, e.g. asset buying.
'Green stimulus' was incorporated into the responses to the 2008 financial crisis and, in recent years, there have been clear signals that central banks such as the European Central Bank will make climate change a priority, making the interventions of central banks a potentially transformative force for the green transition.
What is green stimulus?
Green stimulus offers financial support in the form of direct energy efficiency and environmental improvements. Measures include a range of categories of spending, including renewables, energy efficiency measures, transport and grid infrastructure.
Green stimulus packages differ from traditional infrastructure stimulus packages, which favour carbon intensive activities like road building and coal power that have long-lasting environmental impacts. Instead, green stimulus efforts provide a better alternative by generating clean jobs and sustainable economic growth.
The World Bank describes the most beneficial green stimulus programmes as those that can "stimulate employment, in the short-term, and lead to large 'learning curve' effects via lower production costs in the longer term."
Green stimulus in response to the 2008 global financial crisis
In the year following the 2008 crisis, economic activity declined in half of all countries in the world. In response, the world's largest economies announced stimulus packages including a green fiscal component.
Over USD 3.3 trillion of fiscal stimulus was released in 2008-2009, of which an estimated USD 522 billion went to green measures and investments. China (USD 221 billion), the US (USD 112 billion), South Korea (USD 31 billion), and Europe (USD 23 billion) were the top four economies in green stimulus spending globally.
Economists maintain that green stimulus plans alone cannot support a global 'green' transition, however, as the environmental benefits may be short-lived without also tackling fossil fuel subsidies and implementing strong policies and regulations.
Advocates hold that a well designed green stimulus plan can offer "millions of family-sustaining green jobs, lifts standards of living, accelerates a just transition off fossil fuels, ensures a controlling stake for the public in all private sector bailout plans, and helps make our society and economy stronger and more resilient in the face of a pandemic, recession, and climate emergency in the years ahead".
---
READ MORE on the different views on the effectiveness of the stimulus packages deployed in 2008-2009 in our series of case studies from the USA, China, South Korea and Europe.