Promising Renewable Energy Statistics 2022 – Revealed By New Global Status Report
Despite the tremendous growth in new renewable energy additions, the energy system transformation is sluggish and fossil fuels continue to be the backbone of the global energy system. Without more engagement on the political front, global decarbonisation will remain a pipe dream.
06 July 2022 – by Viktor Tachev
Through the lenses of renewable energy statistics, the Renewables 2022 Global Status Report by REN21 sends a clear warning to global leaders. Despite the boom in clean electricity generation, fossil fuels aren't going away. Meanwhile, the energy transition is stalling. In the wake of a worsening climate crisis, the report's findings should be heard by leaders from all across the world but most importantly – from those in Asia.
The Latest Statistics by REN21's 2022 Report Reveal Massive Renewable Energy Growth
The Renewables 2022 Global Status Report finds that in 2021, renewable electricity capacity addition reached record highs. The biggest growth was in the power sector, adding a record 315 GW of new renewable power capacity. This marks a 17% increase since 2020.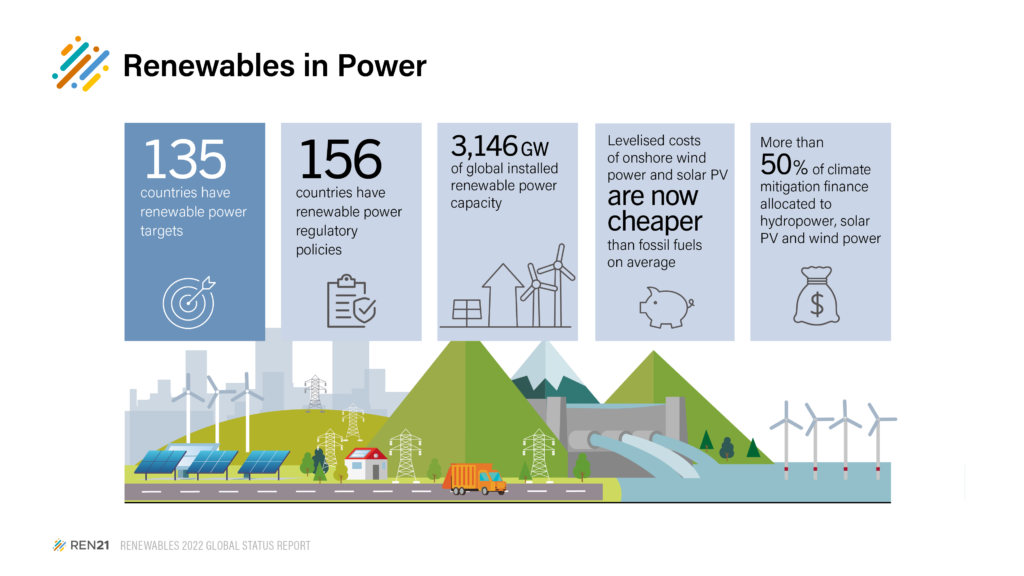 The solar photovoltaic and wind energy sectors accounted for 90% of all new renewable electricity generated. Around 175 GW of solar PV and another 102 GW of wind power went live in 2021. Solar and wind power generation exceeded 10% in the world's electricity mix for the first time ever.
Investment in the renewable generation of power and fuels rose for the fourth year in a row, totalling USD 366 billion.
Renewable Energy Production by Country – Percentages
China again championed clean energy capacity addition on a national scale, adding 136 GW or 43% of the global total. In 2021 it became the first country to exceed 1 TW of installed renewable energy capacity.
It is followed by the US (42.9 GW), India (15.4 GW), Brazil (10.2 GW), Germany (7.3 GW) and Japan (7.2 GW).
Asia dominated all other regions for the ninth consecutive year in new solar photovoltaic installations. The continent accounted for 52% of the global added capacity in 2021. For the 13th straight year, Asia (mainly China) was the largest regional market. It represented around 61.4% of the onshore and 48.6% of the offshore wind power capacity additions.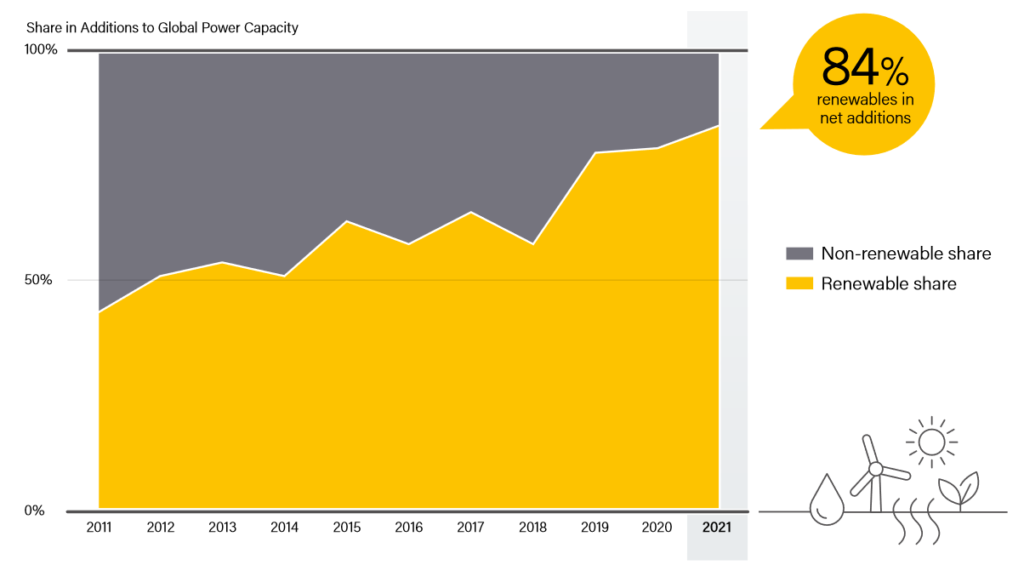 The Energy Transition Remains in a Standstill
Despite the record growth visible from the renewable energy statistics, the report finds that the share of clean sources in global total final energy consumption stagnated in 2021. The main reasons are the rising total energy consumption and the hike in fossil fuels that outpaced renewables growth.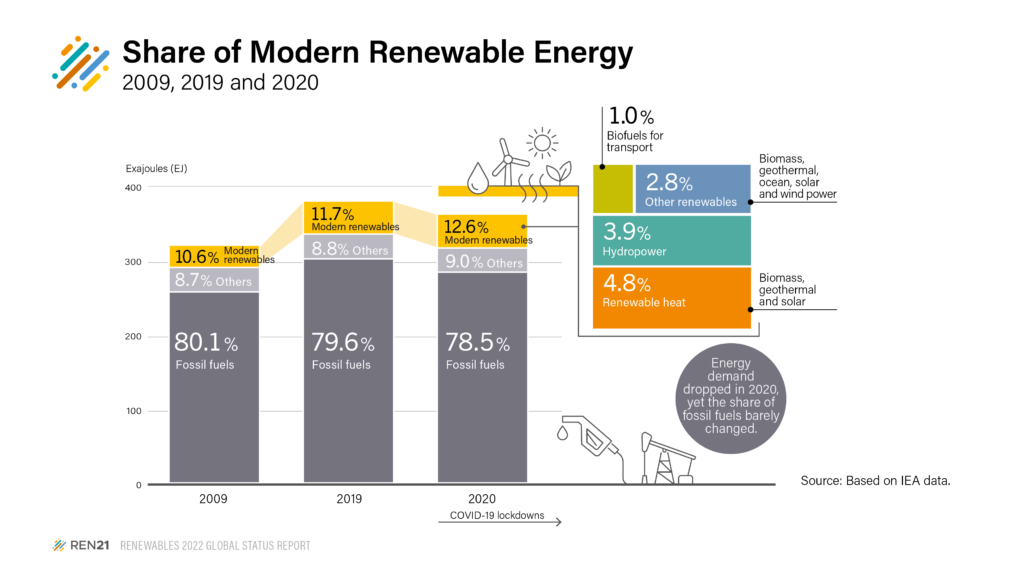 The report warns that the era of cheap fossil fuels has ended. This has unleashed the most significant energy price jumps since the 1973 oil crisis. As a result, many developing nations were left unable to bear the costs. By the end of 2021, the gas price in Europe and Asia reached 10 times the 2020 price. This is especially concerning for Asian countries planning a major gas pipeline expansion.
At the same time, global leaders aren't pursuing renewable energy scenarios actively.
As a result, the world is in a situation where it can't afford fossil fuels while renewable energy is scarce. This is the perfect recipe for an energy crisis, which involves high electricity costs and unreliable supplies. What they need is a good renewable energy policy. The use of renewable energy sources must be increased to reduce greenhouse gas emissions.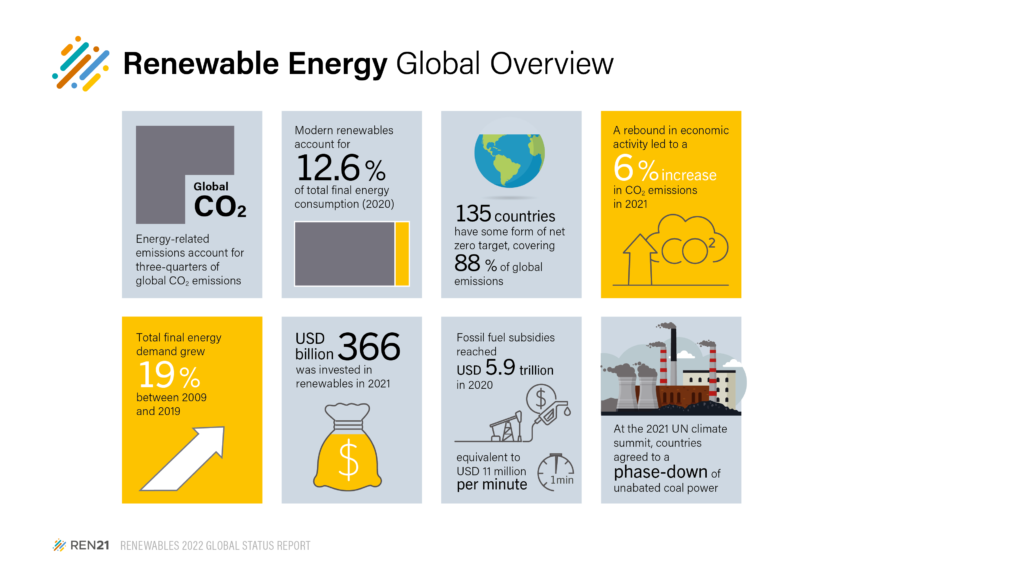 The grim conclusion of the analysis is that, despite all the hope for a cleaner future, the opportunity for a green and equitable post-pandemic recovery has been lost. The current deployment of renewable power is insufficient to remain on track with net-zero emissions by 2050.
The report's authors call for an urgent structural shift in the energy system.
Plenty of Political Promises, Insufficient Climate Action
Among the chief reasons for the lack of actual energy-transition progress is the slow momentum on the political stage. While policy support for renewables remained strong in 2021, it was directed mainly to the power sector.
At the same time, fewer efforts went towards accelerating renewables in the most polluting sectors.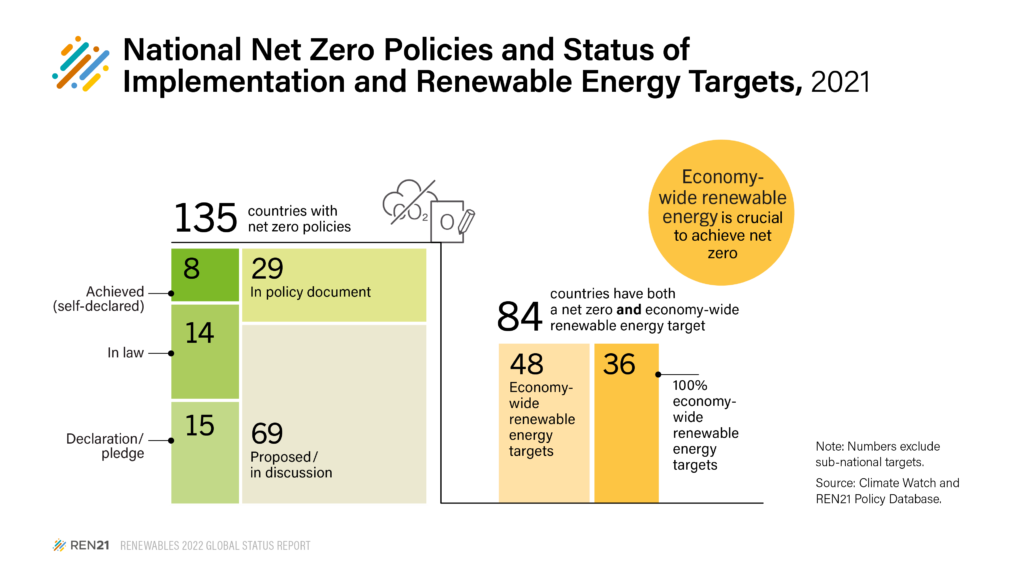 The REN21 report concludes that political momentum has not translated into action despite all the new net-zero commitments. Of the 135 countries that have pledged net-zero by 2050 in the lead-up to COP26, only 84 had economy-wide targets for clean energy. Furthermore, just 36 had targets for 100% renewables.
"We call for short and long-term targets and plans to shift to renewable energy, coupled with clear end-dates for fossil fuels."

Arthouros Zervos, REN21 president
More disturbingly, the report finds that despite their renewed climate action commitments, governments continue to subsidise fossil fuel production and use. Between 2018 and 2020, for example, governments spent USD 18 trillion, or 7% of global GDP in 2020, on fossil fuel subsidies. In some cases, including India, this has come at the expense of support for renewables.
How Can Asia Accelerate its Energy Transition
REN21's report finds that the regional leaders in renewable energy additions were China, India and Japan. However, all of them are among the world's biggest polluters. While this is a significant step forward, Asia remains highly dependent on the old energy order. However, this order is now collapsing and risks dragging developing economies with it.
Asian leaders should employ all policy tools available to promote a more sustainable, secure and just energy system.
As the REN21 report highlights, policymakers must focus on energy system decentralisation. Building local renewable sources and diversified energy governance will enable a more resilient and independent energy system.
Asian leaders should actively seek to reduce their import dependence and strengthen energy security and sovereignty. Succeeding in these efforts would guarantee more stable and competitive energy prices.
Among the benefits of the shift towards cleaner power sources are job creation, economic gains, improved air quality, better management of climate crises and safeguarding of vulnerable communities.
However, for all this to happen, political promises should turn into action.
China and Bangladesh as Bright Examples
As a result of feed-in tariffs' support, China's solar PV market grew more than 60% in 2020, reaching 55 GW of new installations in 2021. Furthermore, the country's 14th Five-Year Plan prioritises wind and solar power, aiming for a 20% non-fossil fuel share in the energy mix by 2025.
Thanks to the country's Mujib Climate Prosperity Plan, Bangladesh expects to create 4.1 million climate-resilient jobs. The country will ensure USD 80 billion of investment through public and private financing initiatives. Bangladesh has already cancelled several new coal-fired projects. The country also aims to convert existing coal and natural gas infrastructure into low-carbon energy hubs. By 2030, it hopes to ensure climate resilience, energy independence and access, as well as 30% renewable energy consumption and a significantly reduced fossil fuel dependency.
The Latest Renewable Energy Statistics as a Fuel for Action
Despite the positives in the latest renewable energy statistics, the world's energy transition is stalling. As a result, the idea of a green recovery remains just an idea. Promises and political pledges should turn into actions to get out of this impasse. Countries like China are showing how concentrated efforts can pave the way for a greener, more resilient and more inclusive energy system based on cheaper energy. Other nations should follow suit to stand a chance in honouring their green commitments – a bizarre situation yet one critical for everyone's future.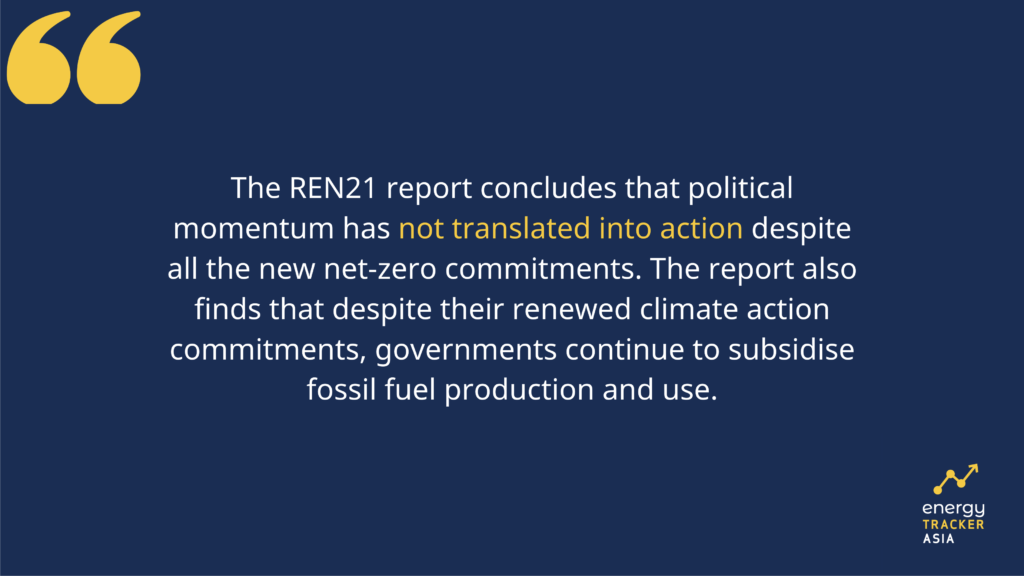 by Viktor Tachev
Viktor has years of experience in financial markets and energy finance, working as a marketing consultant and content creator for leading institutions, NGOs, and tech startups. He is a regular contributor to knowledge hubs and magazines, tackling the latest trends in sustainability and green energy.
Read more