The Role of the Asian Development Bank in Southeast Asia's Energy Transition
To ensure a seamless and successful energy transition, ASEAN countries should actively pursue public funding, regional cooperation and energy market redesign. In the face of the ADB, they have a reliable partner to guide them through the process. The participation of an institution of such magnitude is critical since it provides all the tools, technical assistance, know-how and financial support to enable a fair and just energy transition.

07 February 2022 – by Viktor Tachev
The role of the Asian Development Bank (ADB) in advancing the energy transition in Southeast Asia is critical. Through financing public and private sector operations, technical assistance and know-how, ADB can help countries overcome challenges related to greener, inclusive, resilient and sustainable energy systems. Today, Southeast Asia, home to the Association of Southeast Asian Nations (ASEAN), already has the prerequisites to achieve sustainable development goals for a sustainable future. However, getting there is more a matter of political will.
The Energy Transition in Southeast Asia
The region shows great promise in its preparedness for a clean energy transition. ASEAN's developing countries are also actively pursuing collective goals aside from individual targets and policy improvement actions. They aim for a 23% renewable energy share in total primary energy demand and a 30% energy intensity reduction by 2025. Nevertheless, regulatory and institutional capacity still constrain renewable energy adoption in Southeast Asia.
What's more is that most power systems are centralised in ASEAN countries, resulting in limited regional interconnections between power grids. In other words, without restructuring and further improvements, existing power grids would be unfit for a renewable energy-based future. Yet, an overarching theme is persistently hindering progress towards a clean energy future – financing.
The Financing Needs of the ASEAN Region and Social and Economic Development Projects
Investment is important. And according to the International Energy Agency (IEA), the power sector in Southeast Asia needs USD 350 billion to 490 billion between 2025 and 2030. Further investment is essential in electricity transmission networks. These funds would help the integration of renewables, at the same time, enhance energy security, sustainability, and access. They would also provide development assistance and finance development projects that would turn into economic growth.
So far, most investments in electricity networks in Southeast Asia come from public funds, with the Philippines being an exception. In fact, ADB found that public financing was responsible for two-thirds of the region's current clean energy infrastructure investments. Despite the optimistic figures, the IEA suggests that public funds are insufficient to cover future financing needs. Private sector development and investments and public-private partnerships can make a difference.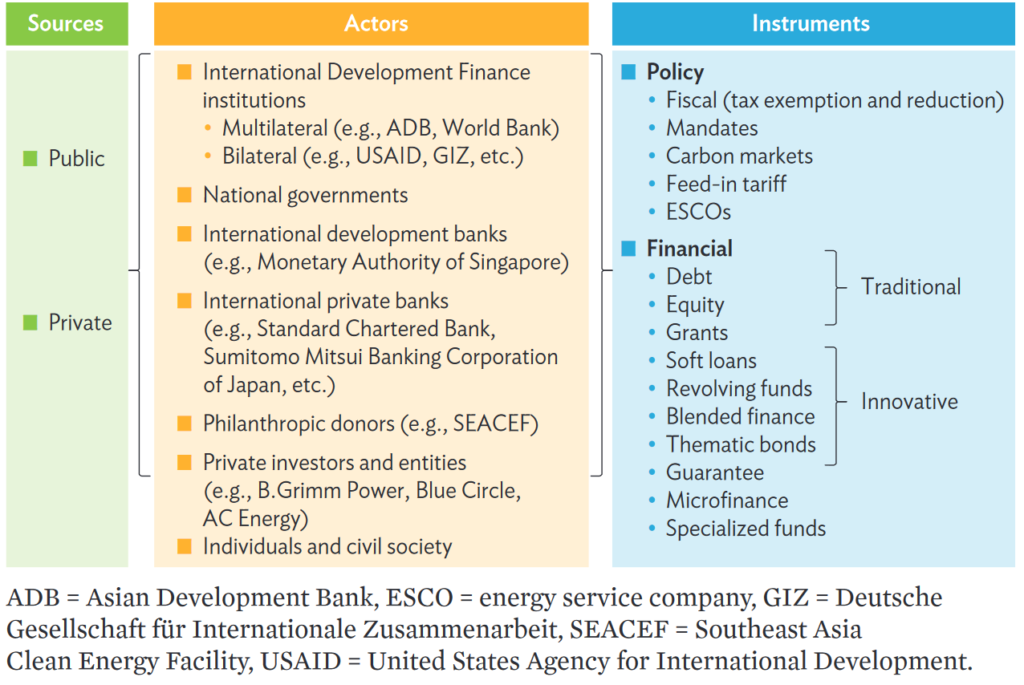 The Role of the Asian Development Bank (ADB) in the Developing Member Countries of ASEAN
It is no secret that the ADB has a history of strong fossil fuel support, attracting public ire. Yet, this should not detract from ADB's actions in recent years in becoming an institutional supporter in Southeast Asia's energy transition. So far, it has assisted countries with successful projects through financing, technical assistance, policy dialogue and advisory services.
Financing the Clean Energy Transition
ADB consistently finances and supports Southeast Asia's private sector to invest in the energy transition. From renewable energy capacity development, renewables-plus-storage projects, electric vehicles and battery charging infrastructure. As a result, between 2009 and 2016, ADB provided USD 3.8 billion for clean energy financing in ASEAN countries. Compared to other institutions, ADB comes out on top. Additionally, grants and technical assistance given to Indonesia, Thailand and the Philippines culminated in USD 400 million in green finance mobilisation.
In 2018, ADB's Clean Energy Financing Partnership Facility (CEFPF) provided USD 11 million for some of Vietnam's first and most progressive solar power projects. Through the proceeds from a green bond issuance programme, the bank has now funded 16 solar power plants. Similarly, ADB's central role in the ASEAN Infrastructure Fund (AIF) proves vital. The AIF has committed over USD 500 million for 11 projects to date. This contributes to the already ballooning USD 4 billion portfolio.
Internationally, the ADB is also inspiring multilateral cooperation. The Energy Transition Mechanism (ETM), first launched at COP26, is an example. Under the ETM, ADB plans to support Indonesia, the Philippines and Vietnam to hasten the retirement of coal-fired power plants.
Assistance Beyond Financing
The role of the Asian Development Bank goes further than just finance, however. It supports the ASEAN region by providing vital technical expertise across various themes. ADB helps countries reduce their carbon emissions, enhances energy sector governance and transparency, fosters power system integration opportunities and encourages regional knowledge transfer.
For example, by providing transaction advisory support for Cambodia's first utility-scale reverse auction, ADB helped create the lowest power purchase tariff for a solar project in the region. Furthermore, in 2017, the CEFPF provided USD 1 million in technical assistance to help Indonesia scale up energy efficiency initiatives.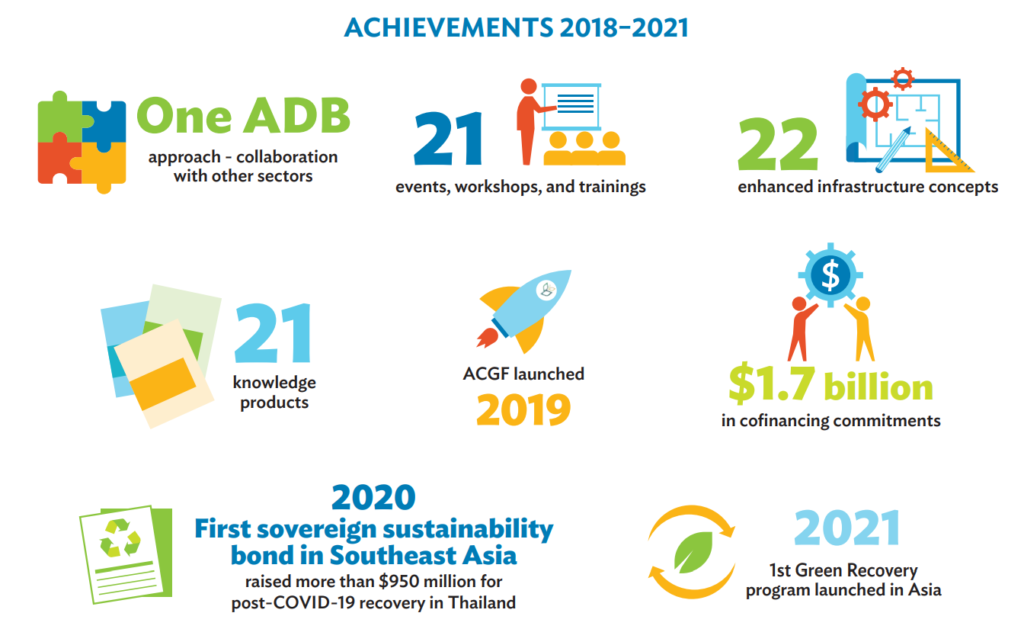 Today, the role of the Asian Development Bank is also fundamental for the design and delivery of post-pandemic green recovery programmes in ASEAN countries. According to ADB, the institution is planning to work with other multilateral development institutions and commercial banks in the future. This would, they suggest, leverage additional resources and harmonise blended financing.
The Role of the Asian Development Bank in Stimulating an Equitable Energy Transition
An equitable transition to 100% renewable energy for Southeast Asia can unlock new jobs, eradicate energy poverty and reduce inequality. Consequently, this is why ADB, aside from the Sustainable Development Goal 7 (SDG7) (affordable and cleaner energy) and SDG13 (climate action), ADB also works on SDG1 (poverty alleviation) and SDG5 (gender quality and women's empowerment). With clean energy connected to each area in myriad ways, the institution's work on growing the emphasis of renewables is essential. All of these and more will provide the perfect environment for an equitable energy transition for Southeast Asia.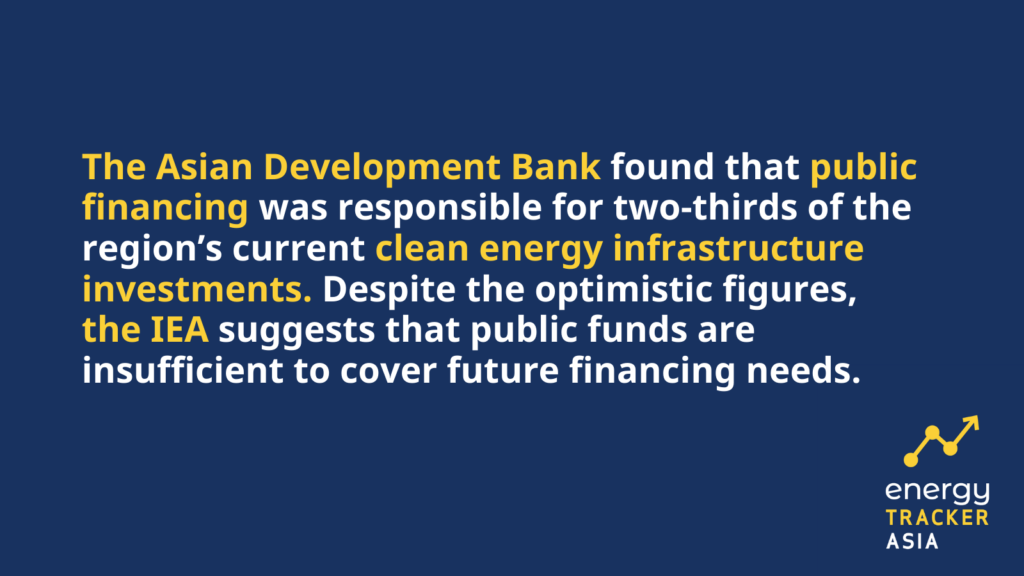 by Viktor Tachev
Viktor has years of experience in financial markets and energy finance, working as a marketing consultant and content creator for leading institutions, NGOs, and tech startups. He is a regular contributor to knowledge hubs and magazines, tackling the latest trends in sustainability and green energy.
Read more