The Global Cooksafe Coalition and the Mission to Accelerate the Switch From Gas to Sustainable Cooking
Cooking with gas is associated with health, climate and financial issues. The mission of the Global Cooksafe Coalition is to help households worldwide overcome them by transitioning to electric and induction cooking.
09 January 2023 – by Viktor Tachev
Last updated on 14 January 2023
The need for sustainable cooking has often been an underrated aspect of the clean energy transition. However, this is now starting to change. More and more people are becoming aware of the health, climate and financial implications of gas cooking. Thanks to initiatives like the newly launched Global Cooksafe Coalition, more households will be able to make informed choices without bias from the gas lobby's campaigns.
The Global Cooksafe Coalition: What Is It and What Does It Aim to Do?
Founded in 2022, the Global Cooksafe Coalition (GCC) aims to promote universal access to safe and sustainable cooking across households in OECD countries in new buildings by at least 2030, in existing buildings by 2040 and in all buildings worldwide by 2045.
The coalition promotes affordable, energy-efficient cooking appliances powered by renewable energy. Furthermore, the initiative will tackle the narrative of gas as a clean, harmless and affordable cooking fuel for households worldwide.
The GCC comprises organisations and industry leaders from various sectors. Among them are health organisations, property developers, consumer groups, climate change organisations and more. Doctors, scientists and globally renowned chefs are also supporting the initiative.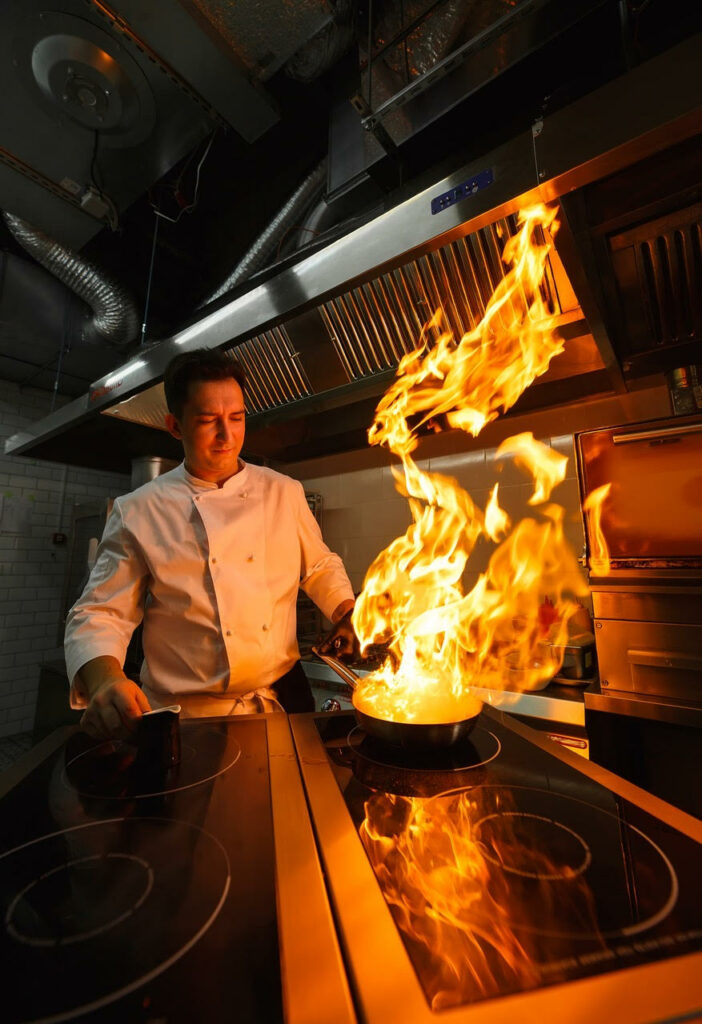 The coalition notes that the members are all concerned about gas cooking's health and environmental impacts. The participating parties intend to support a transition to electric and induction cooking by the decade's end.
To enable the swift transition to clean and sustainable cooking, the GCC will advocate an urgent increase in public finance for the electrification of cooking in lower and middle-income countries. The coalition also aims to work for the introduction of improved ventilation standards in national building codes and fiscal policies supporting households and small businesses in the transition to energy-efficient electric appliances.
The Need for Sustainable Cooking and Why Cooking With Gas Is a Problem
Over the years, the gas lobby has used marketing strategies and global campaigns to promote gas stoves as the best way of ensuring a clean, affordable and restaurant-like cooking experience. As a result, using gas for cooking became a widely preferred option across many low and middle-income countries worldwide, including in most Asian nations. In 2020, gas use reached a 52% share of all cooking in these countries. However, this popularity is now increasingly found to be based on false narratives.
The Health Implications
Children from gas-cooking households have a 42% increased risk of developing asthma. In Australia, cooking with gas is responsible for up to 12% of childhood asthma cases. Scientists warn that a child living in a household that utilises gas for cooking faces a similar risk of asthma as a child living in a smoking household. Gas cooking also increases the risk of respiratory infections, small reductions in lung function in children and rhinitis.
"There is evidence that the pollutants released by gas stoves can affect the brain and heart and increase susceptibility to allergens."

Dr Kate Charlesworth, a public health physician and member of the Climate Council
Studies find that with poor ventilation, air pollutants such as nitrogen oxides (NOx) emitted during a few minutes of gas stove usage can significantly increase respiratory disease risk. While better ventilation can mitigate the health impact, it can't eliminate it entirely. The reason is that gas cooking equipment leaks harmful chemicals even when not in use. In fact, researchers find that unburned gas leaks contain 21 hazardous air pollutants.
Homes with gas stoves have up to 400% higher nitrogen dioxide concentrations than homes with electric stoves. Furthermore, the resulting pollution from gas stoves often reaches levels that would be illegal outside. For example, the latest air pollution guidelines from the WHO dropped the annual limit value of NO2 from 40 micrograms per cubic meter to 10.
Estimates reveal that peak indoor air pollution from gas stoves can reach up to five times the legal outdoor limit. Furthermore, research suggests gas cooking produces about twice as much PM2.5 as cooking with electricity.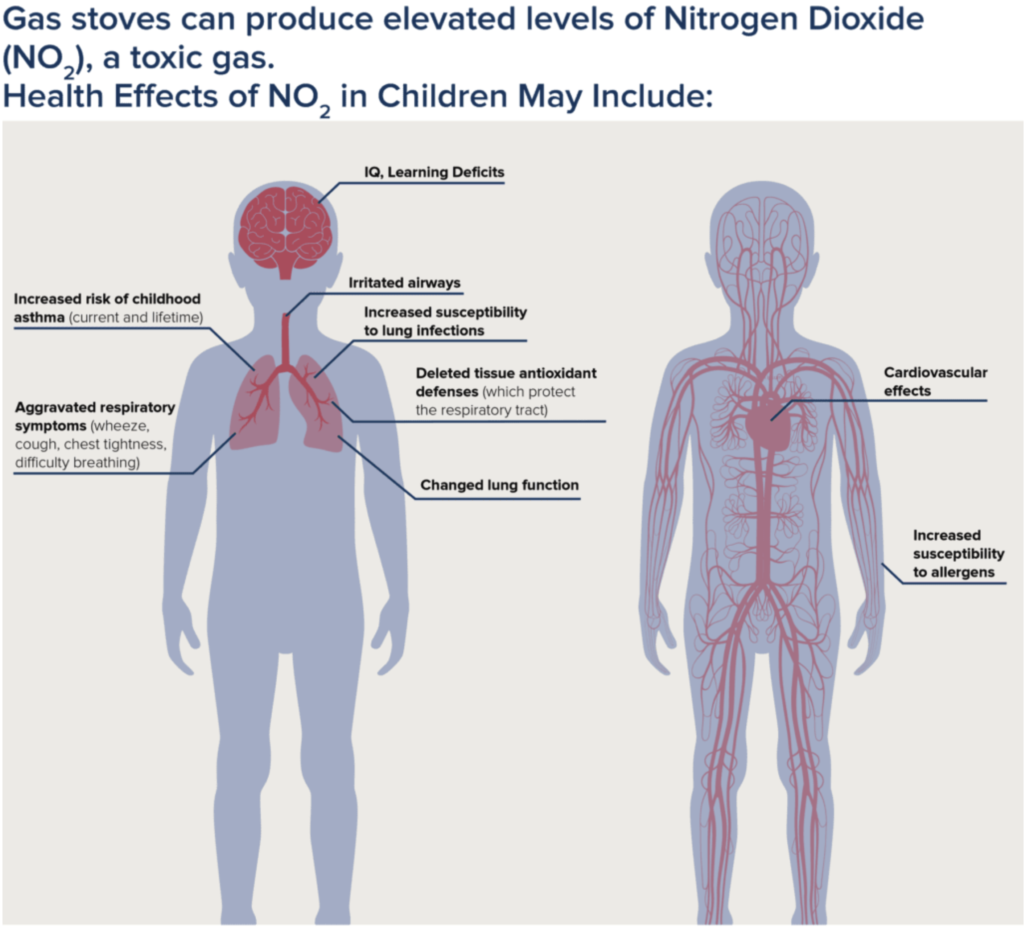 The Climate Implications
The process of deriving natural gas impacts water and air quality. Exploration, drilling and production practices also negatively affect soil and wildlife.
Furthermore, natural gas releases methane, despite emitting 50 to 60% less carbon dioxide than coal. Over a 20-year period, methane has an up to 86 times higher global warming potential. According to studies, over a 20-year time frame, annual methane emissions from all gas stoves in US homes have a climate impact comparable to the yearly CO2 emissions of 500,000 cars. More importantly, over 75% of the methane emissions from gas stoves are released when the stoves are turned off.
The Financial Implications
The transition from gas to electric and induction stoves will also help reduce power bills. The cost of gas is now at record highs, which has caused economic hardship for many developing nations. Currently, Asian consumers are paying record-high gas prices in both domestic and global markets. Furthermore, experts see gas prices remaining twice as high as normal until 2025.
On the other hand, the cost of renewable energy is plummeting. Renewables are now the cheapest new power source for two-thirds of the world's population and nine-tenths of electricity generation.
Electric and induction stoves are also more efficient than gas appliances in terms of heat transfer. Their efficiency rates are 75-80% and 85%, respectively, compared to just 32% for gas. Other estimates reveal that induction cooking can generate energy savings of between 5% and 20% over traditional electric cooktops. Compared to gas, the potential savings can reach 65%.
Can the Global Cooksafe Coalition Succeed in Making Cooking Sustainable?
The coalition's mission is challenging, especially considering the decades of organised global support for gas cooking and what it has led to. However, in a scenario where the world pursues a net-zero pathway by 2050, the GCC's goals are ambitious – but achievable.
In fact, the coalition is already making progress in Australia. Developers GPT and Lendlease, launch partners of the initiative, have announced they would stop equipping new buildings with gas by 2030.
Furthermore, some of Australia's most famous chefs and restaurant owners have also backed the initiative.
Considering that the economic, climate and health arguments favour electric and induction cooking, the prospects for the GCC's mission look bright. While challenges remain, mainly due to the lack of supporting policies for clean cooking in developing nations and the lack of access to electricity in poorer regions – governments, corporations and the public are increasingly willing to embrace renewables both for power and in the kitchen.
by Viktor Tachev
Viktor has years of experience in financial markets and energy finance, working as a marketing consultant and content creator for leading institutions, NGOs, and tech startups. He is a regular contributor to knowledge hubs and magazines, tackling the latest trends in sustainability and green energy.
Read more