Worst Companies for the Environment: Holding the Renewable Energy Transition Back
Photo by Ohrim via Shutterstock
The companies with the most extensive resources are often the biggest climate laggards. Realising the difference they can make and starting to support the global clean energy transition would be massively beneficial for their own good and the future of everyone else.
10 October 2022 – by Viktor Tachev
Many influential corporations have chosen to hold the renewable energy transition back, which, in the eyes of the public, has turned them into some of the worst companies for the environment. This bears massive reputational, financial and business risks, making the reasoning for the fossil fuel obsession perplexing. On the other hand, if companies open up to the idea of clean energy, the benefits would be enormous for their operations and the decarbonisation efforts of the regions they operate in.
The Worst Industries and Companies Producing Greenhouse Gas Emissions, Plastic Waste and Fossil Fuels
The general perception is that the worst companies for the environment are in the fossil fuel industry. And there is growing evidence for it. They are churning out carbon emissions, methane emissions, plastic packaging waste, plastic pollution and air pollution. Activities like burning fossil fuels are adding to global warming. However, some companies branding themselves as innovators and technology-driven enterprises that should have more progressive business models are also climate laggards.
The Oil and Gas Industry
Oil and gas majors like Shell, Chevron, ExxonMobil and more have a history of climate inaction.
Under increasing pressure, the industry has tried to prove that it can be a legitimate partner in the energy transition. Some companies changed their names and branding to showcase that they are prioritising the energy transition. British Petroleum, for example, became "Beyond Petroleum". Others are making bold green claims targeting net-zero and splashing money on green campaigns, painting themselves as clean energy leaders. Some are relying on carbon offsets. For example, Repsol, Shell and TotalEnergies link executive remuneration to carbon emissions-reduction measures.
However, in reality, as REN21 concludes, most companies are putting off their carbon dioxide emissions-reduction responsibilities for as long as possible. Projections show that there are plans for oil and gas giants to produce 120% more fossil fuels by 2030.
Very few companies are following the shining example of Ørsted (previously Danish Oil and Natural Gas). The business made a U-turn from a coal-intensive energy oil and gas company in Europe to a leading clean energy player. It is considered the world's most sustainable energy company.
The Tech Industry
Greenpeace's "Race to Green" report found that no company has achieved meaningful decarbonisation progress – subject to analysis.
Among the worst performers in the study was Canon. The company doesn't have a 100% renewable energy target to date. Moreover, reports find that the Canon Institute for Global Studies (CIGS) think-thank actively advocates against climate change. It has a history of claiming that the climate crisis is "liberal propaganda" and supporting theories that it is "fake." Leadership figures have even made publications and books on climate denial.
Meanwhile, it is worth noting also the lack of action of most social media giants in controlling climate misinformation, with Twitter found to be performing the worst.
Automotive Companies
According to Influence Map, the automotive sector, as a whole, remains a major opponent of climate policy globally. However, not all companies have an equal role in holding the green transition back. The study finds that the biggest climate laggards are from Asia, including Toyota and Hyundai.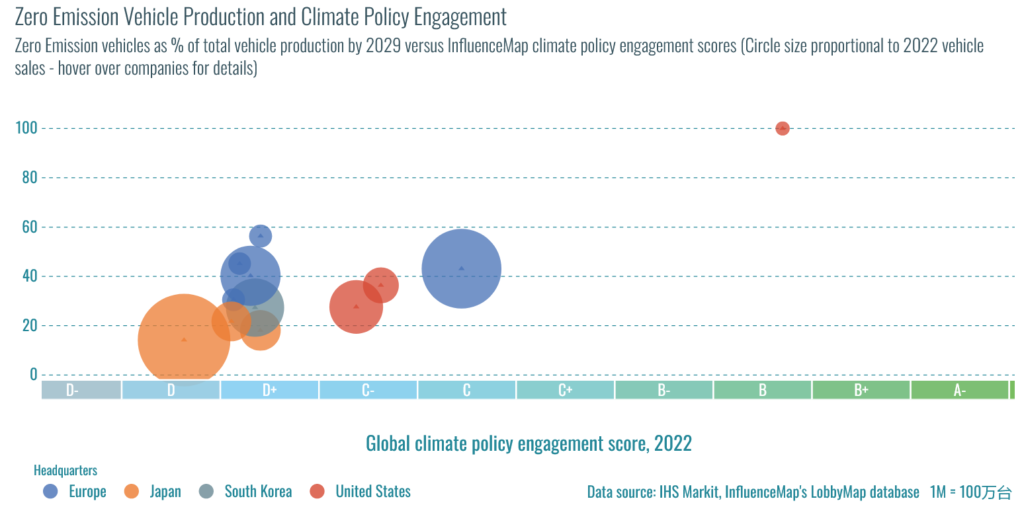 In a separate study, Greenpeace finds that global automakers are all showing insufficient decarbonisation efforts. Japanese manufacturers are far behind their Western counterparts, some of which have already committed to abandoning combustion engine cars. The study places Toyota, which has a history of actively advocating for the delay of electric vehicles in Japan and abroad, at the bottom.
Financial Institutions and Corporations
Research groups find that banks like JP Morgan, Citigroup and Bank of America are the leading fossil fuel financiers. However, some Asian financial institutions are also working to prolong the life of fossil fuels by supporting new coal, oil and gas projects worldwide.
Furthermore, corporations like JICA, JERA, San Miguel and others are developing new gas projects across Asia. As a result, many of them have become the targets of environmental campaigns.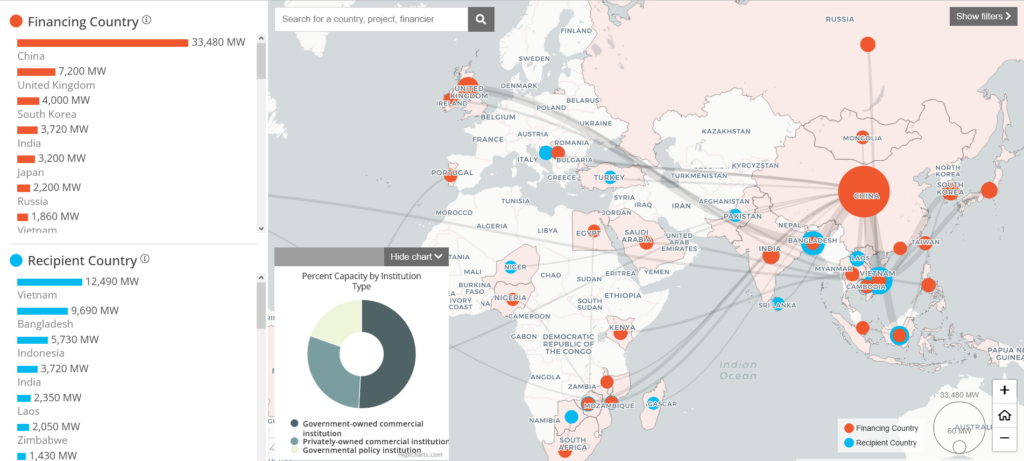 The Benefits of Embracing Renewables
No matter how fossil-fuel-reliant some companies are today, they will have to switch to renewables if they want to preserve their competitiveness.
Furthermore, escaping public pressure and preserving reputation aside, supporting the renewable energy transition has a massive business case.
"Investing in new fossil fuel infrastructure will only lock in uneconomic practices, perpetuate existing risks and increase the threats of climate change."

– Francesco La Camera, Director-General of IRENA
The Financial Case
Public and private investors are divesting from fossil fuel companies to avoid the risk of stranded assets. With regulatory frameworks growing more and more stringent by the day, investors should be channelling their capital to companies with proven green credentials.
So far, financial institutions responsible for over USD 130 trillion and 40% of the world's private capital have committed to managing these assets in a climate-conscious way. As a result, fossil fuel financing will become more challenging. Meanwhile, green technologies will be able to obtain affordable long-term debt financing.
The loss of investor capital aside, companies should also be considering switching to renewables, since the electricity generation is now cheaper than existing and new fossil fuel-based power. This would ensure greener and more economically efficient operations.
The Business Case
McKinsey sees an addressable market for green businesses in Asia of up to USD 5 trillion by 2030. Moreover, the consultancy estimates that growing demand for net-zero offerings could generate over USD 12 trillion in annual sales by 2030 across 11 value pools.
The Scope 3 emissions factor also shouldn't be underestimated. The corporations leading the green transition are increasingly looking to conduct business only with companies with solid climate credentials.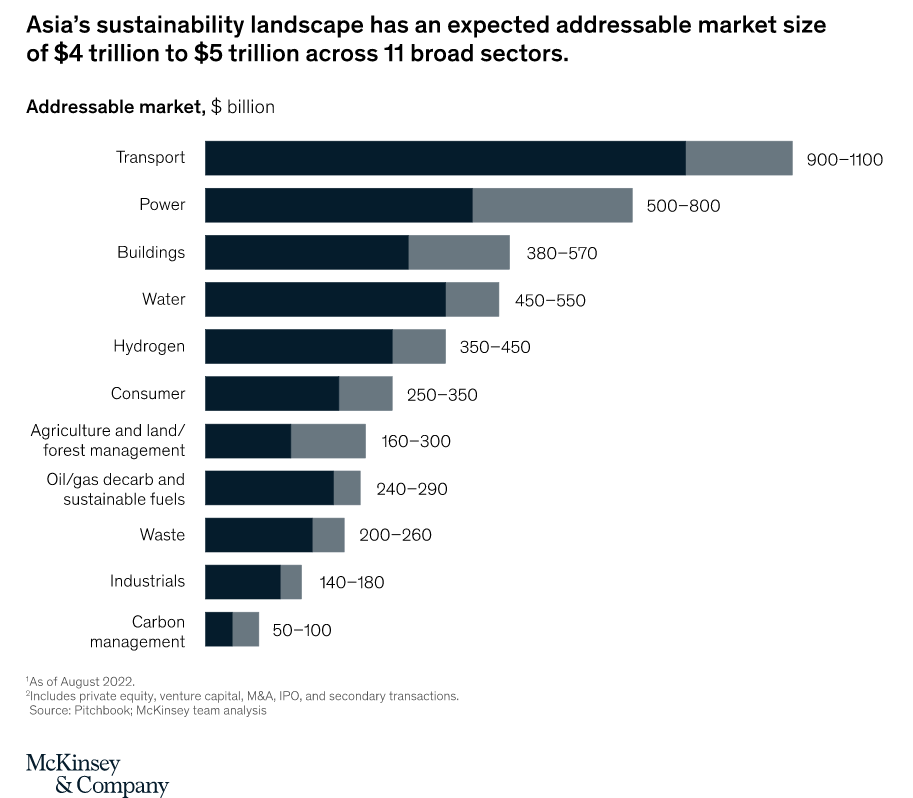 For example, Samsung's late decarbonisation target and slow, clean energy adoption pose a risk to the company's business strategy. The company is a key supplier to brands, like Apple, which have ambitious climate targets for their supply chains. The company has committed to sourcing 100% renewable energy across its supply chain by 2030. If Samsung doesn't up its game to meet Apple's requirements, it risks significant losses.
There is no doubt that the green transition will happen. McKinsey even has a term for it – the "Great Reallocation". Decarbonisation will reshape the economy, opening new markets and closing others. Now is the moment for companies to spot green growth opportunities and move boldly to take advantage. Those who refuse would only blame themselves when the business, reputational and financial risks inevitably start getting out of proportion.
by Viktor Tachev
Viktor has years of experience in financial markets and energy finance, working as a marketing consultant and content creator for leading institutions, NGOs, and tech startups. He is a regular contributor to knowledge hubs and magazines, tackling the latest trends in sustainability and green energy.
Read more