Asia's Banks Push the Region Towards Fossil Gas Future
After following the money trail behind the fossil gas expansion in Southeast Asia, a new report by CEED finds that thanks to the significant financial support, nations in the region are locking themselves into a fossil gas future.
23 June 2022 – by Viktor Tachev
Southeast Asia's obsession with natural gas has been well-documented. However, the latest report by the Philippine-based think-tank Center for Energy, Ecology, and Development (CEED) finds that the region is looking to expand its fossil gas infrastructure even further. Without a U-turn, Southeast Asia will lock itself into a future of energy independence, exorbitant energy prices and climate impacts.
By not using renewable energy sources, global energy production and electricity generation will result in more carbon emissions and greenhouse gas emissions. The fossil fuel industry is pushing hard for more fossil fuel production to increase its profits.
Fossil Gas in Southeast Asia – Plans
Financing a Fossil Future: Tracing the Money Pipeline of Fossil Gas in SEA, a report by CEED, examines the entire fossil gas landscape in Southeast Asia. The analysis covers everything from exploration, transportation and storage to gasification, pipelines, electricity generation and project financiers.
Fossil Fuels Gas Industry has Over a Hundred Financers
The report finds that new fossil gas power capacity in pre-construction stages in Southeast Asia is now bigger than in any other region. The analysis also identifies over a hundred financiers of the fossil gas industry in the Southeast Asian region. Furthermore, many of them have made green commitments.
The report's findings in a nutshell:
117 GW of new fossil gas capacity is in pre-construction stages in Southeast Asia – more than any other region.
The countries with the biggest expansion plans are Vietnam, Indonesia, the Philippines, Myanmar, Malaysia and Singapore.
123 financial institutions have provided USD 34.8 billion in financial support to the natural gas industry in the region since 2016.
30 of them are signatories of either the Net-Zero Banking Alliance, Net-Zero Asset Owner Alliance, or Net-Zero Asset Managers Initiative.
The leading financiers of fossil gas in the region are Japan's Sumitomo Mitsui Financial (USD 13 billion) and Mizuho Financial (USD 10.9 billion), and Singapore's DBS Bank (USD 8.2 billion).
The report concludes that the massive fleet of fossil gas projects and the solid financial support from banking institutions are spiralling Southeast Asia into a future of energy insecurity and more fossil fuel consumption as primary energy consumption. They also threaten biodiversity and fuel the climate crisis, paving the way for catastrophic consequences.
"With gas, we are driving down the same road to economic and climate disaster as we did with coal. We merely switched lanes," says Gerry Arances, executive director of CEED.
The Risks of Reliance on Fossil Fuel Gas for the Region – More Natural Gas, More Carbon Dioxide Emissions
Not only will the increased reliance on fossil gas slow down the region's decarbonisation, but it will also expose it to an ever-expanding number of risks regarding climate change.
Climate Impacts
Southeast Asia is among the regions projected to suffer the harshest consequences of the climate crisis. Pushing to expand the gas pipeline indicates that officials are ignoring the local population's well-being.
Although less carbon-intensive than coal, fossil gas and LNG produce high amounts of methane. Methane is a potent pollutant that can trap heat in the atmosphere 80 times more effectively than CO2. At COP26, countries launched the Global Methane Pledge initiative to reduce methane emissions by 30% by 2030. The more baffling thing is that among its signatories are Vietnam, the Philippines, Malaysia, Singapore and Indonesia. The CEED report finds all of these nations guilty of massively expanding their gas capacity.
Emissions intensity aside, the report's authors describe the expanding gas infrastructure in the SEA region as a "death sentence to biodiversity".
Among the most affected will be the Verde Island Passage in the Philippines. The area has previously united communities, organisations and environmentalists, which collectively opposed local LNG expansion plans.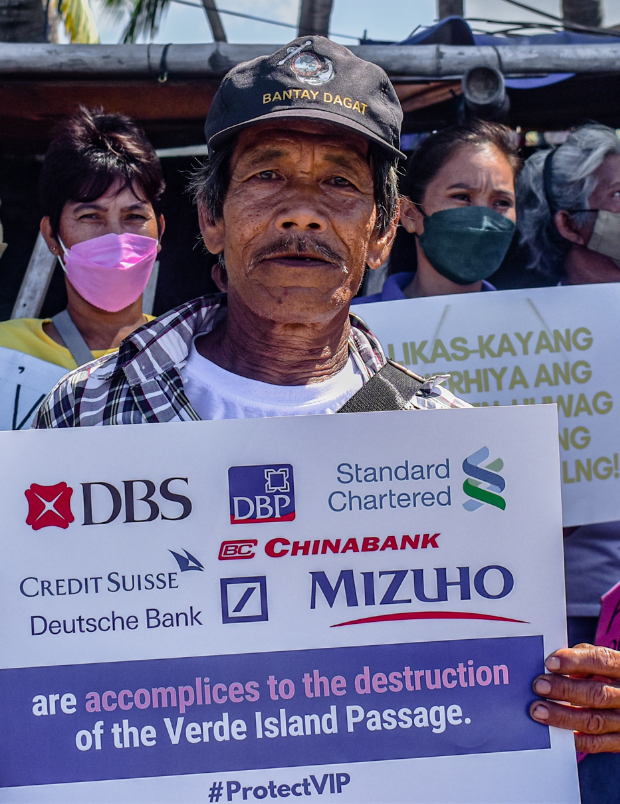 Price Volatility
Fuelling the climate crisis in the region is a perplexing move that won't guarantee economic gains. Gas prices on global markets have an extremely volatile nature. As the largest LNG importing region, Asia is paying some of the highest LNG prices in the world.
This goes directly against the region's economic interests, which comprises mainly developing countries. Instead of pursuing a more sustainable, independent, cleaner energy system transformation, SEA nations are locking themselves into a future of expensive, polluting and unreliable energy.
Unreliable Supply
The growing demand for LNG in the region has resulted in a tight supply. Global instabilities like the war between Russia and Ukraine also massively disrupted the fossil gas market. However, this problem isn't new. A previous article by Energy Tracker Asia has dived into the threat LNG poses to Asia's financial stability.
The findings of the CEED report now further highlight how gas companies are looking at capitalising on developing countries' need for more energy by suggesting LNG as a reliable and clean transitional fuel – a questionable suggestion.
The Critical Role of the Financial Industry
"Fossil gas and LNG companies would not have the guts to pursue massive expansion plans if not for financial institutions backing them," says Arances.
It is troubling that financial institutions with net-zero pledges have led to fossil gas financing in Southeast Asia. The report finds that 15 institutions, which are part of either the Net-Zero Banking Alliance, Net-Zero Asset Owners Alliance, or Net Zero Asset Managers initiatives, have provided USD 1.4 billion in loans and bonds to crude oil and gas companies between 2016 and 2022.
The Asian financiers of the gas industry include CIMB Bank, Mizuho Financial and Nomura Holdings. Public institutions, including the Asian Development Bank, Korea Development Bank, Export-Import Bank of Korea, Thailand's Government Savings Bank, Export-Import Bank of Thailand, Japan's Japan Bank for International Cooperation and Nippon Export and Investment Insurance, are also involved.
Findings like these make financial institutions' green pledges ring hollow. They also highlight the common greenwashing practices of these institutions.
Ending Financial Support Can End Fossil Gas
The report's authors urge financial institutions to align investment policy with the Paris Agreement. These institutes should also withdraw and stop financing projects that violate human rights and endanger people and the environment. Furthermore, banks should disclose all financial services provided to fossil gas-related operations and fossil gas companies. That way, overall impacts on the climate can become routinely checked.
Until financiers start acting responsibly, end fossil gas financing and shift investments towards the clean energy solutions that are already cheaper and readily available such as energy efficiency and renewable energy, Southeast Asia will continue being the last bastion of fossil fuels.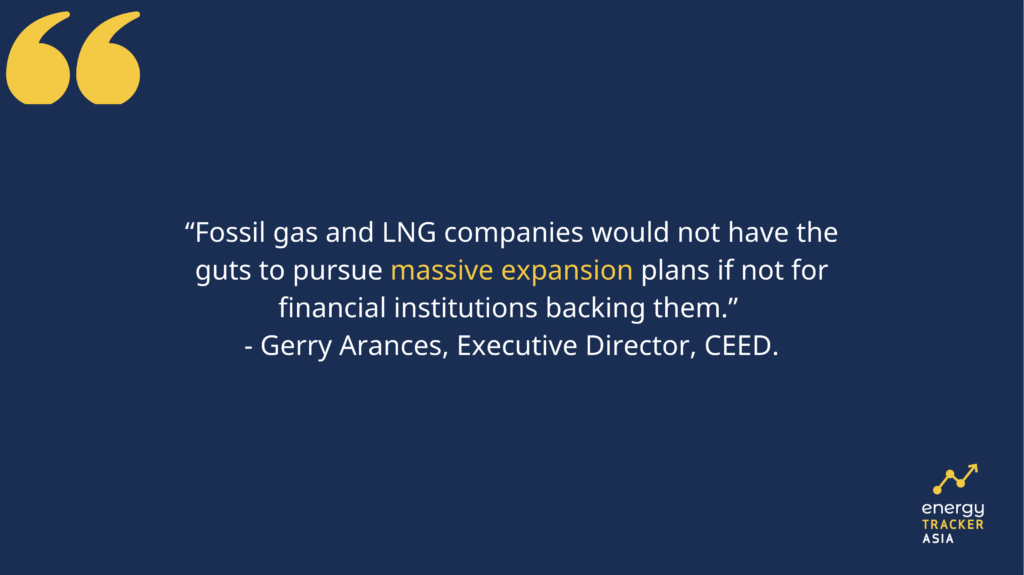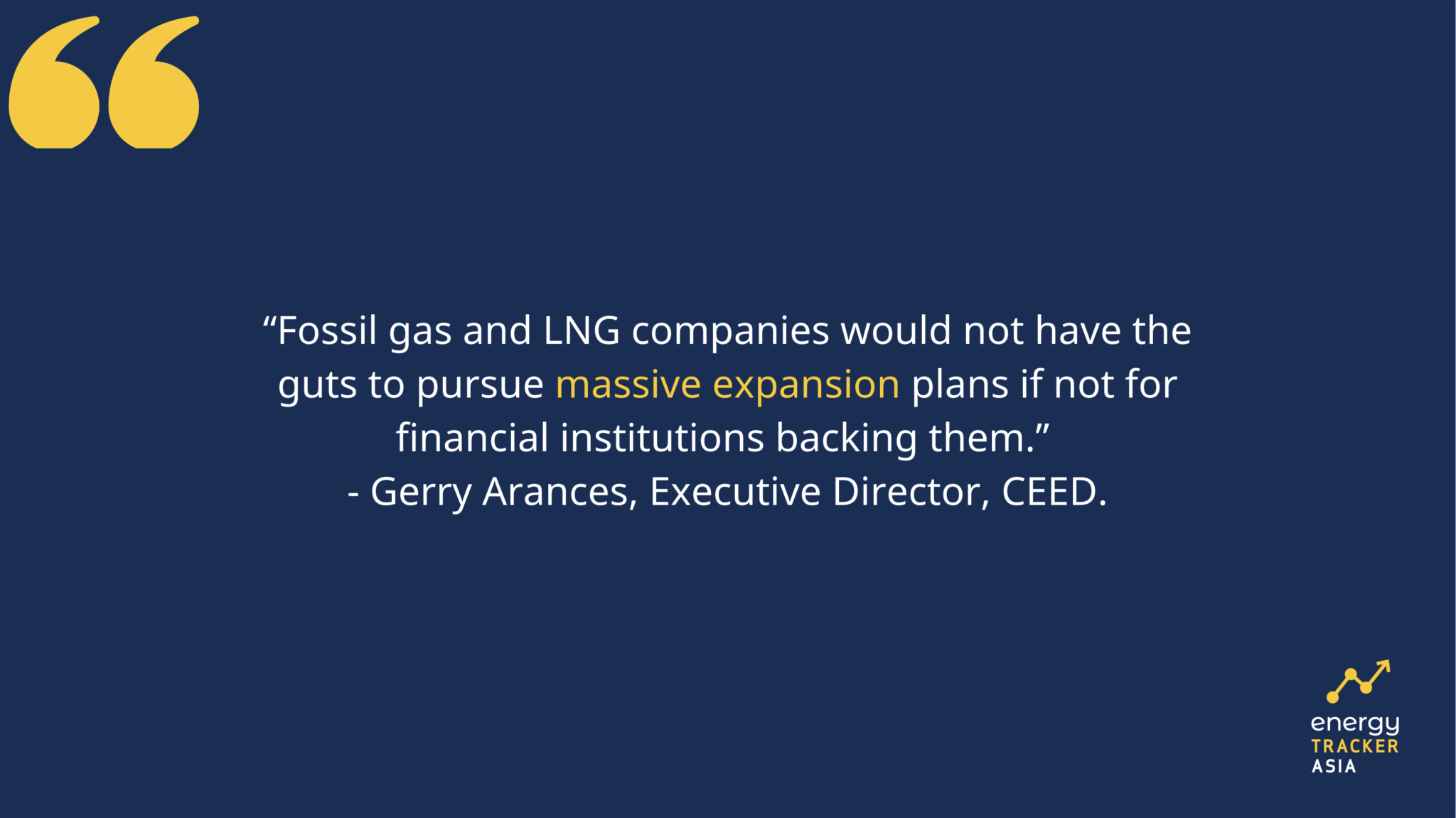 by Viktor Tachev
Viktor has years of experience in financial markets and energy finance, working as a marketing consultant and content creator for leading institutions, NGOs, and tech startups. He is a regular contributor to knowledge hubs and magazines, tackling the latest trends in sustainability and green energy.
Read more