The Russia-Ukraine War and Its Impact on the LNG Market
The effect of the Russia - Ukraine war on the global LNG market is concerning for many and for Asian countries, it serves as a mirror of the risks that reliance on LNG poses.
11 March 2022 – by Viktor Tachev
Aside from its impact on the global LNG market, the Russia-Ukraine war has sparked a multifaceted global crisis. From the death of civilians to nuclear threats and devastating economic consequences, the war has taken a toll on the international community. And while dealing with these issues is of utmost importance, the focus of our analysis falls on the energy crisis, energy security and the war's fundamental disruptions to the global LNG market.
Top Natural Gas Producers: Russian Gas and Its Importance to the Global LNG Market
Russia is home to the world's largest gas reserves. The country is the second-largest natural gas producer globally after the United States.
In the next 15 years, the country plans to increase its LNG capacity and output almost threefold to 140 million tonnes. If the plans are successful, its share in the global LNG market will grow from the present level of 8% to potentially up to 30%.
Today, the country exports LNG mainly to Europe and Asia through several critical gas pipelines. As of 2021, Russia's share of the gas supply accounts for 32% of the total gas demand in Europe, up from 25% in 2009.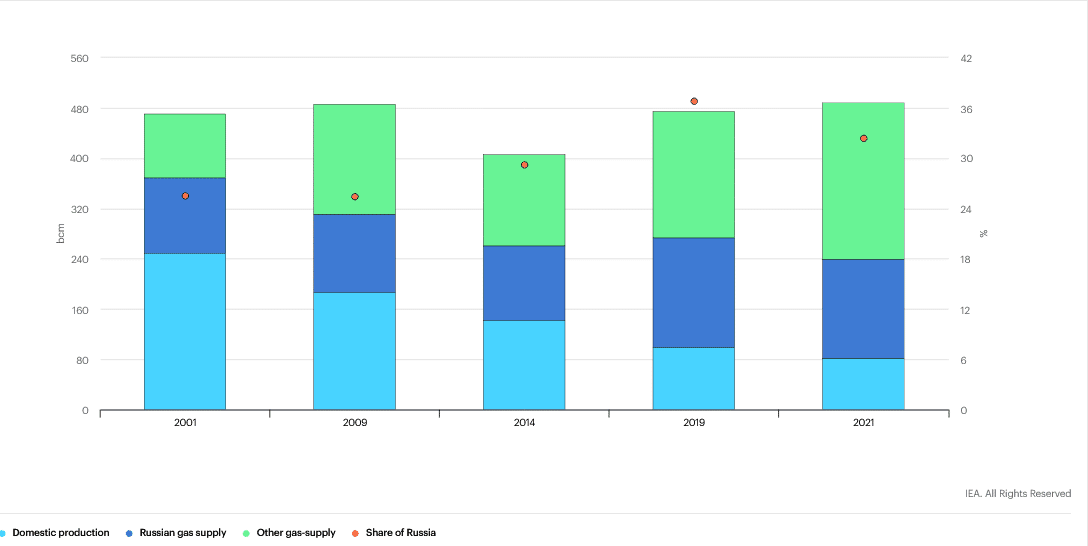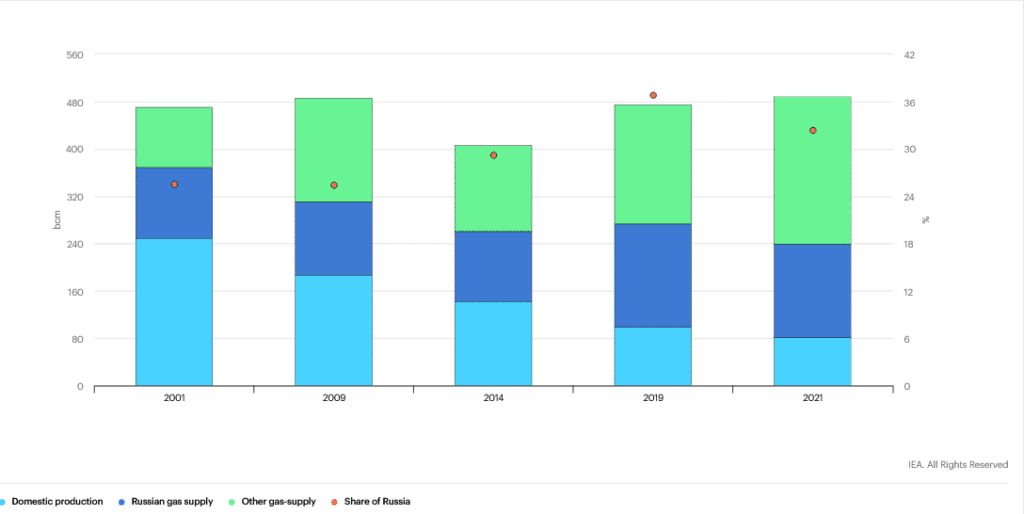 Asia is also growing increasingly dependent on Russian LNG imports. Since 2019 China has been importing Russian LNG. In 2021 alone, it received 16.5 billion cubic metres of gas. Furthermore, in February 2022, China and Russia signed a 30-year gas deal to further strengthen their gas import and export relations.
Russia currently satisfies close to 9% of Japan's LNG needs. Other Asian countries also rely on Russia for oil and gas imports, although to a lesser extent.
Still, studies project that if nations like Japan, India and South Korea focus more on import opportunities, it could create 3 trillion cubic metres' worth of annual market potential for Russian LNG.
The Consequences of the Russia-Ukraine Crisis on the Global LNG Market
Considering that oil and gas sales help fund Russia's economy and its ability to maintain its war operations, global superpowers, including the EU, the US, Japan and Canada, have decided to introduce a package of economic sanctions. Biden administration banned Russian oil imports after Russia's invasion of Ukraine.
The market was quick to respond. First, the spot market prices of natural gas reached new heights.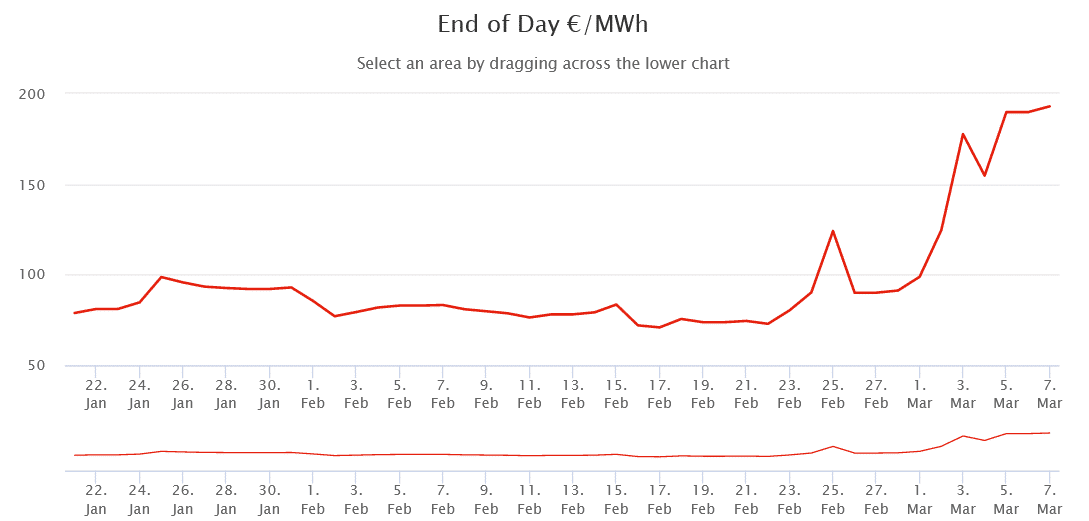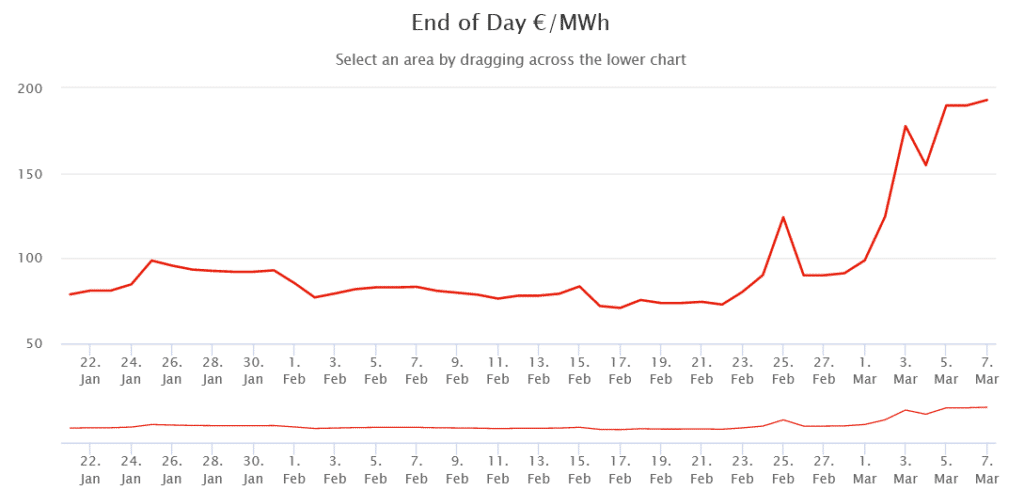 Meanwhile, the Russian Security Council's Deputy Chairman Dmitry Medvedev has commented that natural gas prices will rise to €2,000 per 1,000 cubic metres – a statement that is looking more realistic by the day.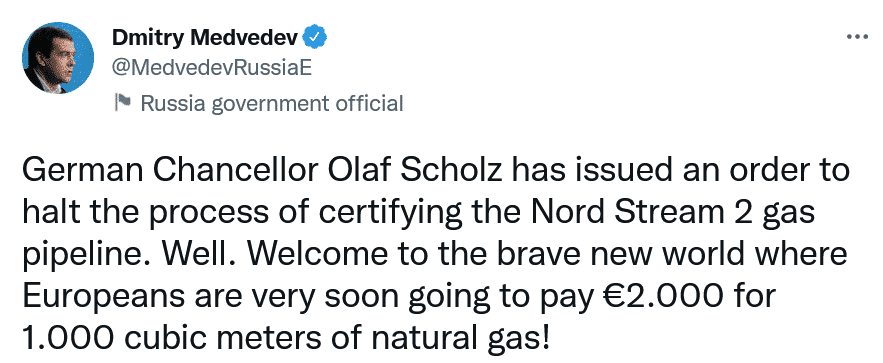 The EU announced that it is considering halting gas imports from Russia. If the move materialises, Europe's gas reserves could deplete, with many nations having to consider alternative sources to fulfill their energy needs. Naturally, this would lead to higher energy prices on a global scale.
Countries like the UK, Spain and the Netherlands are actively working on cutting their gas demands. Furthermore, Europe is already speeding up its efforts on the climate policy front. EU leaders recently committed to raising climate finance levels to USD100 billion by 2022.
Russian LNG exports to Germany
Furthermore, the ongoing situation has served as a wake-up call for Germany, which gets 32% of its gas imports from Russia, to reconsider its imports. First, it has stopped the certification process for the Nord Stream 2, a major LNG pipeline project connecting northern European countries and Germany with Russia. The project later filed for bankruptcy. To compensate, the German government announced the rapid construction of an LNG terminal to reduce its reliance on Russian imports.
Furthermore, Germany announced that it aims to receive 100% of its energy from renewables by 2035.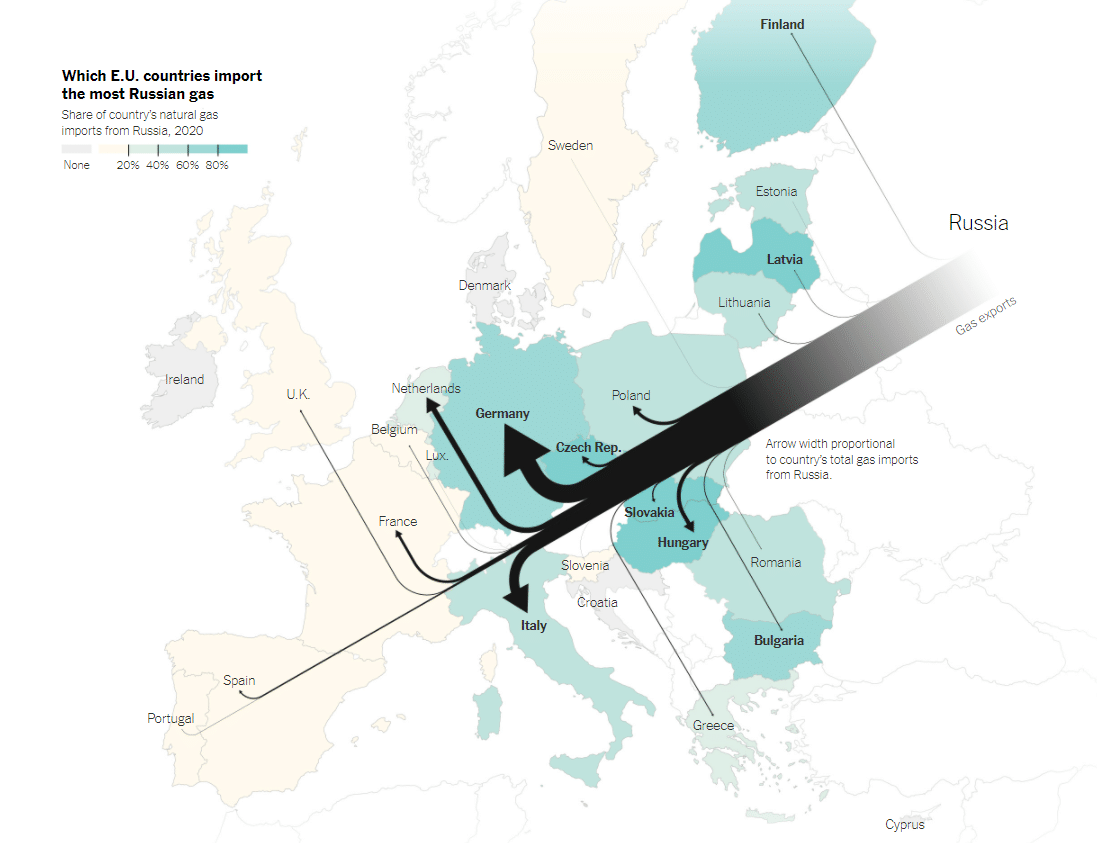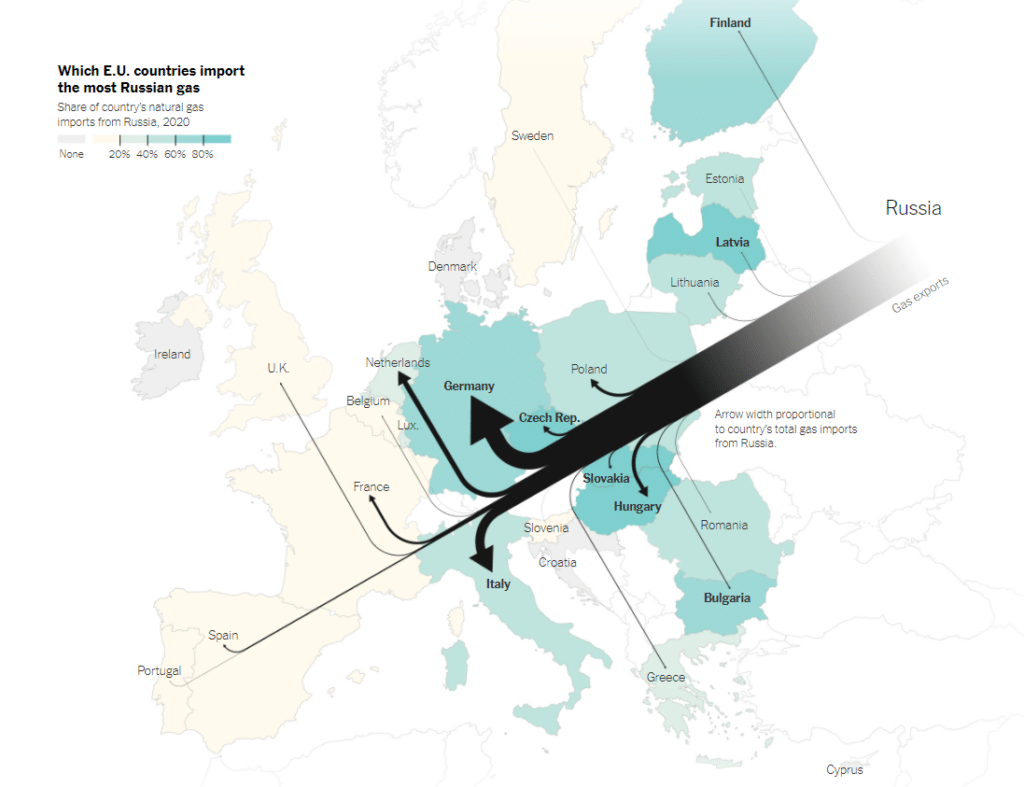 The Impact on Asian Countries
Major oil and gas companies are leaving Russia, and European countries are also reconsidering their import relationship with the country. However, it seems that Asian buyers, such as Japan, remain on the fence. The main reason is their vested interests.
As the region relies on imports, the natural gas situation is bound to affect economic stability. And while the EU can afford to pay more for high prices of gas, many developing countries in Asia would struggle. As a result, this would leave them unable to ensure an adequate supply.
Currently, many Asian countries are partially protected from price hikes due to their long-term LNG supply contracts. However, while this is positive, it won't solve the overarching financial and non-financial risks associated with increased natural gas reliance.
In a nutshell, experts believe that the Russia-Ukraine war will spur on Asia's energy transition. As a result, these countries will begin to look towards clean energy alternatives. These alternatives can serve as a crucial hedge against future disruptions to the global commodity markets.
Furthermore, the economic sanctions imposed on Russian banks may affect some Japanese and Chinese financial institutions. According to a recent analysis, project financiers for several Russian-related LNG projects, including the Japan Bank for International Cooperation, the China Development Bank and the Export-Import Bank of China, are at risk of being affected by the sanctions.
Liquefied Natural Gas (LNG) as a Threat to Global Stability
The Russia-Ukraine war has brought the issue of LNG imports to the forefront of the conversation. This has possibly triggered the acceleration of an energy transition. While experts tout the belief that gas is being used as "a weapon of war", nations are reconsidering what they import and from whom they import it.
Fortunately, through the recent actions of the international community, leaving LNG behind isn't just wishful thinking. For example, in Europe, IEA recently provided a 10-Point Plan for reducing reliance on Russian gas supplies by over 30%.
As the global LNG market goes through unprecedented shifts, recent events have highlighted the pitfalls of the supply and demand system. This has become the catalyst for governments to look for new energy infrastructure and energy investments likely to provide security and long-term stability.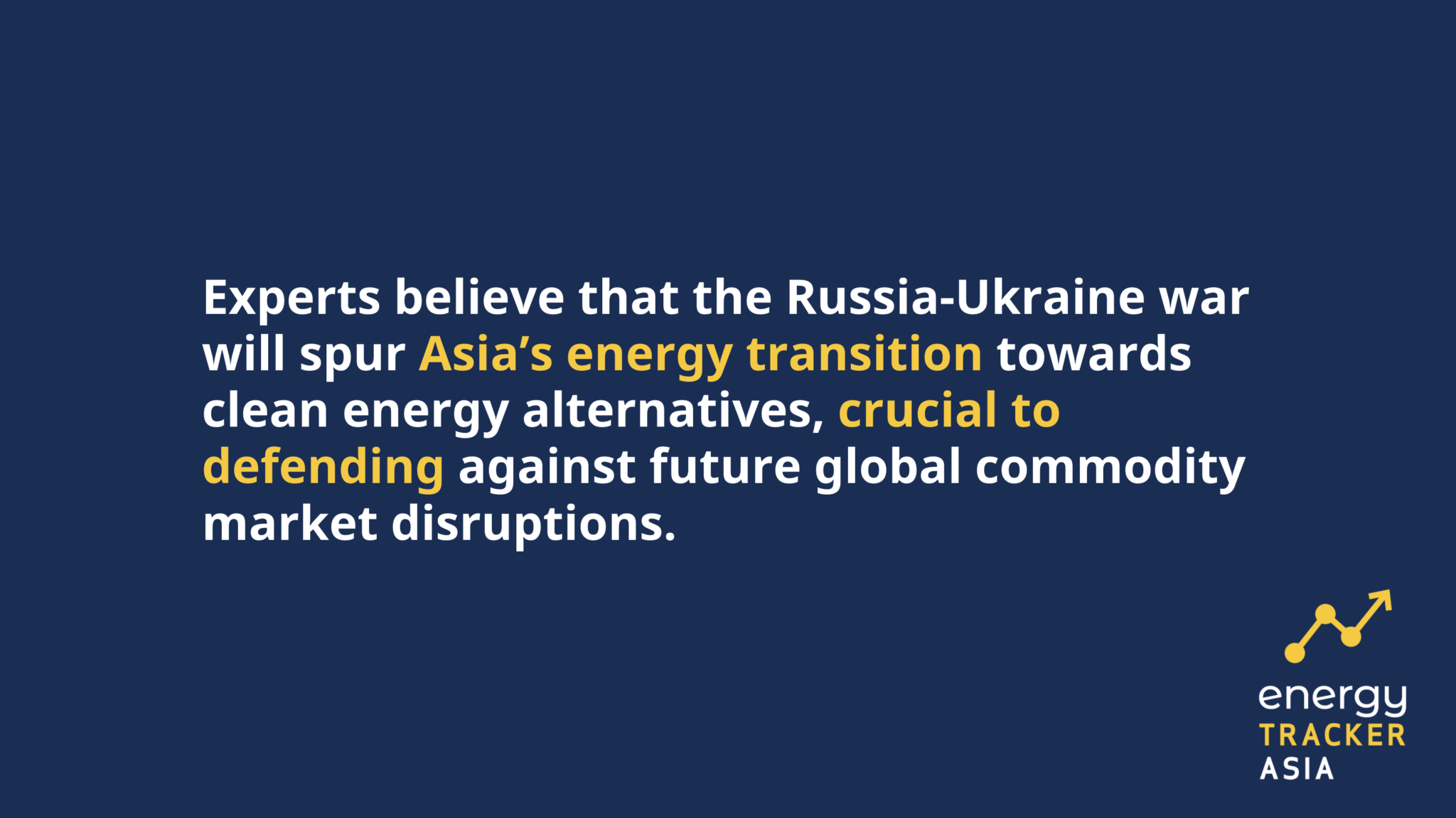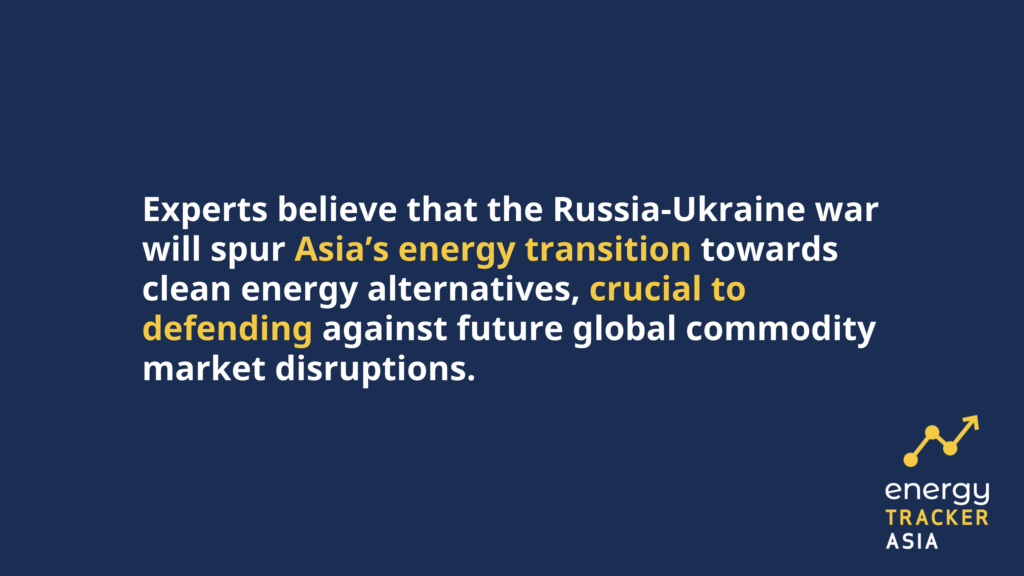 by Viktor Tachev
Viktor has years of experience in financial markets and energy finance, working as a marketing consultant and content creator for leading institutions, NGOs, and tech startups. He is a regular contributor to knowledge hubs and magazines, tackling the latest trends in sustainability and green energy.
Read more