The Risks of the Continued Reliance on Oil and Gas in South Korea
South Korea's green commitments are a breadth of fresh air for a world, strangled in carbon emissions. However, when we dig under the surface, we find that the country still isn't ready to abandon oil and gas. Going forward, this might expose the country to a universe of risks.
18 October 2021 – by Viktor Tachev
At first glance, the recent green energy pledges in South Korea show that the nation is finally turning a corner. The Green New Deal, the commitment to help developing countries with their green recoveries and the ambition to become a global leader in EV battery production are all promising signs for the country's net-zero future. However, when looking under the surface, not everything may be going according to plan. The oil and gas industry in South Korea is not only here to stay but projected to grow. Many see fossil fuels as transition fuels towards a renewable energy powered future.
The Dominance of Oil and Gas in South Korea
According to the Korea Energy Economics Institute (KEEI), oil and gas have a collective share of over 60% of the country's total energy supply. In comparison, the share of renewables floats around 6.0%. However, the country wants to change. As a part of its Green New Deal, South Korea aims to generate 20% of its power with renewables by 2030.
In terms of electricity production, coal is the leading source, responsible for 36%, with oil and gas trailing closely at 30%. Furthermore, between 2001 and 2019, gas generation surged 370%.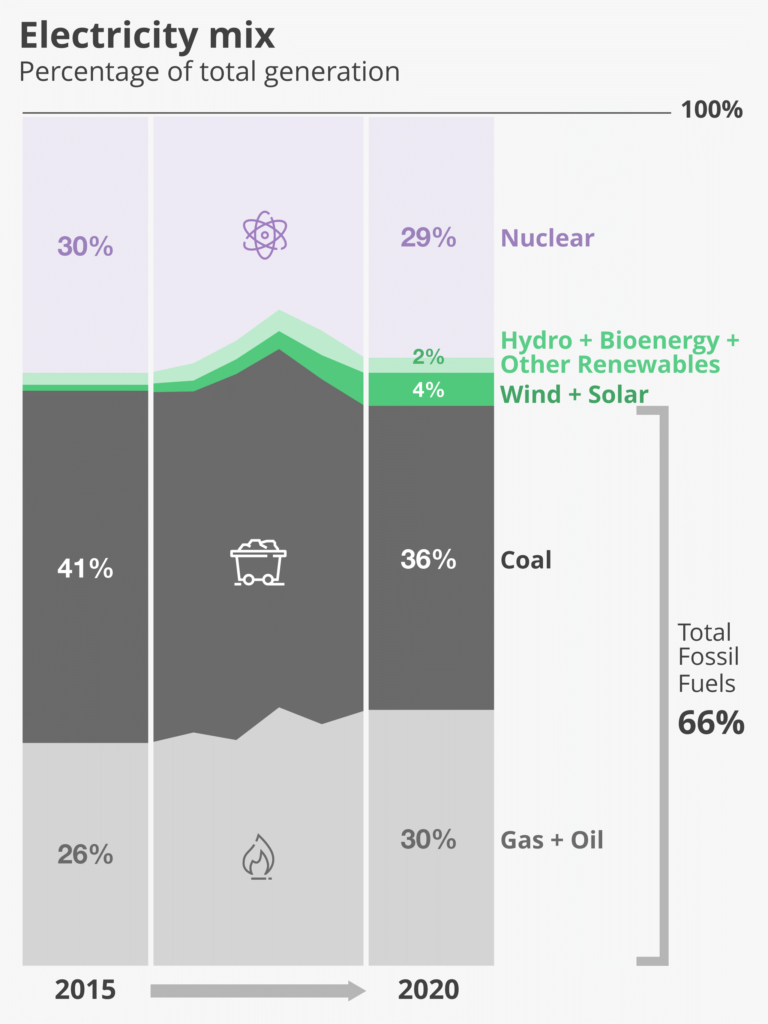 National and Corporate Interests in LNG are Growing
Recent trends both on a national, corporate and international level show the shift toward LNG is increasing opposed to decreasing in South Korea.
One of South Korea's largest conglomerates, SK Group, in November 2020 stated an aim to abandon new fossil fuel investments. However, accusations of greenwashing were directed at the company after funding a USD 1.4 billion LNG project.
South Korean financiers are also turning their attention to gas. GS Energy Corp announced that it would invest in a 3 GW LNG project in Vietnam.
Nationally, under the nations Ninth Basic Plan, gas power capacity will hit 40% totalling 57 GW by 2030 and 59 GW in 2034. Furthermore, several coal units will undergo conversion to run on natural gas reaching a 8 GW converted capacity by 2030.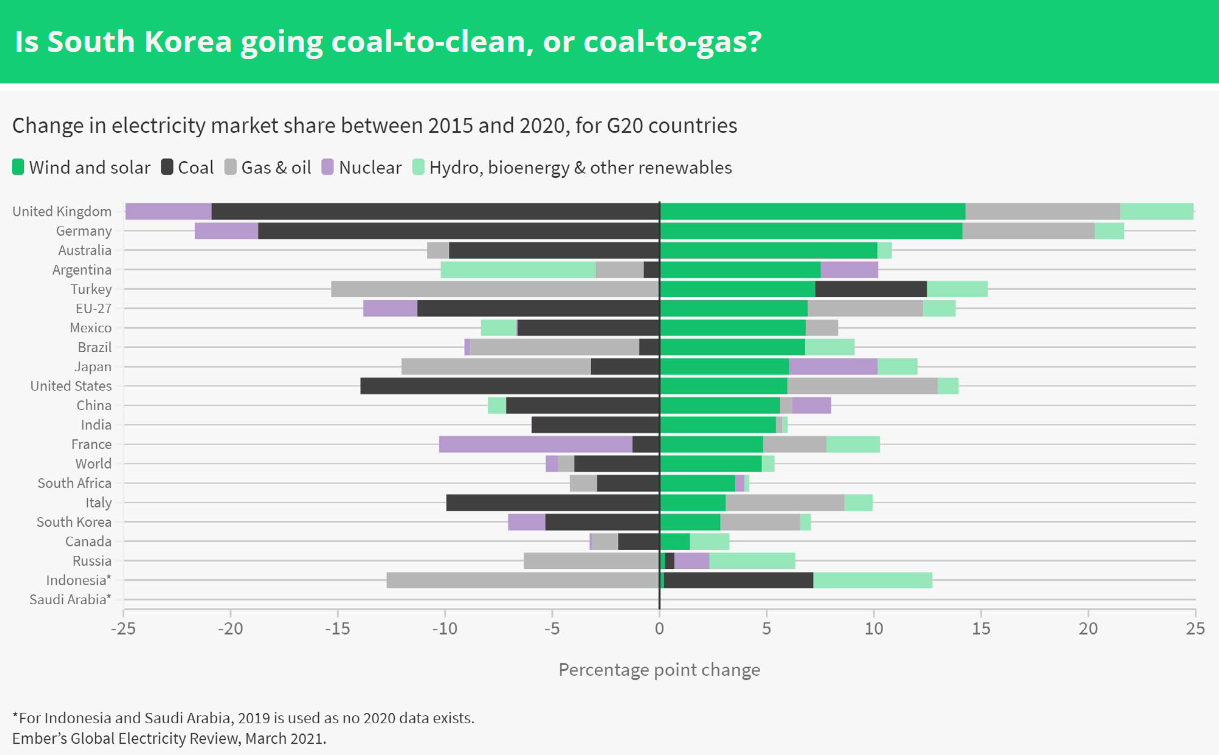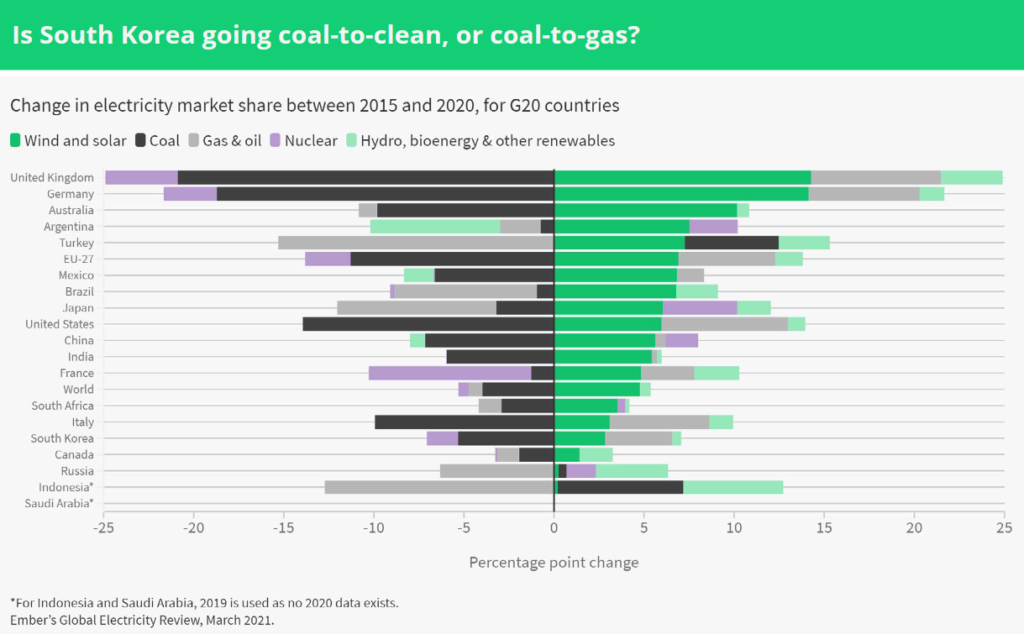 The Ninth Basic Plan calls for the closure of 20 coal plants by 2034, in addition to the 10-coal plants scheduled for closure in its previous edition. It also reveals the government's intention of adapting 24 state-owned coal units to run on gas with a 12.7 GW capacity. Plans like these suggest that South Korea sees gas as a centrepiece of its clean energy transition. However, faith in gas threatens to derail the country's climate commitments.
Financing of Oil and Gas in South Korea Is on the Rise
While South Korea declared to stop financing coal, its interests in fossil fuels – particularly oil and gas – remain strong. Globally, it is the fourth largest financer of fossil fuels behind China, Canada and Japan, respectively. In fact, compared to coal between 2011 – 2020, South Korea's public finance for oil and gas was 13 times larger.
During the last decade, the Export-Import Bank of Korea (KEXIM), Korea Trade Insurance Corporation (K-SURE) and Korea Development Bank (KDB) provided USD 127 billion in overseas oil and gas projects. In addition to this, according to Solutions to Our Climate's analysis, other South Korean companies providing financing towards fossil fuel projects include GS E&C, Daewoo E&C, SK Ecoplant, Hyundai E&C and Samsung C&T.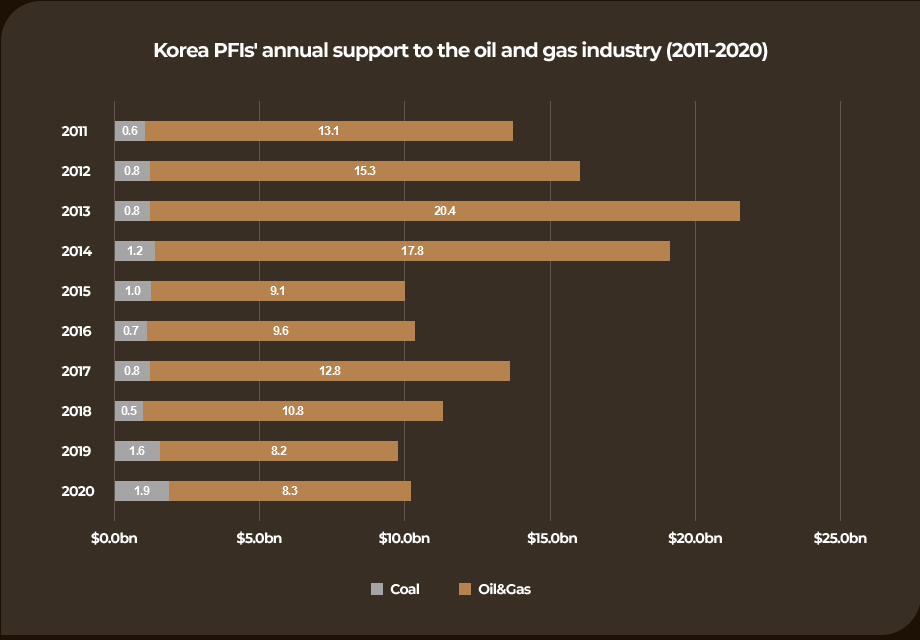 The Dependence on Oil and Gas in the Green Energy Age Carries Risks on All Fronts
South Korea's is targeting a greenhouse gas emissions reduction by at least 40% by 2030 from its 2017 levels. Currently, it is sitting at a 19% reduction mark that would need to scale up to 59% by 2030 to be in line with the Paris Agreement. This may be unreachable if South Korea decides to substitute coal for gas. If following this pathway, the country puts at risk more than being misaligned with the Paris Agreement.
Financial Risk
Oil and gas projects from an economic standpoint look grim. Analysts suggest such projects risk transforming into stranded assets worth up to USD 60 billion. To make matters worse, South Korea is already facing stranded risk assets – one of the highest in the world – from its prior investments in coal, totalling USD 106 billion.
"The coal replacement plan should not shift attention towards a long-term commitment to gas. This would simply imply a substitution from one type of stranded asset risk to another."

– Valeria Ehrenheim, Carbon Tracker for Channel News Asia
Increased stranded asset risks South Korea facing rating downgrades and compromised financial stability of public finance institutions.
Transition Risk
The public financing of fossil fuels – including gas – increases transition risks to South Korea's economy by locking in capital and jobs into infrastructure undergoing rapid out phasing. These investments are a looming threat of continued economic growth in line with a green recovery.
Environmental Risk
On a short-term time scale, methane (CH4) creates 30 times the warming impact compared to carbon dioxide (CO2). Methane makes up the majority of natural gas and experts agree this makes it a serious concern for climate change. Actions reducing methane and carbon dioxide emissions alike are essential to reach the Paris Agreement of limiting warming to 1.5°C. Countries across the globe, including Ireland, Sweden, France and Australia are now halting LNG projects. South Korea would do well to follow suit.
Energy Dependency Risk
Becoming too reliant on gas and not diversifying its energy mix, South Korea risks becoming energy dependent on gas. This exposes it to price volatility, as it saw during a Northeast Asian gas price spike between 2020 and 2021. While it has increased import taxes on fossil fuels like coal, the country counterintuitively reduced taxes on gas imports by 80%. To make matters worse, South Korea is entirely dependent on LNG tanker shipments as it does not have access to international natural gas pipelines. Globally, it is the fourth-largest importer of LNG after Japan, the EU and China.
Oil and Gas in South Korea – the Next Roadblock in the Net-Zero Journey
Carbon Tracker describes South Korea's strategy to shift coal production into LNG as a game of "whack-a-mole". Replacing existing coal capacity with LNG risks compromising the country's net-zero goal. It also lacks economic reasoning because the Levelised Cost of Electricity (LCOE) of utility-scale solar PV, along with onshore and offshore wind, is already cheaper than the LCOE of gas.
South Korea is now at a crossroads. Between 2015 – 2020, it had one of the lowest levels of wind and solar growth among the G20 countries. If South Korea is looking towards carbon neutrality, LNG should not be the go-to strategy. Indeed, other nations across the globe prove this.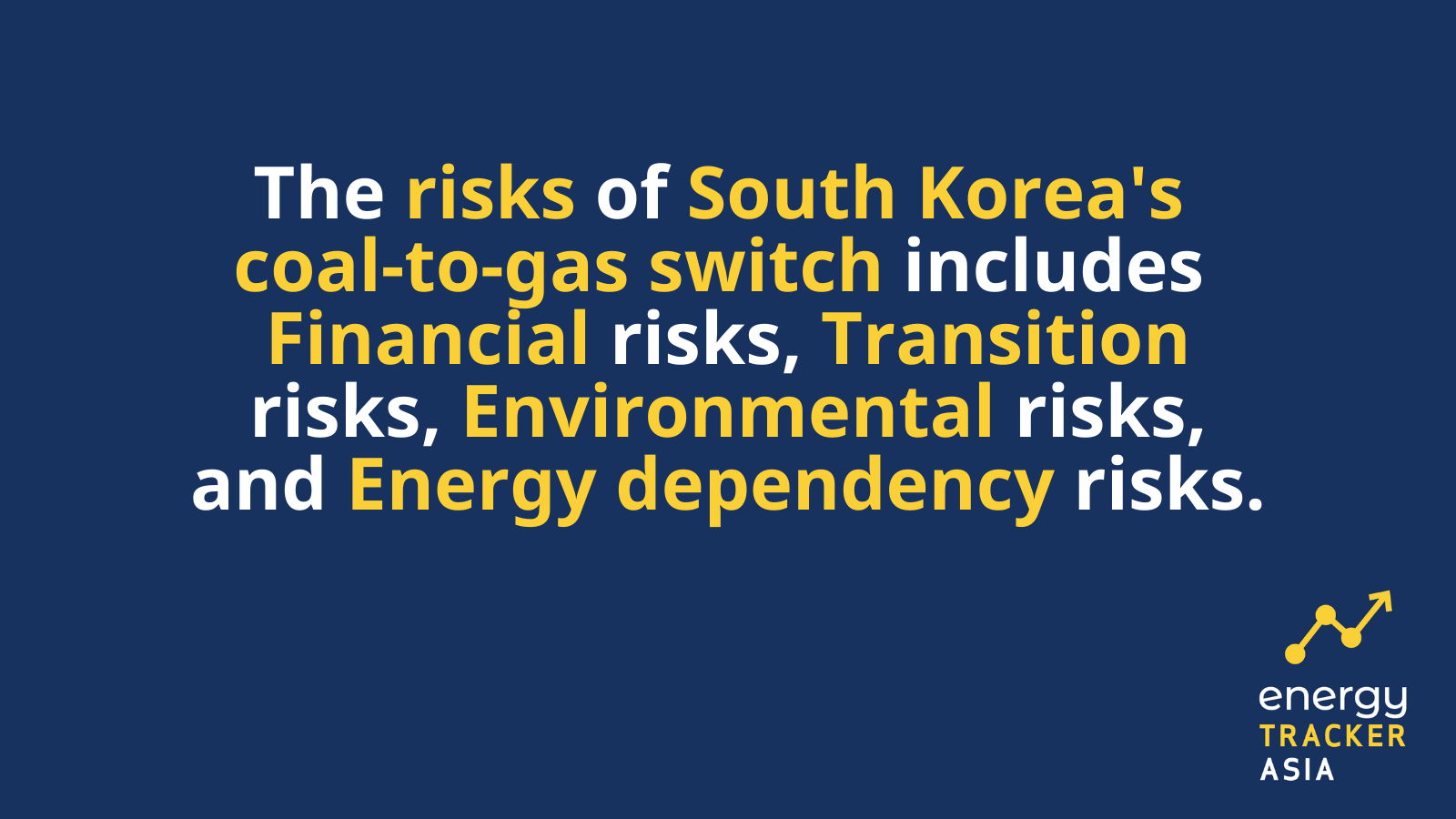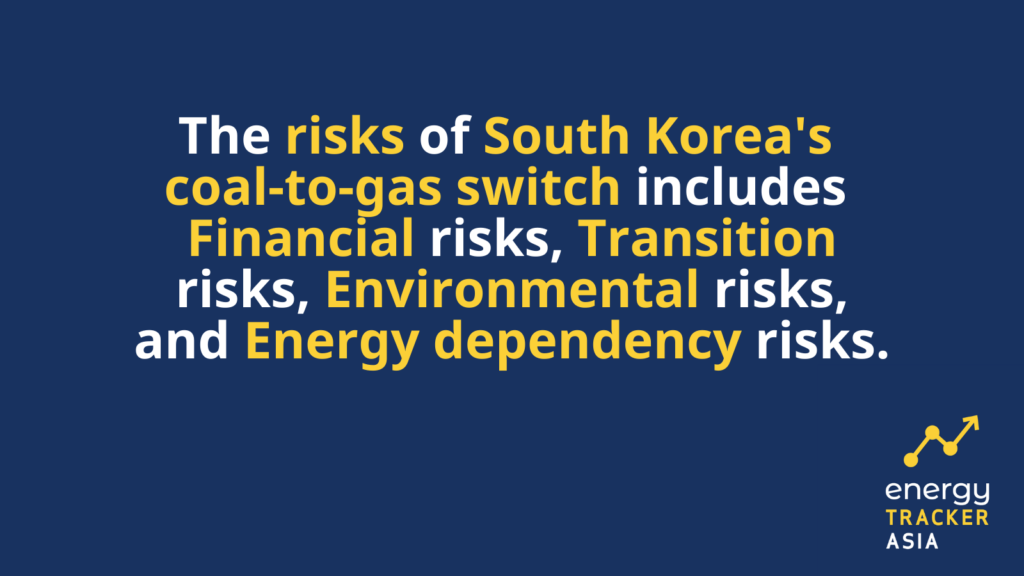 by Viktor Tachev
Viktor has years of experience in financial markets and energy finance, working as a marketing consultant and content creator for leading institutions, NGOs, and tech startups. He is a regular contributor to knowledge hubs and magazines, tackling the latest trends in sustainability and green energy.
Read more