Innovation as the Driving Force Behind the Transition to Renewable Energy in South Korea
Compared to other countries, the pace of South Korea's renewable energy transition leaves a lot to be desired. However, the latest Green New Deal shows the officials' determination to change the country's course, but will it be enough?
07 October 2021 – by Viktor Tachev
Last updated on 04 November 2021
In July 2020, South Korea announced its Green New Deal, a development strategy to speed up the post-pandemic recovery and empower its net-zero transition. The international public lauded the plan as "the first Green New Deal in Asia." The recognition meant the ruling Democratic Party was showing ethical leadership and a willingness to change. A few months after the deal, we look at what it means for the transition to renewable energy in South Korea to examine how realistic the plan is and what we can expect going forward.
South Korea's Green New Deal
Under its Green New Deal, South Korea will invest 73 trillion won (approximately USD 63 billion). The breakdown of the investments' recipient sections is as follows:
Green infrastructure – 12.1 trillion won (USD 10.4 billion);
Renewable energy – 24.3 trillion won (USD 20.8 billion);
Fostering green industry – 6.3 trillion won (USD 5.4 billion).
The goal is to use the fiscal stimulus to streamline the transition to renewable energy in South Korea and develop accompanying clean technologies while also creating jobs, growing the economy, and, most importantly – addressing climate change. The country plans to build eco-friendly energy infrastructures and promote energy efficiency. It aims at having renewables account for a 20% share in the total power mix by 2030. The government also wants to create 659,000 jobs.
Furthermore, the policy states that "the mobility, energy, technology and other types of climate-friendly industries will be strengthened in all possible ways." Among these are the development of commercial technology for large-scale carbon capture utilization and storage (CCUS), creating urban forests as a fine dust barrier, converting 227,000 public buildings into zero-carbon ones, introducing more than 1 million EVs on the roads, scrapping over 1 million diesel cars, and more.
"Many of these measures will help Korea not only to advance its energy transition but also to improve its energy security – a high priority given the country's limited domestic energy production."

– Dr. Fatih Birol, the IEA Executive Director
Comparing the Carbon Emission Reduction Targets to Other National Green Deals
South Korea's Green New Deal is not the first globally. In fact, the US and the EU have proposed similar strategies.
However, when comparing the three frameworks, it becomes evident that South Korea's Green New Deal is not as ambitious as the rest. The country's CO2 emission reduction target is set at just 37% from BAU by 2030 (24.4% from 2017). For comparison, the US deal targets 71% by 2030, while the EU one aims at 50 – 55% for the same period.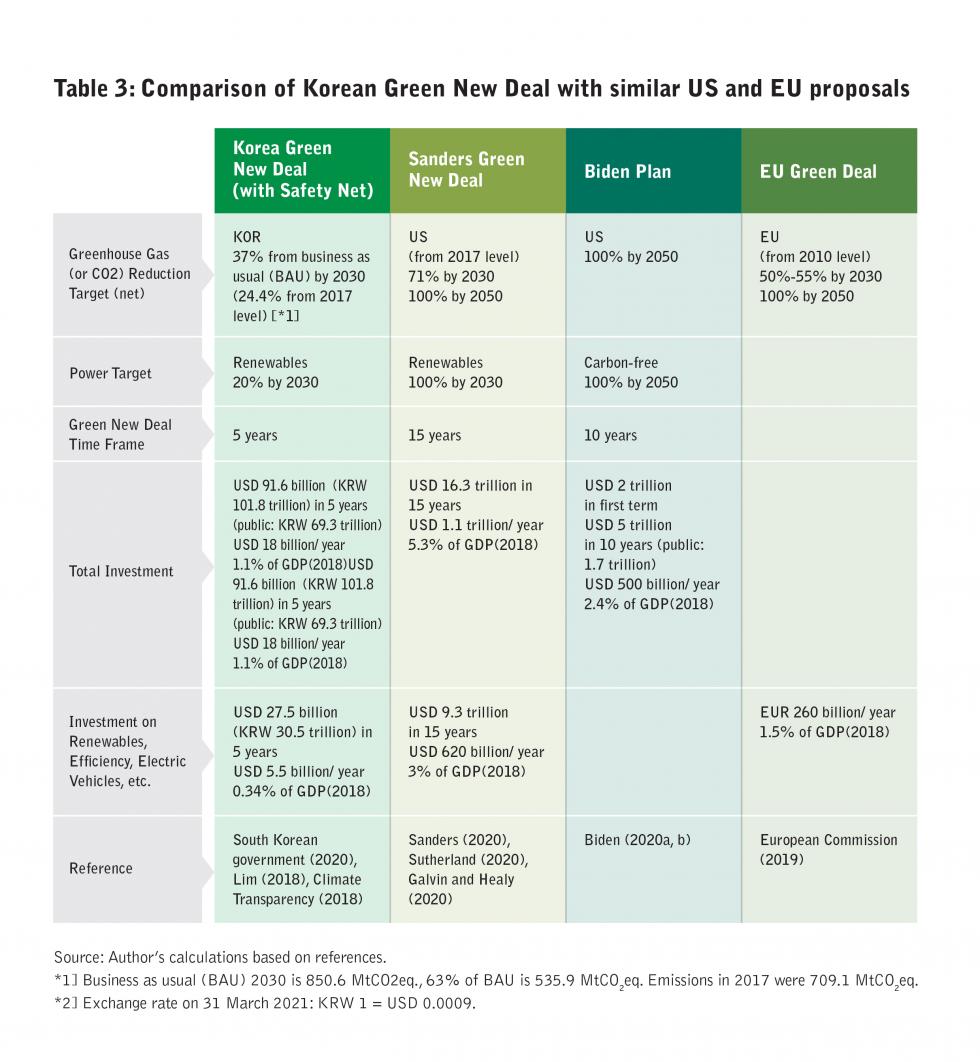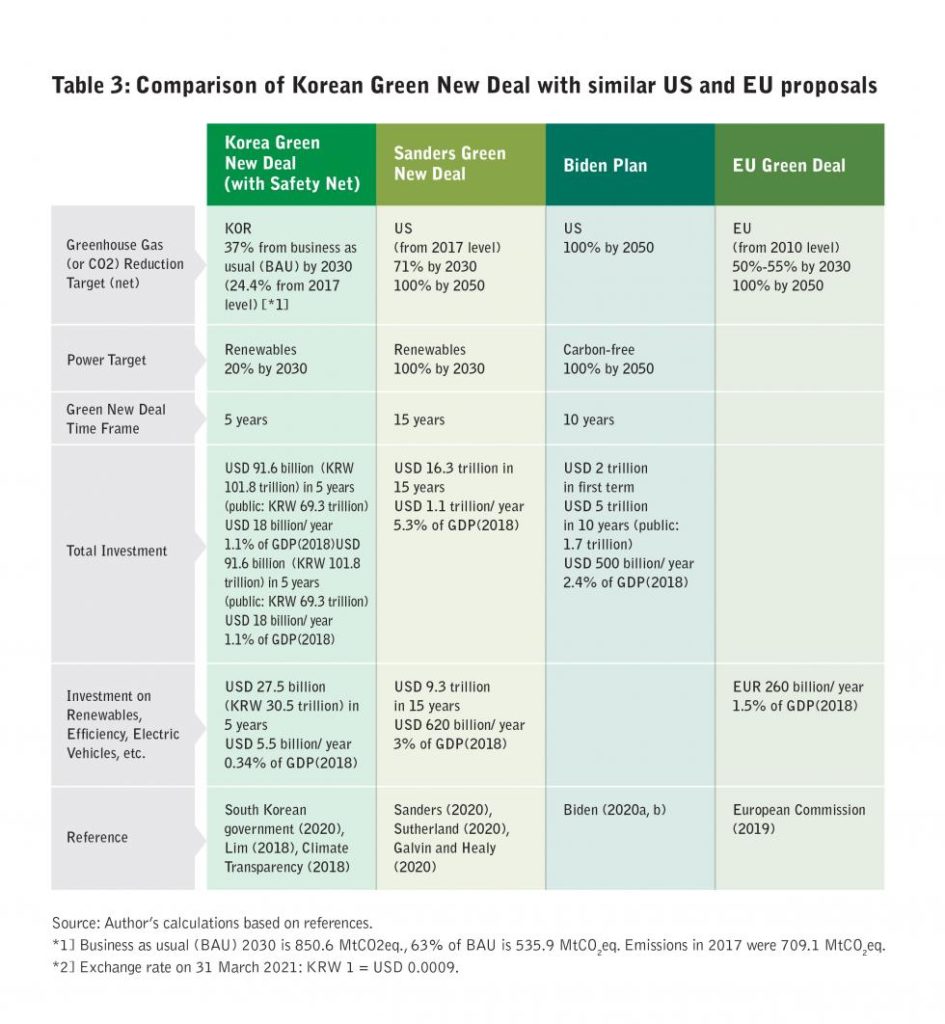 Korea Renewable Energy Targets Below 2010 Goals
Besides, Korea's targets are way under even the 45% from 2010 levels goal, suggested by the United Nations' Intergovernmental Panel on Climate Change (IPCC).
Upon criticism for insufficiency and lack of ambition, South Korea's President Moon announced that the country would update and present its emission targets in November 2021.
"South Korea has lagged behind other countries in renewable deployments to date, but declining costs and the 'New Green Deal' initiative will help the country to catch up in the next decade."

– Alex Whitworth, Wood Mackenzie's research director
Renewable Energy in South Korea Today – The Country's Profile
In 2018, South Korea had the lowest share of energy from renewable sources in energy supply among all IEA countries. According to Ember Climate, in 2020, wind and solar accounted for just 3.8% of South Korea's electricity. This is a mere 2.8% jump from 2015. Data from the Korea Energy Economics Institute (KEEI) reveals that renewables account for 6.4% of the country's energy mix. While the trajectory is optimistic, South Korea still retains the lowest renewables share in the total energy mix among all OECD members.
Making use of Renewable Energy Sources in the Coming Decades
The Korean government is determined to change that. It targets an increase in the share of renewable electricity to 20% by 2030 and up to 42% by 2034. The country is also determined to expand its solar and wind power to 42.7 gigawatts in 2025, up from 12.7 gigawatts in 2019.
Is the Green New Deal "Green" and Realistic Enough?
Public opinion is divided. Some analysts say the deal is "stunningly ambitious."
However, there are also voices raising concerns that Korea's plan is more grey than green. Others argue that the reform should not be called green at all. There is sound reasoning behind it. The country's policy might indeed focus on phasing out coal, but the question is for what? And the answer is not renewables.
South Korea plans to replace coal with LNG to provide baseload power and serve as a transition fuel. Тoday, the country is the world's fourth-biggest importer of LNG after Japan, the EU, and China. While LNG might produce far fewer greenhouse gases and air pollution than coal, it emits large amounts of methane, 25 times more potent than CO2.
Furthermore, Carbon Tracker estimates that an LNG-led transition in South Korea bears a USD 60 billion stranded asset risk.
Today, South Korea is one of the richest and fossil-fuel dependent countries globally. As such, it should not lag behind similar policies like those of the US and the EU. The country should have much more ambitious climate targets and projected investments as a share of GDP.
According to Climate Action Tracker, South Korea needs to aim at a 58% reduction below 2017 emissions to be compatible with a 1.5°C pathway and achieve net-zero in 2050.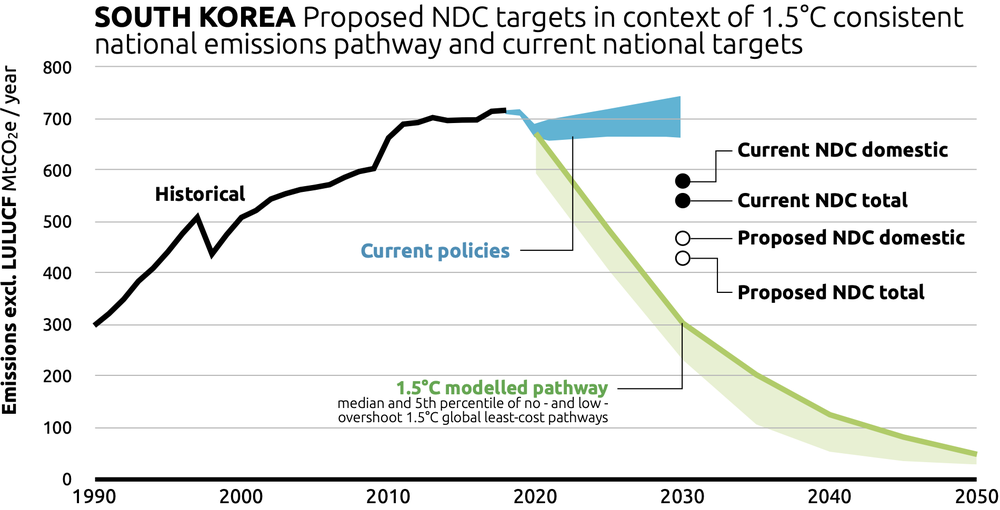 The Potential for a Seamless Transition to Renewable Energy in South Korea is Present
Many perceive South Korea as a climate villain. The country is one of the leading carbon polluters. However, the government is on a quest to erase that public image and become a green hero. While time will tell whether it succeeds, today, even the most ambitious plans seem insufficient.
Future renewable energy projects for South Korea
We should not forget that the country has the capacity, technology, and fiscal power to walk the talk. Furthermore, publicly expressing its dedication to a net-zero future, it is becoming an attractive investment soil. As the results from Global Climatescope's country profile analysis point out, South Korea has all the means to become a renewable energy powerhouse. And the boom in the short-term might be nothing short of remarkable for renewable energy projects.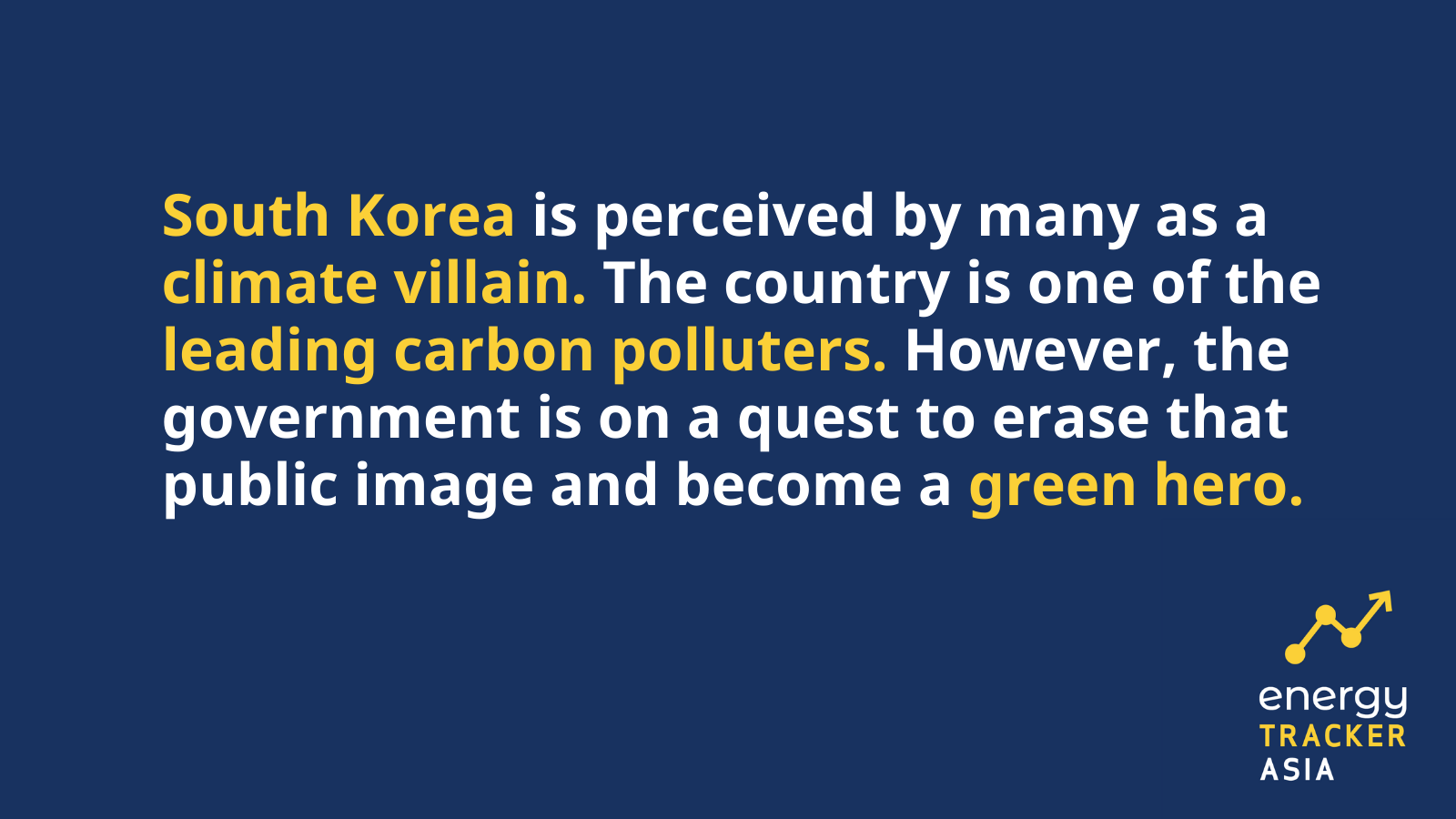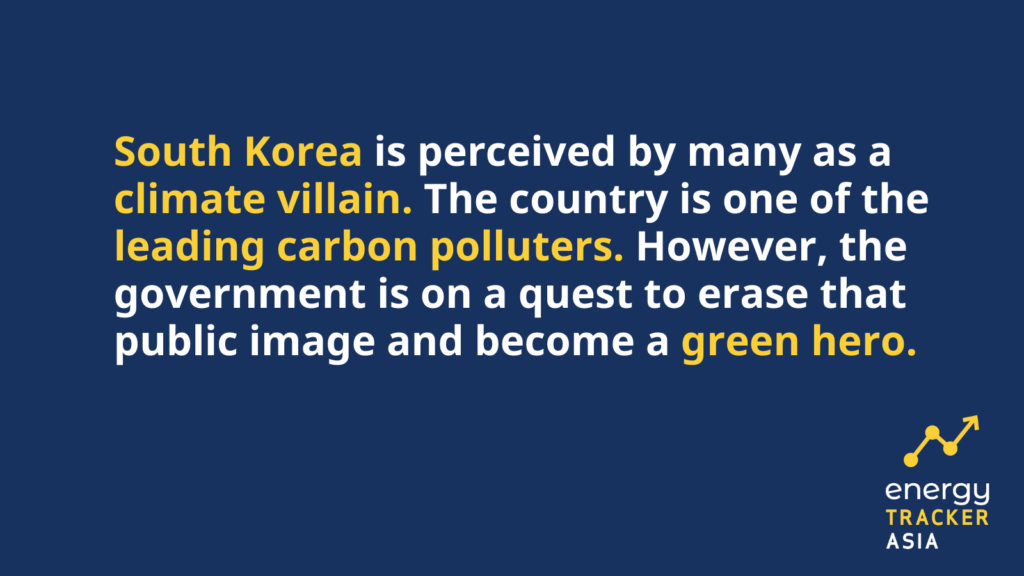 by Viktor Tachev
Viktor has years of experience in financial markets and energy finance, working as a marketing consultant and content creator for leading institutions, NGOs, and tech startups. He is a regular contributor to knowledge hubs and magazines, tackling the latest trends in sustainability and green energy.
Read more