South Korean Green Taxonomy Declared 'Gas is Green'
Han Gyual Oh / Shutterstock.com
The government's decision to include gas in the Korean green taxonomy risks jeopardising the country's net-zero plans. Investors and environmental groups were quick to raise concerns, stating that, as a fossil fuel, gas carries high financial and climate risks. The question is will the Korean government listen?
14 January 2022 – by Viktor Tachev
Last updated on 08 February 2023
Gas is now a sustainable investment in South Korea as far as the Korean green taxonomy is concerned. In its proposed form, Korea's new guidelines undermine its climate target of cutting 40% of its carbon emissions by 2030. Similarly, Germany and Austria have done the same and are experiencing fierce backlashes by labelling gas as green. If Korea doesn't want to distance ESG investors, it may have to revisit its decision.
The South Korean Green Taxonomy
After discussions lasting over two years, on the 30th December 2021, the Korean government announced the plans for its green investments classification system. The so-called "K-taxonomy" states that natural gas power plants that produce emissions below 340g of CO2/kWh will temporarily be classified as "green" from 2030 to 2035. This move allows investors and financial institutions to issue green bonds or provide project financing for liquefied natural gas (LNG) projects. It will increase fossil fuel-related projects.
Korea's tolerance for gas is well-documented. Yet, what makes its latest move baffling is its contradiction to its government's research and net-zero forecasts. The analysis finds that carbon neutrality by 2050 is possible only if the country halts all fossil fuels, including LNG. Curbing greenhouse gas emissions and sustainable development will not be possible in the presence of these types of economic activities.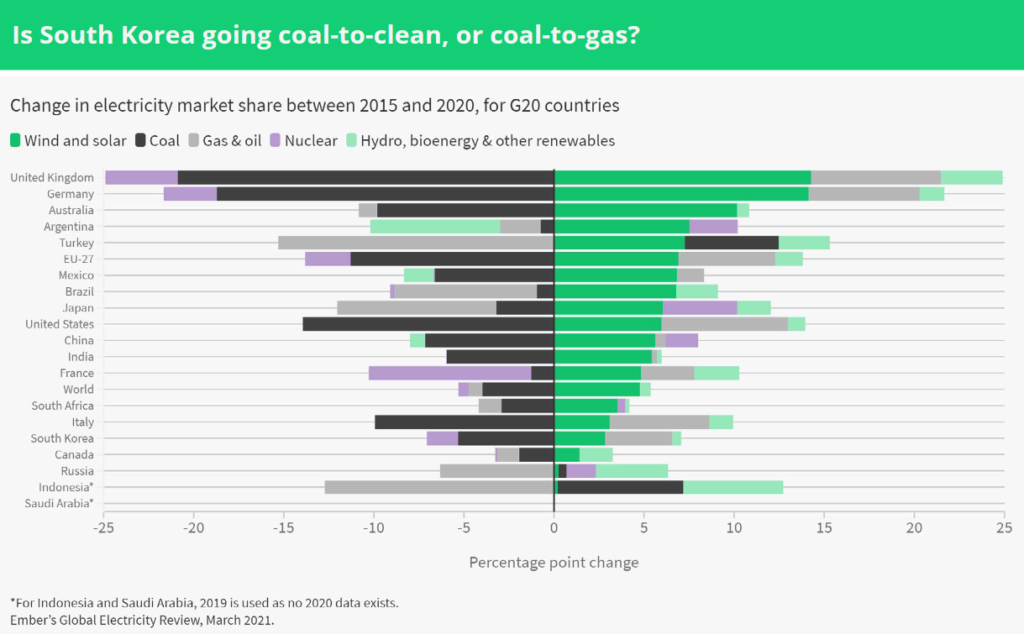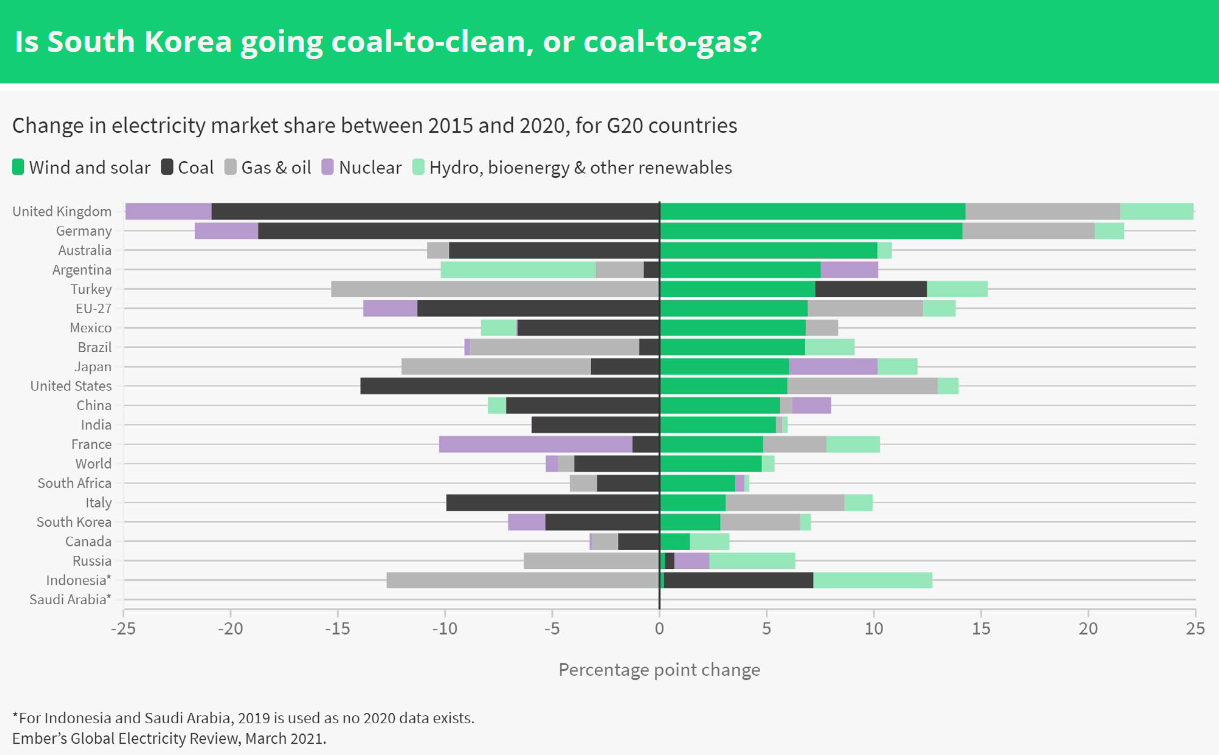 Korean Green Taxonomy vs EU Green Taxonomy
The sustainable finance taxonomy proposed by the European Union (EU) has also identified gas as green. It advocates for the fuel's contribution to decarbonising the EU's economy by stating that it will "facilitate the transition towards a predominantly renewable-based future." South Korea's Ministry of Environment echoes the sentiment and describes LNG as "a necessary transition fuel for the net-zero transition."
However, there is one caveat in the EU's draft guideline, which allows for up to 270g of CO2/kWh. This is a significantly lower threshold than the Korean taxonomy. Still, the EU's green taxonomy has already received widespread backlash and may force authorities to reverse their decision. Legally speaking, experts warn that the EU could be breaching its laws by labelling gas as green.
Compared to the EU, the Korean decision to label gas as green, as shown by a previous Energy Tracker Asia analysis, could prove to be disastrous and damaging for green economic activities and climate risk management. The result could see an even slower transition towards its net-zero goals, as clean energy progress in Korea is already sluggish.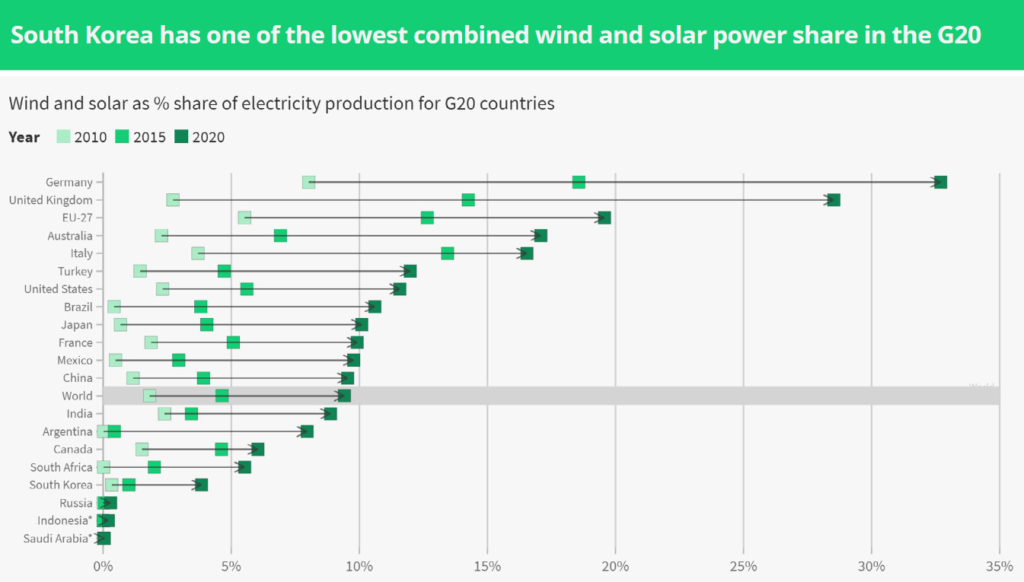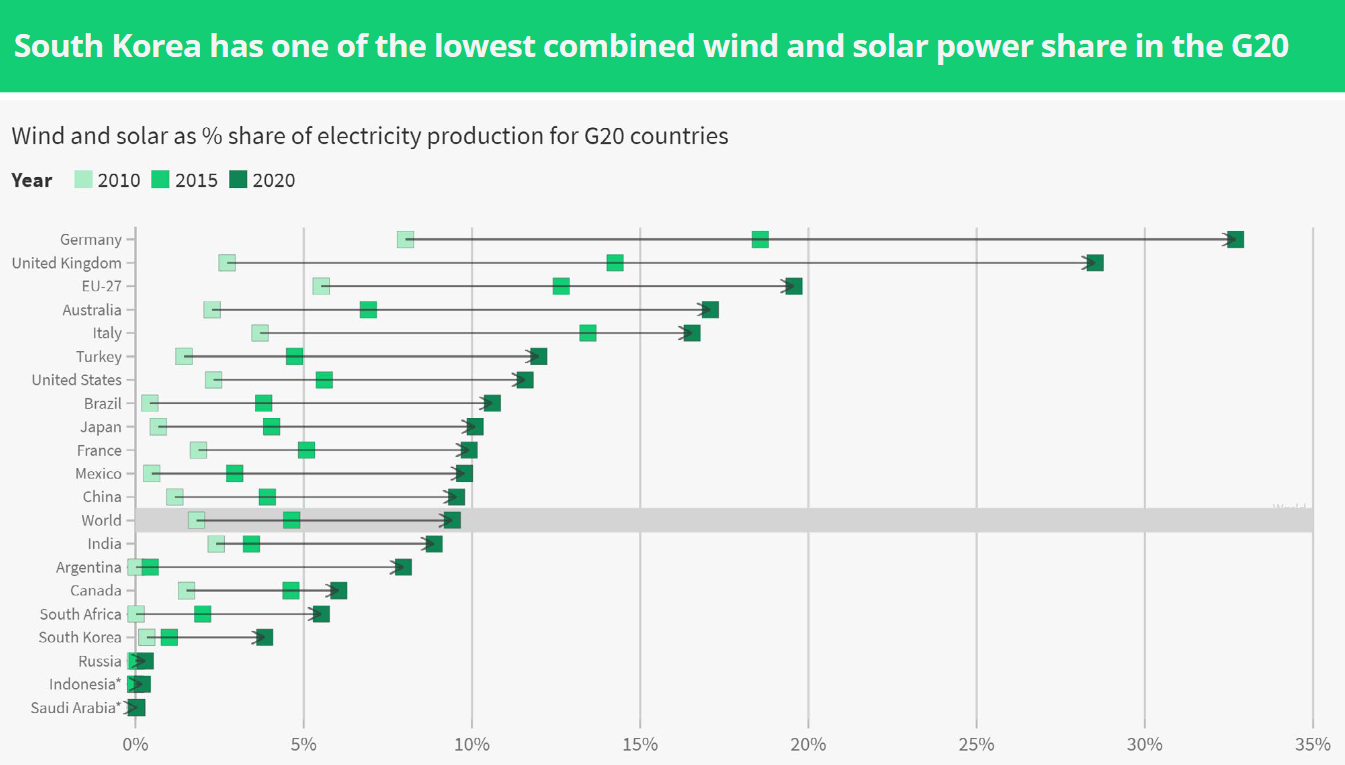 Gas in Green Taxonomies – A Growing Trend in Asia
LNG's status as a sustainable investment isn't recognised only within the EU's and Korea's green taxonomies. Worryingly, is it now a part of a growing number of green taxonomies across Asia, except for China, which has already excluded all fossil fuels – including gas – from its green taxonomy.
Green Finance and Green Industries
Green finance can be defined as "the use of capital for projects or businesses that generate positive environmental outcomes." Instead of declaring liquefied natural gas a sustainable investment, Korea should emphasise green finance and green industries more to achieve environmental objectives.
The Implications of Identifying Gas as a Sustainable Investment and Environmental Objectives
Korea is home to one of the most carbon-intensive industrial sectors globally. Consequently, the country's economy urgently needs decarbonisation, and labelling gas as green does not bode well for its net-zero goals. It threatens to distort finance concentration and divert investments from renewables towards gas projects. In other words, it could see investors retreating from the Korean energy market, as it will be associated with more financial, transitional and environmental risks.
Above all, the decision sends a discouraging signal to ESG investors. The Institute for Energy Economics and Finance warns that including gas in regional taxonomies could deter investors concerned about greenwashing accusations. That is to say, Korea's decision certainly isn't immune to such charges.
The Bottom Line
Governments worldwide are continuously reminded that the opportunity to keep global warming below 1.5°C is quickly slipping out of reach. Including fossil fuels like gas into green taxonomies does nothing but accelerate climate change. Furthermore, including natural gas in the conversation contradicts promises made at COP26 climate negotiations.
Korea finds itself in a precarious position if it wants to continue portraying itself as a clean energy leader in Asia. By viewing gas as green, Korea risks losing ground to China in leading Asia's clean energy revolution and climate-aligned finance. Above all, Korea's move paves the way for investors to clearly see where greenwashing risk lies.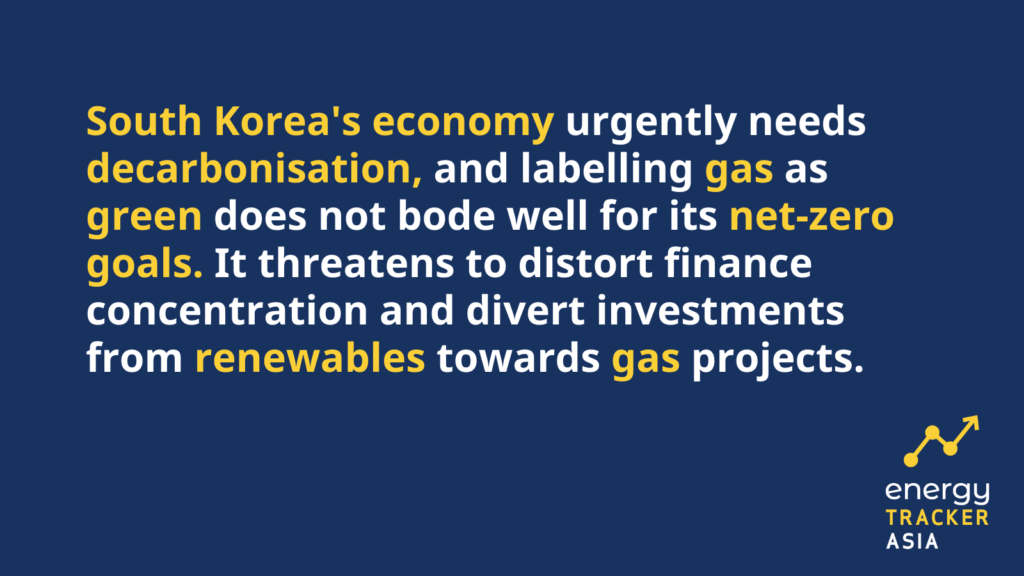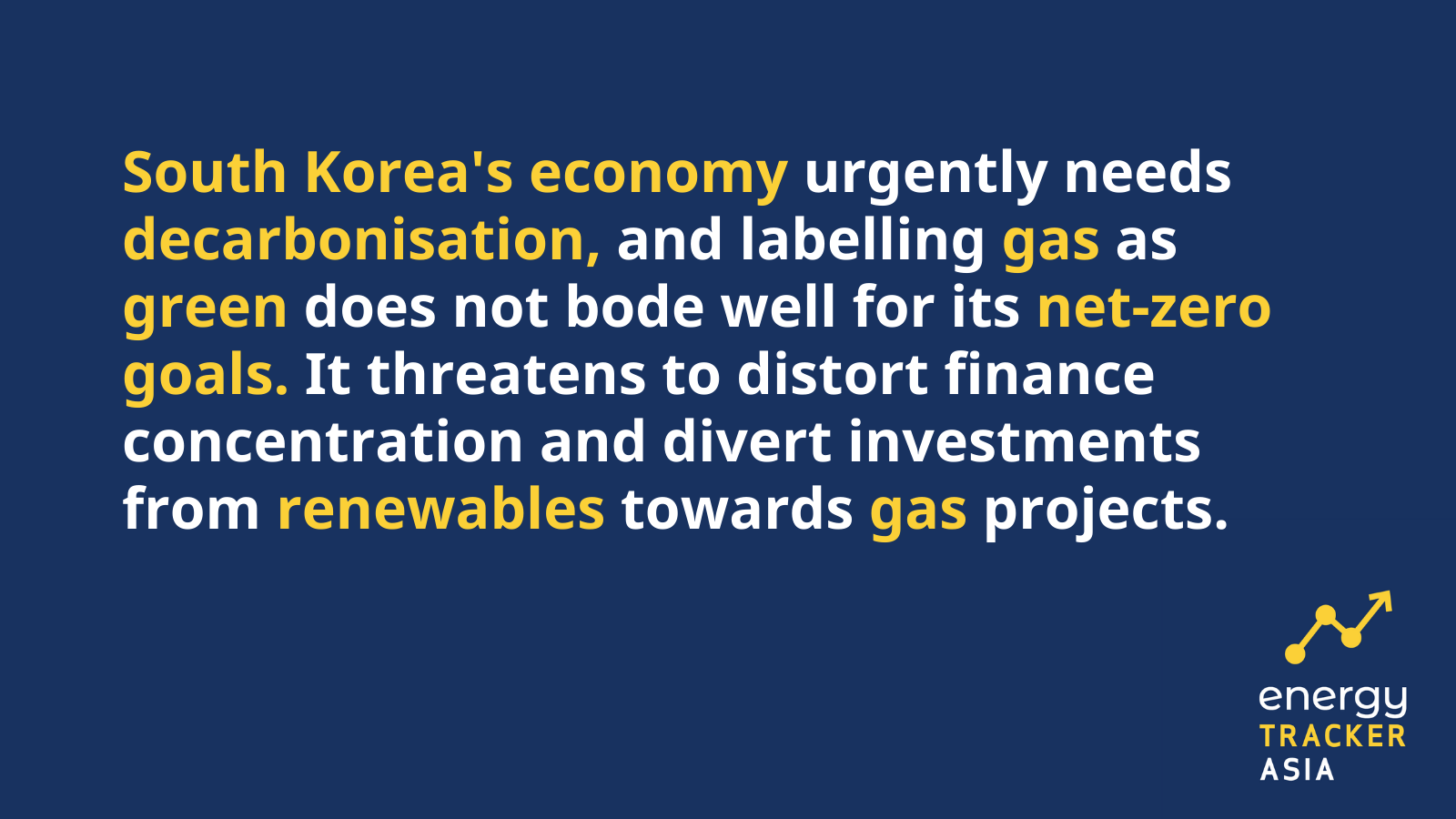 by Viktor Tachev
Viktor has years of experience in financial markets and energy finance, working as a marketing consultant and content creator for leading institutions, NGOs, and tech startups. He is a regular contributor to knowledge hubs and magazines, tackling the latest trends in sustainability and green energy.
Read more