Hyundai Backtracks On RE100 Pledge With New Ulsan LNG Plant
Source: Greenpeace/Twitter
After joining RE100 and committing to 100% renewable energy, Hyundai Motor Company released plans for a new LNG facility. This directly contradicts its RE100 pledge and raises serious accusations of greenwashing. The move is surprising for the second-largest company in South Korea and is seen by many as a poor publicity choice and a financial risk. The project is currently on hold but remains a possibility.
14 June 2022 – by Eric Koons
Less than one month after joining the RE100 initiative, Hyundai Motor Group put forward a plan to build LNG plant at one of its largest production facilities. Immediately following the announcement, the company received significant backlash from environmental, social and labour groups. As of June 2, Hyundai put the plan of this manufacturing plant temporarily on hold.
Hyundai Project of Ulsan Plant
When operational, the manufacturing plant in Ulsan will produce a quarter of the company's vehicles and is set to be one of the largest automotive production facilities in the world. Powering this facility with an LNG plant goes against the ethos of RE100 and directly contradicts Hyundai Motor Group's target of reaching 100% renewable energy by 2040. This Ulsan Plant will increase carbon emissions, while the world needs to reduce greenhouse gas emissions.
When pressed for the rationale behind this facility, particularly in the wake of its RE100 announcement, the company leans on the claim that it is challenging to source renewable energy in South Korea. This is undoubtedly true, as the country has very low renewable energy rates, but the argument is not valid. Moreover, a very low renewable energy rate is what RE100 aims to tackle, and joining RE100 means that Hyundai should make an effort to accelerate the transition towards renewable energy instead of relying on fossil fuels. What Hyundai needs to do is to implement an industrial scale solar or wind farm for power supply.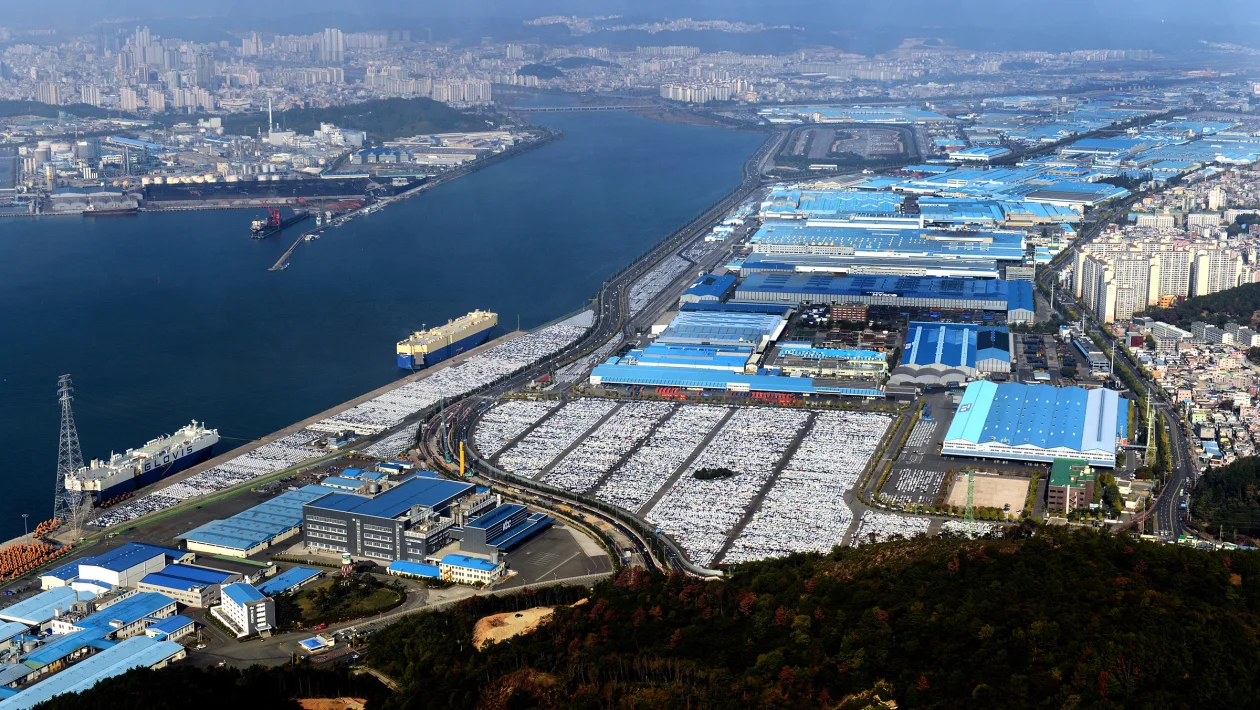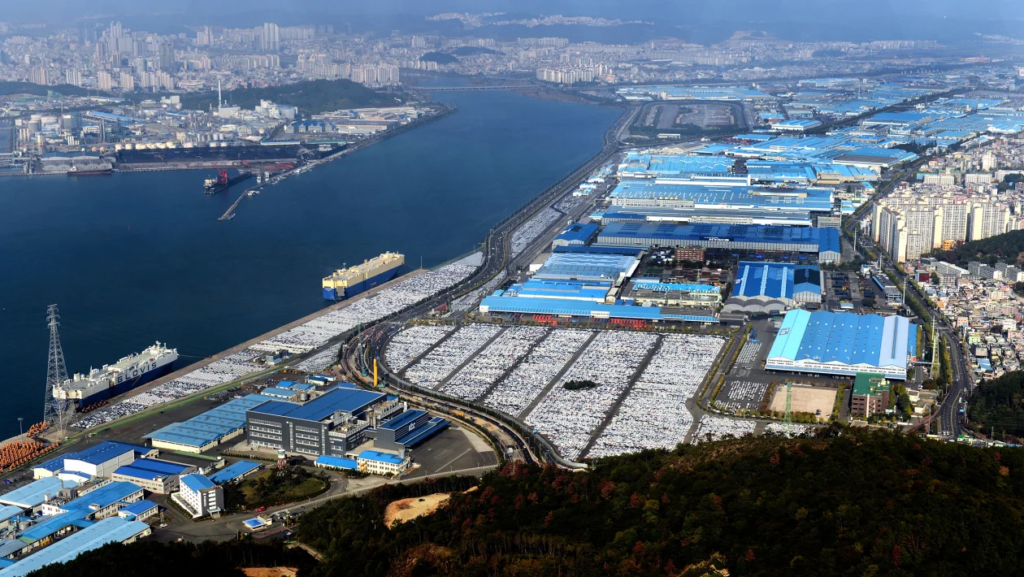 LNG vs RE100
Hyundai's commitment to RE100 means that the company aims to become powered by 100% renewables. Liquefied natural gas (LNG) is not a form of renewable energy, and it produces emissions, making it impossible to reach this goal.
Many have dubbed LNG a "transition fuel", which can help bridge the gap between coal and oil with the widespread adoption of renewables. While LNG does have a role to play, it is not a clean alternative due to the methane leakage,
a highly potent greenhouse gas. Furthermore, with an average LNG facility lifespan of 25 years, it will still be active by Hyundai's RE100 timeline of 2040.
Solely based on this, Hyundai should either scrap the LNG plant before its retirement date or risk contradicting its renewable energy commitment. The company can't do both. While Hyundai said it would convert its LNG power plant to hydrogen power plants in the future, it is still reliant on uncertain technologies.
Widespread Implications if Hyundai Goes Forward with the Liquefied Natural Gas Power Plant
Hyundai has already been accused of greenwashing, which is why the company received so much scrutiny after its RE100 announcement. Its commitment could represent a turning point for the company, making it an example of sustainable practices in South Korea. Instead, it may become a black mark for the country as a whole, which is already struggling to implement renewables.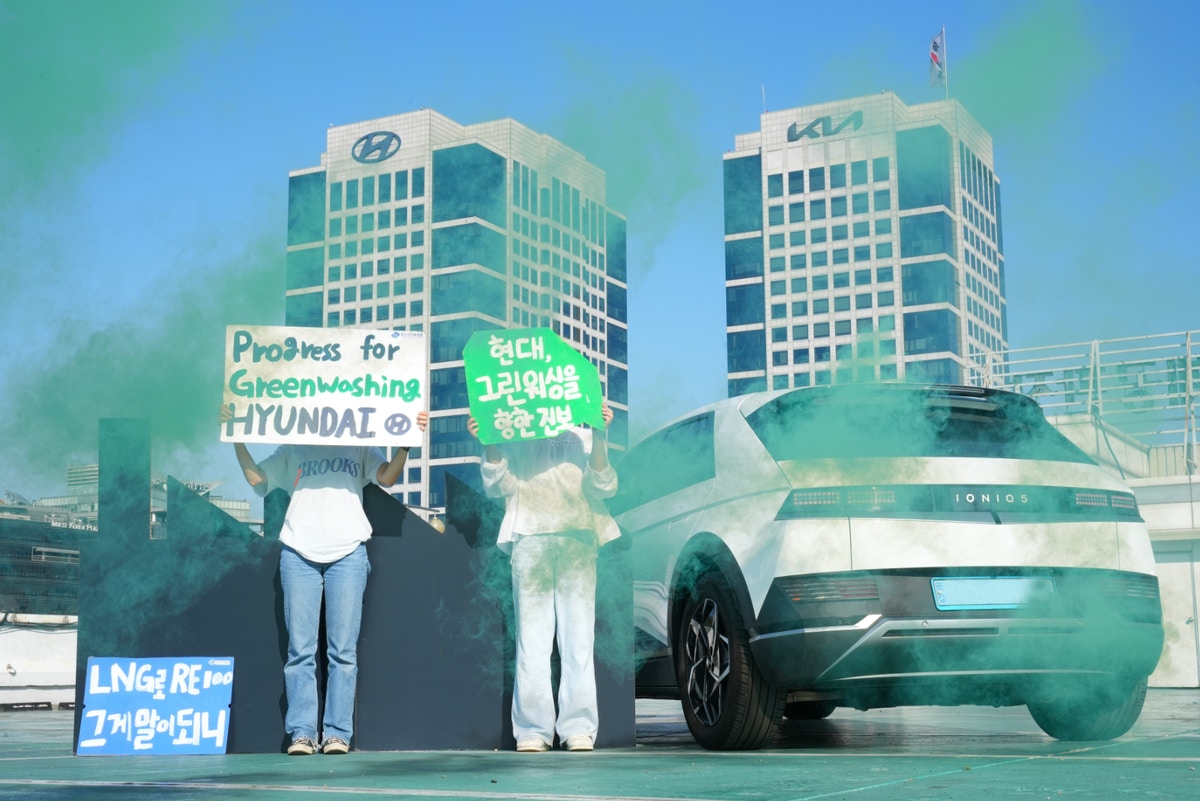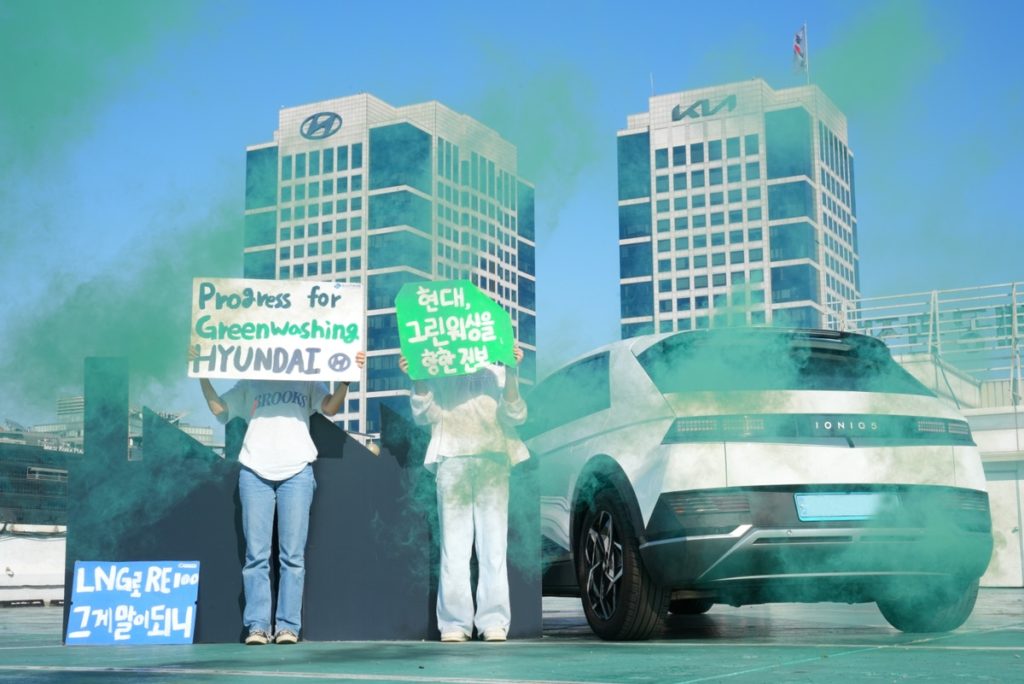 Furthermore, this would not only be a simple example of greenwashing, but one done so blatantly that it would be very challenging to take Hyundai's sustainability reputation seriously in the future. The damage could be long lasting, and for consumers that are becoming more environmentally conscious, the long-term financial loss could be significant. Countless studies have shown that consumers are now demanding more decisive climate action from companies that they purchase goods from. This trend accelerates with younger consumers, who will become the major market drivers in the next several decades. Substantial greenwashing claims may push consumers to look elsewhere. With several competing automotive manufacturers already well on the way to net-zero, there is no lack of alternatives.
Beyond a tarnished reputation, Hyundai's LNG plant also represents a potential stranded asset. While LNG is currently cost-effective, solar and wind energy costs have rapidly declined over several decades. If this trend continues, they will outpace LNG in the not-so-distant future.
Furthermore, the volatility of LNG prices will continue to be present, creating uncertainty over the cost-effective nature of natural gas. Demand for natural gas will continue to rise, inevitably driving-up prices. This makes investing millions of dollars in an LNG facility a risky proposition, particularly when looking at the more stable alternatives like solar and wind.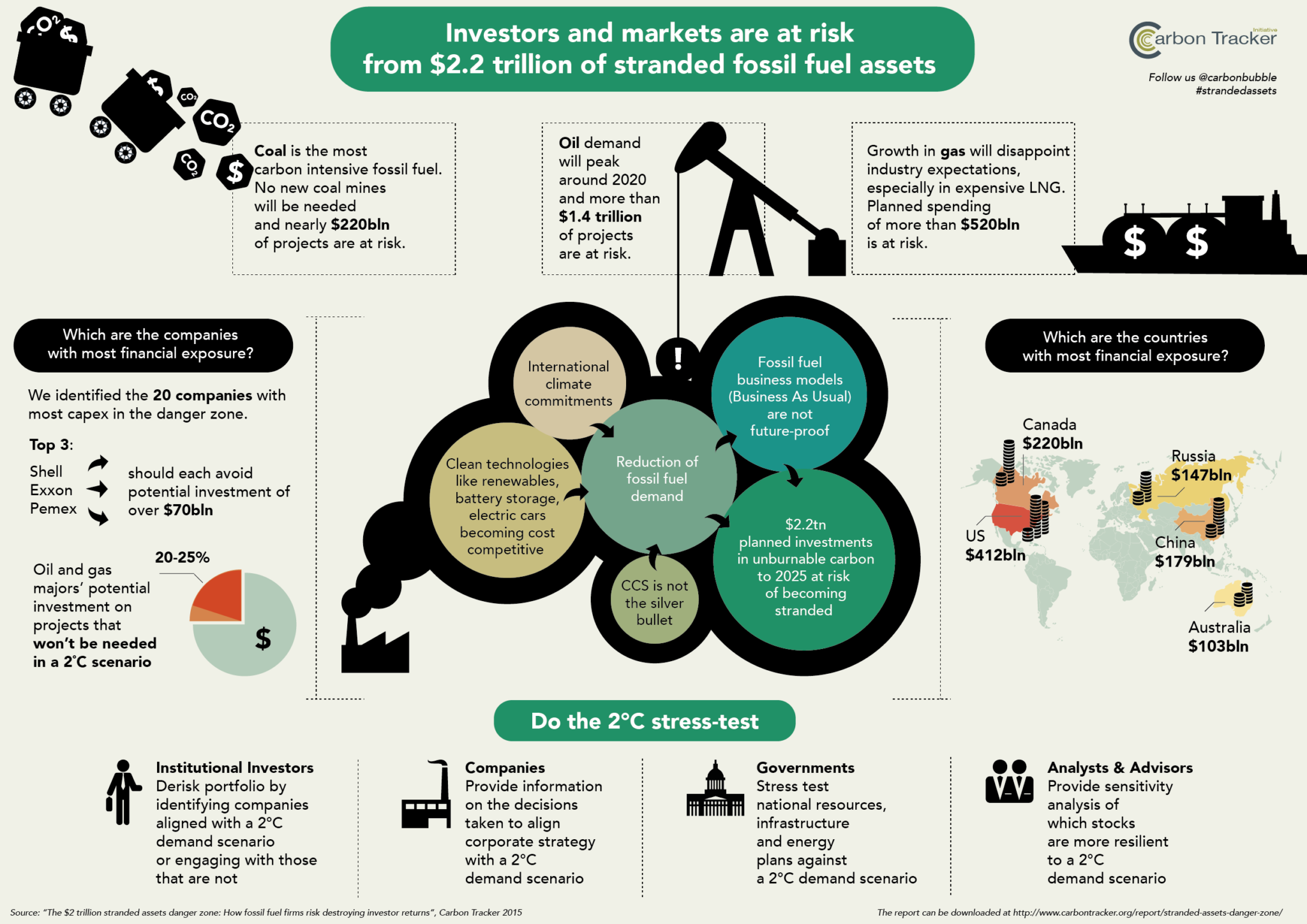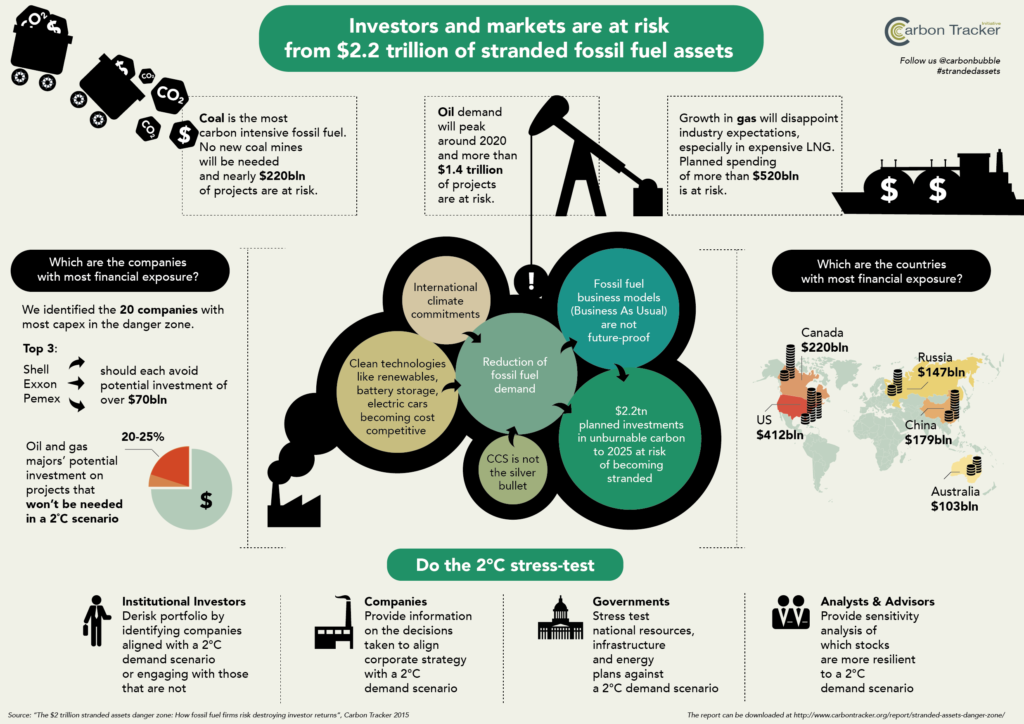 Current Status of the Hyundai LNG Plant
Luckily, at this stage, the project is on hold. However, this remains a temporary measure as Hyundai reviews its plans and addresses the public's concerns. Additionally, local South Korean news agencies report that this halt is due to opposition from its workers' union over a labour-management conflict – not environmental concerns. However, due to the significant backlash, Hyundai touched on the environmental concerns in a recent statement:
Ultimately, this allows Hyundai to consider the pros and cons of the project fully. The potential consequences are significant, and the gain is small. Hyundai has an opportunity to be a global example of an environmentally conscious large business. It can create a positive public image for itself and lead the renewable energy shift in South Korea. The Ulsan LNG plant will effectively derail this opportunity.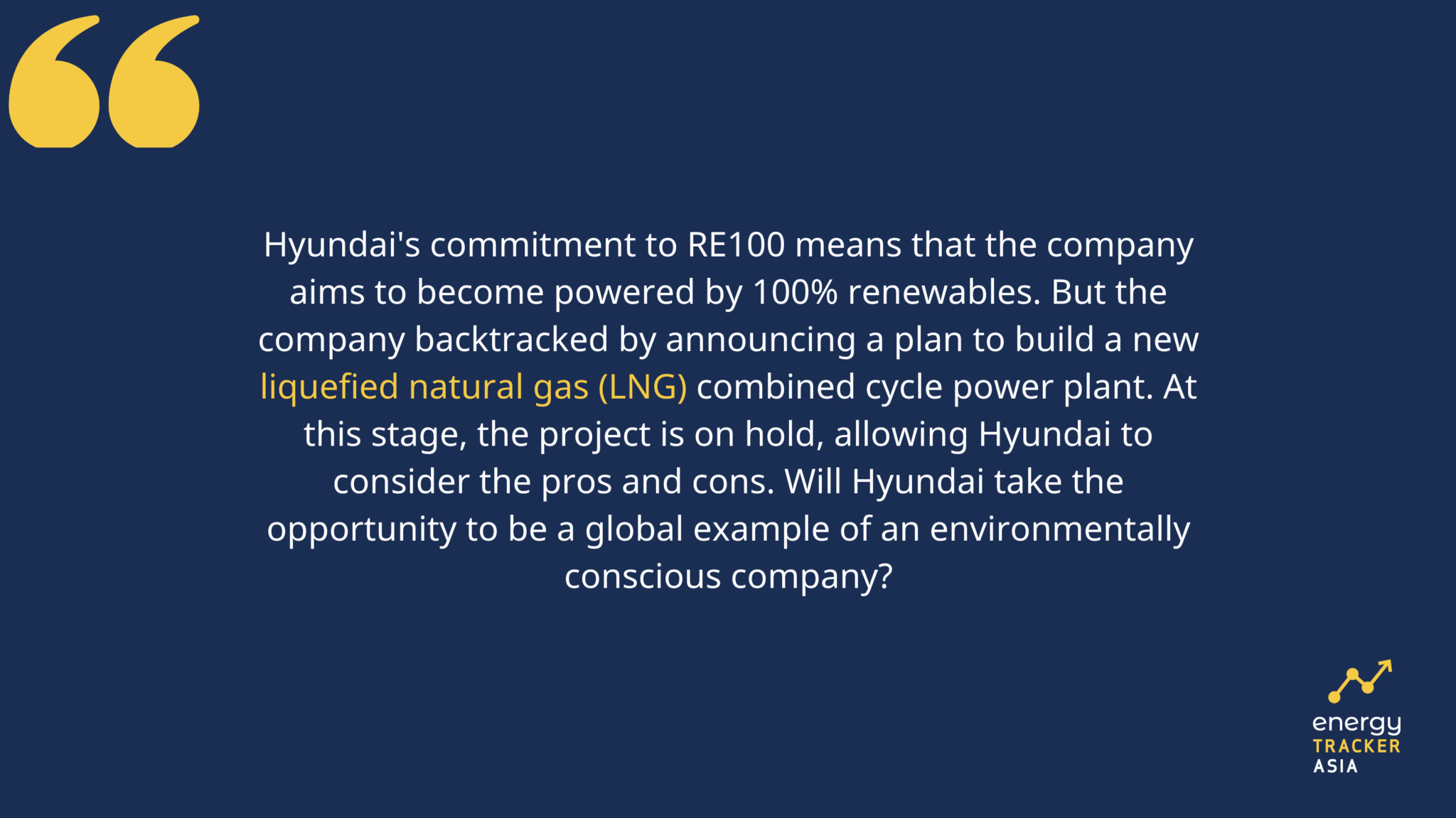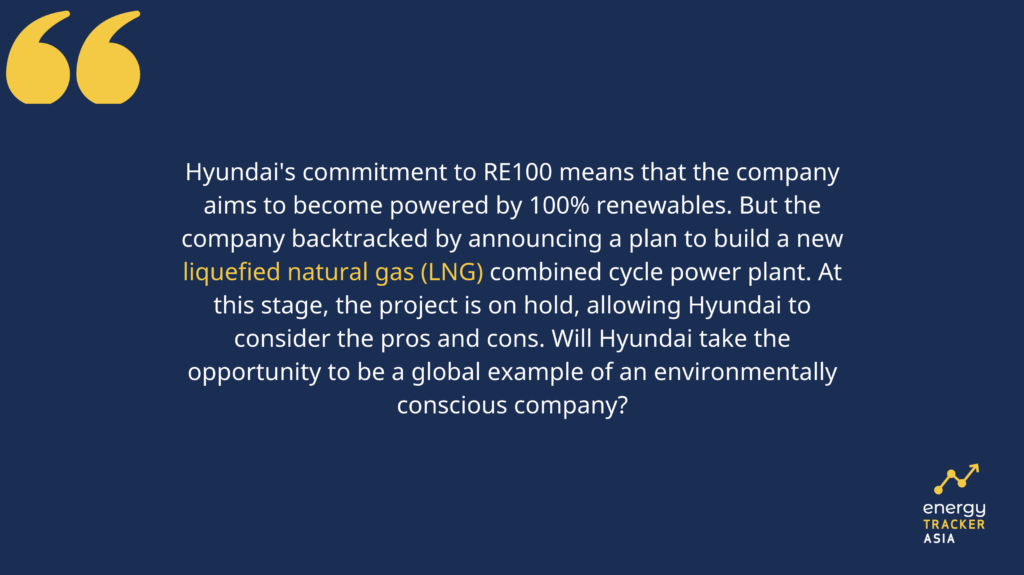 by Eric Koons
Eric is a passionate environmental advocate that believes renewable energy is a key piece in meeting the world's growing energy demands. He received an environmental science degree from the University of California and has worked to promote environmentally and socially sustainable practices since. Eric's expertise extends across the environmental field, yet he maintains a strong focus on renewable energy. His work has been featured by leading environmental organizations, such as World Resources Institute and Hitachi ABB Power Grids.
Read more