COP27: Broken USD 100 Billion Promise of Climate Finance but New Hope For Loss and Damage
At a time when the world should be moving rapidly towards climate change solutions, action is slow. And as promising as the new climate finance proposal agreed upon at COP27 might look, it alone won't be enough to adequately protect the most vulnerable.
25 November 2022 – by Viktor Tachev
Developing countries have asked for financial assistance to tackle climate change for decades. For the most part, these calls have been brushed under the carpet or even outright rejected. The only major breakthrough was the USD 100 billion climate finance package developed countries agreed to provide. Yet, in hindsight, it has also been a failure. And while UN Climate Change Summit, COP27 2022, is a glimpse of hope for climate finance, it left more questions than answers.
The USD 100 Billion Climate Finance Package Promise for Developing Countries
Rich countries account for just one in eight people. Yet, they are responsible for 50% of greenhouse gas emissions.
At COP15 in 2009, leaders committed to mobilising USD 100 billion annually by 2020 to assist developing countries in the fight against climate change. The funding sources included public and private investors, bilateral and multilateral institutions and more.
Experts found the promised annual climate finance package to be insufficient to meet the needs of developing nations. Yet, it was a glimpse of hope. However, this hope vanished after the decade passed, and it became clear that developed nations still needed to meet the target. At COP26 Glasgow, leaders expressed with "deep regret" that they failed to meet the USD 100 billion promise annual commitment again.
They are also likely to continue failing to deliver on the USD 100 billion climate finance pledge annually until 2023. Meanwhile, some analysts argue that there have been significant gaps between the reported funds and the actual funds provided. These gaps depend on the measurement methodology but range between USD 20 billion and USD 80 billion per year.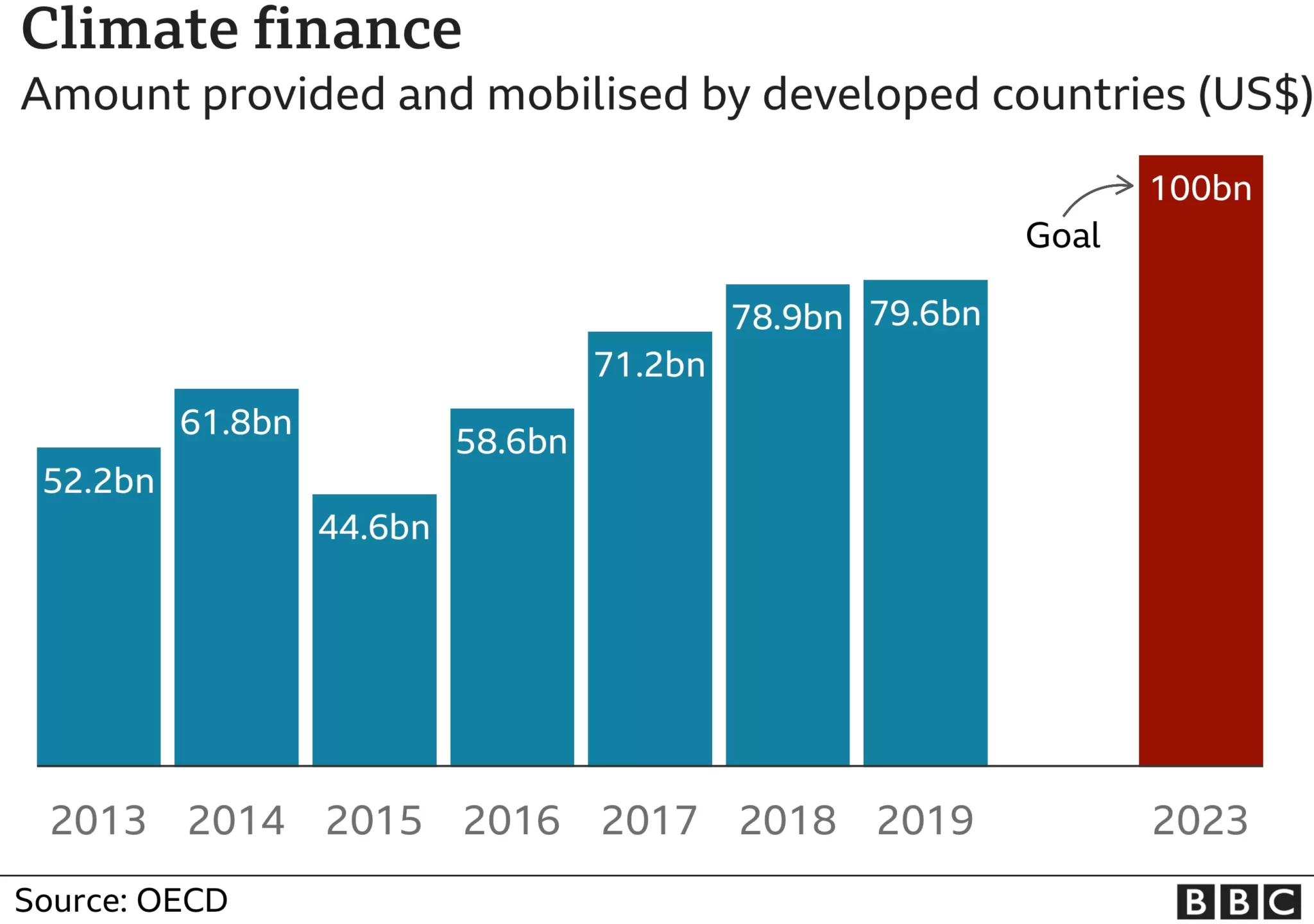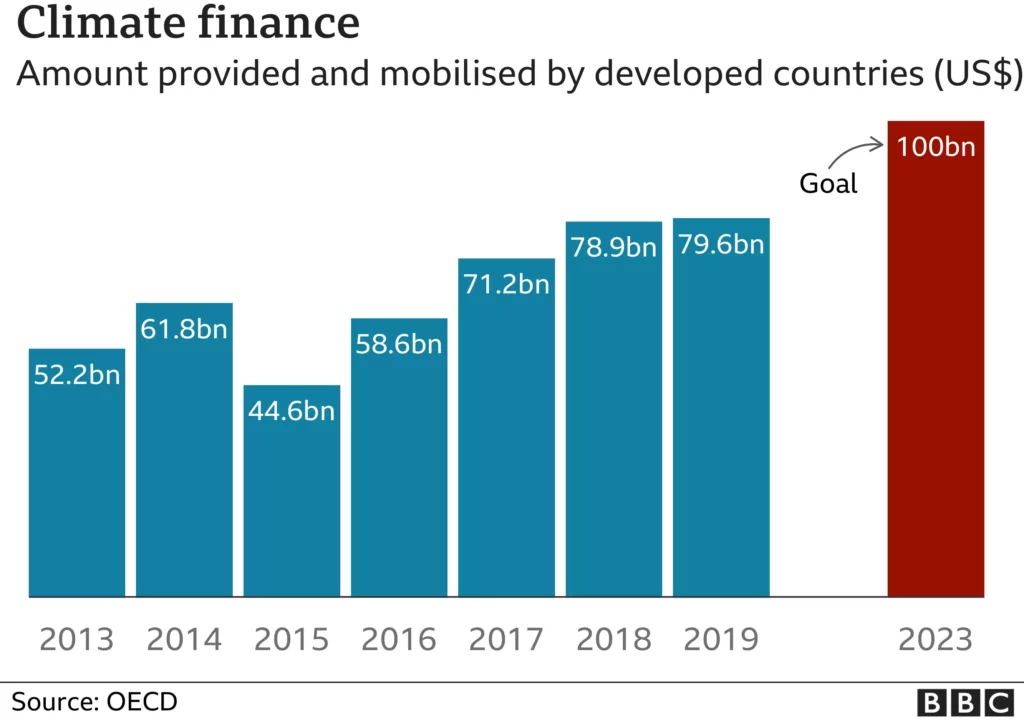 COP27: High Expectations and Questionable Outcomes
In the days before COP27 Egypt, the UNFCCC's Standing Committee on Finance issued several reports on the state of climate finance. They stressed the lack of progress regarding the USD 100 billion goal and focused on improving climate financing.
COP27 2022 opened in Sharm El Sheikh, Egypt, with the UN Secretary-General's call to deliver the USD 100 billion promise of climate finance annually promised at COP15 in Copenhagen.
Although various parties at COP27 urged developed nations to set more ambitious climate financing targets, some officials described the failure to meet the USD 100 billion target as "not in the core of the process" and claimed the figure was more of a "gesture" from developed nations.
Loss and Damage Fund
Until the final day of COP27 (27th Session of the Conference of the Parties), the conference looked like a failure in terms of climate finance. However, in the dying hours, nearly 200 countries agreed to create a "Loss and Damage Fund" to address the impacts of climate change. The parties will discuss key details of the mechanism over the next year.
The funding mechanism would receive financing from various sources, including development banks and innovative taxes. It will also be open to contributions from parties outside developed countries. In fact, the European Union and other donors urged big emitters like China to step up and contribute to the fund.
A group of countries also announced over USD 230 million in adaptation finance targets.
Sharm El Sheikh Agenda
Leaders also introduced the Sharm-El-Sheikh Adaptation Agenda. The 2030 goal is to find ways to mobilise the USD 140 to USD 300 billion needed across public and private sources. It also focuses on the importance of public finance actors to increase the provision of climate finance and allocate 50% of climate funds to adaptation and resilience. Furthermore, it will urge the private sector to integrate physical climate risks into investment decisions.
What Lies Ahead For Climate Finance – Post COP27
In the build-up to COP27, many experts and analysts united around the idea that the climate conference's success would depend on climate finance and loss and damage. The loss and damage agreement, a long overdue admission of big polluters' moral responsibility in the climate crisis, offers hope to the vulnerable nations that they will receive help. At COP27, there were also discussions on setting a new collective quantified goal on climate finance to address the needs of developing countries in 2024.
However, for now, those are just promises. And developed nations have so far consistently failed on their climate financing pledges.
Furthermore, even if the new mechanism proves highly successful in its mission, it will be just a temporary solution to a glaring problem. At COP27, leaders failed to address the elephant in the room – fossil fuels are the leading cause of climate change. This means climate disasters will continue to be a mainstay.
Moreover, the fossil fuel lobby fought tooth and nail to preserve the status quo. And it succeeded, since the final decision text failed to mention a fossil fuel phase-out. Considering that COP28 Dubai will take place in the United Arab Emirates from 30 November to 12 December 2023, it is highly unlikely that the end of fossil fuels will be sealed then, either.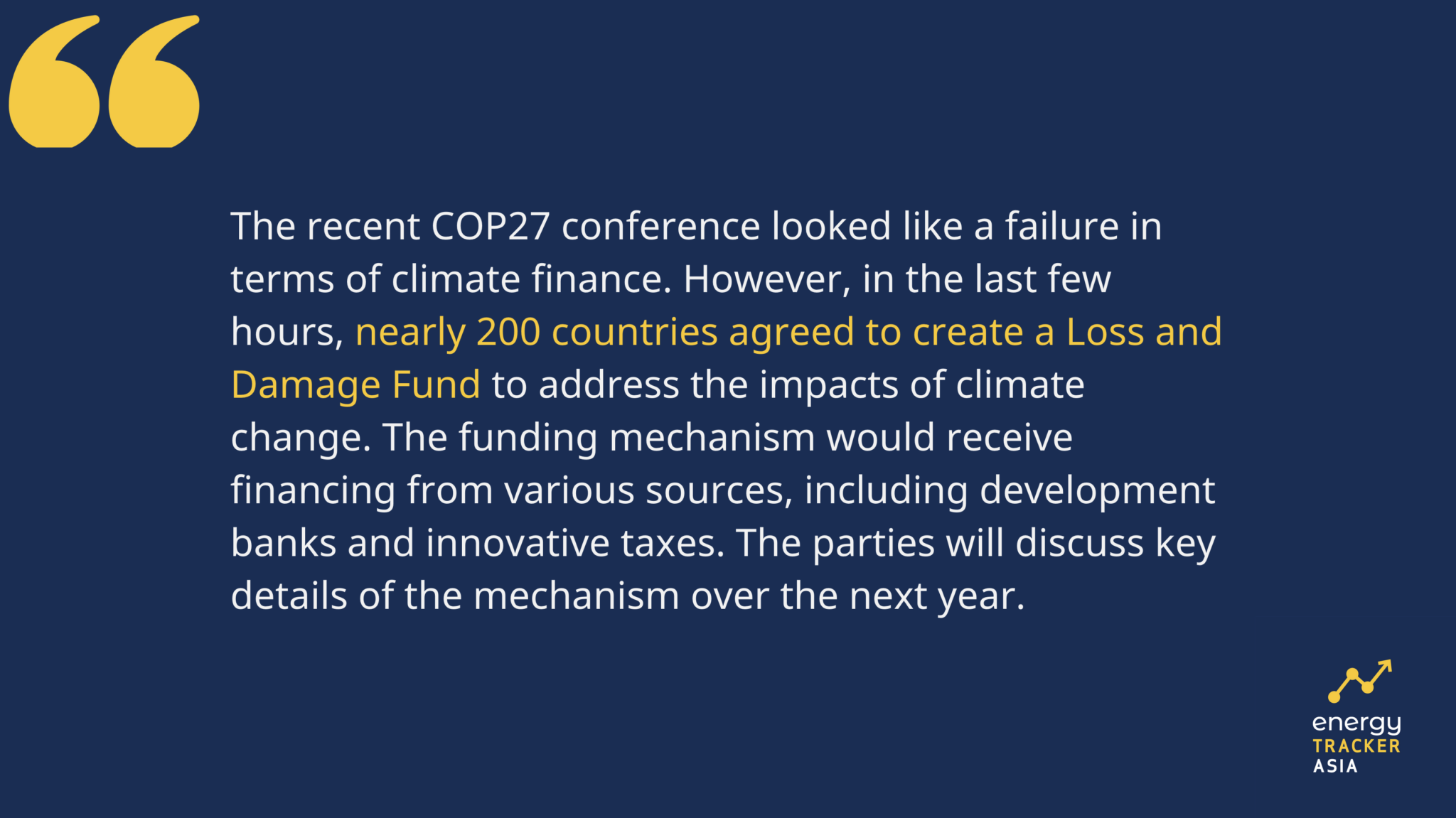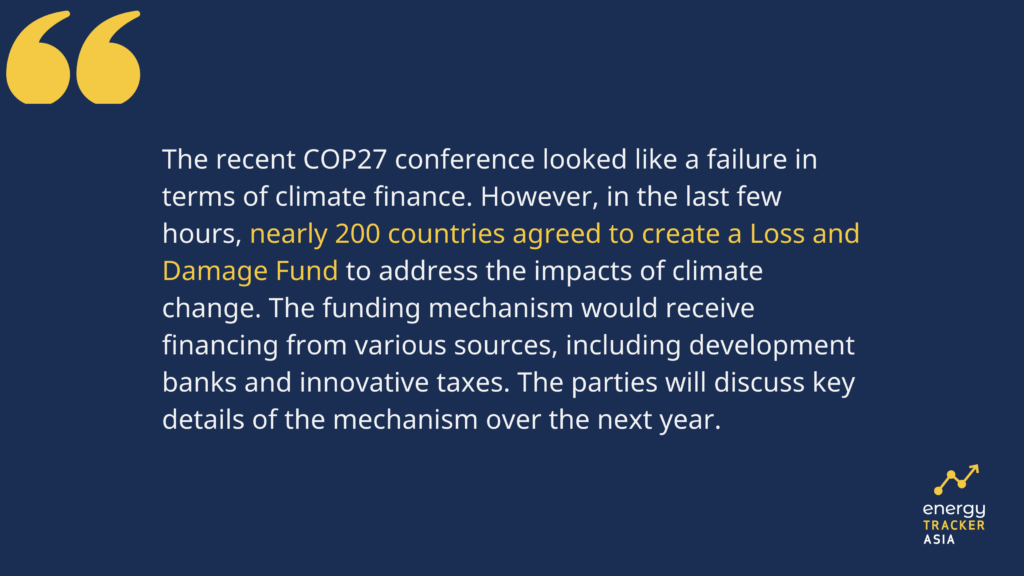 by Viktor Tachev
Viktor has years of experience in financial markets and energy finance, working as a marketing consultant and content creator for leading institutions, NGOs, and tech startups. He is a regular contributor to knowledge hubs and magazines, tackling the latest trends in sustainability and green energy.
Read more