Global EV Sales 2022: Stunning Boom and a Bright Future
While Southeast Asian countries are lagging behind EV leaders, through the right policy measures, incentives and the promised external support, they can pave the way for decarbonising their public and private transportation fleets.
24 November 2022 – by Viktor Tachev
Considering the transportation industry's significant share in global emissions, the global EV sales 2022 boom is a substantial success in the global decarbonisation journey. Furthermore, the COP27 2022, the UN climate change conference in Sharm El Sheikh, Egypt, gave many reasons for hope that this boom in global sales of electric vehicles won't be a one-time phenomenon. It promises to be the opposite. Through policy support and incentives, EV sales hit new records and growth is poised to continue.
The Global EV Sales in 2022 Boom – 63% Up Sales Volumes
BNEF's Zero-Emission Vehicles Factbook report estimates that annual passenger electric vehicle sales will reach 10.6 million units in 2022. This is up from 3.1 million in 2020 and 6.6 million in 2021. Such results make the passenger EV sales in 2022 63% higher than in 2021 and 242% higher than in 2020.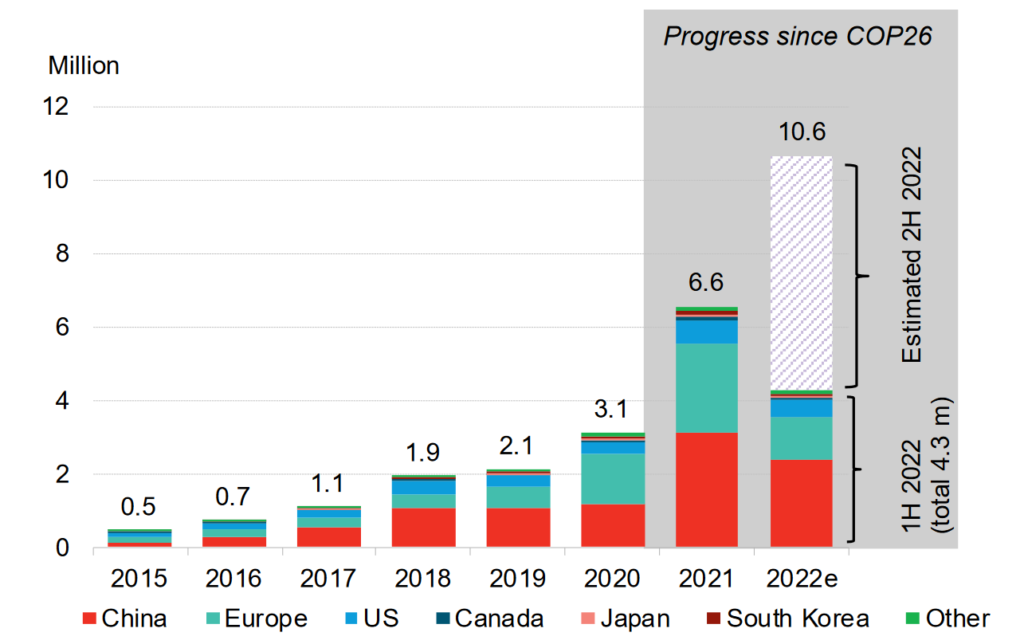 EV Market Share Growth
The auto sales data reveals that 13.2% of new cars sold globally in the first half of 2022 were electric. This is up from 4.3% in 2020 and 8.7% in 2021. This combined sales data of EV and hybrid sales show that consumer interest is not slowing.
In terms of the share in overall EV sales growth, the different vehicle types rank as follows:
buses – 44%
two-wheelers and three-wheelers – 42%
passenger cars – 9%
vans and trucks – 1%
Focus on China: The Champion in Electric Vehicle Models Sales in 2022
The most considerable growth in EV sales was in China. Together with Europe, it pulled ahead in both market share and absolute terms.
China champions the sales of battery EVs. In the first half of 2022, the market share increased to 18%, up from 4% in 2019. The country is also the undisputed leader in selling zero-emission heavier trucks, far ahead of all other regions.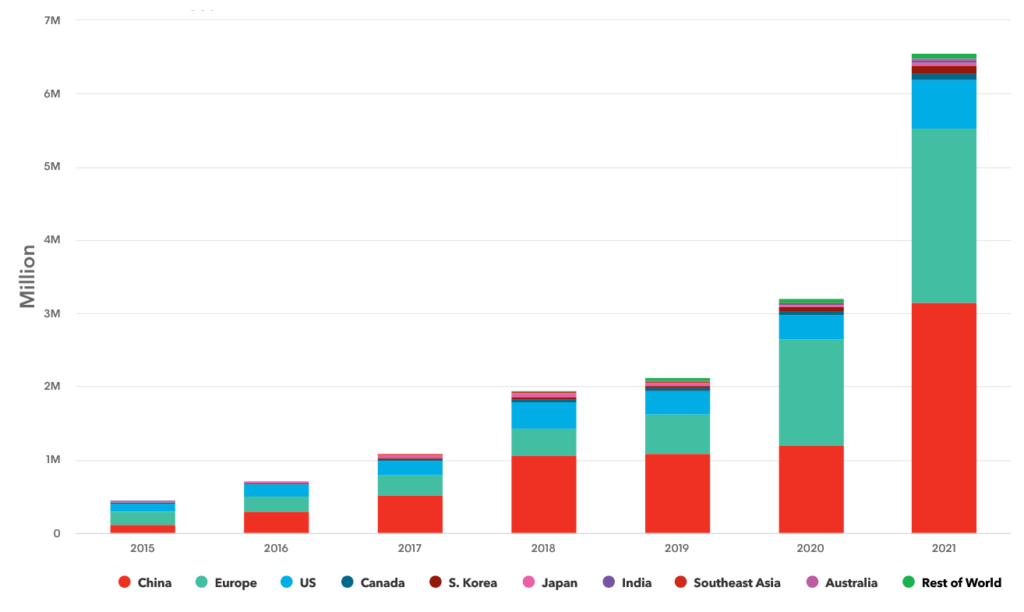 Public Charging Stations
China also marks notable continued growth in the number of available public charging stations. The country is projected to install 600,000 chargers in 2022. This is more than the rest of the world for the last three years combined. The country will also invest over USD 17 billion in public charging by the end of 2022, compared to USD 3.3 billion in Europe and USD 1.5 billion in the US.
China is found to hold 97% of the global e-bus fleet. Part of the reason for this is the national subsidies and municipal policies that encourage the switch to zero-emission buses.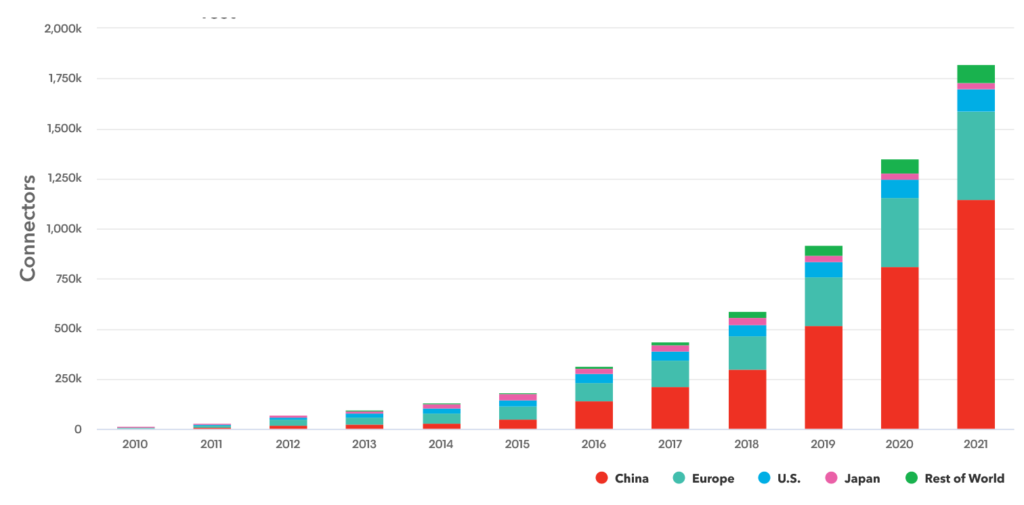 Southeast Asia Lags Behind
On the other end of the spectrum were Southeast Asian countries and India, which lagged behind the global average. Electric vehicles adoption in those countries in the first half of 2022 was at or below 1%.
Bloomberg NEF identifies the lack of EV model availability, underdeveloped charging infrastructure, unreliable grids and lack of policy support as some of the issues holding the countries and auto industry back.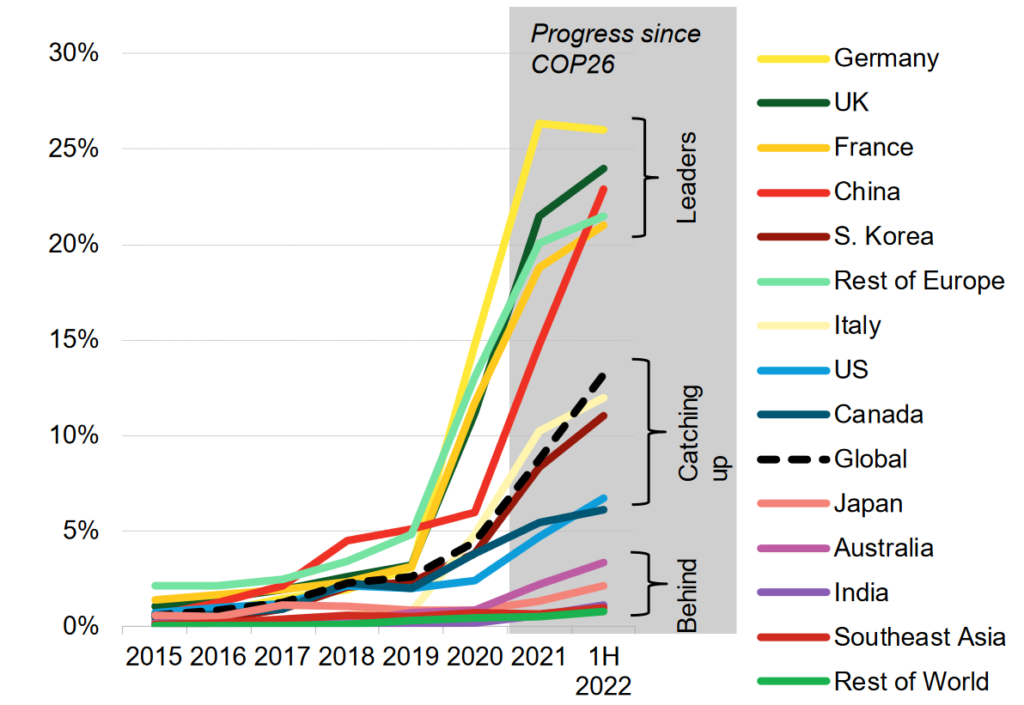 The Enablers For the EV Boom in 2022
Hybrid cars and EVs have been growing in popularity for a while. In fact, Europe's market share of gasoline and diesel cars dropped below 51% for the first time in history in Q4 2021.
However, the primary enabler for the EV sales boom in 2022 is the growing momentum against diesel and petrol cars (internal combustion engine vehicles) on the regulatory front. The ICE phaseout policies started in the EU. In June, the member states decided to end their sale in the bloc by 2035. Alternatively, no new cars will be permitted to emit tailpipe emissions after that time.
Currently, automakers with planned phaseouts of combustion engines account for 30% of the global auto and luxury market. S&P Global Commodity Insights expects EV sales in Western Europe to make 65% of the global total by 2035. Electric cars are expected to displace around 750,000 b/d of the gas and diesel vehicle demand.
Meanwhile, Bloomberg NEF highlights the combination of adequate policy support, battery technology innovations and decreasing costs, despite growing raw material costs, as the main reason for the EV sales boom in 2022. Charging infrastructure expansion and more appealing, new vehicle models have also contributed positively.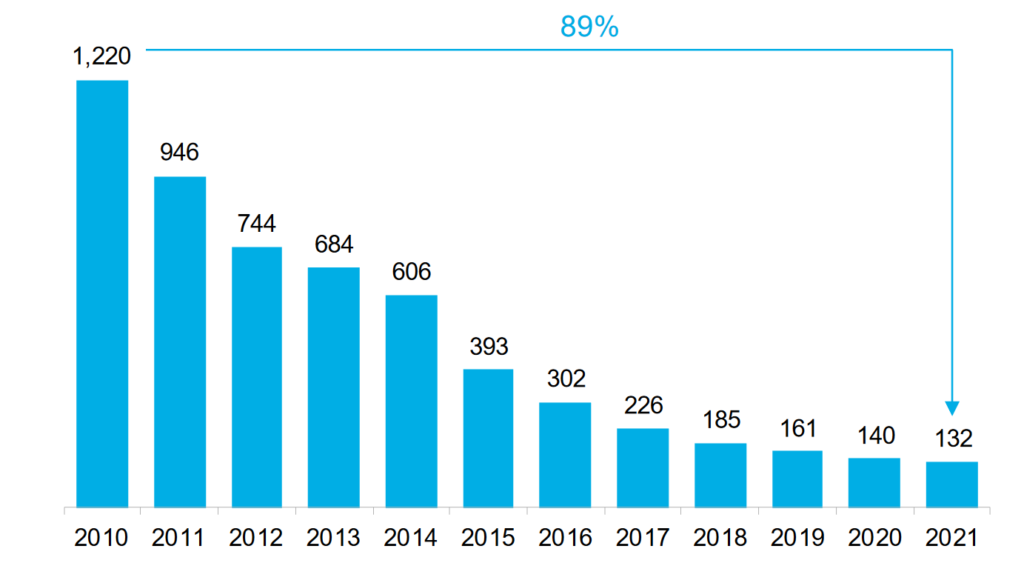 Other enablers include the massive 38% increase in global lithium-ion battery manufacturing capacity since 2021 and the increasing global spending on clean road transport, which will exceed USD 450 billion this year.
Another reason for the increased interest in EVs is the problem of higher gas prices, further exacerbated by Russia's invasion of Ukraine.
COP27 2022 Outcomes Promise Further, Stable Electric Vehicles Sales Growth
COP26 Glasgow became a stage for the launch of the Zero Emission Vehicles Declaration, through which governments, businesses and organisations have committed to all new car and van sales being zero-emission globally by 2040 and by 2035 in leading markets.
COP27 Egypt gave a further boost to the efforts from the past conference. Accelerating the transition to zero-emission vehicles was among the biggest success stories in Sharm El-Sheikh. COP27 leaders joined the Accelerating to Zero Coalition (A2Z) to facilitate and accelerate the transition to zero-emission mobility.
The initiative also includes a support package for emerging markets and developing countries, backed by a global commitment from donor countries, including the UK, the US, Germany, Japan and more. The package will utilise existing funds to support those countries' transitions to zero-emission mobility.
What the Future of Global EV Sales Means For Asian Countries
Bloomberg NEF projects the global passenger and commercial zero-emission vehicle fleet to hit 781 million by 2040. The IEA increased its expected 2030 battery EV fleet outlook by 61% compared to 2021. OPEC has also revised its projected 2040 EV and fuel-cell vehicle fleet by 11%.
This growth will be driven mainly by markets like China, Europe and other developed countries. However, the outlook for emerging economies isn't as bright. Without action, 40% of combustion vehicles in 2035 will be on the roads in emerging countries.
China's progress in terms of EV growth gives Southeast Asian nations a blueprint on how to change those forecasts and substitute their ICE fleets with zero-emission vehicles. While the country doesn't have a national ICE phaseout target yet, it has strong interim targets that are clearly helping accelerate EV adoption. Vietnam, on the other hand, has adopted an ambitious ICE phaseout target by 2040.
The IEA advises developing countries and emerging economies to focus on two-wheelers, three-wheelers and urban buses as the most competitive EV solutions.
Furthermore, through a mix of measures, including emission regulations, EV quotas, ICE bans, increased charging infrastructure financing, tax credits and manufacturing and direct purchase subsidies, governments can accelerate the decarbonisation of their transport sectors.
And if the pledged support for the transition to zero-emission transport from developed nations materialises, Southeast Asian countries will soon have all the means to switch to more affordable and cleaner transportation.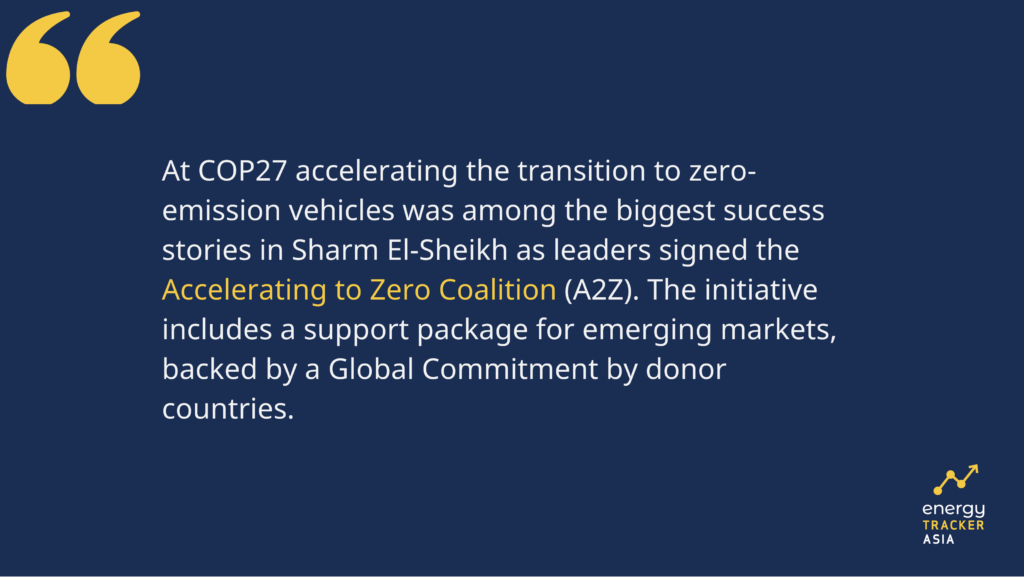 by Viktor Tachev
Viktor has years of experience in financial markets and energy finance, working as a marketing consultant and content creator for leading institutions, NGOs, and tech startups. He is a regular contributor to knowledge hubs and magazines, tackling the latest trends in sustainability and green energy.
Read more