Japan's Energy Policy Is Turning It Into the World's Climate Villain 
Japan is quickly becoming the odd one at the table of the G7 regarding climate policies. Scientists, analysts and environmental and societal groups see it as the culprit of climate change inaction. It is time for Japanese governmental and corporate leadership to change that perception.
18 September 2023 – by Viktor Tachev
Japan's energy policy decisions are decisive in tackling climate change as the world's third-biggest economy and fifth-biggest carbon emitter. Yet, instead of leading the clean energy transition, the country promotes questionable and expensive solutions that risk derailing the global net-zero journey.
As a result, Japan is now becoming isolated and risks becoming a climate villain among its G7 partners and the international community. The pressure to finally break free from the fossil fuel lobby's interests is mounting by the day. Whether Japanese governmental and corporate leaders act on this issue will determine the side of history the country will be on.
The Focus of Japan's Energy and Renewable Energy Policy
Japan's current NDC aims at a 46% emission reduction in 2030 from 2013 levels and carbon neutrality by 2050. The country hasn't improved its targets since 2021. Japan should reduce its greenhouse gas emissions.
Climate Action Tracker describes the current targets as insufficient. Yet, Japan is still not likely to meet them.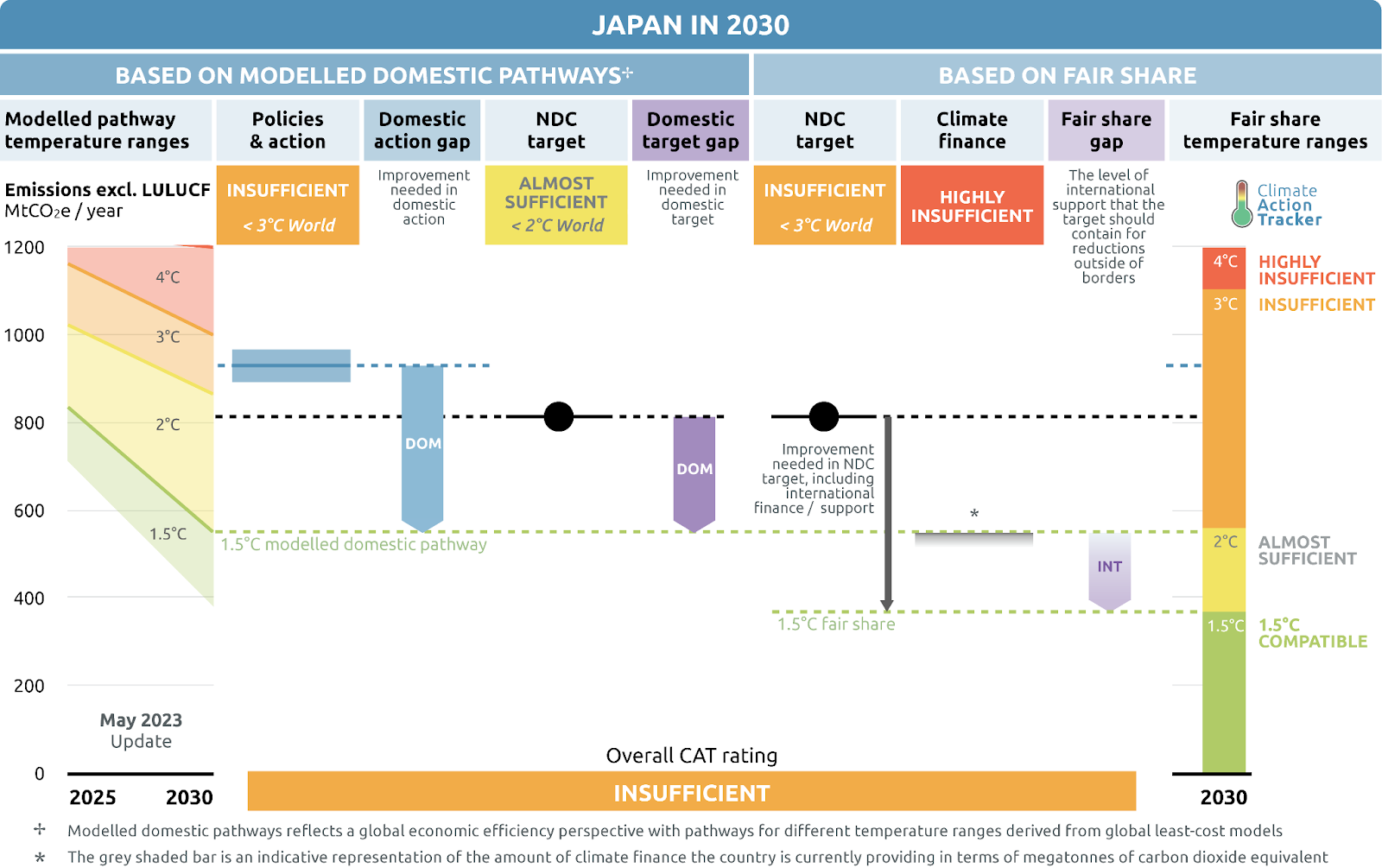 Among the key energy policy tools that Japan has introduced to help achieve its goals is the Green Transformation Strategy (GX). It is an investment roadmap for the use of over USD 1.1 trillion in public and private financing over the next decade. The program aims to transform industry, speed up the energy transition and promote carbon neutrality.
While its name suggests a strong focus on renewable energy sources, in reality, the GX prioritises technologies that will extend the life of fossil fuels. LNG, ammonia co-firing schemes, blue hydrogen and carbon capture and storage (CCS) are among them.
Furthermore, the basic energy plan aims to export these technologies to developing countries in Southeast Asia.
What Japan Stands to Lose From Its Energy Policy
Japan is driving to expand fossil fuels at a time when energy economics favour renewable energy supply. According to estimates, it is technically feasible for the country to generate 90% clean power by 2035. Even just an 18% share of offshore wind by 2035 would put it on track for a 90% decarbonised power sector.
Furthermore, the fixation on fossil fuels poses various risks for Japan.
Fuelling Climate Change
According to Climate Action Tracker, if all countries followed Japan's approach, warming would reach over 2°C and even up to 3°C.
An increase of 2.4°C, for example, would significantly affect Japan. Rising sea levels, coastal erosion and changing storm patterns would expose 4 million Japanese people to devastating floods by 2050. The Kii Peninsula, in particular, could face over 3,000 mm of rain yearly, becoming the world's rainiest subtropical area.
Precipitation patterns would become disproportionate, with some areas experiencing torrential rains while others suffering droughts – affecting crop productivity. Fish catch potential would drop by as much as 10.6%. Droughts would then cause water demand to increase by up to 4.9% by 2050.
Japan has long been aware of global warming's impacts. Yet, it ranks 50th in the Global Climate Change Performance Index with a very low rating. The country ranks considerably lower than the nations it promises to help decarbonise, including Vietnam and Indonesia.
And it is paying a high price for it. In 2023, Japan experienced the hottest summer on record by a significant margin. The temperature was 1.78°C above average, beating a previous record in 2010 of 1.08°C. Nearly 50,000 people needed emergency medical attention in July alone, with at least 53 dying of heatstroke. The heat waves, expected to become more common, are particularly dangerous for Japan since it has the second oldest population in the world.
This isn't just a one-off event but a clear pattern. In 2022, nearly 4,500 people were hospitalised with heat-related issues. In 2019, 57 people died, and more than 18,000 were hospitalised. Meanwhile, the death toll in 2018 was 138, with over 71,000 people sent to hospitals.
An Economic and Financial Catastrophe
Around 3.72% of Japan's GDP is at stake due to sea level rise, coastal erosion and worsening weather by 2050. By 2070, sea level rise could cost Japan over USD 570 billion. Under the high emission scenario the world is heading for, the losses could top USD 1.3 trillion.
In 2022, the country generated 71% of its electricity from fossil fuels. Furthermore, it relies on imports for 90% of its energy needs while also being the world's biggest LNG importer. As a result, Japan has an energy independence score of just 13.8%.
According to BNEF, Japan spent USD 1.8 trillion on fossil fuel imports between 2010 and 2022. This is an annual average spending of over 3% of GDP. The country plans to import gas for at least 10 to 15 years, even though analysts note that upstream and LNG infrastructure will become stranded around 2030.
Ignoring their environmental impact, the technologies proposed in the GX will also prove costly and have little commercial viability. Academics, politicians, analysts and environmental groups question the ammonia co-firing scheme's feasibility, affordability and efficiency.
The fuel will also come mainly from abroad, worsening the country's energy dependence and exposing it to price volatility. Coal co-firing schemes using the cheapest ammonia source (grey) cost four times more than thermal coal. Using green ammonia is around 15 times more expensive than coal co-firing. CCS also remains an expensive technology that hasn't been proven on a large scale. So is the case with hydrogen.
Clean power, on the other hand, is already cheaper, with the gap expected to become even wider by 2030.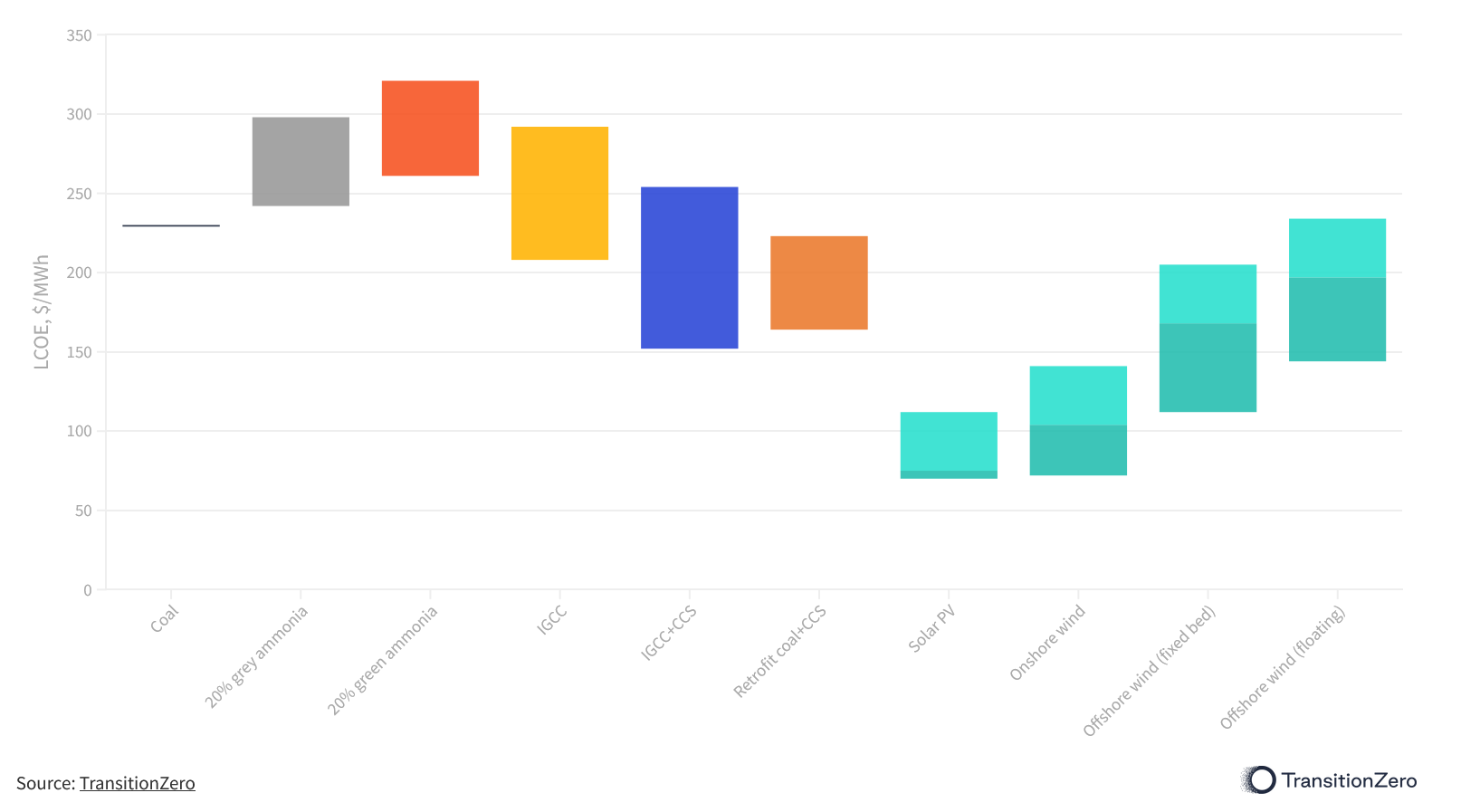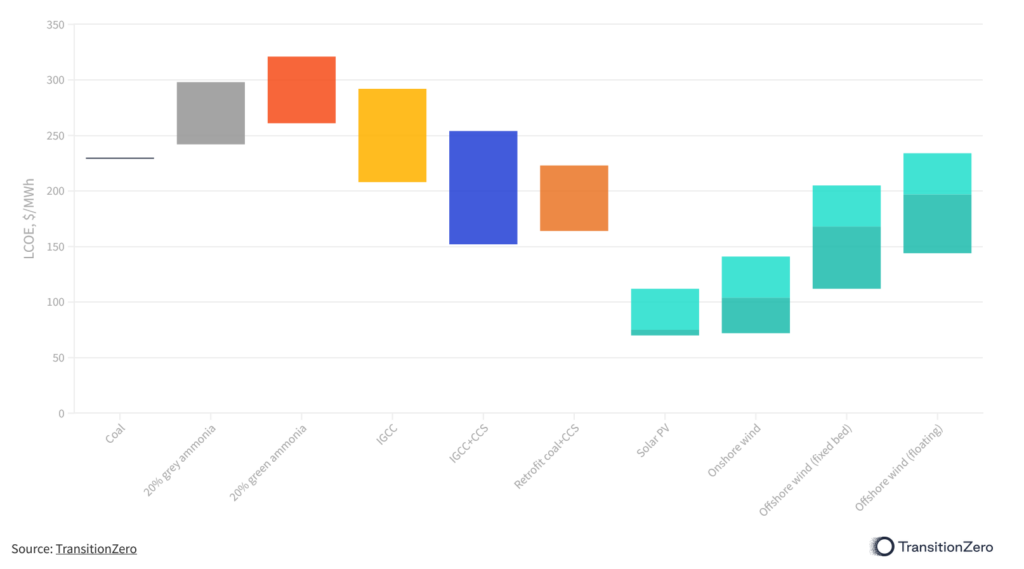 Becoming a Climate Villain
Japan has long been seen as the culprit of fossil fuel expansion across Asia. It has been the target of public protests by climate activists and societal groups in countries where it is exporting its technologies, including Bangladesh, the Philippines and Indonesia. Over 140 groups from 18 countries issued a letter to Prime Minister Fumio Kishida to stop expanding the use of fossil fuels and derailing Asia's clean energy transition.
JERA, various Japanese corporations and fossil fuel financiers are also feeling the heat from Japanese activists concerned about the continuous support for fossil fuels and the country's energy policy. Investor activist groups are sending letters to leading banks to reconsider the provision of loans to JERA. Meanwhile, the IEEFA accused the JBIC and the Japanese government of not being serious about their climate concerns or the financial burden of coal power in developing nations.
Price of Oil International calls Japan's GX strategy "a greenwashing exercise", while BNEF describes its ammonia plans as "expensive and very dirty".
Japan epitomises putting corporate fossil fuel interests above common sense.
According to Kimiko Hirata, the founder of Kiko Network and Climate Integrate, the country has a strong interest in prolonging the life of fossil fuels, as many private companies have actively participated in such projects and don't want to lose their investment. She adds that most of them are tied to the Ministry of Economy, Trade and Industry and the political parties in the country. As a result, they have the influence to block climate policy progress.
Statements like these are also backed by the fact that the carbon tax rates in Japan are among the lowest globally. Furthermore, there is a very strong opposition towards carbon taxes from the vested fossil fuel interests in the country.
Falling Far Behind the G7
Hosting the G7 summit in 2023 was described as a moment of national pride for Japan and a perfect opportunity to demonstrate climate leadership. The country not only missed it, but it further isolated itself from the other G7 nations on the topic of fossil fuels and climate change.
In the lead-up to the G7 meeting, a French official interviewed by Reuters said: "There is very strong unity among the other G7 members to avoid any and all language favourable to fossil fuels and gas exploration in these negotiations."
However, Japan is way behind its G7 peers regarding decarbonisation progress. It has the highest share of coal power in total generation for the fourth year in a row, with 33%. Unlike other G7 members, Japan lacks concrete plans to phase out coal. In fact, it remains the only G7 nation planning to build new coal plants.
The country would need drastic measures in a short period to align with decarbonisation goals, which seem unrealistic in light of its recent actions.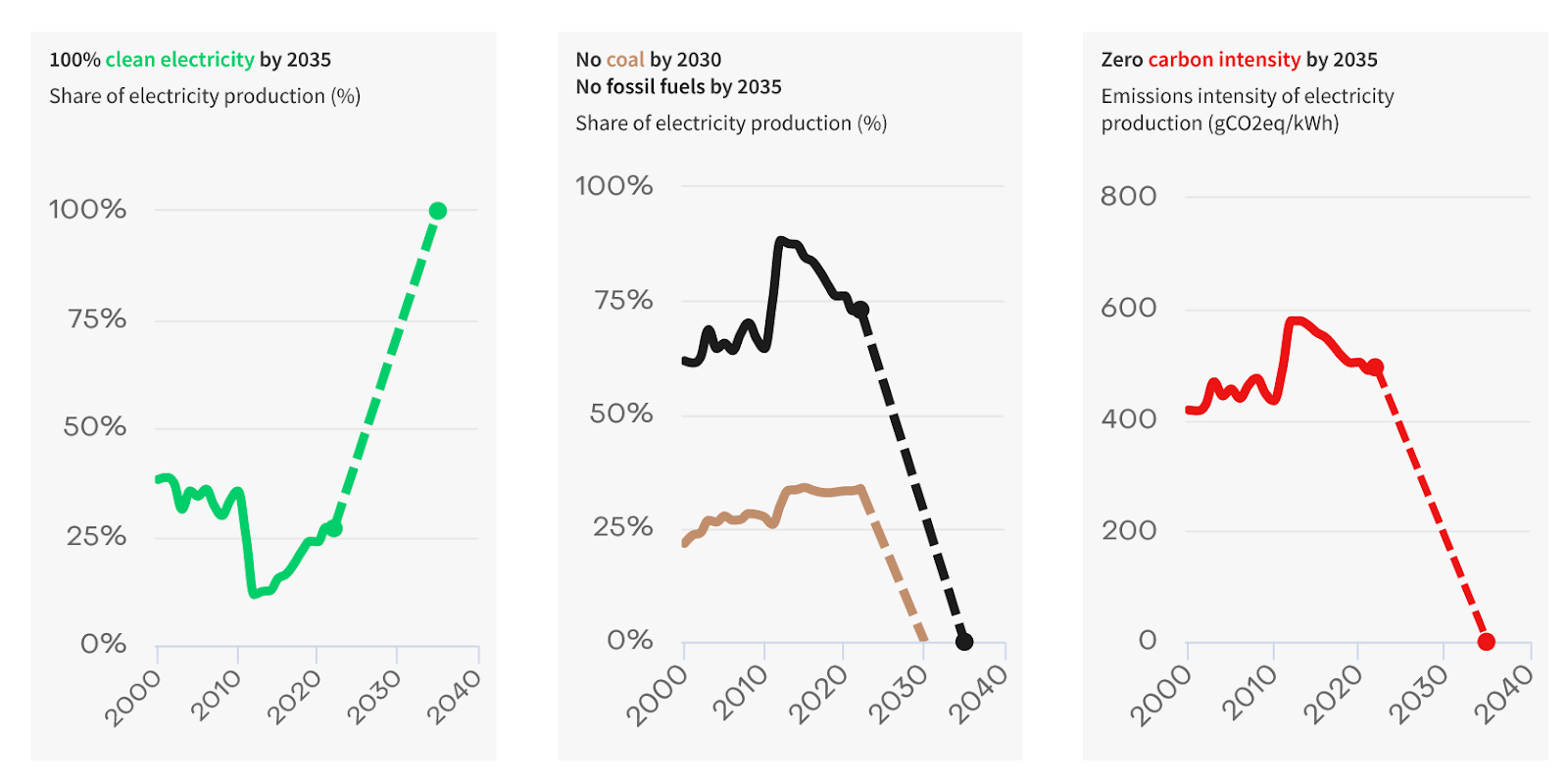 Japan also has the lowest share of clean power among the G7, and its wind power adoption of just 1% is the weakest among the group.
The G7 committed to building 150 GW of offshore wind by 2030. Yet, just 4% would be in Japan by 2030, highlighting how far it has fallen behind in the energy transition.
The country's reluctance to commit to full power sector decarbonisation by 2035 and its clean coal ambitions have attracted criticism from the rest of the G7. Furthermore, G6 officials referred to Japan as "an obstacle" in the G7's energy transition agenda. The group also challenged Japan's GX strategy and the viability of the proposed technologies.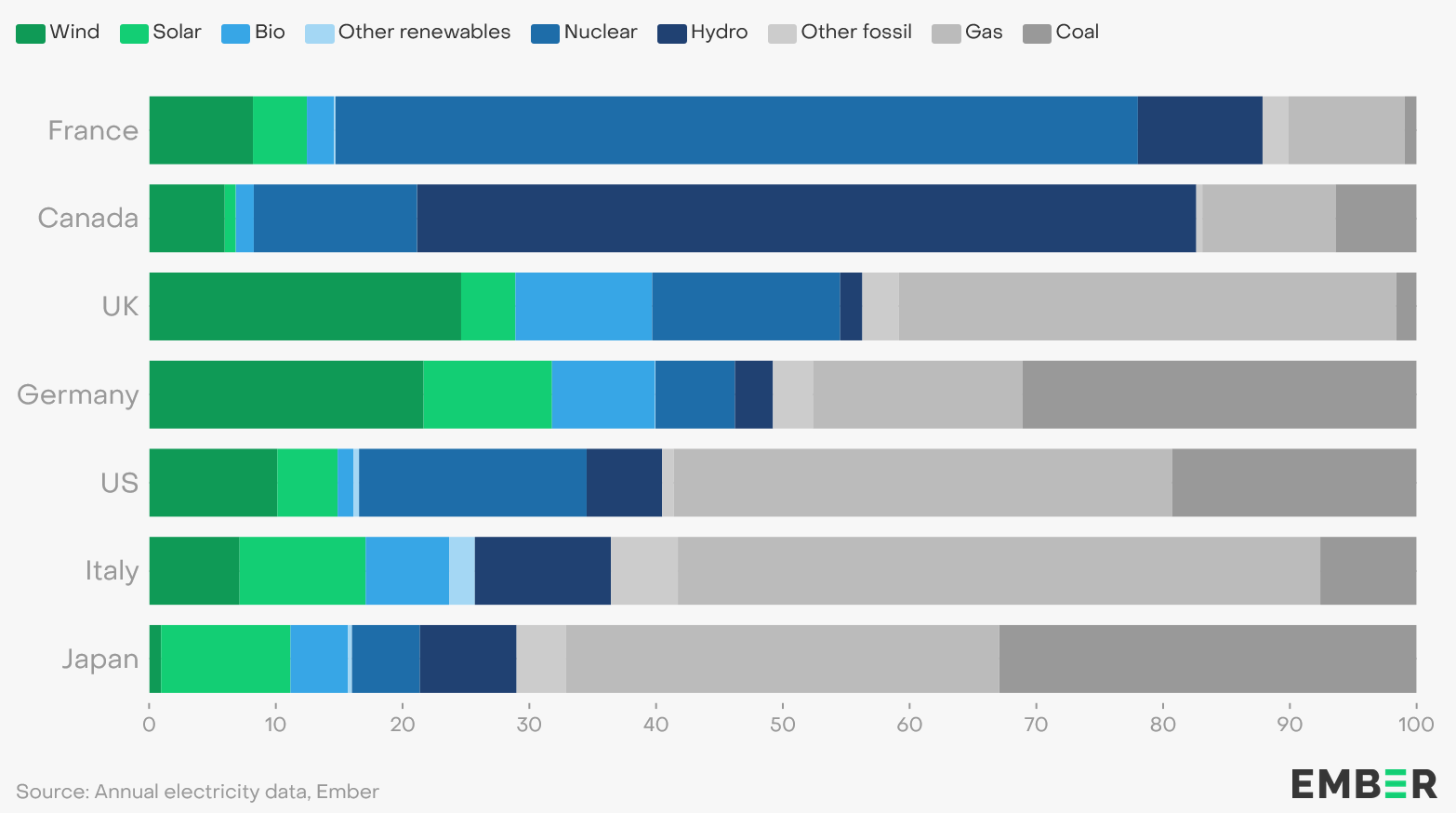 Getting Back on Track: A Question of Political Will
At COP28, G7 countries must demonstrate leadership in ensuring a liveable future. However, Japan will again be the odd one at the table.
Meanwhile, the conference will be hosted by the UAE – a country with which Japan has close ties. However, the relationship isn't based on clean technologies but oil, hydrogen and ammonia.
According to Kimiko Hirata, the founder of Kiko Network and Climate Integrate, Japan doesn't care about the climate urgency.
Starting with COP28 and its energy policy revision in 2024, there is still time for the country's governmental and corporate leadership to salvage their reputation and prove the opposite. If they fail again, however, Japan can expect nothing different from COP27 when it was awarded the so-called "Fossil Prize".
While the country seems unfazed by the growing criticism from G7 members and environmental and societal groups regarding its climate inaction, it must do something not only to save its reputation but also the planet.
by Viktor Tachev
Viktor has years of experience in financial markets and energy finance, working as a marketing consultant and content creator for leading institutions, NGOs, and tech startups. He is a regular contributor to knowledge hubs and magazines, tackling the latest trends in sustainability and green energy.
Read more