Tackling Greenwashing: the Report of UN Experts at COP27 Reveals All
In a world of ever-increasing emissions and where the effects of climate change are often exceeding scientists' projections, greenwashing has been a persistent problem. The latest report of the UN High-Level Expert Group, however, can be a real difference-maker, if it provokes regulatory action.
05 December 2022 – by Viktor Tachev
The special report by the group of UN experts at COP27 was among the most important outcomes of the 2022 UN Climate Change Conference. The high-level expert group's work addresses the existing loopholes and deficiencies in emissions reporting, as well as the lack of transparency in the climate-related actions of the corporate sector. The framework further defines greenwashing and helps guide the companies that are deceiving the public towards a better path to fight global warming.
'Integrity Matters': The Special Report of United Nations Experts at COP27
At COP27 in Sharm El Sheikh, Egypt, a group of UN experts presented the Integrity Matters: Net Zero Commitments by Businesses, Financial Institutions, Cities and Regions report. It is the result of seven months of work during which experts held more than 40 regional and thematic consultations with over 500 global organisations.
Net-Zero Claims
The report aims to address the net-zero claims and corporate climate pledges from non‑state actors. Its goal is to help crack down on the greenwashers that threaten to undermine efforts to achieve the 1.5°C target and reach net zero emissions.
"After consulting with hundreds of individuals and organisations and incorporating the latest research and science, we have a road map to ensure that net zero commitments by industry, financial institutions, cities and regions are ambitious, transparent and credible."

Catherine McKenna, chair of the UN-appointed expert group
The report sets out five principles designed to help companies set and achieve net-zero targets and reduce greenhouse gas emissions. It also provides a list of 10 recommendations on what non-state actors need to consider through each stage of their decarbonisation journey.
The Five Principles of the UN Expert Group Report
Ambition to achieve substantial near and medium-term emissions reductions on a path to global net-zero by 2050
Demonstrated integrity by aligning commitments with actions and investments
Radical transparency in sharing non-competitive, comparable data on plans and progress
Established credibility through science-based plans and third-party accountability
Demonstrable commitment to both equity and justice in all actions
The 10 Recommendations
Announcing a net-zero pledge
Setting net-zero targets
Using voluntary credits
Creating a transition plan
Phasing out of fossil fuels and scaling up renewable energy
Aligning lobbying and advocacy
People and nature in the just transition
Increasing transparency and accountability
Investing in just transitions
Accelerating the road to regulation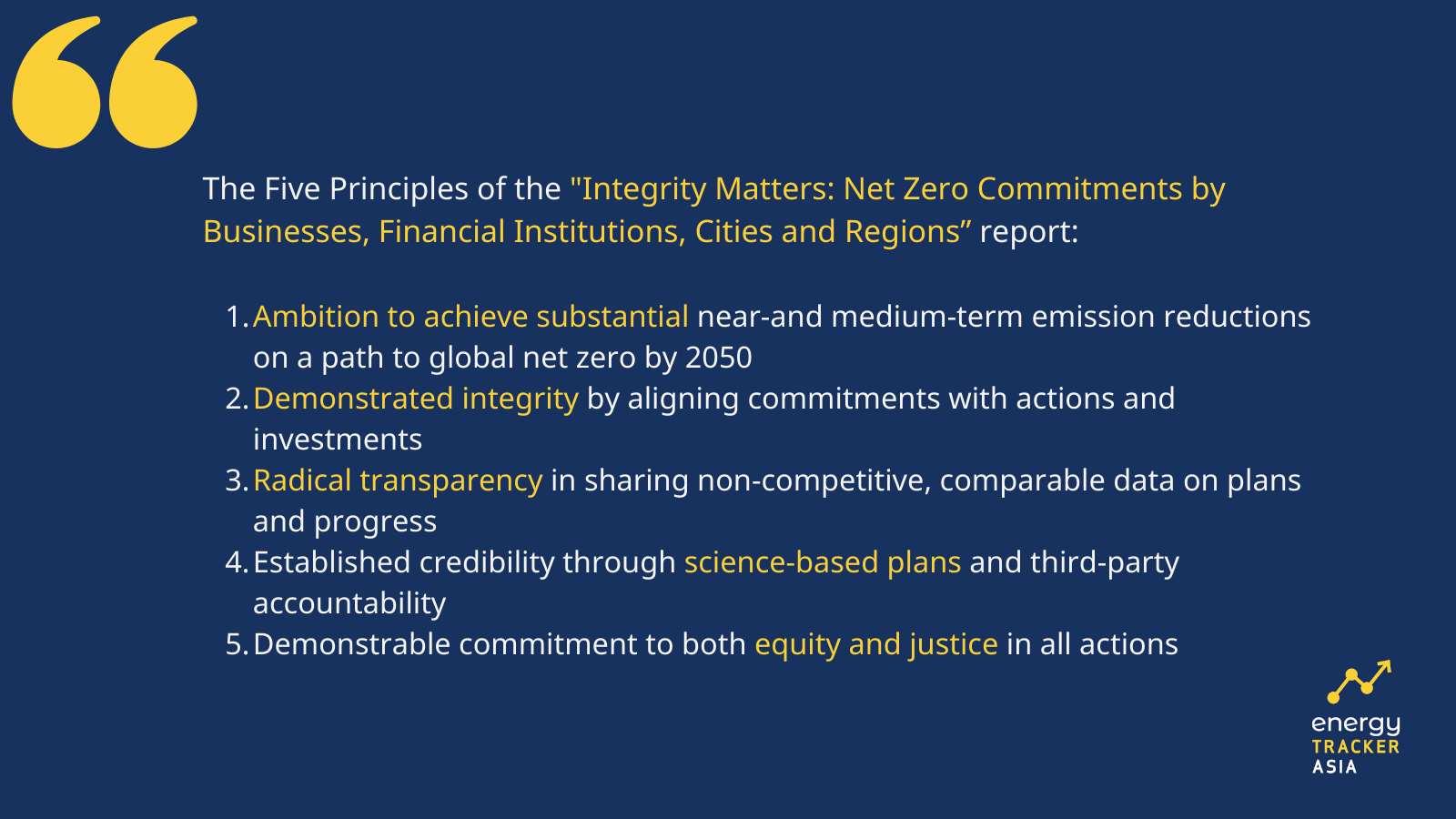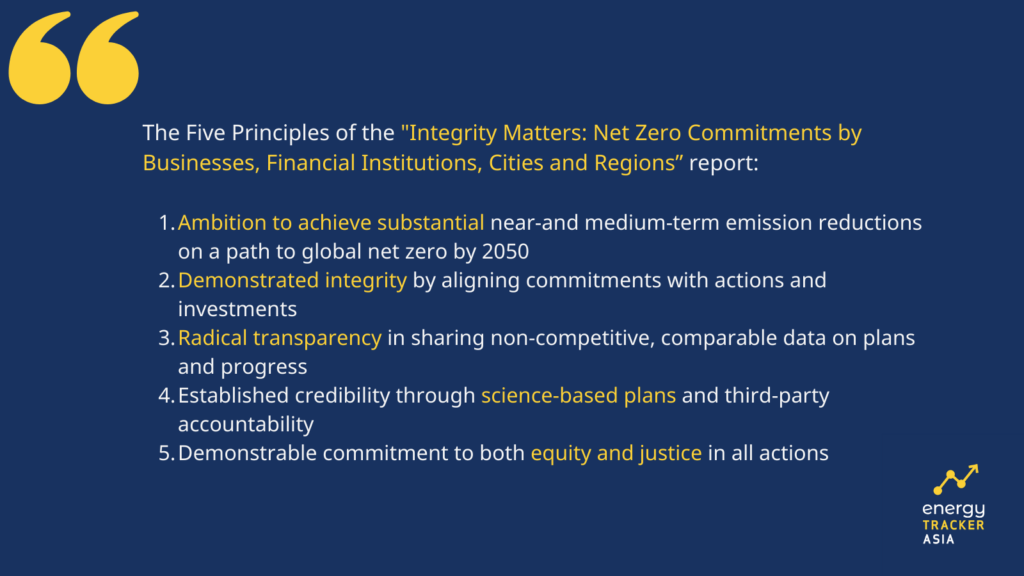 The Essence of the Report and What It Means For Companies
The report's bottom line is that companies would no longer have excuses for delaying their action. Furthermore, all efforts should be meaningful and sideways moves or questionable practices ( like using unverified, low-quality carbon offsets to meet short-term goals) won't be tolerated.
Companies are advised to pursue interim targets (for 2025, 2030 and 2035) aligned with the IPCC's or IEA's net-zero scenarios. The targets would ideally be science-based and pursue 50% or higher emissions reductions by 2030 and net-zero by 2050 or sooner. Companies would have to set the targets no later than a year after announcing a net-zero pledge.
Participation in new fossil fuel projects in any capacity (like the case of SMC in the Philippines, for example) would be singled out as a move directly opposing climate goals. In that sense, claiming to have net-zero aspirations while continuing to engage in environmentally destructive activities would be disqualifying.
Companies are advised to disclose transparent and detailed information and report publicly on their progress with verified data that can be compared with their peers. Limited reports or blurred data won't work anymore.
Another major red flag is the failure to reduce supply chain emissions. Companies must prioritise their entire value chains (Scope 1, 2 and 3). Furthermore, they would have to focus on reducing their emissions intensity rather than their overall quantity.
Lobbying to undermine ambitious climate policies from governments or other parties, either directly or indirectly, would be a red flag and a signal to authorities.
Companies aspiring to be climate champions will have to align their expenditures to net-zero targets and link executive compensation to their results.
How Are Companies Reacting?
Since COP26 Glasgow, corporate net-zero pledges have grown exponentially. Today, over a third of the largest companies have one. However, the businesses that are following their pledges with the appropriate climate action are few.
The reason is existing loopholes, allowing companies to hide behind the idea of net-zero and greenwash public opinion. Catherine McKenna, chair of the expert group behind the report, describes this as a practice of "empty slogans and hype".
"We urgently need every business, investor, city, state and region to walk the talk on their net-zero promises. We cannot afford slow movers, fake movers or any form of greenwashing."

António Guterres, UN Secretary-General
The developments at COP27 2022 are a promising step for changing this practice. The report received broad support from various influential industry organisations. However, it also sent shivers through boardrooms worldwide.
Pilita Clark from the Financial Times reports that some executives felt "exhausted and demoralised" after the new report was presented at COP27. Others have described the idea of mandatory disclosure of net-zero plans as "ludicrous," she notes.
Furthermore, a survey by South Pole of over 1,200 big companies finds that 25% don't plan to publish their net-zero progress "beyond the bare minimum".
While it doesn't exactly paint a promising picture, the backlash isn't surprising. Companies have long been stalling on their commitments and have included them only to serve marketing purposes, without real intentions to make good on them.
Non-state actors should realise that they also play a part in solving the climate crisis. As a result, their actions will either be the fuel that will further exacerbate the problem or be the solution to it. While actions have leaned towards the former so far, the new guidance is an opportunity for change.
UN Experts at COP27 Have Given the Blueprint – Now Companies Should Follow It
The high-level expert group report serves as a how-to guide for ensuring credible, accountable and actionable net-zero pledges.
"This is about cutting emissions, not corners. Our road map provides clear standards and criteria that must be followed when developing net-zero commitments. Right now, the planet cannot afford delays, excuses or more greenwashing."

Catherine McKenna, chair of the UN-appointed expert group
The report calls for oversight authorities to introduce legally binding regulations to hold non-state actors accountable for their climate actions. So far, only the EU is making progress on that front. However, as history shows, voluntary initiatives are struggling to make a difference, and the only way out of a world of ever-increasing emissions might be stricter regulations.
With that said, the UN expert group might have just kick-started the end of greenwashing. Now that non-state actors have the framework to better align themselves with the 1.5°C target, the ball is in their court. If not voluntarily, then, at some point, they would have to face compulsory action.
by Viktor Tachev
Viktor has years of experience in financial markets and energy finance, working as a marketing consultant and content creator for leading institutions, NGOs, and tech startups. He is a regular contributor to knowledge hubs and magazines, tackling the latest trends in sustainability and green energy.
Read more