The G7's Responsibility to Help Bangladesh and Other Climate-affected Countries
At the approaching 2023 G7 meeting, the world expects global leaders to address the elephant in the room: fossil fuel phase-out. The G7 must set an example and develop a unified vision to help address climate change – an issue heavily impacting developing nations.
17 May 2023 – by Viktor Tachev
Bangladesh is in a dire situation and needs assistance from G7 countries. Its economy is locked into fossil fuel dependence and high power costs, while its territory is among the most vulnerable to climate change.
The situation is a glaring example of the struggles of many developing countries around the world. With rising global economic turmoil and volatile energy markets, it is time for countries like Bangladesh to reframe their energy policies towards a just energy transition.
The G7 was founded after the 1973 OPEC oil embargo as a forum for wealthy nations to discuss global economic crises and, in recent times, assistance in reducing debts for poorer nations. However, considering that G7 nations are disjointed when it comes to crucial topics like fossil fuel phase-out or halting investments in new fossil fuel infrastructure, the mission to decarbonise developing economies has hit a number of speed bumps.
Bangladesh's Struggles
Firstly, Bangladesh's power generation is currently not enough, and businesses and households face severe power outages. These can last even up to 10 hours in some areas.
Bangladesh meets over 95% of its electricity generation needs with fossil fuels. Since local gas fields are quickly depleting, the country is increasingly looking towards imports, undermining its energy independence and leaving itself at the mercy of fossil fuel suppliers.
Throughout 2022, not only was Bangladesh forced to bear with volatile and record-high fossil fuel prices, but it still couldn't ensure sufficient electricity production to meet its demand. As a result, it faces blackouts that will last for years to come.
With depleting foreign exchange reserves, fossil fuel dependence raises severe debt burdens, financial challenges and an energy crisis for a developing, climate-vulnerable country like Bangladesh.
Throughout 2022, the volatile fossil fuel prices exacerbated inflationary pressures. Retail and business users had to bear with multiple electricity rate hikes. Gas prices for some sectors, including power, jumped from 14% to 179%. Even bearing with the high costs wasn't a guarantee for the supply. Meanwhile, the prices took a toll on the competitiveness and the reputation of many Bangladeshi companies, the backbone of its export-oriented economy. On a national level, Bangladesh faced a foreign exchange supply crunch, causing a fiscal crisis. The government even had to seek help from creditors and the IMF.
The Role of the G7 in Assisting Developing Countries like Bangladesh
G7 countries, as some of the main drivers behind climate change, have the moral responsibility and the financial ability to help developing nations decarbonise and protect against climate disasters.
However, as of now, this doesn't seem realistic due to the group's disagreements on crucial points like the fossil fuel phase-out date, complete power sector decarbonisation and halting investments in new fossil fuel infrastructure.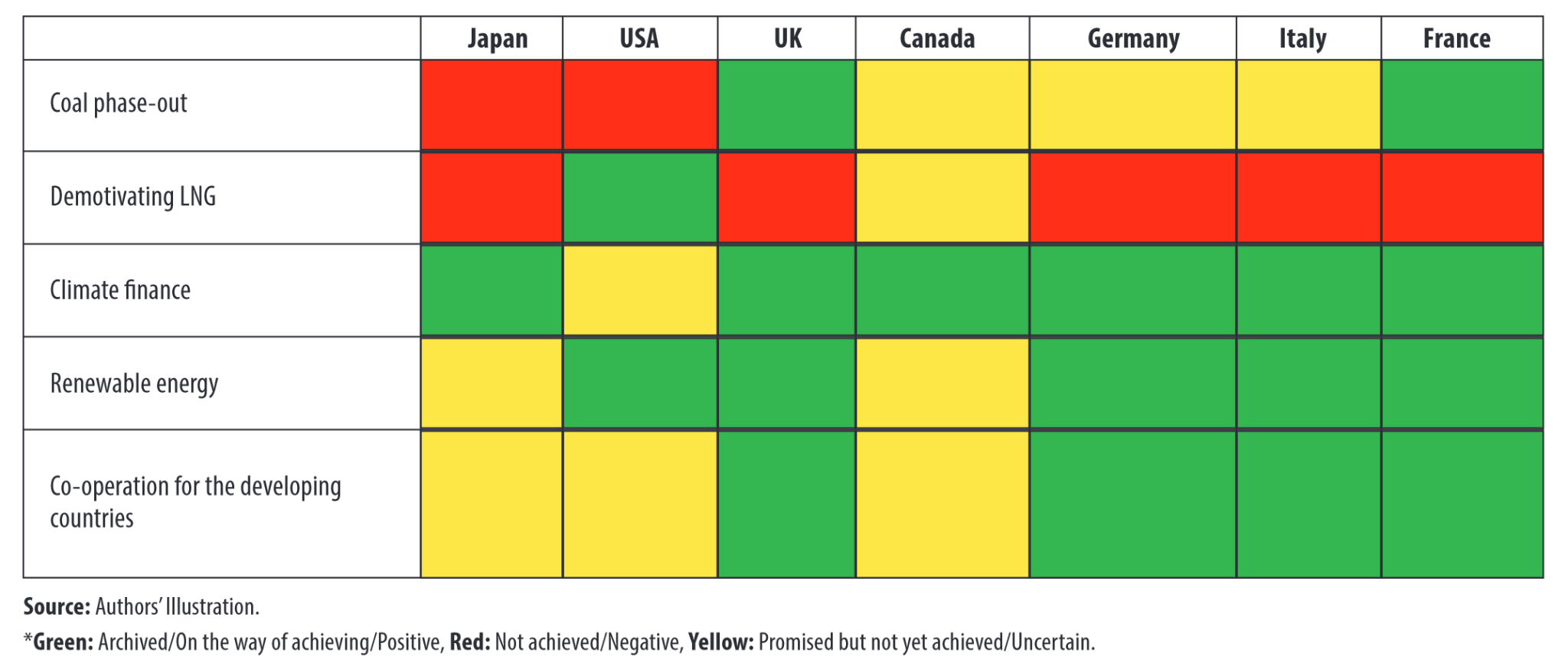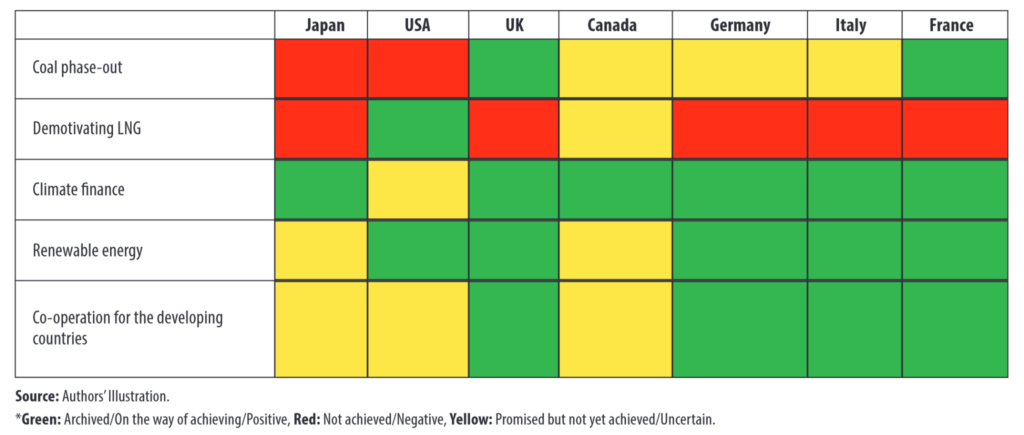 According to Dr. Khondaker Golam Moazzem, research director at the Centre for Policy Dialogue, current G7 commitments are stagnant, with countries moving "in opposite directions". The expert describes the ongoing G7 discussions on fossil fuel and renewable energy financing as "ambiguous, delayed and unstable".
Japan's actions are central to the lack of clarity and the disjointedness among the G7. The country openly refuses to commit to a coal phase-out. Furthermore, it actively advocates increased investment in LNG and upstream gas projects. According to experts, the main reason for this is to maintain its fossil fuel interests and avoid changing local policies.
Moreover, Japan is actively pushing to export its Green Transition (GX) strategy to developing nations in Asia – an effort branded by experts as a "greenwashing exercise" to prolong the use of fossil fuels.
Close Ties Between Japan and Bangladesh: A Problem or an Opportunity?
Japan, the main antagonist in the G7 regarding climate commitments, is a critical partner of Bangladesh. But instead of helping it decarbonise, Japan is pushing Bangladesh towards the depths of fossil fuel dependence.
Bangladesh has shown strong interest in a just energy transition with the recently approved Mujib Climate Prosperity Plan, which highlights a goal of 40% power generation from renewables by 2041. The country needs to mobilise a steady stream of climate finance from advanced economies, such as the G7, to enable Bangladesh to shrink its share of fossil fuels in the energy mix and vastly expand its renewable energy capacity.
Currently, Japan is assisting Bangladesh in shaping its Integrated Energy and Power Master Plan Project. The integrated master plan focuses on "establishing a low/zero carbon energy system" to help the country ensure "energy security and economic viability". However, the essence of the plan suggests otherwise, as the main focus is LNG. CCUS technology is also promoted as pivotal. Furthermore, the plan directly pushes Japan's GX strategy, including the use of hydrogen and ammonia as viable renewable energy technologies.
While Japanese officials argue that the master plan is "ambitious" and "realistic", fears that Japan will extend its fossil fuel interests to Japan remain. For example, Japanese organisations drove the development of the controversial Matarbari coal power plant, which the IEEFA found to cost eight to 10 times more than comparable projects in China. Furthermore, the project couldn't even launch and was delayed until the end of 2026. As a result, Bangladesh is stuck with a brand new coal plant while others are decommissioning such assets. Still, Japanese officials argue the plant will help "achieve cleaner energy" and reflect Japan's "commitment towards cleaner energy". Furthermore, Japanese power company JERA recently defined the upcoming gas infrastructure investments in Bangladesh as a byproduct of the company's efforts to "drive decarbonisation" in Asia.
While Japan proclaims that these solutions will strengthen countries' energy security, they risk doing the opposite. As a result, civil society groups across Southeast Asia are protesting against Japan's quest to equip their countries with ammonia co-firing and hydrogen infrastructure.
What Bangladesh Needs From the G7
According to a policy brief presented and published at a dialogue meeting held on May 10 in Dhaka, Bangladesh, in the presence of representatives from the Japanese, British and German consulates and members of parliament from the Bangladeshi government, it is imperative for G7 countries to immediately stop investments in coal – with or without CCUS – and LNG projects in developing countries like Bangladesh. Instead, they should prioritise renewable energy as the primary way to help nations struggling with energy dependence and climate risk. The dialogue urges G7 countries to support Bangladesh towards a net-zero transition that is just and inclusive, with gradual structural reforms to avoid economic and societal harm.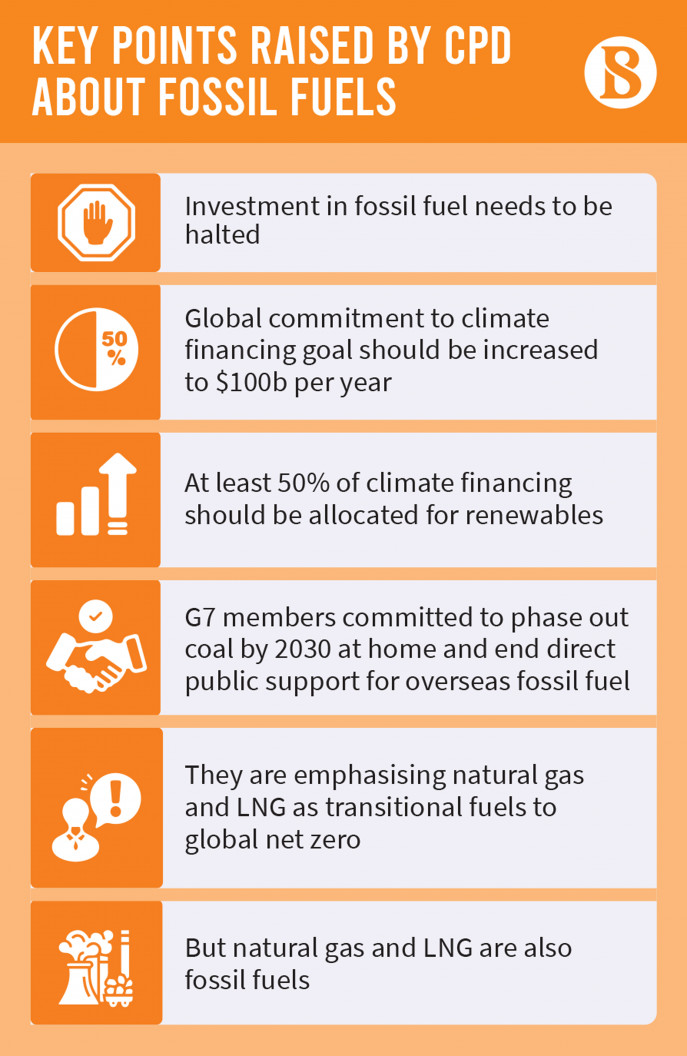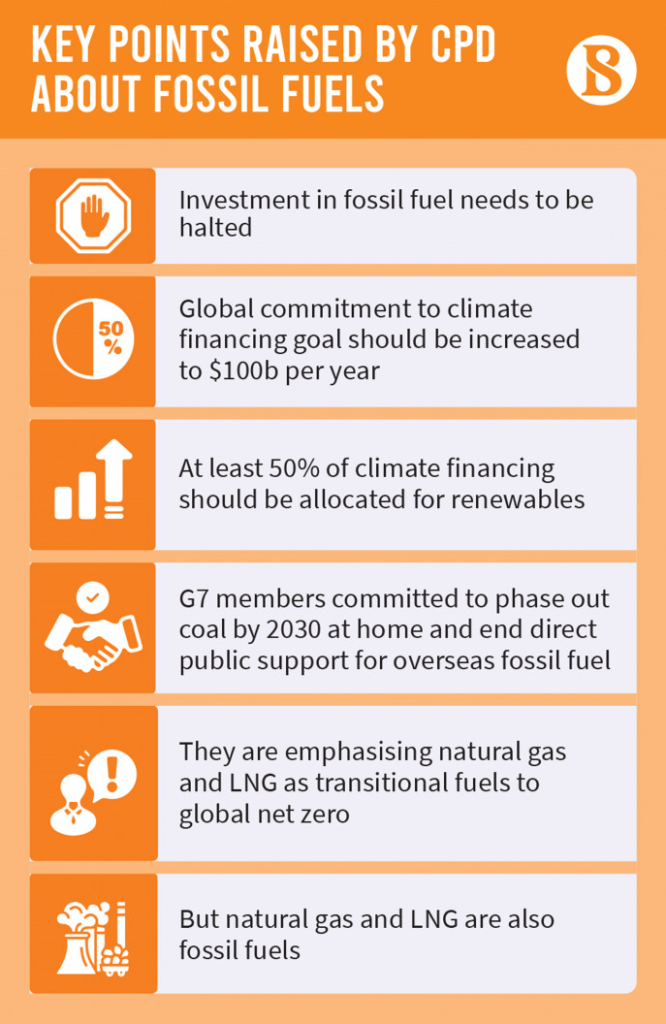 Additionally, the dialogue calls on the G7 leaders to increase global climate financing to USD 100 billion annually, with at least 50% going directly towards clean energy financing. Furthermore, experts also warn against imposing "untested, debatable and expensive technologies like hydrogen fuel and ammonia" on developing nations – in what appeared to be a direct dig at Japan.
Regarding Bangladesh, specifically, the dialogue urges G7 leaders to ensure adequate technical and financial support so that the country can meet its 40% clean energy target by 2041. According to the IEEFA, this would require up to USD 1.71 billion annually in investment between 2024 and 2041.
The country also needs proper technical guidance and financial assistance to prevent, mitigate and adapt to climate change impacts while ensuring its energy security. The rest of the G7 must intervene and protect developing nations from Japan's push to export its ammonia co-firing and hydrogen technologies. This action should be timely since, in the case of Bangladesh, it is laid out in the upcoming IEPMP plan as a leading decarbonisation solution. If the plan materialises, it will lock the country into investing in untested and expensive technologies, prolonging the life of fossil fuels when cheaper renewables are already commercially-available.
Looking Towards the G7 Summit and COP28
Existing local policies and the external push from the global fossil fuel lobby have turned Bangladesh into a "dumping ground" for foreign fossil fuels.
Japan and the G7 are the only ones capable of changing that. With adequate and timely financial and technical support, they can help loosen the grip of the climate crisis and energy insecurity while strengthening Bangladesh's economy. What's more, the country has the potential to embody the G7's vision for a sustainable and circular supply chain and become a regional investment hub.
Bangladesh's massive, untapped potential for solar and wind is the perfect prerequisite to ease this transition. According to Florian Höllen from the Embassy of the Federal Republic of Germany, the country can also utilise its geothermal resources by utilising existing gas drilling infrastructure.
Doing so would help resolve the power blackouts and energy poverty in Bangladesh. Meanwhile, the country could look towards a cleaner and more resilient energy system, ensuring cheaper electricity for the millions in need. However, the only way to do this is through the help of G7 countries. Japan and the other countries should take the lead.
by Viktor Tachev
Viktor has years of experience in financial markets and energy finance, working as a marketing consultant and content creator for leading institutions, NGOs, and tech startups. He is a regular contributor to knowledge hubs and magazines, tackling the latest trends in sustainability and green energy.
Read more