What Is the Future of Sustainability in Sports and Sponsorships?
A new stadium in Atlanta, Georgia is pursuing several sustainability certifications. Source: USGBC.org
21 June 2022 – by Eric Koons
The focus of sports has long been on competition, show and profit. Little emphasis has been placed on the impacts surrounding these events. However, this is changing and sustainability is gaining traction. For example, professional football team Juventus FC releasing yearly sustainability reports to the Tokyo 2021 Olympic Games working to be carbon neutral. Is sustainability in sports industry growing?
Sustainability in Sports Examples
The Tokyo 2021 Olympics represent a key example of this transition. The Olympic Games are historically one of the largest fossil fuel emitting sports events. This is mainly due to the sheer number of people that participate and attend. To reduce the carbon footprint of the Tokyo 2021 Olympics, several initiatives have been put into place. These include a carbon offset programme, electric vehicles and the use of recycled materials. As a result, based on projections, the Tokyo Olympics will be carbon neutral. This is a huge leap for sustainability in sport.
Sports Sustainability Across the Industry
Sports greening is possible from sustainable facilities to net-zero carbon emissions targets to sponsorships by environmentally conscious brands.
Environmental Sustainability of Sports Facilities
The professional English football team, Forest Green Rovers, is leading the way for environmentally friendly stadiums. Their purpose-built stadium is made of wood, powered by renewable energy and serves vegan food on game days. Although these facilities were not cheap investments, they have already started to pay dividends. FIFA dubbed the team as the most sustainable soccer club, which has garnered new media attention for the team, ultimately helping them grow their fanbase, attract players and attain more sponsorships.
Net-Zero Emissions Targets in Sport Organisations
Formula One (F1), the world's leading motorsport series, has pledged to be carbon neutral by 2030. Coming from a sport based on combustion engine cars, this is a big deal. The F1 circuit announced a variety of programmes to help meet this goal. These include requiring race engines fulled by 10% biofuel, eliminating all single-use plastics and requiring teams to use only renewable energy in their operations.
Sustainable Sports Sponsorship
Octopus Energy is one of the leading green energy companies in the UK and holds a 7.5% market share. They are also sponsors for the Arsenal Football Club and have helped the club install solar panels throughout their stadium. Additionally, Octopus Energy provides benefits and savings for Arsenal fans, which ultimately increases public awareness of renewable energy, improves the green image of Arsenal, and increases sales for Octopus Energy.
Financial and Environmental Value to Sustainable Sport Events
This sustainability in sports is beneficial for several reasons. Two of the most notable are financial opportunity and positive environmental impact.
In terms of financials, sports organisations focusing on sustainability are sought after by company sponsors looking to improve their environmental image. The previous example of Octopus Energy and Arsenal highlights this. Moreover, it shows how both parties see financial and reputational gains from the partnership.
Sport Governing Bodies Must Be Greener
On a larger scale, this transition is not only beneficial but a necessity. The world is warming due to human influence. If no action is taken to reduce carbon emissions, this temperature change could spiral out of control, causing countless knock-on effects for sport. For example, the increasing temperatures could make it harder and even unsafe to play sports. Sustainability must be at the forefront of planning.
Sustainability in Sports: Tokyo 2021 and Heat
The Tokyo Olympic committee, for example, is seriously concerned about the heat during the events. The British Association for Sustainable Sport released a report, "Rings of Fire," discussed how heat could impact the 2021 Tokyo Olympics. "The mean annual temperature in Tokyo, the capital city and host of the 2021 Olympics, has increased by 2.86°C since 1900," said the report. "As Olympic stars, their coaches, and heat experts explain in this report, intense heat and high levels of humidity are a threat to athletes at the 2021 Tokyo Olympics."

What Does the Future of Sustainable Sports Sponsorship Look Like in Asia?
There are significant opportunities for green sponsorships to grow globally. For example, Asia will likely be one of the leading markets for this growth due to population and demand.
Asia has seen significant development over the last twenty years. This means that for many sports, Asia remain largely untapped. And demand for environmental sustainability to mitigate the environmental impact of their sporting events is also increasing in the region. Several Asian countries have released net-zero goals and others have signed the Paris Agreement.
The Opportunity for Asian Sports Events and the Environmental Impact of Politics
Combined, this creates a market where the consumer base and sports organisations are looking for sponsors. This includes a social and political climate that is demanding higher environmental sustainability standards.
Green sponsorship and the growing sustainability of sports will play a valuable role in the coming decades. It helps climate policy, corporate spending and public image come together to support a combined goal. Additionally, it creates a unique cycle that increases public awareness, increases public demand and ultimately increases spending. The opportunity for both sport organisations and private companies is already available. But as demand increases, this may not always be the case.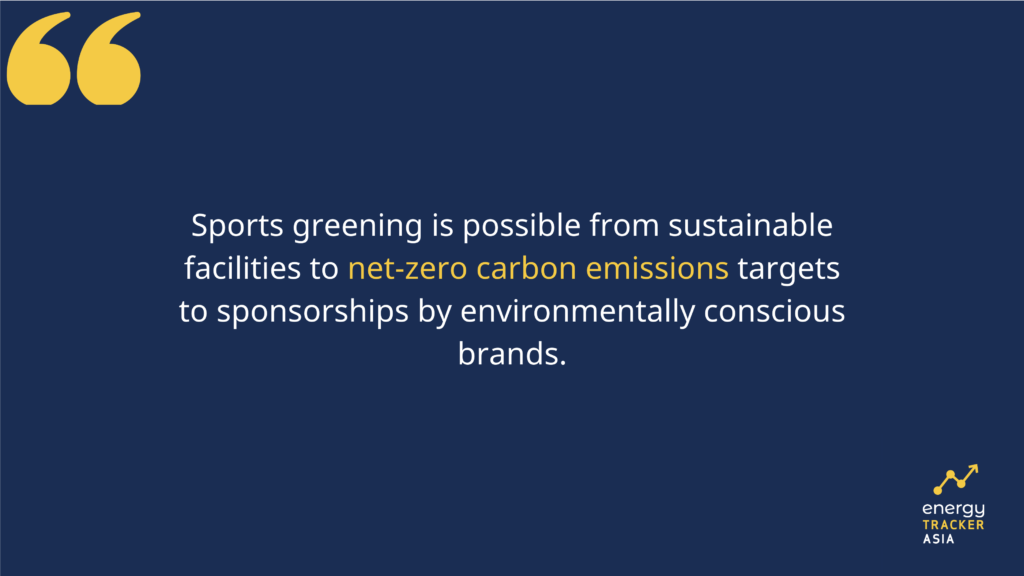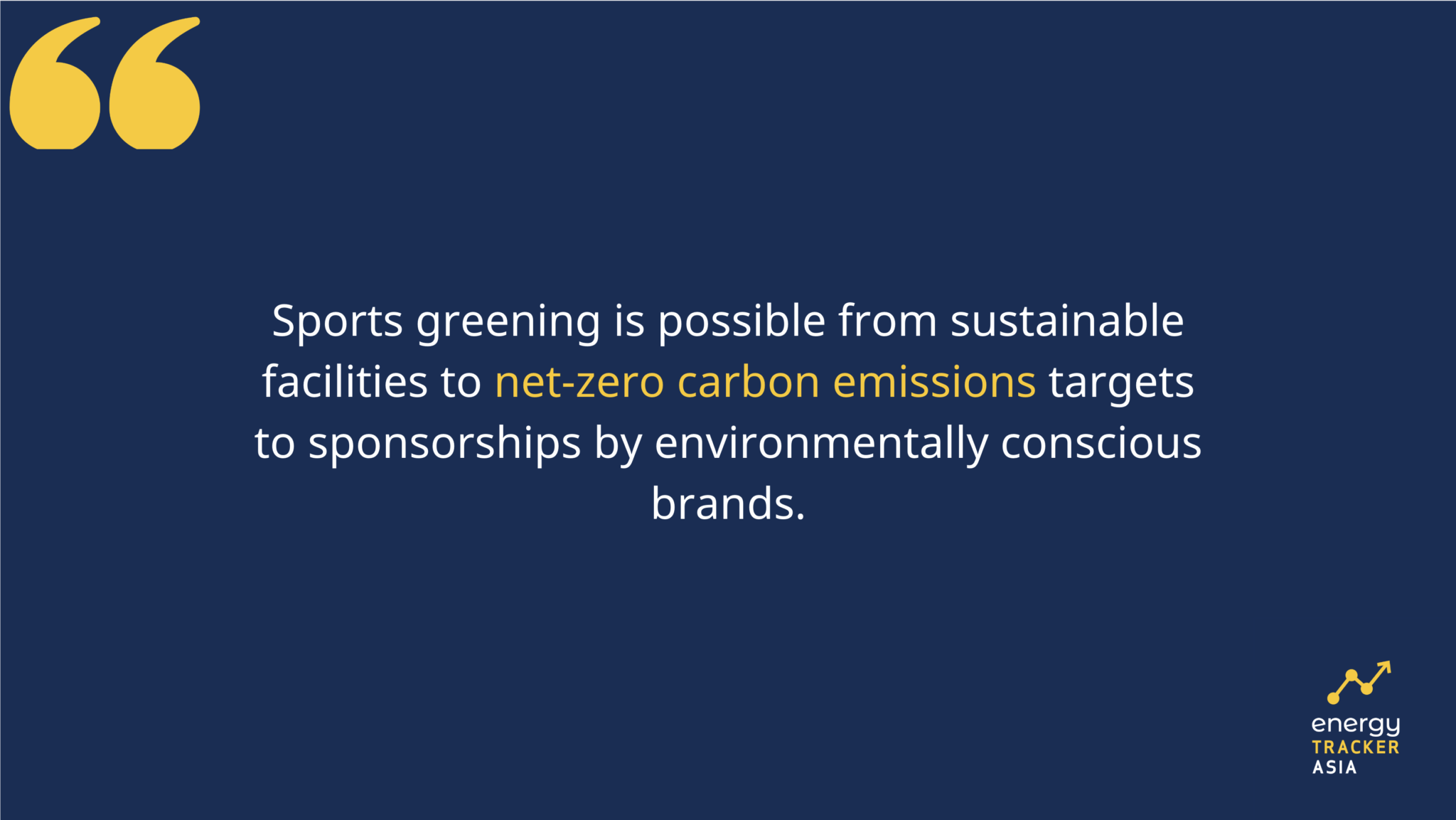 by Eric Koons
Eric is a passionate environmental advocate that believes renewable energy is a key piece in meeting the world's growing energy demands. He received an environmental science degree from the University of California and has worked to promote environmentally and socially sustainable practices since. Eric's expertise extends across the environmental field, yet he maintains a strong focus on renewable energy. His work has been featured by leading environmental organizations, such as World Resources Institute and Hitachi ABB Power Grids.
Read more