The Spotlight on the Asia-Pacific's Energy Transitioning to Net-Zero Emissions
Clean energy executive, analyst, and author Joseph Jacobelli argues that the Asia Pacific region has unique features when it comes to the electricity transition to Net Zero Emissions (NTZ). He thinks that the shift from polluting fossil fuels to green and sustainable energy sources will be the biggest in the world, that capital spending will eclipse all other regions, and that some power markets will lead while others will lag.
24 November 2021 – by Joseph Jacobelli
In my book Asia's Energy Revolution, I pointed out that the Asia-Pacific region has unique and salient features that make its energy transition to net-zero emissions unique. This includes two fundamentals and two transformations.
The first fundamental feature of Asia-Pacific's energy transition is that Asia is the largest electricity consuming region globally by an extensive margin. In 2020, it produced 12,961 TWh of electricity, about 48% of the world's total, rocketing upwards from 2010's share of around 38%. The only considerable competition came from North America with 5,221 TWh or about 19% of the globe's total. Asia's electricity growth will continue to ascend over the next 30 years from significant population and economic development. Much of this growth will come from developing countries, where they will be producing almost nine-tenths of generation.
The second fundamental feature of Asia-Pacific's energy transition is that only a small percentage of power markets are liberalised to date. However, many are making good progress in opening up their energy markets in the region and the globe.
On the transformational side, some trends are shifting existing and planned electricity generation towards greener and cleaner sources instead of fossil fuels. These trends are also working collectively with heavy investments into digital technology and solutions at the operational and consumer levels, or "behind-the-meter".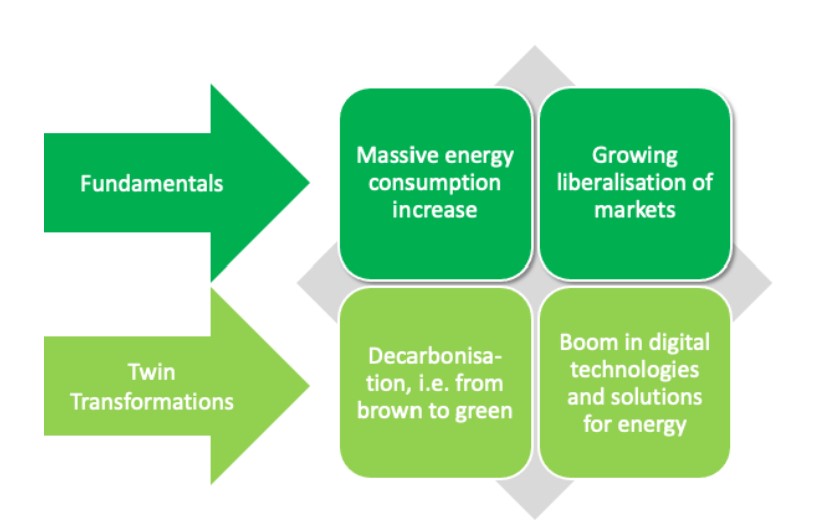 Green Energy's Growth on the Upside will be a Surprise
The most recent forecast for Asia's electricity generation growth was published in October 2021 by the International Energy Agency (IEA). The agency estimates electricity to grow by 2.8% by 2050, reaching a total of 24,055 TWh. Clean energy is expected to play a massive role in this growth, making up between 60-82% of the total.

But the rate of growth could be stronger than the higher-end of the IEA estimate, with India and China, and other markets boosting the numbers. In China, on the highest end, its 15,947 TWh could be 1,000 – 2,000 TWh higher given the countries aggressive electrification ambitions, especially in electric mobility. The 5,812 TWh higher-end estimate assumes that its economic development will lag for India, which doesn't seem to be the case.
For some of the other large power markets in developing Asia, the increases are likely to be much higher using simple multipliers like per-capita kWh.
Asia-Pacific's Energy Transition Related Spending Will be Massive
Over the next 30 years, through to 2050, the Asia-Pacific will need between USD 20-37 trillion for electricity generation infrastructure alone. At the same time, hundreds of billions of dollars are necessary for public and private sector investments in digital technologies and solutions related to energy like smart grids. Generating this mammoth amount of capital has its challenges, but it is not a question of "if", but "when". These investments are the lifeblood of economic growth, which the Asia-Pacific is seeking.
One outcome of this trajectory is that the region's capital markets will become even more buoyant. We are likely to see many more initial public offerings by clean energy companies and related industries, as well as more equity market fundraising by already-listed companies.
The amount of capital raised by companies and governments alike through green or sustainability-related bonds will continue to surge. Hong Kong's government is already sowing these seeds, with its potential EUR 19 billion worth of green bonds in the next five years. Banks in the Asia-Pacific will be following suit with green lending and will have to formulate plans towards net-zero emissions portfolios. This means banks will have to raise the amount of financing dedicated to green resources, a trend already beginning with banks like Japan's Nomura and Malaysia's CIMB Group.
Growth Will Not Be Evenly Weighted
The speed of the net-zero emissions transition will differ amongst power markets in the Asia-Pacific. Four or five countries will likely lead the charge.
China's leading role is already expected, thanks to its decade-long experience building its solar and wind energy plants. China is already home to around 570 GW of renewable energy. Also working in China's favour is its status as the largest global producer of wind turbines and solar systems. Based on past trends and policies, China should be able to continue its reign as a clean energy leader in the Asia-Pacific.
Other power markets in Singapore, South Korea and Thailand will also do well. They, like China, are making way for consistent and transparent policy – an element fundamental to energy markets. Vietnam, too, could become a regional leader if it continues to execute its renewable energy policy as it has done in recent times. On the flip side, without federal support geared towards clean energy, Australia will lag behind its neighbours. So far, only Australia's state governments are supporting clean energy policies.
With Asia's electricity demands set to soar, along with populations and economic development, clean energy transitions couldn't be more pertinent. Thankfully, the change, along with investments into clean energy, are well underway. Over the coming years, countries across the Asia-Pacific could experience vast energy and infrastructure transformations, which will be critical in a world pushing towards net-zero emissions.
_________________________________________________________________________________________________________________________________________________________________________
Joseph Jacobelli is a renowned clean energy business executive, analyst, and author with over 30 years' experience in Asia. He runs family office and direct investments advisory firm Asia Clean Tech Energy (actE) Investments. In 2021, he published: "Asia's Energy Revolution: China's Role and New Opportunities as Markets Transform and Digitalise".

About Asia Clean Tech Energy (actE) Investments
actE manages a multi-asset investment strategy family office and provides direct investments advisory services for Sustainable Development Goals-focused projects.

Disclaimer: The views and opinions expressed in this article are those of the authors and do not necessarily reflect the official policy or position of Energy Tracker Asia.