Breakthrough Agenda Report Signals Risks to Clean Technology
Photo by Kampan via Shutterstock
The first annual Breakthrough Agenda Report indicates that the current progress towards the agenda's goals is lacking. Each of the five main emitting sectors has significant progress to make, particularly in the adoption of clean energy technologies. Hopefully, the report will be a wake-up call to world leaders and will facilitate meaningful climate adaptation discussions at COP27.
06 October 2022 – by Eric Koons
Top 5 Sectors Responsible for 60% of Global Greenhouse Gas Emissions
The world needs more progress on improving, adopting and funding clean technology solutions. This gap is particularly true for the five key sectors driving the majority of global emissions (60% of global greenhouse gas emissions) – power, transportation, agriculture, hydrogen and steel manufacturing.
What is Breakthrough Agenda?
Developing a plan to reduce these greenhouse gases and carbon emissions was a key discussion at last year's COP26, and the Breakthrough Agenda is the strategy that was born. The Breakthrough Agenda is a voluntary program signed by 45 countries that encompass two-thirds of the global economy. It focuses on making clean technologies affordable, accessible and attractive in these sectors by 2030.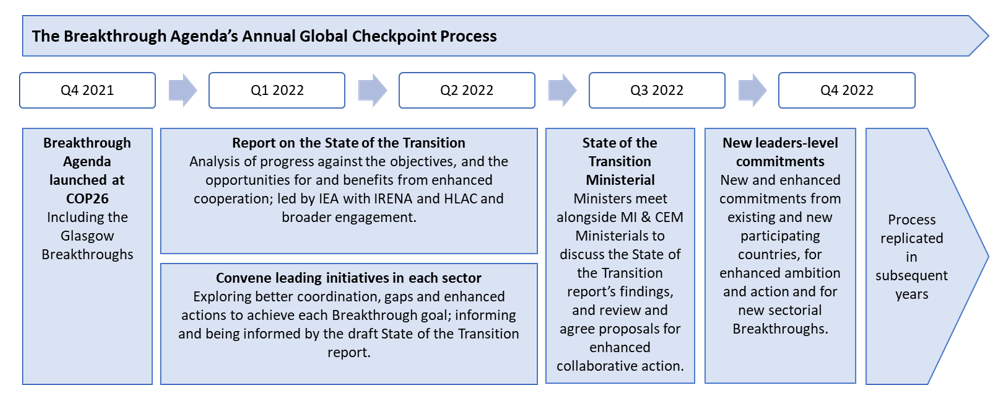 Breakthrough Agenda Report 2022 – Accelerating Clean Technology Adoption
Now, nearly one year on, the first annual Breakthrough Agenda Report assesses progress towards these targets. Published as a collaboration between the International Energy Agency (IEA), International Renewable Energy Agency (IRENA) and the UN Climate Champions, the report highlights a few positive trends, major roadblocks and recommendations. Most notably, the report warns of a "collaboration gap" between countries and businesses. As a result, the gap threatens to delay climate targets by decades.
"Only by speeding up the transition to clean sustainable energy can we achieve lasting energy security. Through international collaboration, we can make the transition quicker, cheaper and easier for everyone – on the back of faster innovation, greater economies of scale, bigger incentives to invest, level playing fields and benefits that are shared across all parts of society. Without this collaboration, the transition to net-zero emissions will be much more challenging and could be delayed by decades."

– IEA Executive Director, Fatih Birol
The report comes out against the background of a growing energy crisis, a climate-driven disaster in Pakistan and a risk of food shortages, highlighting the environmental impact and real-world consequences of global climate inaction. This provides a strong base for the report's message and will play a pivotal role in discussions at COP27 2022. Sustainable development is only possible with the optimised use of natural resources.
Current Status of the Five Major Sectors
The report finds that there is progress, but it is much slower than what we need to reach global emissions-reduction goals and the Paris Climate Agreement's target of keeping warming below 1.5°C. Each sector has its own problems and successes.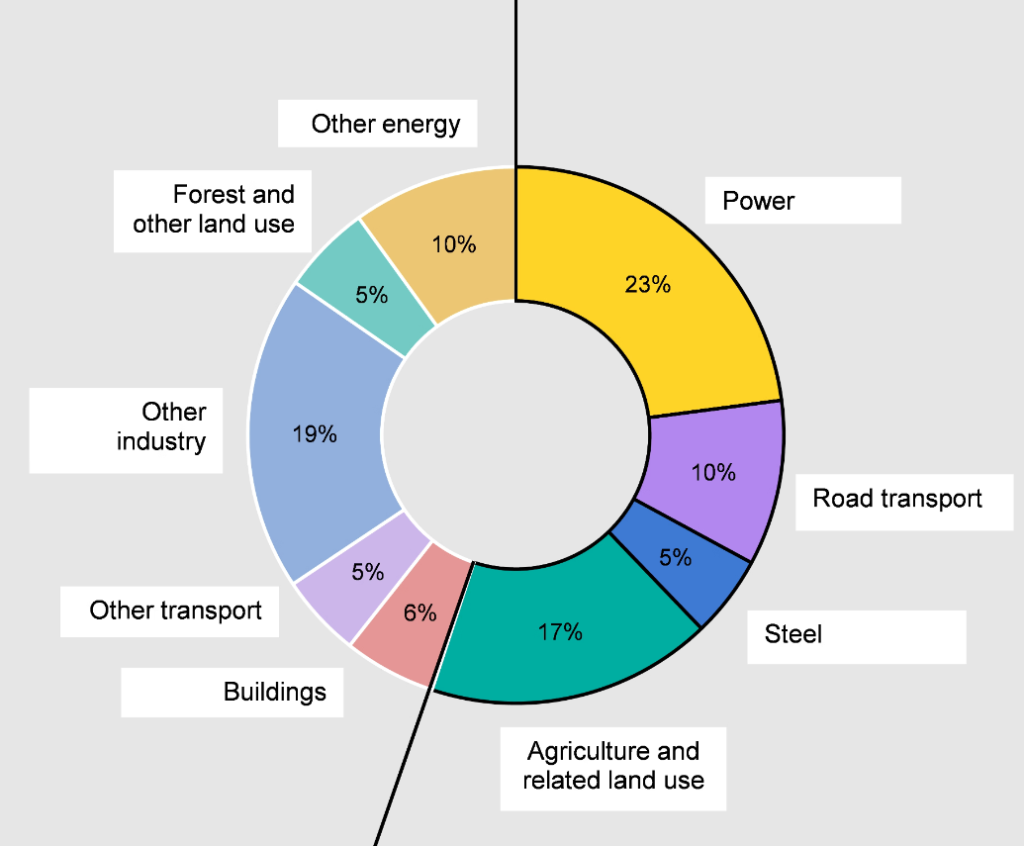 Power
The power sector is seeing a steady climb in renewable energy capacity. Renewable capacity increased 130% over the past decade compared to a 24% increase by non-renewable energy sources. However, the global power sector still creates a quarter of annual greenhouse gas emissions, and renewable energy capacity growth is only one-fourth of what experts predict the world needs. Additionally, decarbonisation efforts within the energy industry need to increase to at least 7% per year, with investment in clean energy technologies doubling by 2030.
Road Transportation
The road transportation sector is also seeing positive changes. The number of zero-carbon vehicles on the road will soon surpass the 20 million mark. Additionally, there was a doubling of global electric vehicles sales in 2021. Electric cars accounted for 9% of global car sales but need to increase to 60% by 2030. To support this transition, there needs to be a 10-time increase in charging infrastructure. The growth will largely rely upon car manufacturers keeping their zero-emission vehicle targets and the steady reduction of clean tech costs.
Agriculture
As one of the leading GHG producers, the agricultural sector contributes 17% of global emissions, and emissions are increasing at 0.6% per year. However, as the global population continues to climb, crop yields need to expand, with a decrease in deforestation. Continuing deforestation reduces natural carbon sinks. In simple terms, agricultural efficiency needs to improve with the help of green technology.
Hydrogen
The hydrogen sector shows potential as an alternative, renewable energy source by implementing green hydrogen. However, blue and grey hydrogen technologies still dominate the market. The report calls for increasing green hydrogen capacity from 1 Mt in 2022 to 150Mt by 2030. This increase requires doubling existing capacity each year.
Steel Manufacturing
Steel production is integral for infrastructure development yet accounts for 5% of global carbon emissions. Increasing the development of low-carbon steel production is the key to reducing the industry's emissions intensity by 30% by 2030. However, low-carbon steel sits at 1 Mt and needs to increase to 100 Mt by the decade's end.
Recommendations For Clean Technologies Moving Forward
Beyond the status of each sector, the Breakthrough Agenda report provides recommendations to help facilitate reaching the 2030 targets. The overarching theme of the guidance is that global collaboration is integral to success. It will increase the rate that clean tech is developed and adopted. Additionally, coordinating international action will signal where the world is heading, driving investment and economic competition into the transition and eventually reducing renewable energy technologies costs.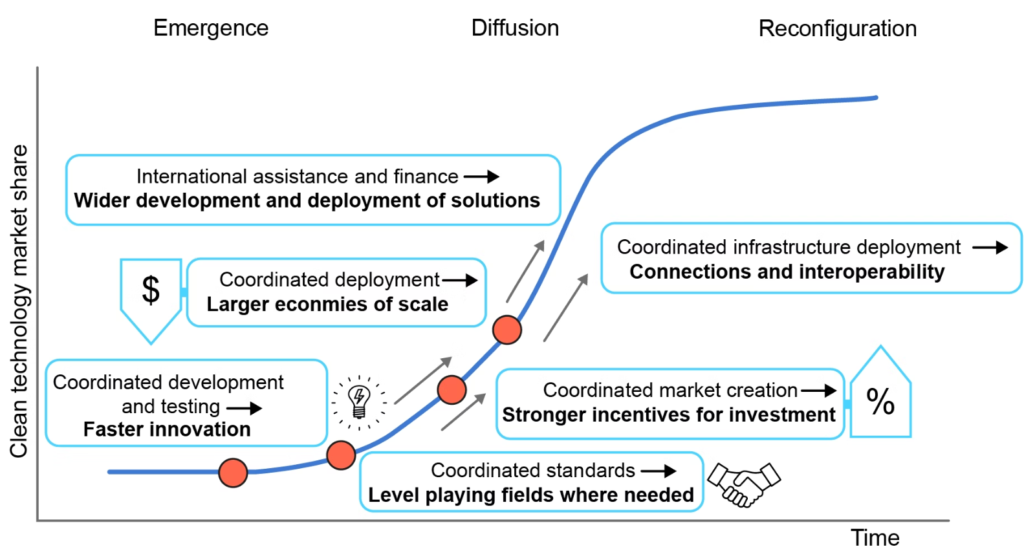 Finally, the report suggested 25 topics for leaders to discuss at the Global Clean Energy Action Forum (GCAF), which took place from September 21 to 23. While there weren't discussions on every topic at the conference, a few significant agreements came out of the meeting. This includes several governments setting aside USD 94 billion in public funding for green energy projects.
The Breakthrough Agenda Report and COP27
The report and the outcomes of the GCAF have set the stage for COP27 Egypt in November 2022, which is the first COP meeting since the Breakthrough Agenda was signed. One of the primary focuses of COP27 is to assess current climate progress and review the recommendations put forward in the Breakthrough Agenda report. The report makes it clear that clean technology requires global attention to meet the Paris Climate Agreement's goals.
However, green technology will not be the only focus at COP27. Other major discussions will include updating National Determined Contributions (NDCs) and the application of Loss and Damage funding. Combined, these discussions cover a well-rounded approach to climate change, covering climate adaptation, the energy transition and compensation. Finally, we hope that world leaders understand the urgency of these issues and use COP27 to follow through with climate actions.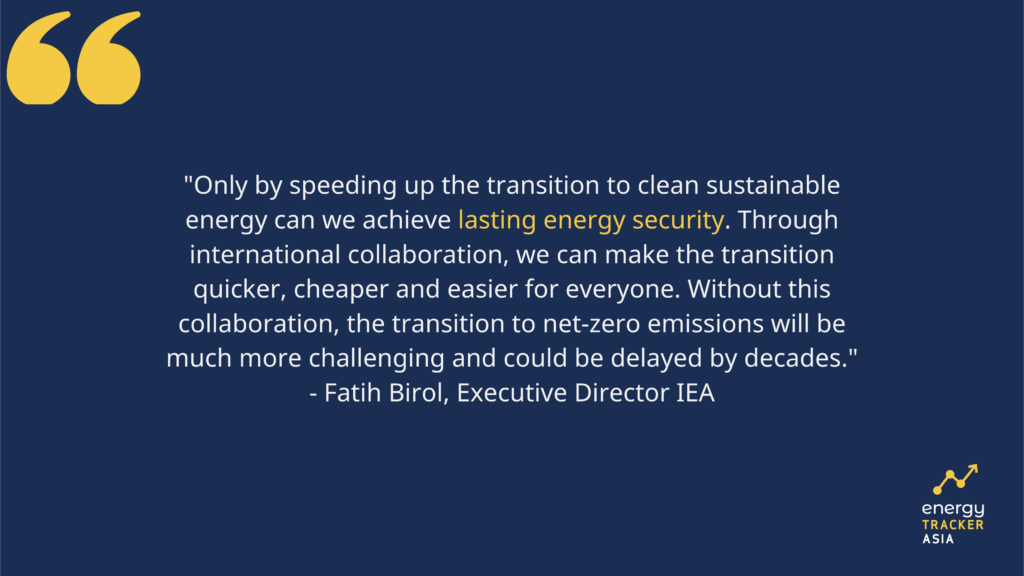 by Eric Koons
Eric is a passionate environmental advocate that believes renewable energy is a key piece in meeting the world's growing energy demands. He received an environmental science degree from the University of California and has worked to promote environmentally and socially sustainable practices since. Eric's expertise extends across the environmental field, yet he maintains a strong focus on renewable energy. His work has been featured by leading environmental organizations, such as World Resources Institute and Hitachi ABB Power Grids.
Read more