COP28 Goals: Targeting a Climate-resilient Future
COP28 revolves around the themes of invigorating climate adaptation and finance, making the summit inclusive and supporting communities at the forefront of climate change impacts. COP28's goals support these ideas with targets for emissions reductions, developing stronger climate commitments, meeting previous obligations and placing agriculture at the centre of climate action. Meeting these goals will be a major milestone in the world's response to climate change.
26 October 2023 – by Eric Koons
The Conference of the Parties of the signatory countries of the United Nations Framework Convention on Climate Change will be held in Expo City, Dubai, from November 30 to Dec 12, 2023. But what are the COP28 goals?
As we approach another pivotal moment in global climate talks, pressure is mounting on the international community to set in motion meaningful action on the global climate agenda. Following the Bonn climate talks, the urgency to act at the COP28 UAE climate change conference has never been more apparent.
The international community must make major progress towards meeting previous international commitments, accelerate inclusive climate progress and create the groundwork for future agreements. COP28 2023 is a significant stepping stone for global climate adaptation, mitigation and financing.
As the UN Climate Change Executive Secretary Simon Stiell said in July, "This must be the year we course-correct. A strong outcome at COP 28 will support both climate action and the sustainability agenda."
What Are the Goals of COP28?
The primary goals of COP28 2023 centre around the four themes of the meeting: technology and innovation, climate finance, inclusion and supporting communities at the forefront of climate impacts.
While some goals have concrete outcomes, like setting renewable energy targets, others aim to set climate-positive precedents, like getting the private sector more involved with finance. Combined, they provide a well-rounded set of goals that leaders will work towards.
1. The First Paris Agreement Global Stocktake
The Paris Climate Agreement has a "global stocktake" every five years, and the first one global stocktake coincides with COP28 Dubai. It is an extensive review of where the world stands on climate action and the progress made towards the Paris Agreement target of keeping warming below 1.5oC. Additionally, it is an opportunity to identify gaps in climate action and develop solutions moving forward.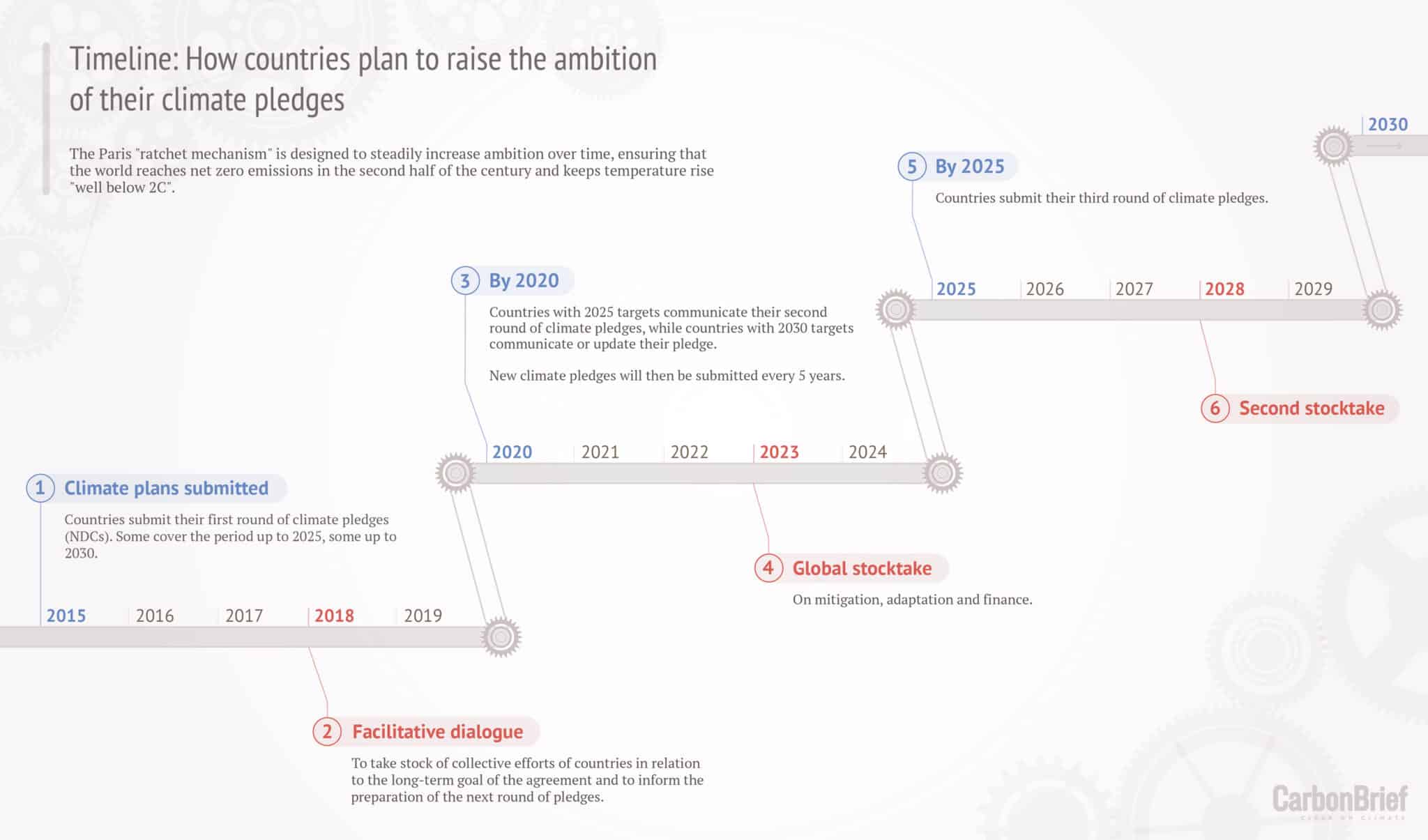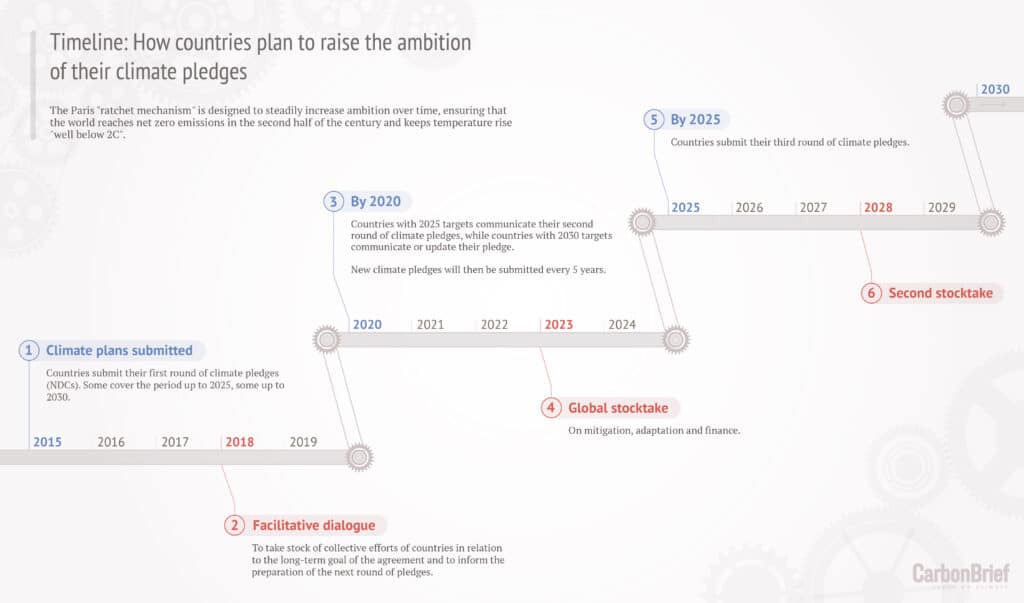 This culminates with countries reassessing and developing stronger National Determined Contributions (NDCs). Every global stocktake should lead to stricter NDCs based on the ratchet mechanism built into the Paris Climate Agreement. Countries should follow this process with public commitments to accelerate emissions reductions and increase funding for adaptation.
2. Elevating Renewable Energy Targets
To meet these more robust NDCs, renewable energy capacity needs to increase rapidly. While renewable energy adoption has been climbing, more is needed. A recent report by PWC found that the year-over-year decarbonisation rate needs to be 17.2% to keep warming below 1.5oC – 12 times faster than the global average over the last two decades.
The president-designate of COP28 is calling for governments to triple renewable energy capacity, double energy efficiency and double hydrogen production by 2030. A global pledge to meet these targets is a leading goal of COP28.
3. Meeting and Surpassing Climate Finance Goals
At COP15 in 2009, developed nations pledged that by 2020, they would mobilise USD 100 billion in climate funding annually, sending it to less wealthy nations. This goal has yet to be met, but the Organisation for Economic Cooperation and Development (OECD) estimates the goal may be met in 2023. COP28 will work to ensure this happens.
This goal expires in 2025, and a New Collective Quantified Goal (NCQG) for climate finance will replace it. Development of the NCQG started in 2022 and will conclude in 2024. COP28 is one of three COP meetings during this process and will play a critical role in the discussions. The United Nations Framework Convention on Climate Change estimates that the developed world needs USD 6 trillion by 2030 to meet just half of its NDCs.
4. Filling the Financial Gap: Reinventing Climate Finance
Beyond the USD 100 billion climate funding pledge, there is a significant gap in overall climate finance. President-designate Sultan Al Jaber is making the transformation of the financing landscape a priority goal for COP28. The change must tackle all levels of the climate finance ecosystem, from development banks to the private sector.
On a national level, governments need to implement policies to incentivise the private sector to get involved. For example, developing robust, trustworthy and regulated carbon markets can draw private investment towards climate action. On the other hand, international development banks must go through recapitalisation to reduce risk and work more efficiently to meet the necessary financing scale.
Another key focus will be increasing the development of Just Energy Transition Partnerships (JETPs), which help finance decarbonisation in developing countries. Strategies like making group deals may be a viable pathway.
5. Putting the Loss and Damage Fund Into Operation
One of the significant wins to come out of COP27 was the development of a Loss and Damage Fund, which will provide financial support for developing countries impacted by climate change. Following its development, a transitional committee was formed to create recommendations on the fund's structure. COP28 will allow countries to agree on the mechanisms to fund the program and strategies to distribute the funds.
"It is one thing to have a well-structured fund, but will only be fully operational if it is actually funded (….) COP28 in Dubai at the end of the year is the place to deliver and operationalise the fund and funding arrangements for loss and damage,"

Sultan Al Jaber, President-Designate of COP28
6. Feeding the Future: Charting a Climate-resilient Food Path
As climate change progresses, the world's food systems must adapt to meet growing food demand and the changing climate. COP28 will bring together government leaders, businesses and farmers to collaborate on developing climate-resilient food systems.
Additionally, nations are urged to sign the COP28 Declaration on Resilient Food Systems, Sustainable Agriculture and Climate Action. The declaration puts agriculture at the centre of climate action and calls for countries to align their agricultural strategies with their NDCs.
Maximising Outcomes at COP28 UAE
The UN climate change conference, COP28, spans two weeks, with most days highlighting a different theme. It will fall on national leaders, stakeholders and the private sector to collaborate throughout this time to make concrete decisions that support long-term climate action and energy transition. Each goal at COP28 is essential to the world's larger climate strategy.
The impacts of global warming are already being seen worldwide, making immediate action not just a choice but a necessity. COP28 represents a pivotal moment for global leaders to solidify and enact meaningful measures, underscoring the need for decisive action in the face of mounting environmental challenges.
by Eric Koons
Eric is a passionate environmental advocate that believes renewable energy is a key piece in meeting the world's growing energy demands. He received an environmental science degree from the University of California and has worked to promote environmentally and socially sustainable practices since. Eric's expertise extends across the environmental field, yet he maintains a strong focus on renewable energy. His work has been featured by leading environmental organizations, such as World Resources Institute and Hitachi ABB Power Grids.
Read more