COP28 UAE – Goals and Commitments
This year's COP meeting will be held in the United Arab Emirates. The COP28 president has announced major goals for the summit, focusing on speeding up the global energy transition and making this year's COP the most inclusive yet.
05 October 2023 – by Eric Koons
2023's annual Conference of the Parties (COP28 UAE) is the 28th edition of the summit and will take place in the United Arab Emirates (UAE).
COP is the United Nations Framework Convention on Climate Change's (UNFCCC) annual meeting, where countries negotiate and adopt agreements to mitigate climate change, adapt to its impacts, accelerate inclusive climate progress and support developing nations. The climate summit brings together leaders, policymakers and experts worldwide in this pursuit and is widely regarded as the world's foremost climate meeting.
COP28 2023 will continue where COP27 left off. It will follow up on the global climate agenda and progress made towards agreed-on initiatives, like developing a Loss and Damage Fund for vulnerable countries and reignite discussion on goals that were not achieved, like meeting the COP15 target of USD 100 billion a year in climate adaptation funding for developing nations.
What Is COP28 UAE?
COP28 UAE will take place from November 30, 2023, to December 12, 2023, and will host more than 80,000 delegates, including heads of state and representatives from the public and private sectors. The event will take place in Expo City Dubai, which was developed with a similar mission to COP – "to address the world's most critical challenges and opportunities".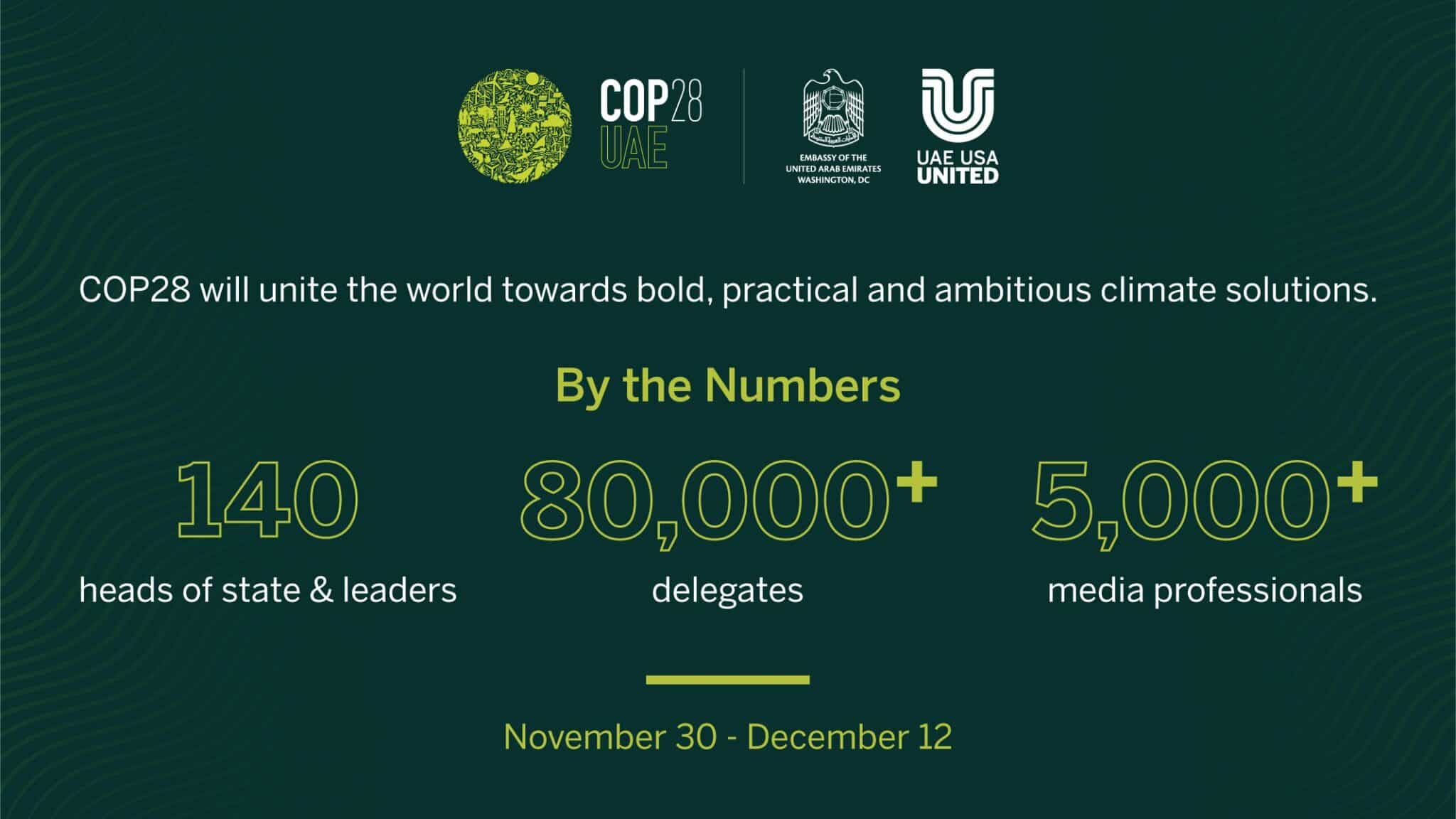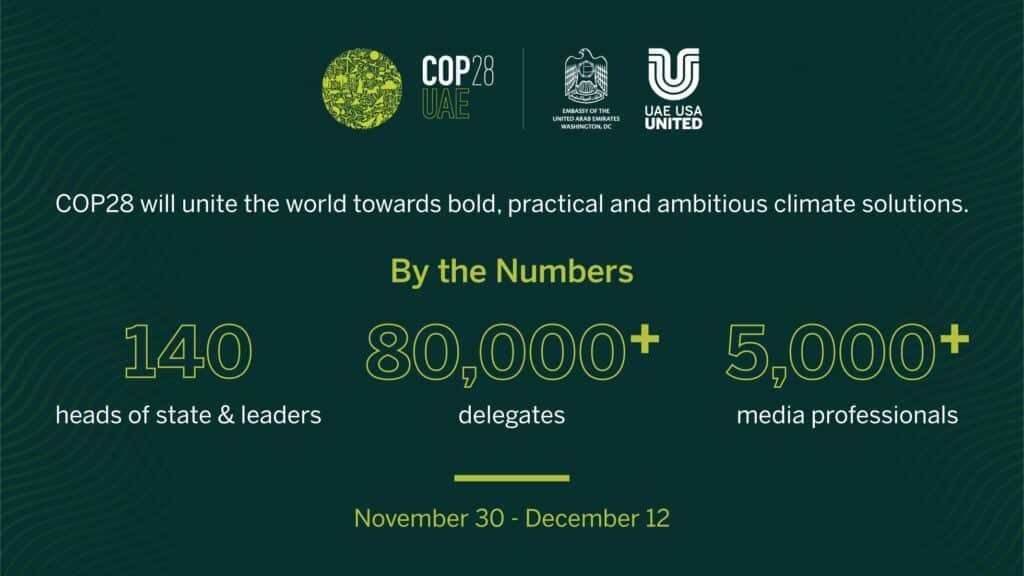 However, 2023's UN climate change conference has special significance given its geographic location. First, it is only the second meeting in the Middle East, with Egypt hosting the region's first COP in 2022. Second, the UAE is notoriously dependent on fossil fuels as the world's seventh-largest oil-producing nation.
This juxtaposition will underscore the meeting, which will have a significant focus on building a 1.5oC-aligned global energy transition.
Themes at COP28 2023
Each COP centres around themes that guide the discussions, and COP28 in the UAE is no different. This year's themes focus on addressing the global inventory on climate action (the first global stocktake of the Paris Agreement) and closing the gap on 2030 goals. The themes are as follows.
Technology and Innovation
Technology is a key driver of the global transition towards renewable energy and greenhouse gas emissions goals.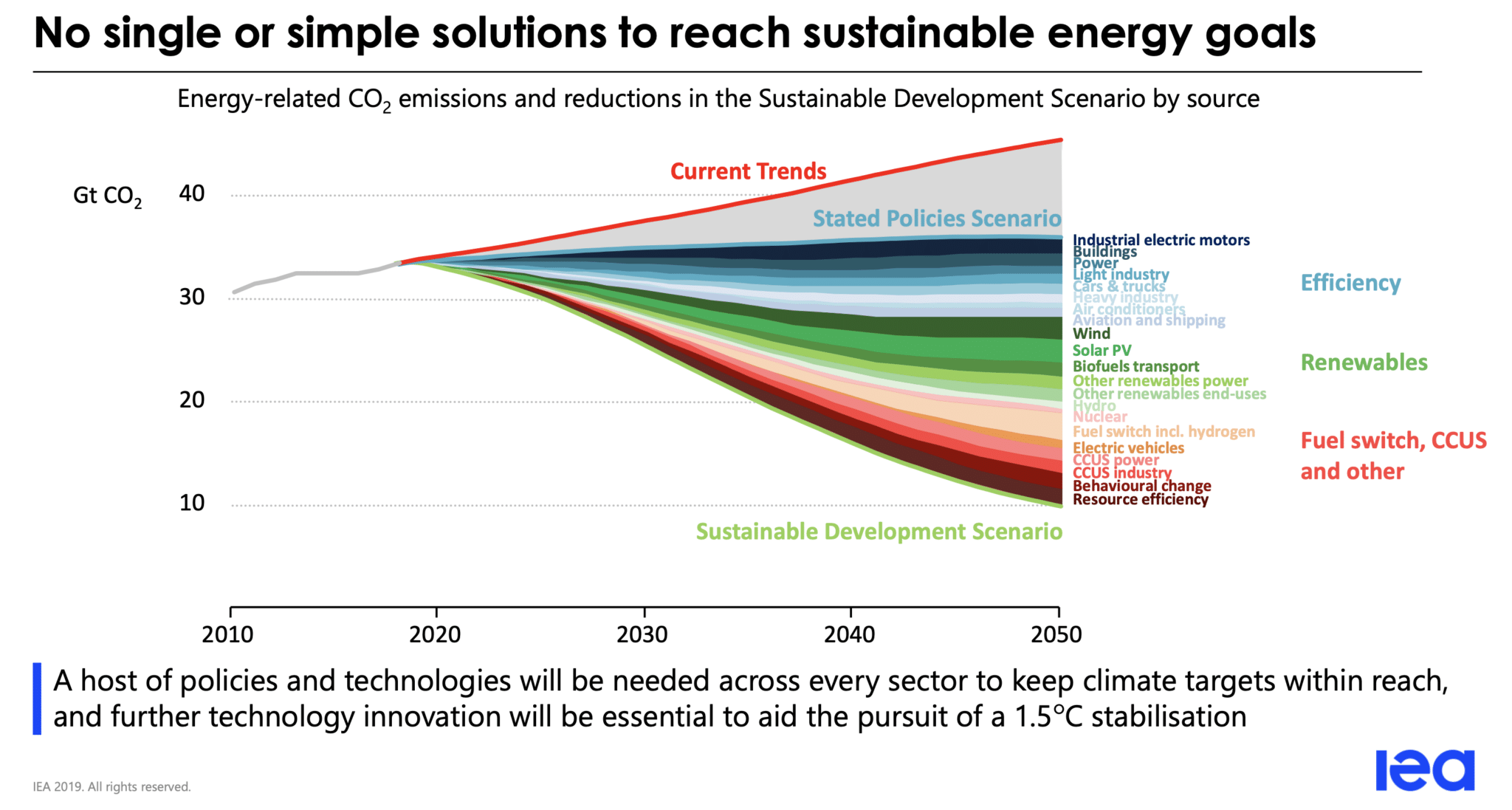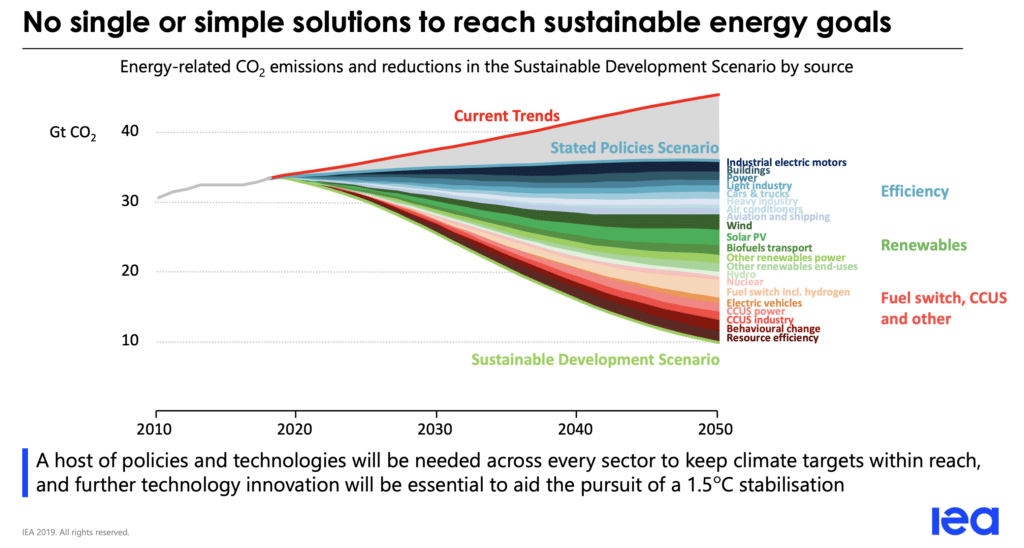 The International Energy Association's (IEA) sustainable development scenario (SDS) for reaching the Paris Climate Agreement targets hinges on technological innovation. 35% of the SDS's emissions reductions rely on technologies that are still in the prototype or demonstration phase. Additionally, 40% of emissions reductions rely on technologies that are not yet commercially viable.
This theme at COP28 UAE aims to bring together the public and private sectors to drive the development and deployment of climate solutions.
Finance
Funding has been and will continue to be one of the significant roadblocks to combating climate change.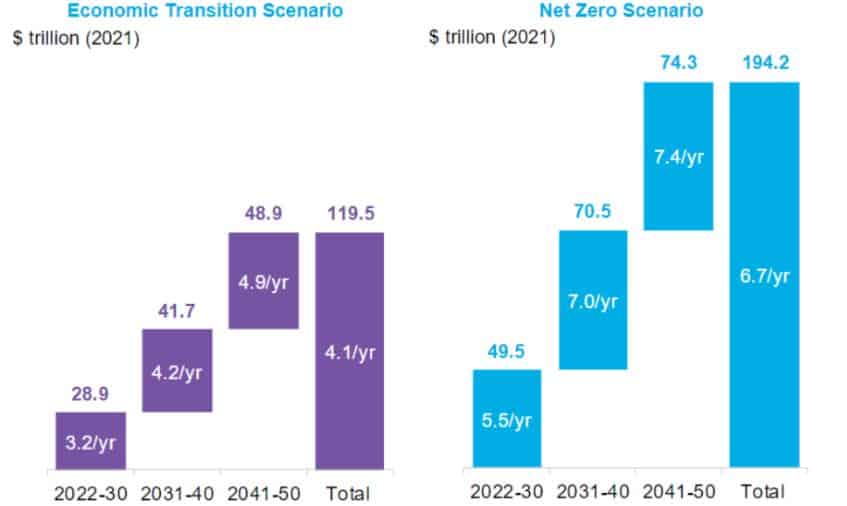 To reach net zero, the world must triple the existing annual investment in climate solutions to USD 6.7 trillion. This is particularly relevant for developing nations that will need outside financial support to keep up with adaptation.
COP28 UAE will focus on mobilising financial resources and developing innovative financial mechanisms to support this transition.
Inclusion
Affective climate action is an encompassing process that requires input and support from all levels of society and organisations. At past COPs, small organisations and parts of communities have often been marginalised in discussions. However, these groups will play critical roles in driving local action.
COP28 Dubai aims to create an inclusive process that allows all stakeholders to come to the discussion table. Not only can this help drive innovation, but it will empower groups to make sustainable changes.
Frontline Communities
Communities on the front lines of climate change are some of the key constituents that need to adapt to climate impacts.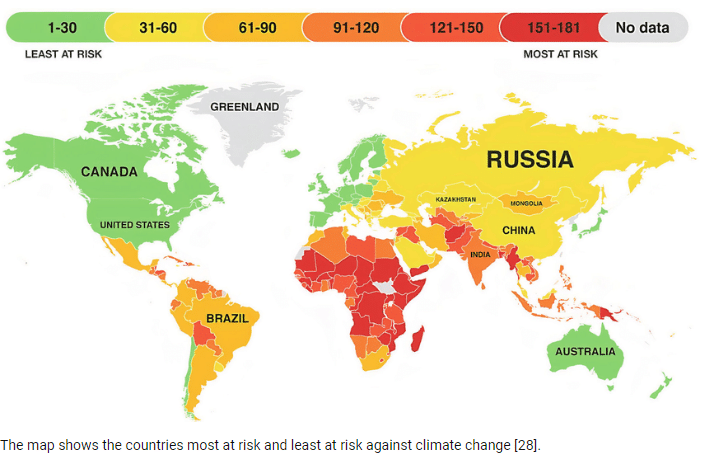 However, these groups are disproportionately the most vulnerable developing nations without the capacity to adapt at the rate required. Providing support and a place in the global discussion for these nations is paramount to successful global adaptation.
COP28 2023 aims to further bring these nations into the discussion and provide the framework to support their adaptation needs.
What Are the Priorities of COP28 UAE?
There are four priorities or goals of the COP28 UAE summit. These goals are part of a letter by COP28 President Dr. Sultan Al Jaber from July 2023. They include the following points:
fast-tracking the energy transition and significantly reducing emissions before 2030,
transforming climate finance by delivering on old promises and setting the framework for new climate finance strategies,
putting nature, people, lives and livelihoods at the core of climate action,
and creating the most inclusive COP to date.
COP28 Dubai 2023: Global Climate Agenda
These goals are the core of COP28 Dubai and will be an integral component of discussions throughout events across the two-week summit. However, it is good to keep in mind that the conference is just a critical step in ongoing climate action that requires continual growth and support.
With that being said, each COP builds upon its predecessors to introduce high-level dialogue focusing on immediate and long-term climate action against global warming. The decisions made here will have lasting impacts on economies, energy and sustainability sectors, ecosystems and, most importantly, the generations to come.
by Eric Koons
Eric is a passionate environmental advocate that believes renewable energy is a key piece in meeting the world's growing energy demands. He received an environmental science degree from the University of California and has worked to promote environmentally and socially sustainable practices since. Eric's expertise extends across the environmental field, yet he maintains a strong focus on renewable energy. His work has been featured by leading environmental organizations, such as World Resources Institute and Hitachi ABB Power Grids.
Read more