Energy Security in Bangladesh is Threatened by Fossil Fuels 
The fossil fuel dependence of Bangladesh has significantly impacted its economy. The country should no longer bear the exorbitant power costs and unreliable supply, especially when better, cleaner and cheaper options exist.
10 May 2023 – by Viktor Tachev
There is an ongoing dispute over whether emerging economies like Bangladesh, which have so far contributed so little to climate change, should be allowed to burn more fossil fuels to improve their energy security and economic stability. Some analysts even argue that fossil fuels can "lift millions out of poverty".
However, as recent history shows, fossil fuels are neither a remedy for energy dependence and energy efficiency nor can they elevate countries' economies. In fact, they risk causing precisely the opposite.
A Recipe for Economic Hardship
Fossil fuel dependence exacerbated worldwide inflationary pressures in 2022, hitting the poorest countries the hardest.
Bangladesh is a shining example of this. The country relies on fossil fuels for over 97% of its electricity. Moreover, the majority has come from local natural gas reserves. However, despite this, Bangladesh couldn't avoid the energy crisis.
The country had to seek fossil fuel imports, but it couldn't outbid wealthier buyers due to the high prices. Since it couldn't secure enough LNG at affordable prices, it even had to seek financial help from creditors and the IMF. The gas delivery deals that took place were at prices up to 10 times higher than those in 2021 and 2020. Compared to local gas, imported LNG was 24 times more expensive.
The high fossil fuel costs have caused economic hardship for Bangladesh. On a national level, the country faces a fiscal crisis due to the foreign exchange crunch. The Asian Development Bank even slashed its economic growth projections by 0.5%.
Gas prices for some sectors, including the power sector, jumped from 14% to 179%. As a result, the country's garment industry, responsible for 10% of the country's GDP and 80% of its total exports, and others are struggling to remain competitive. In the textile sector, the high gas prices have doubled production costs.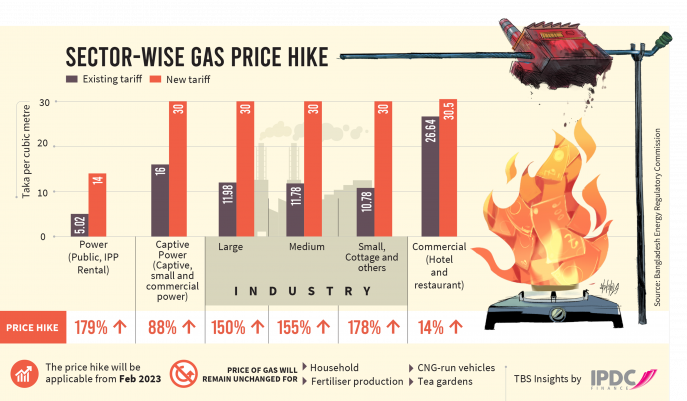 As of the start of 2023, retail power users are dealing with increased electricity prices. In 20 days, the government raised rates twice by 5%, which further fueled the already high inflation.
Analysts see the trend of high fossil fuel costs extending into the future. Ember estimates that spot market LNG purchases will cost Bangladesh USD 11 billion between 2022 and 2024.
Derailing Future Sustainable Energy Security in Bangladesh
The case of Indonesia disproves the idea that domestic fossil fuels can save a country from the energy crisis. In 2022, the leading coal exporter faced persistent power blackouts and even a 30% increase in energy prices.
Bangladesh doesn't even have Indonesia's rich fossil fuel reserves and export capabilities. The country's gas reserves will deplete by 2030. The government's recent course of action signals that fossil fuel imports might be the preferred strategy to ensure sufficient power supplies.
However, it will leave the country at suppliers' mercy – a problem it has already suffered from. For example, in 2022, the country was left starving for power and suffered one of the worst blackouts in history, affecting over 130 million people. The blackouts are likely to last until at least 2026.
This risks stunting production in key export industries. The 2022 blackouts have lasted up to 13 hours a day and have caused a 50% drop in production output. Some factories have lost up to 100 working hours per month. No industry was left unaffected – from textile and ice cream production to ceramic manufacturers and pharmaceutical companies. Even schools had to close to save energy.
To ease the burden on businesses, the government launched various austerity measures. However, according to Dhaka Chamber of Commerce and Industry representatives, power outages and price hikes will significantly increase business costs, reduce competitiveness and cause reputational damage.
Even if, in theory, Bangladesh was capable of outbidding the other buyers, it wouldn't guarantee that the country would accelerate power generation capacity and ensure stable and uninterrupted supplies – something crucial for businesses.
The Importance of Choosing Reliable Partners
Bangladesh's state minister of power recognises that reliance on fossil fuel imports destabilises the country. The government mainly blames the problem on the supply disruptions caused by the Russia-Ukraine war. Yet, Bangladesh is considering further deepening energy ties with Russia. Over the years, Moscow has helped Bangladesh with gas exploration, drilling and nuclear power plants development.
Bangladesh is also extending cooperation with China, which funds 90% of the energy projects in the country's pipeline. However, according to experts, over-reliance on China will make Bangladesh vulnerable to debt traps and expose it to liabilities, as recent experiences from other Asian countries have shown.
Bangladesh Can Look Towards Renewable Energy
The IEEFA warns that extended dependence on fossil fuel imports will derail the energy security in Bangladesh and lock it into a future of high power costs and an unreliable power supply. The events from 2022 prove this, considering that Dhaka went from a nearly 100% electrification rate to daily power outages.
Instead of living from one delivery to another to keep the lights on, Bangladesh can start working towards its energy independence and ease the burden on its economy by prioritising local renewable energy generation.
Wind and solar power have no fuel costs and guarantee to achieve proper energy security in Bangladesh. Fortunately, Bangladesh has a massive potential for both, despite it being largely untapped. However, analysts point out that wind and solar remain among the most readily available power sources for implementation in the country. Boosting the renewable energy sector and prioritising renewables adoption will ensure more independent, stable and cleaner power. Furthermore, the IEEFA notes that it will insulate the Bangladesh economy from price shocks.
Bangladesh is at a crossroads, and its chosen direction will greatly influence the future of its energy and power sectors, economy, and societal well-being. What's known is that energy poverty and insecurity should be left behind – and, with that, fossil fuels as well.
by Viktor Tachev
Viktor has years of experience in financial markets and energy finance, working as a marketing consultant and content creator for leading institutions, NGOs, and tech startups. He is a regular contributor to knowledge hubs and magazines, tackling the latest trends in sustainability and green energy.
Read more