The Future of Renewable Energy Looks Brighter than Ever
Photo by Teun van den Dries
The IEA's 'Renewables 2022' report revealed that the world is planning for a massive clean energy capacity expansion. The findings are even more ambitious than the agency's report from last year. The report suggests that Asia should be a part of this expansion.
19 December 2022 – by Viktor Tachev
Why is Renewable Energy Important for the Future?
The global energy crisis has made the future of renewable energy even clearer. Renewable energy sources such as solar power and wind power and new renewable energy technologies promise to help countries avoid high power costs. They also ensure energy independence while also helping countries progress towards their net-zero goals. And as the latest analysis by International Energy Agency reveals, most countries are planning to take advantage of this.
What the IEA's 'Renewables 2022' Report Tells Us About the Future of Renewable Energy
The global energy crisis, exacerbated by countries' dependence on fossil fuels and the unreliability of their suppliers, has been a blessing in disguise. The IEA's Renewables 2022 report reveals that the crisis has triggered a sharp acceleration in the installation of renewable energy production capacity worldwide.
"Renewables were already expanding quickly, but the global energy crisis has kicked them into an extraordinary new phase of even faster growth as countries seek to capitalise on their energy security benefits. The world is set to add as much renewable power in the next five years as it did in the previous 20 years."

Fatih Birol, Executive Director of the IEA
Growth in Renewable Power Capacity
Global renewable energy capacity growth will almost double in the next five years. Furthermore, between 2022 and 2027, global clean power capacity will grow by 2,400 GW. This will be equal to China's total power capacity today. It also marks a 30% increase in the clean energy growth projection from the 2021 edition of the report.
By 2027, renewables will surpass existing coal capacity, becoming the largest energy source globally. In the next five years, renewable energy sources will account for over 90% of global electricity expansion. As a result, renewables will become the world's largest source of electricity by early 2025. It's great news for the global energy system and a big step towards achieving net zero emissions.
According to the IEA, this will help keep alive the possibility of limiting climate change to 1.5°C.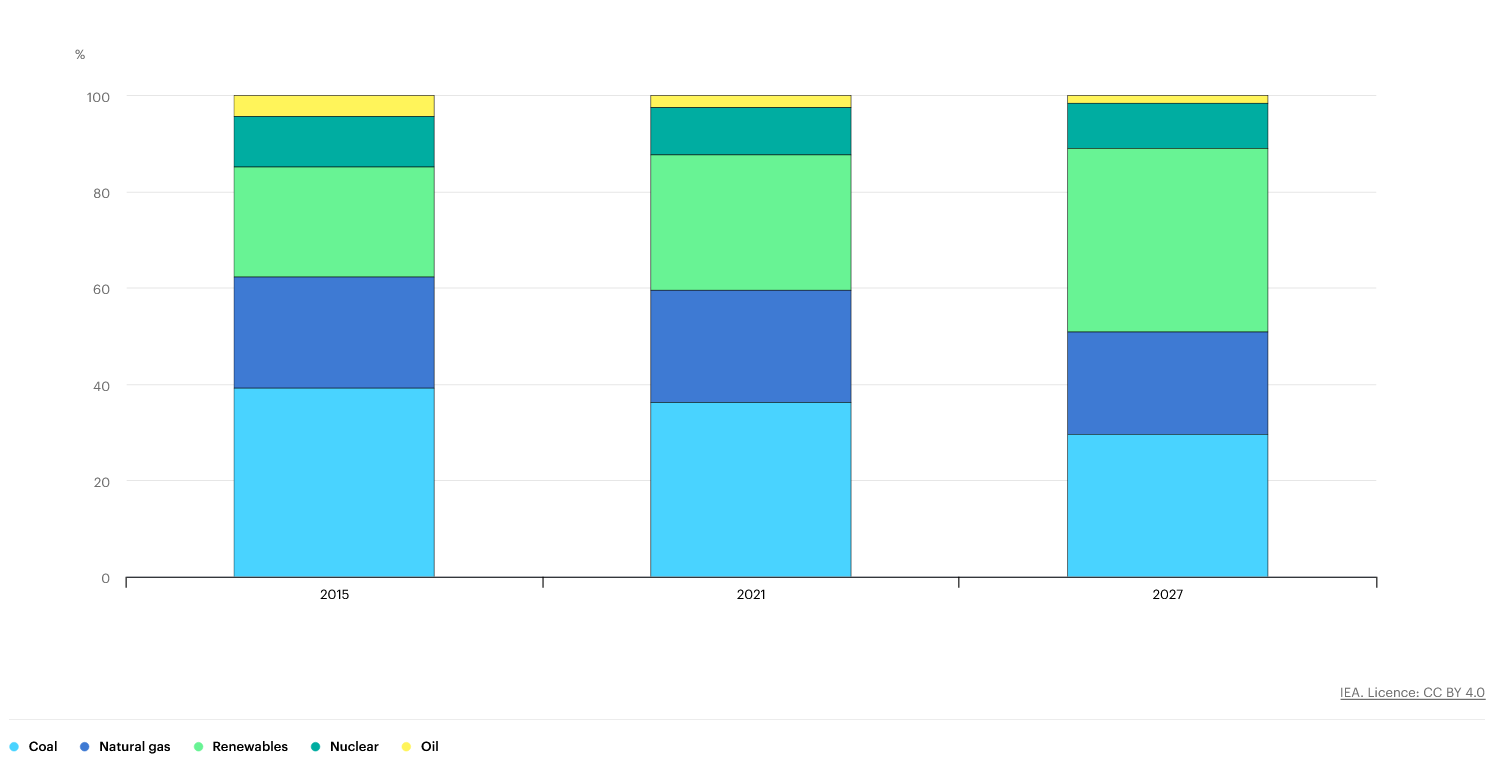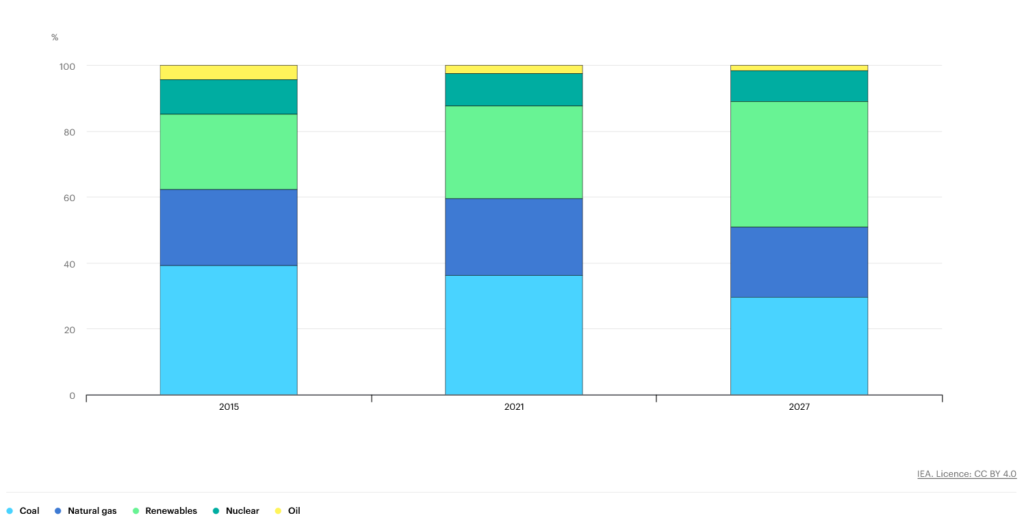 Renewable Energy Trends in Asia
The International Energy Agency identifies China and India as the main driving forces behind the upcoming rapid clean energy expansion.
China will account for nearly 50% of the new global clean power capacity between 2022 and 2027. The country will add 1,070 GW, 90% of which will be solar capacity and wind energy. This rapid expansion will be possible thanks to new and ambitious government initiatives and regulations.
The APAC region (excluding China) will collectively add 360 GW of renewable energy power between 2022 and 2027. India, which plans to install 145 GW over the forecast period, will hold around a 40% share in the projected growth. Government policies and incentives will be the key driver behind it.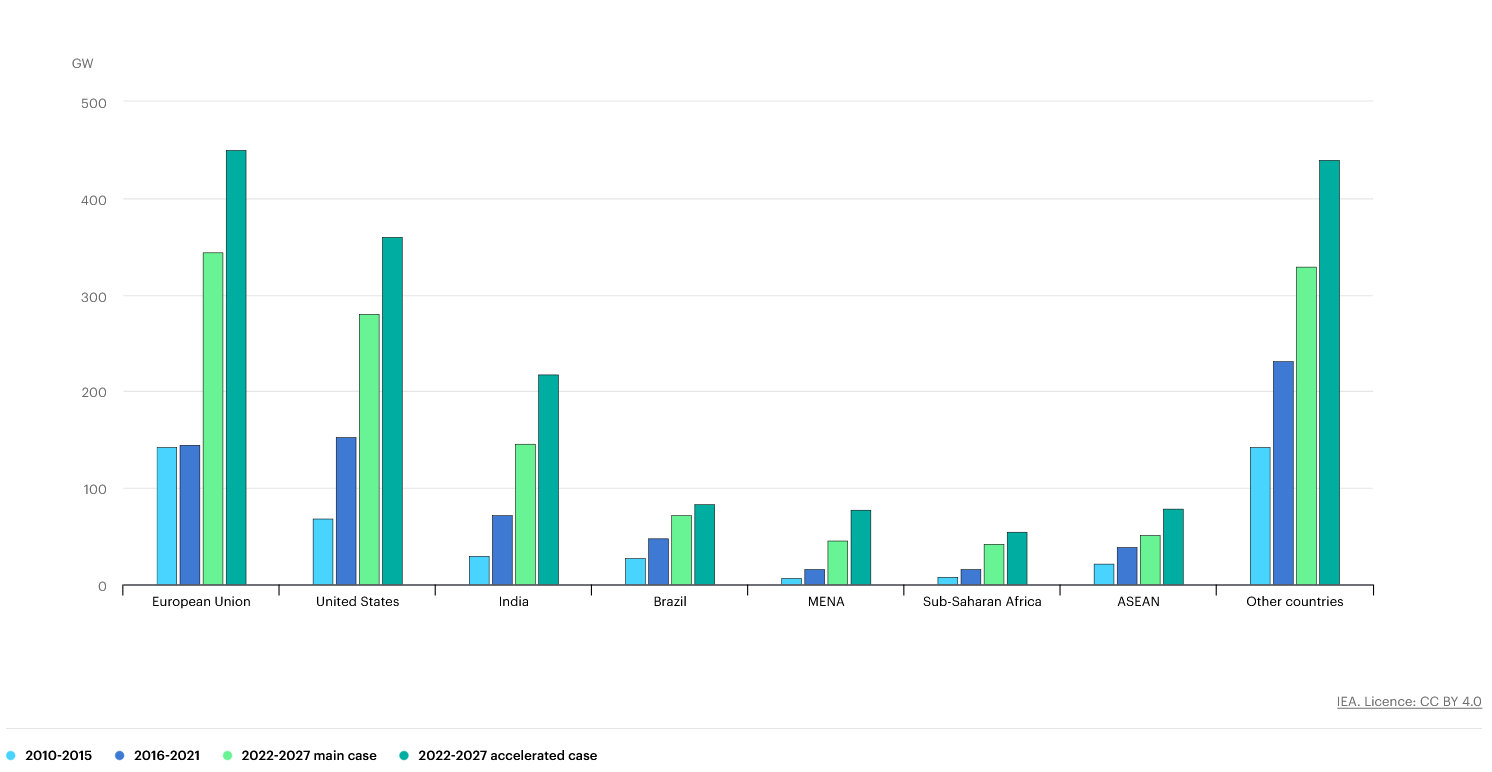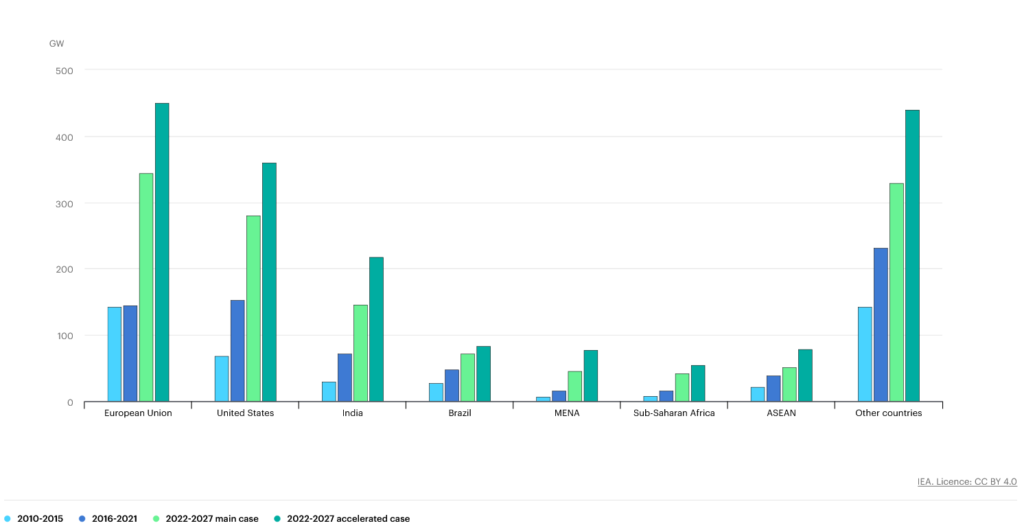 While to a much lesser extent, ASEAN countries, led mainly by Vietnam and Indonesia, will also increase their clean energy capacity. However, the IEA concludes that persistent challenges, like the lack of long-term policy support, will limit their expansion.
Compared to 2021, the updated forecasts for developed economies like Japan and South Korea aren't as optimistic. Japan will grow its clean energy capacity by 30% between 2022 and 2027, 2% lower than previously forecast. South Korea will add 28 GW, which is 8% below the IEA's last report.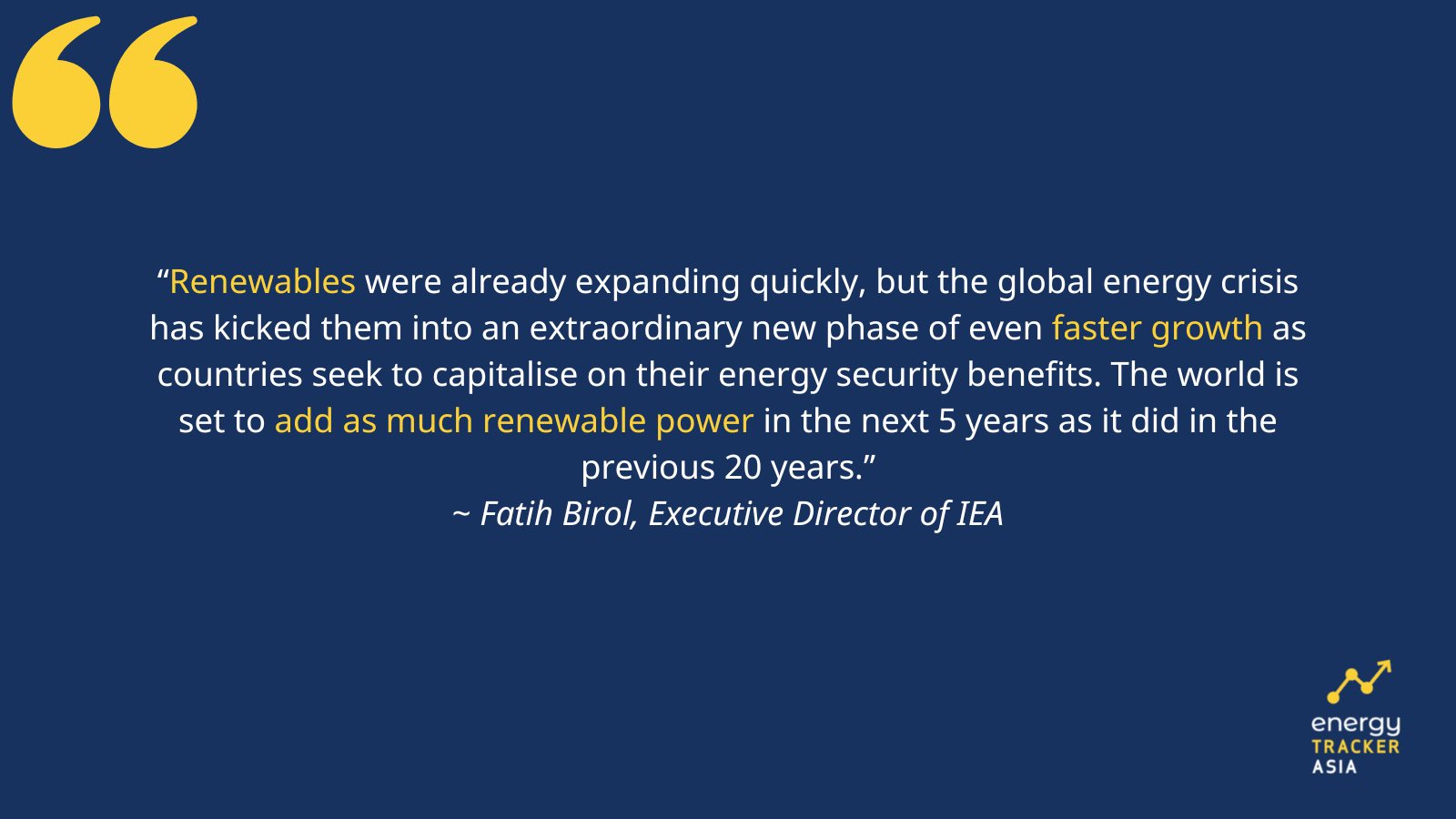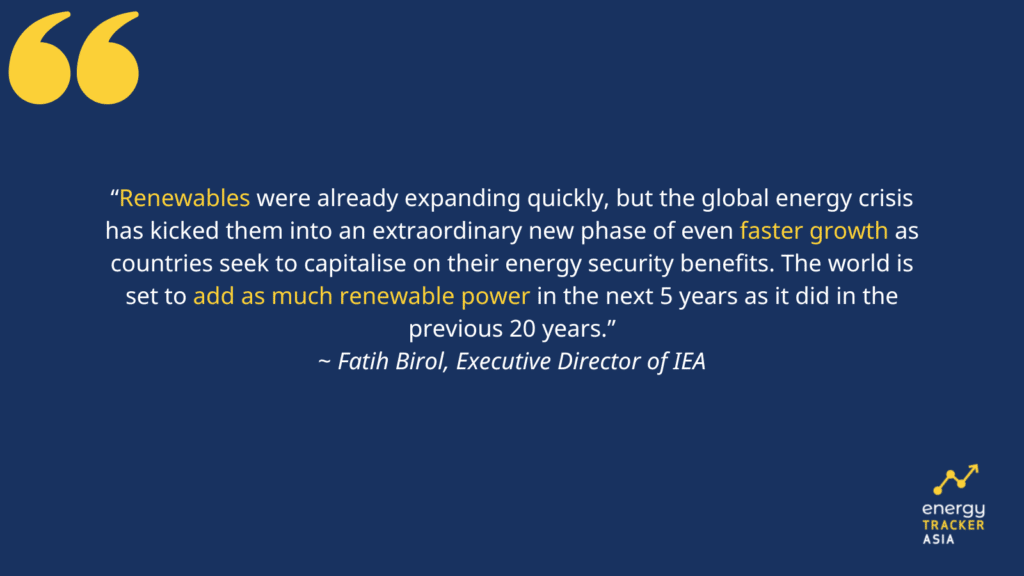 What the Future of Renewable Energy Means For Fossil Fuels
Security concerns, fuelled by the war in Ukraine and countries' climate ambitions, are decisive for the future of fossil fuels and renewables. These factors could lead to waning interest in the former and increasing interest in the latter. Fossil fuels can be replaced with abundant renewable energy.
High gas prices and the fact that new gas capacity won't launch before 2026 make gas a risky solution. Goldman Sachs sees gas prices remaining twice as high as normal until 2025.
And while gas gets more expensive, renewables are setting records for lower costs. As time goes by, the gap continues to widen. Power from new onshore wind capacity and solar panels projects is around 40% cheaper than that from new coal and gas plants. Renewables are now the cheapest source to generate electricity in countries comprising two-thirds of the world's population and 90% of electricity generation.
As a result, EU countries that have been planning for gas are now willing to jump directly into using renewable energy.
In regards to Asia, the IEA expects stagnation or even a slight decrease in the annual gas demand of China, India, Japan and South Korea. On the other hand, even after suffering from the 300% jump in LNG prices in October 2022 compared to last year and being left to starve for power by suppliers, developing Asia still has LNG plans.
Emerging Asian countries are building gas infrastructure at scale. The capacity in pre-construction phases across Southeast Asia is 117 GW, more than any other region in the world. In total, 138 GW of new gas plants and 118 LNG terminals are proposed or in construction in the region.
Even boosting domestic fossil fuel production and limiting import reliance won't help countries ensure low or stable energy prices.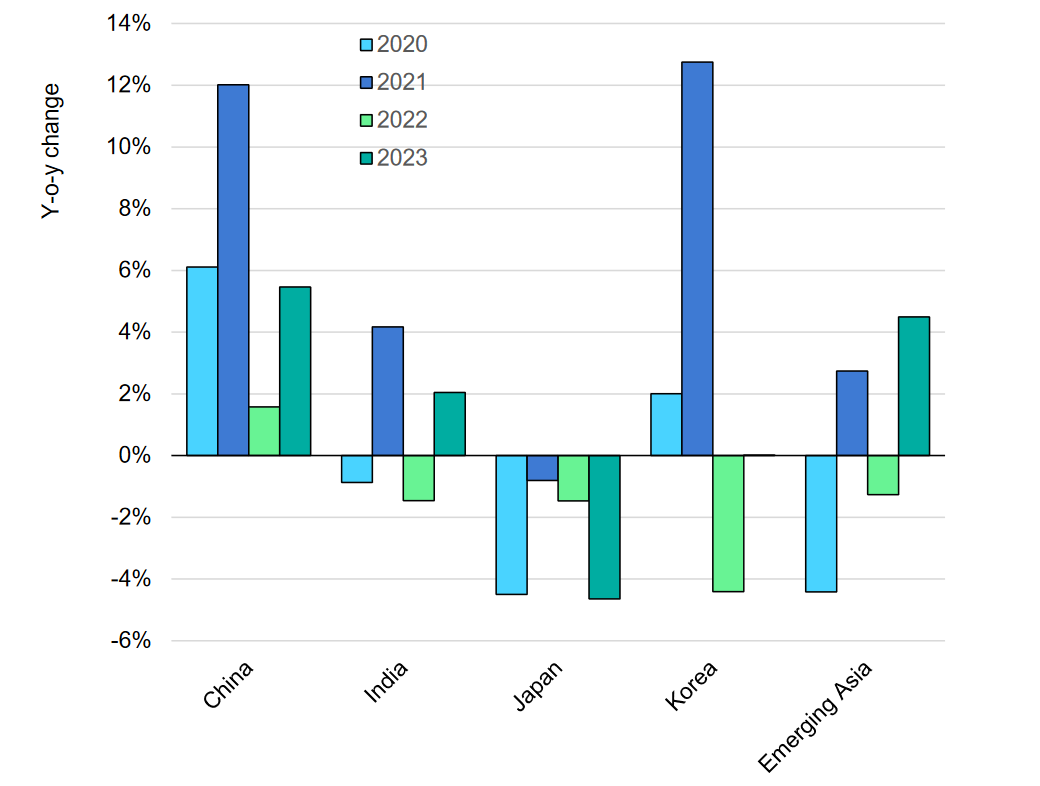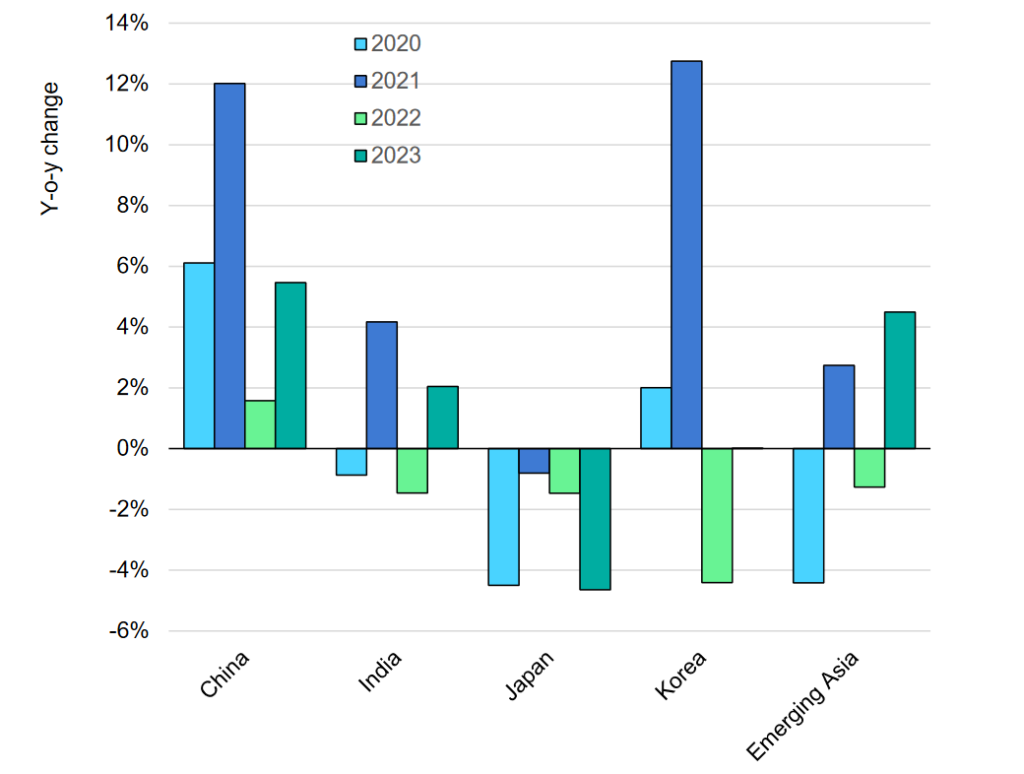 Developing Asia and the Need for Securer and More Sustainable Energy Systems
The current energy crisis has morphed into an economic and social crisis, hitting the most vulnerable the hardest.
The Asian Development Bank sees a no-carbon future as the best insurance against energy crises and a repeat of the current situation. The world's strongest economies are embracing that path.
Developing nations' best course of action is to follow suit. These countries have suffered from the unreliability of fossil fuel suppliers and the harshest impacts of the climate crisis for long enough. According to the IEA, to succeed in the clean energy transition, emerging and developing economies should prioritise addressing policy and regulatory uncertainties. They should also address weak grid infrastructure and the lack of access to affordable financing. The benefits for these economies would be worthwhile, considering that they would enable a future with more resilient economic and energy systems.
by Viktor Tachev
Viktor has years of experience in financial markets and energy finance, working as a marketing consultant and content creator for leading institutions, NGOs, and tech startups. He is a regular contributor to knowledge hubs and magazines, tackling the latest trends in sustainability and green energy.
Read more