G20 Nations Are Committing Billions More to Fossil Fuels – Price of Oil Report
The deadline for the end of global public fossil fuel financing is quickly approaching. Yet, many G20 countries and leading MDBs and DFIs continue pouring billions into coal, oil and gas, widely ignoring renewables. The COP27 and G20 meetings will give financiers a stage to explain why.
11 November 2022 – by Viktor Tachev
G20 nations are still committing billions of dollars to fossil fuels, even after publicly declaring their determination to address the climate crisis. The situation is dire, especially since these countries could single-handedly bring the world closer to its 1.5°C target if they shifted their funds to renewable energy instead of fossil fuel companies. Disappointingly, such a scenario doesn't seem to be on the cards. However, nations could turn the corner at the COP27 Egypt and G20 Summit 2022 at Bali, Indonesia, later this month.
MDBs and G20 Nations Committing Billions More to Fossil Fuels Before the 2022 Deadline
Globally, public fossil fuel financing was expected to stop by the end of 2022.
However, the latest report by Oil Change International and Friends of the Earth concludes that between 2019 and 2021, G20 countries and leading multilateral development banks (MDBs) have provided at least USD 55 billion in annual public financing for coal, oil and gas. Around 53% of it has flowed to fossil gas projects.
Growth in Financing for Fossil Fuel Energy
On average, this is almost twice the amount of renewable energy financing – which was just USD 29 billion per year. Over the observed period, clean energy financing increased only slightly, instead of the exponential growth needed. From an annual average of USD 27 billion between 2016 and 2018, it reached USD 29 billion between 2019 and 2021.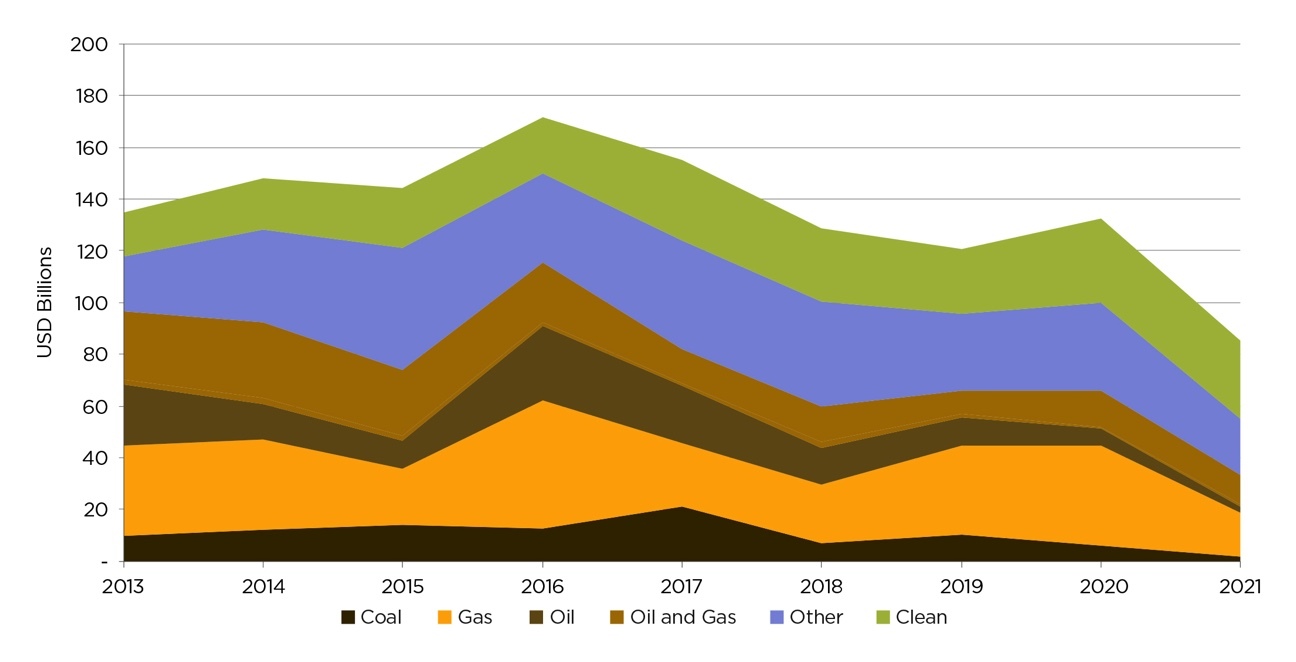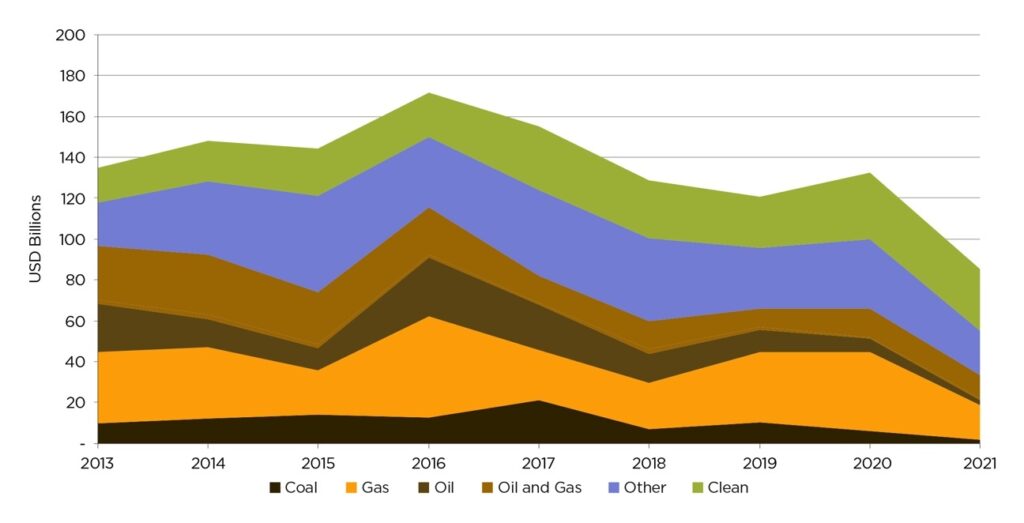 G20 countries, G7 countries and MDBs have been caught financing fossil fuels, while also highlighting the importance of limiting global warming to 1.5°C.
On the bright side, fossil fuel financing is declining from the USD 86 billion annual average between 2016 and 2018. Around 27% of the decline was due to new fossil fuel restriction policies from the UK and the European Investment Bank, alongside coal exclusions from China and OECD countries. The rest, however, is considered temporary.
The Importance of Honouring the COP26 Glasgow Public Finance Statement
There is hope that G20 countries will honour the Glasgow Public Finance Statement signed at COP26. It is a joint commitment by some G20 members and financing institutions to develop and adopt updated policies for ending international public finance for fossil fuels by the end of 2022 to advance a clean and just energy transition.


Having all signatories follow through on their commitments will shift USD 28 billion annually from fossil fuels towards renewables. The fossil fuel industry will not like it.
So far, seven of the 17 major financing signatories have published new policies ruling out all, or most, fossil fuel support. For example, the United Kingdom, Denmark, Sweden, the European Investment Bank (EIB), France, Belgium and Finland have policies or policy proposals that fully or largely meet this commitment towards shifting direct international fossil fuel support to green energy by the end of 2022.
Largest Financers of Fossil Fuel Projects Overseas
On the other hand, Canada, the US, Germany and Italy are the largest fossil financiers among the signatories without new policies.
Country-level Findings
After calculating the annual average direct public financing support between 2019 and 2021, the report finds that the leading providers were Japan (USD 10.6 billion), Canada (USD 8.5 billion), South Korea (USD 7.3 billion) and China (USD 6.7 billion). Same countries have also topped the list for the entire 2013 to 2021 dataset.
On the other hand, the biggest supporters of clean energy were France, Brazil and Germany. They have provided an annual average of USD 2.8 billion, USD 2.5 billion and USD 2.2 billion, respectively. From the MDBs, the EIB is the biggest financier of renewables by far.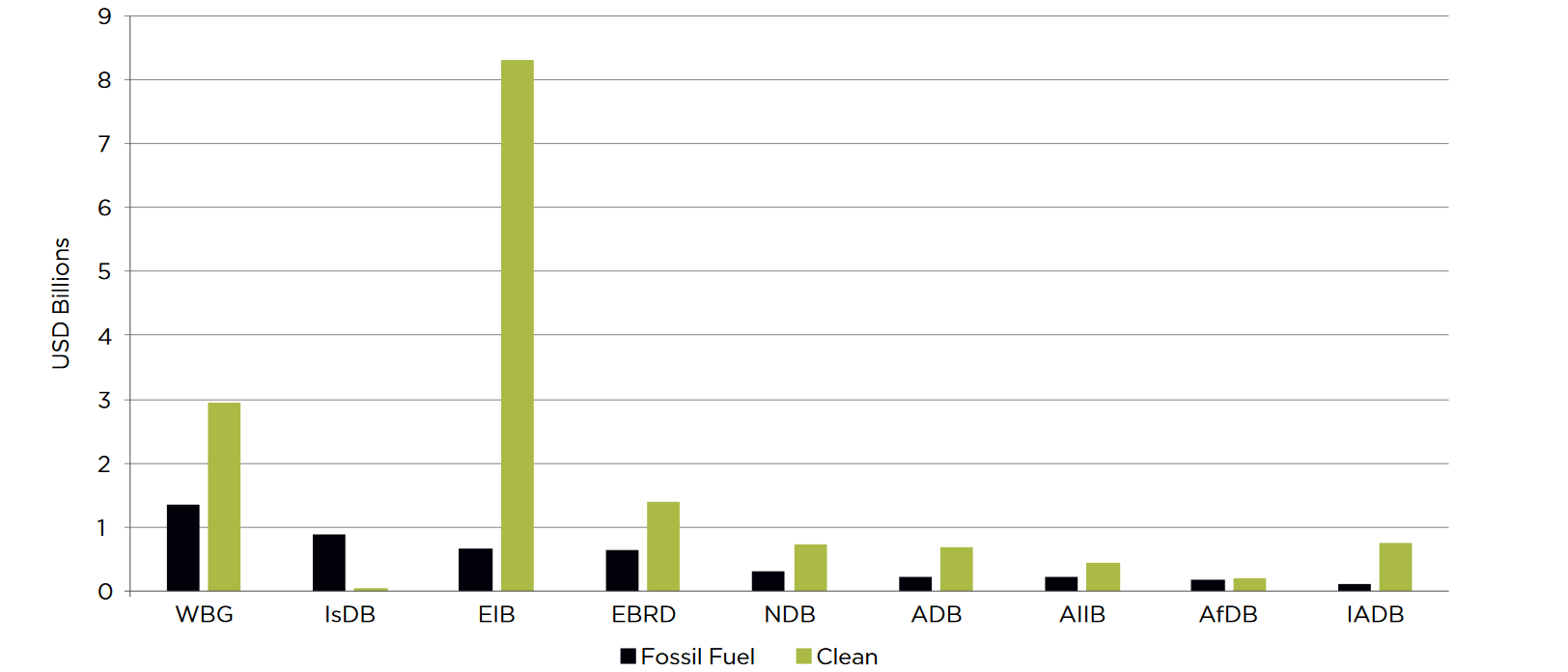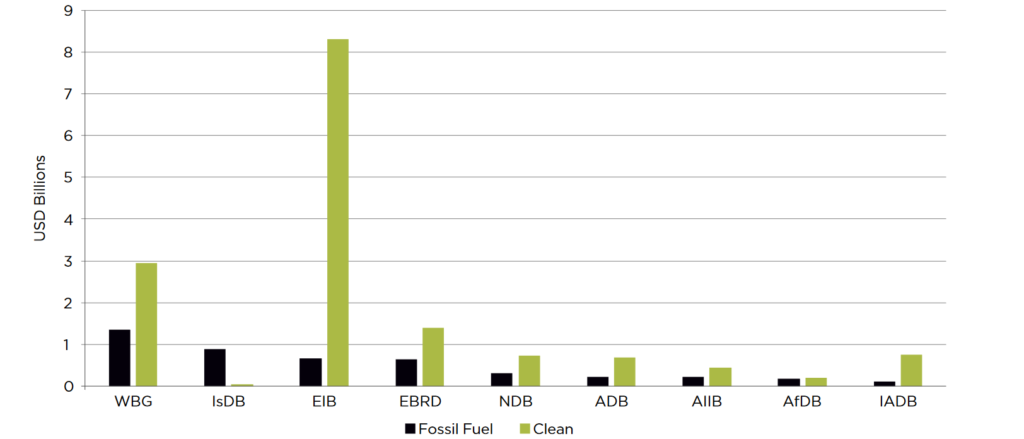 G20 Countries and the Lack of Adequate Climate Targets
At the G20 meeting in Rome in 2021, global superpowers pledged to take "meaningful action" regarding the climate crisis and green recovery. They also adopted a G20 leaders' declaration, aiming to keep the goal of 1.5°C global warming within reach. At the time, analysts were starting to feel optimistic about the "sense of urgency" in G20 leaders' speeches.
In hindsight, it seems that little action came out of the meeting. So far, only five G20 countries have submitted new climate plans in 2022: Brazil, Australia, India, the UK and Indonesia.
More importantly, Climate Action Tracker finds that no G20 country has a 1.5°C Paris Agreement compatible target. The best performer is the UK, which falls in the "almost sufficient" category. Countries like Russia, Turkey and Singapore have shown little to no progress and are in the "critically insufficient" category. Leading emitters like India, China, Indonesia and South Korea fall in the "highly insufficient" category.
Furthermore, the UNEP Emissions Gap Report 2022 finds that G20 nations will fall short of their new or updated NDCs by 1.8 Gt CO2e annually by 2030.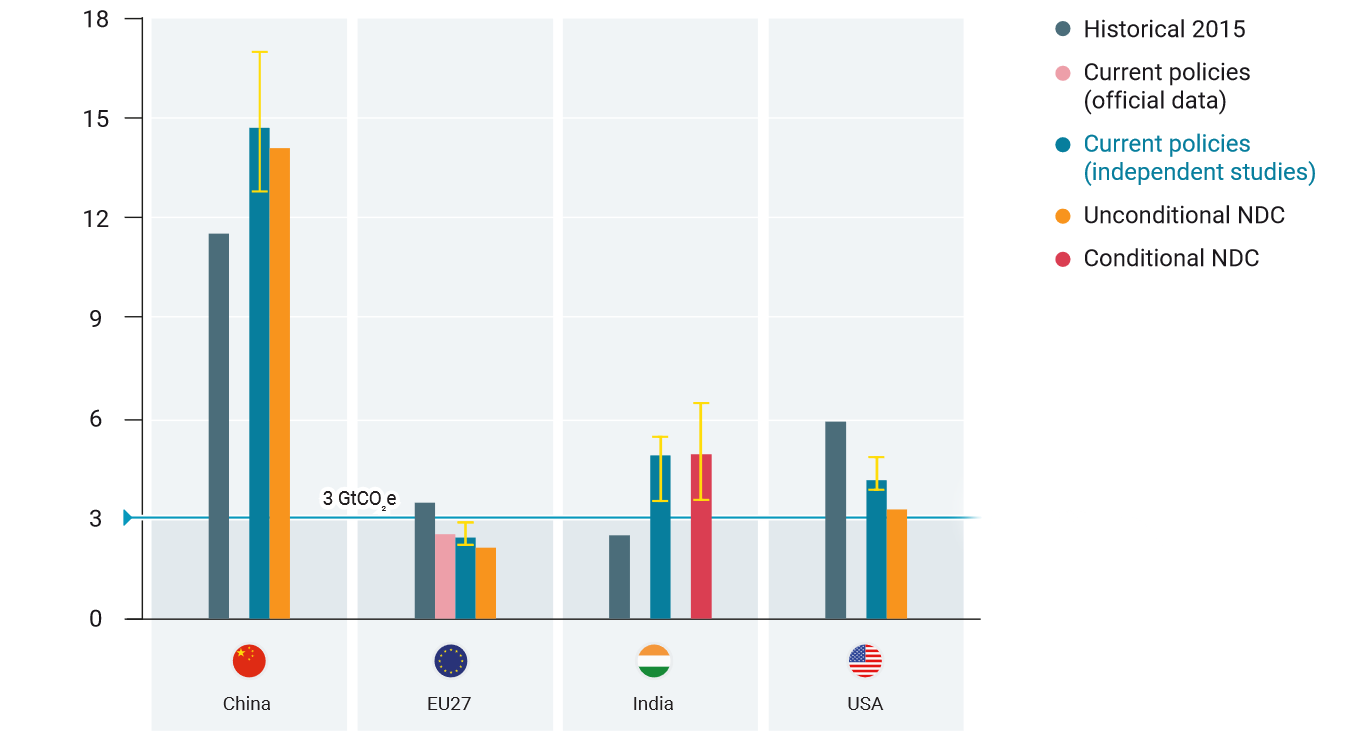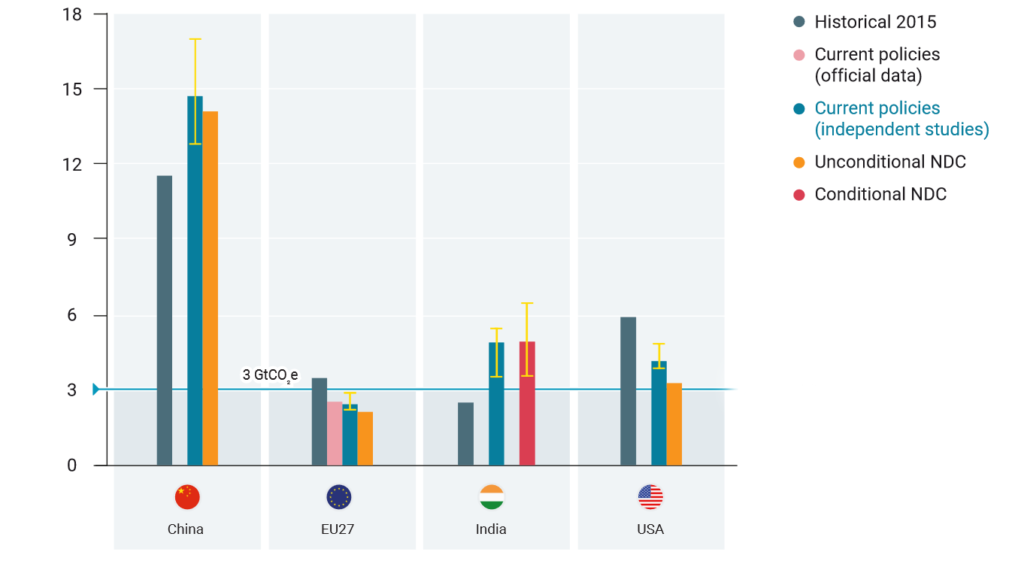 The Need to Act
Oil, gas and coal production needs to decline by 3%, 4% and 11%, respectively, each year between 2020 and 2030. G20 nations should drive this much-needed decline. Collectively, they represent the world's biggest polluters, accounting for around 75% of GHG emissions. The group has a historical and moral responsibility to lead the climate change battle and protect the most vulnerable.
Moral factors aside, G20 countries should abandon fossil fuel financing and supporting fossil fuel industries, as it will undoubtedly backfire, resulting in billions of dollars in economic damage. Avoiding the impacts of climate change can generate a net positive gain of 4.7% of GDP across the G20 by 2050. By 2100, the potential losses can surpass 8%, or double what the G20 countries lost due to the COVID-19 pandemic.
The UNEP notes that the world must cut emissions by 45% to avoid a global catastrophe. Energy efficiency measures should be taken for sustainable development. Having G20 countries set 1.5°C-aligned targets for 2030 and reach net zero by 2050 can decrease warming to 1.7°C. Through the efforts of other countries, this would allow keeping 1.5°C within reach. As a result, G20 nations' efforts will single-handedly determine whether our future is livable. The ball is in their court.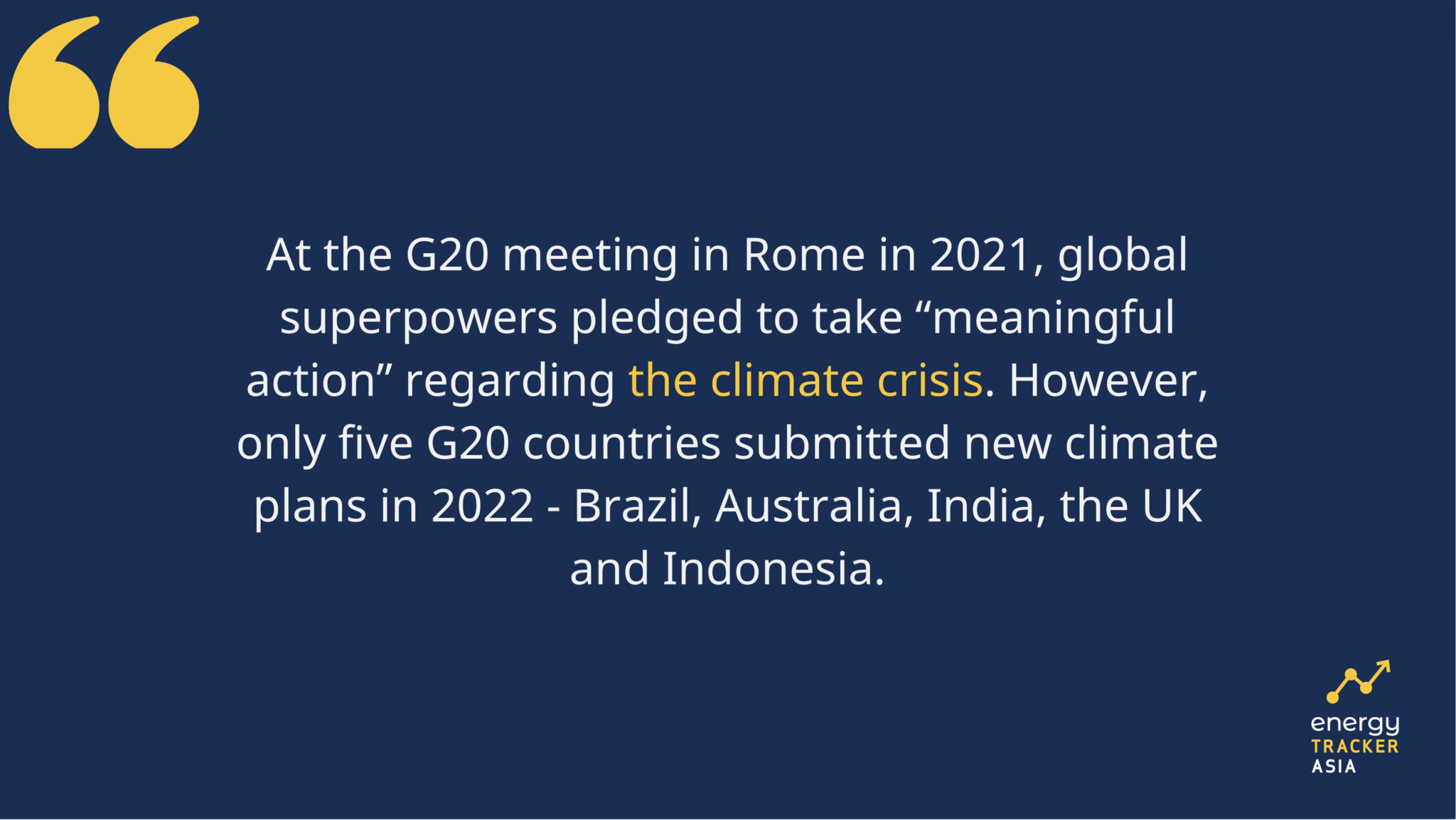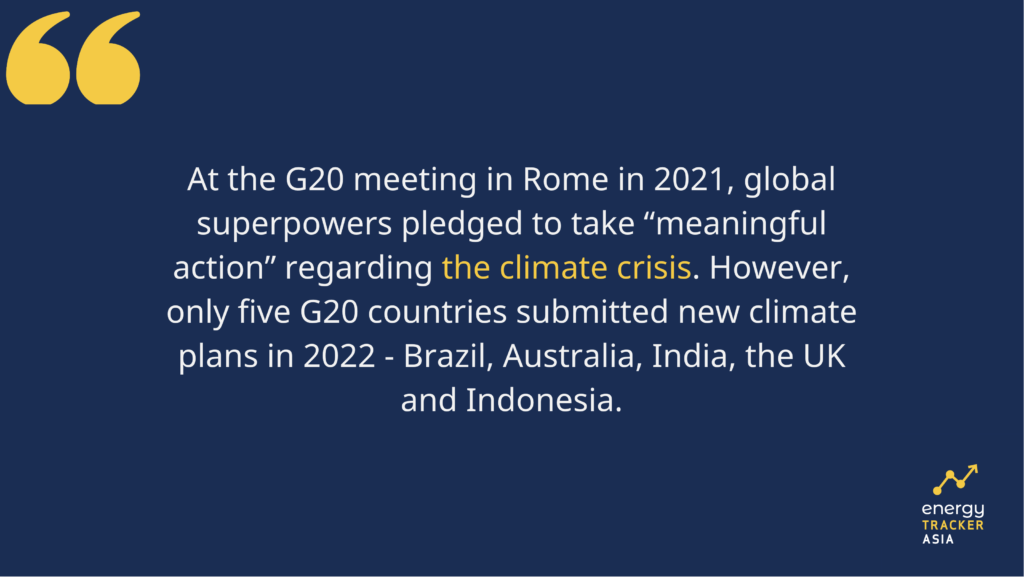 by Viktor Tachev
Viktor has years of experience in financial markets and energy finance, working as a marketing consultant and content creator for leading institutions, NGOs, and tech startups. He is a regular contributor to knowledge hubs and magazines, tackling the latest trends in sustainability and green energy.
Read more